The 10 Most Inspirational NHL Stories of All Time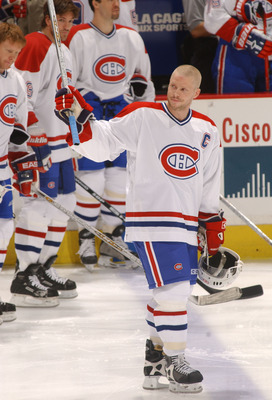 From a cheap-shot hit that turned into a tear-jerking moment to the overcoming of great physical maladies, with many other moments in between, the NHL has had its share of stories that capture the best of the human spirit.
Here are 10 of those. They're ranked in some semblance of order, but 100 different people might have these listed in 100 different ways.
The point? They're all great moments, no matter how you "rank" them.
10. Ace Bailey and Eddie Shore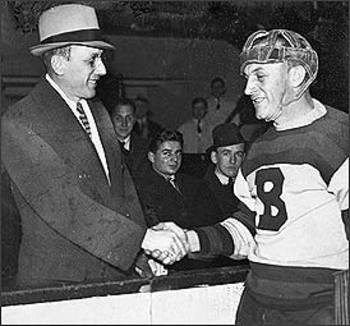 On Dec. 12, 1933, Boston Bruins tough-guy defenseman Eddie Shore was loaded for bear. After being decked by Toronto's King Clancy, Shore was bent on revenge.
He didn't find Clancy, but he did find Maple Leafs star Ace Bailey.
Shore leveled Bailey from behind, knocking the Toronto player to the ice, head first. Bailey's skull was fractured and he went into convulsions. His life was in danger for several days, and he never played hockey again.
Shore apologized but was suspended for 16 games. Two months after the hit, the Leafs held a benefit game for Bailey and his family at Maple Leaf Gardens.
Before the game, Shore went up to Bailey, who was standing in the Leafs' bench area, and embraced the man whose career he ended. Then the two men shook hands as the ovation from the crowd swelled.
As a side note, Bailey's No. 6 was the first jersey number to be retired by any NHL team, when the Maple Leafs did so shortly after Bailey's career ended.
9. Steve Yzerman's Knee Injury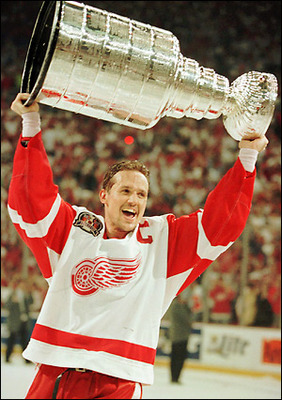 In 2001-02, the Red Wings' Hall of Famer re-aggravated a knee injury, forcing him to miss 30 games. About to turn 37 years old, Yzerman used the memories of early playoff exits in 1999, 2000, and 2001 as motivational tools.
With a commitment that amazed even his teammates who were used to such efforts, Yzerman played through horrific pain throughout the 2002 playoffs.
When the Red Wings were stumbling in the second round against St. Louis, Yzerman gave a rousing speech to his teammates, who credit Yzerman's talk for shaking them out of their slumber.
Needing to prop himself up with his stick every time he fell to the ice, Yzerman grimaced and winced his way through the playoffs. The Red Wings ended up capturing their third Stanley Cup in six seasons.
After the Cup run, Yzerman had a knee realignment surgery normally reserved for the elderly, causing him to miss the first 66 games of the 2002-03 season, an indication of how bad his knee was during the '02 playoffs.
8. Bobby Orr Plays On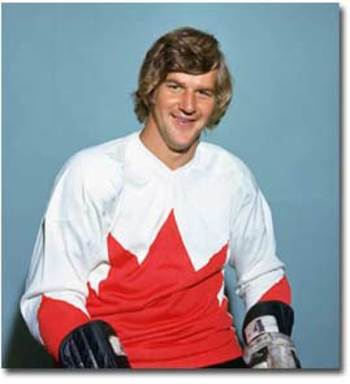 By 1974, 26-year-old Bobby Orr had no business being anywhere near skates.
Orr, the great Boston Bruins defenseman, should have, by all rights, retired because of knees ravaged by injuries and pain.
But Orr pressed on, leading the Bruins to the 1974 Cup Finals.
The knees got progressively worse, even after Orr signed with the Chicago Blackhawks as a free agent. Unable to face the fact that his career was winding down, Orr kept putting himself through hell in order to play hockey.
Finally, in late 1978, just 30 years old, Orr tearfully retired.
"It is clear that I can no longer play hockey," Orr, scarcely able to speak because of his emotions, said at the press conference.
By the way, the photo above is Orr in his Team Canada uniform, taken before the famous 1972 Summit Series vs. the Soviets.
Orr didn't play in that series, due to—you guessed it—a knee injury.
7. Ted Lindsay's Comeback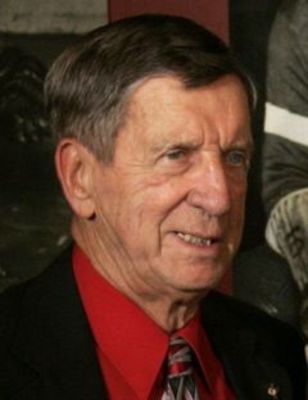 In 1960, Ted Lindsay retired from the NHL as a member of the Chicago Blackhawks.
Neither of these things sat well with "Terrible Ted"; he hated retiring, and he hated doing it as a member of the Blackhawks.
But the longtime Red Wing lived with that decision for four years, before his old linemate, Sid Abel, coach and GM of the Red Wings, approached Lindsay in 1964.
Despite being 39 years old and out of the NHL for four years, Lindsay was convinced that he could still play after talking with Abel. So Lindsay laced them up one more time, playing in 69 games in 1964-65, scoring 14 goals—and garnering 173 penalty minutes. Just like the old days!
The Red Wings made the playoffs but lost a seven-game series to those same Blackhawks that Lindsay had last played for.
Lindsay went back into retirement, finally able to close his career as a Red Wing, as he always wanted.
6. Mr. Hockey Plays 'Em All—at Age 52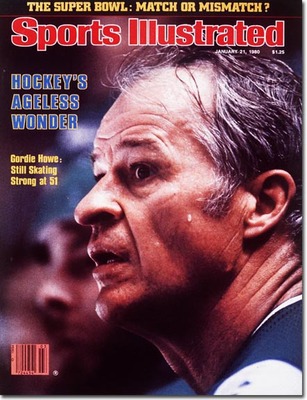 Gordie Howe stepped onto the then-new Joe Louis Arena ice surface and got a thunderous ovation. Nothing unexpected there; Howe played for the Red Wings for 25 seasons.
But this ovation came during the introductions prior to the 1980 NHL All-Star Game. And Howe was a 51-year-old player for the Hartford Whalers.
It gets better.
Howe played in ALL 80 of the Whalers' games that season, a season during which he turned 52. He wasn't a sideshow, either; Mr. Hockey scored 15 goals in his return to the NHL after an eight-year absence. The Whalers joined the league after the disbanding of the WHA.
Oh, and Howe played in the three Whalers playoff games that April.
Yes, he scored a goal in the 1980 playoffs, at age 52. He's Gordie Howe!
5. Penguins Rally Around
In 1991, the Pittsburgh Penguins were the defending Stanley Cup champions. But that summer, coach "Badger Bob" Johnson was diagnosed with brain cancer after suffering an aneurysm.
With team executive Scotty Bowman coaching them on the ice, the Penguins were inspired by Johnson, who "coached" the team from his hospital bed, watching video and communicating to Bowman via phone and fax.
Sadly, Johnson died in November, 1991. But the Penguins used Johnson's death as a motivational tool, devoting the season to their fallen coach.
The Penguins won their second straight Cup that spring, dedicating it to "Badger Bob."
4. Bobby Baun Scores on a Broken Leg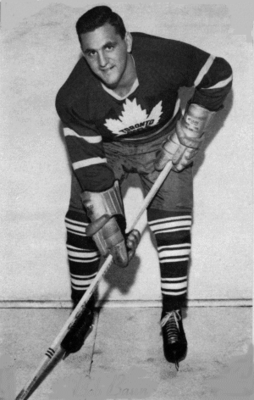 The Red Wings were leading the 1964 Stanley Cup Finals, three games to two over Toronto, and were looking to wrap things up in game six in Detroit.
Bob Baun had other ideas.
Earlier in the game, the Maple Leafs defenseman suffered what was later determined to be a broken ankle. After missing a great deal of time, Baun re-joined his teammates on the bench.
The game went into overtime.
Baun, playing on pain-killers and guts and not much else, slapped a shot from the point that eluded Red Wings goalie Terry Sawchuk for the game-winner.
The Leafs, thanks to the new life that Baun had provided, won Game Seven in Toronto.
3. Messier Guarantees Victory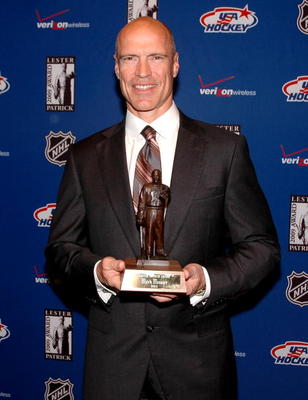 Mark Messier was traded by the Edmonton Oilers to the New York Rangers on Oct. 4, 1991. He immediately vowed to make the Rangers champions.
That's all fine and dandy, except that the Rangers hadn't won a Stanley Cup since 1940.
Messier didn't care.
And he didn't care during the 1994 playoffs.
In the Eastern Conference Finals, his Rangers trailing three games to two to the New Jersey Devils, Messier guaranteed the Rangers would win Game Six—in New Jersey.
And that's exactly what they did, thanks to captain Messier.
Messier scored three goals in the third period, including the game-clinching empty-net goal, erasing a two-goal deficit.
The Rangers then won Game Seven in double OT, in Madison Square Garden.
Then, as if by fait accompli, the Rangers captured the Cup against Vancouver, also in seven games.
The 54-year wait was over, and Messier had, indeed, made the Rangers champions.
2. Mario Lemieux Overcomes Cancer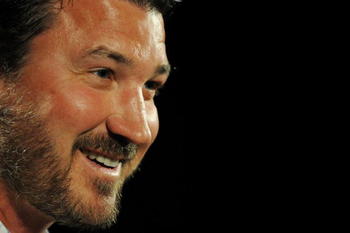 On Jan. 12, 1993, the Pittsburgh Penguins' Mario Lemieux shocked the hockey world, but not for anything he did on the ice.
Lemieux revealed that he'd been diagnosed with Hodgkin's lymphoma. He was 27 years old.
He was forced to undergo energy-draining aggressive radiation treatments, leaving his career and possibly his survival in doubt. He missed two months of play, and without him, the Penguins struggled.
On the day of his last radiation treatment, Lemieux flew to Philadelphia to play against the Flyers, where he scored a goal and an assist in a 5-4 loss.
After the game, Lemieux earned a standing ovation from Philadelphia fans—a rare occurrence for a visiting player.
Lemieux recovered and played until age 40, inspiring Hodgkin's patients the world over.
1. Saku Koivu's Goose Pimple-Filled Return to Montreal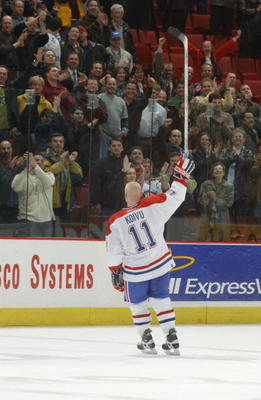 During training camp in 2001, Montreal Canadiens teammate Brian Savage said he thought Saku Koivu looked pale. Soon afterward, Koivu began suffering from serious stomach pain and vomiting.
Several tests later, the diagnosis was in: the 26-year-old Koivu had non-Hodgkin's lymphoma.
Koivu missed just about all of the 2001-02 season. But he didn't miss all of it.
This is because Koivu worked like mad to beat the cancer and get back onto the ice.
Koivu made it back into the Canadiens' lineup in time for the last few games.
Fans in Montreal's Molson Center gave Koivu an eight-minute standing ovation when he skated onto the ice on April 9, 2002, in the team's 80th game of the season.
For his courage and off-ice team leadership while undergoing cancer treatment, he was awarded the Bill Masterton Memorial Trophy following the 2002 playoffs.
But the moment when he emerged from the tunnel and onto the ice on April 9, 2002, to that tremendous ovation, his head still bald from radiation treatments, was goose pimple-inducing.
Keep Reading