2010 NFL Mock Draft: First Round Picks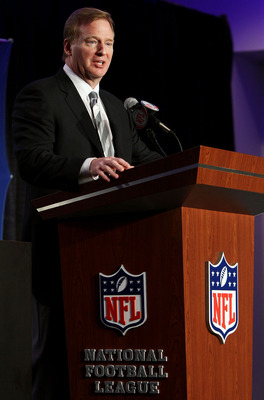 On April 22nd when the 2010 NFL Draft commences in prime-time, league commissioner Roger Goodell will step to the podium to announce this years picks. Fans of some teams will be elated while others will be angry, the New York Jets. In reality no one really knows how things will begin to grade out until the regular season kicksoff in September. The woefully inept St. Louis Rams hold the # 1 overall pick and have glaring needs all over the field including at quarterback. Will they hold on to the pick and select their quarterback of the future. Or will a team desperate to select top signal caller Sam Bradford, Mike Holmgren's Browns, overwhelm the Rams with an offer they can't refuse. How will the Donovan McNabb situation turn out and will it effect the top of the draft ?, McNabb entering the final year of his contract, is owed a 6 million dollar roster bonus in May,making him a likely candidate to be traded by the time the second round begins on Friday. It figures to be a draft fit for prime-time in 2010.
1. St. Louis Rams QB Sam Bradford Oklahoma 6'4¼" 236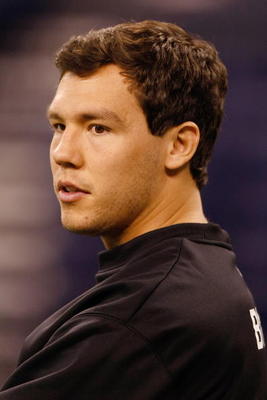 Bradford has the prototypical size NFL excutives prefer in a franchise quarterback. The Rams are in desperate need of a franchise QB and with the guaranteed money being so high at # 1 can the Rams afford to go in another direction. Perhaps all world defensive lineman Ndamakong Suh, I doubt it. Despite some lingering concerns over his durability, Bradford should be the pick, because of his body of work in college and his post shoulder injury workout, for over 50 NFL scouts, coaches , and executives in which he impressed with his velocity, delivery, and ability to make all the throws completing a reported 62 of 63 passes.
2. Detroit Lions OT Russell Okung Oklahoma State 6'5¼" 307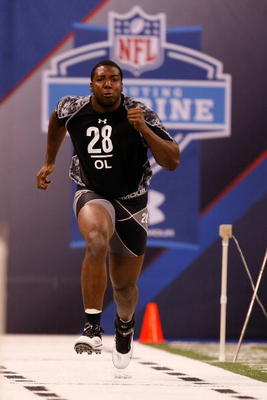 The Lions pass up top defensive linemen Ndamakong Suh and Gerald McCoy to solidify their offensive line. Okung has the potential to be an all pro early in his career. The Lions have signed DE Kyle Van den Bosch and trade for DT Corey Williams already this offseason allowing them to select Okung. In 2008 Detroit selects a franchise wideout, in 2009 the franchise quarterback to throw to the wideout, and in 2010 a franchise left tackle to protect the quaterbacks blindside for the next ten years. Not a bad start to rebuilding a franchise all the way from the ground up.
3. Tampa Bay DT Ndamakong Suh Nebraska 6'3⅞" 307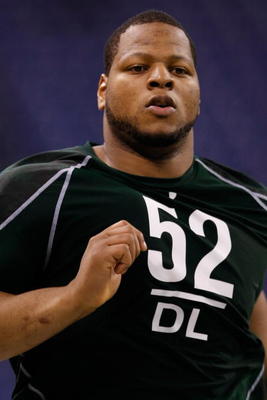 The Bucs are pleasently suprised when the most dominant player in the draft falls to them at three. Suh possesses the size, strength, and athletism to excell at both end and tackle in a 4-3 defense. Giving Tampa the versatility to line him up anywhere along the defensive line. Suh has been compared to Reggie White an unfair comparison, yet it is hard not to see in the way Suh plays the game.
4. Washington Redskins OT Trent Williams Oklahoma 6'4⅝" 315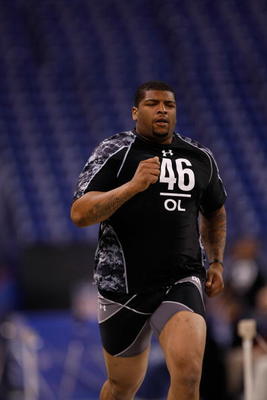 With the retirement of pro bowler Chris Samuels, due to a neck injury, the Redskins have no viable canidates to protect Jason Campbell's blindside in Mike Shanahan's offense. Williams proved to be one of the most athletic left tackle prospects during the NFL Scouting Combine running the forty in just 4.88 seconds. The Redskins get a player that should be penciled into the starting lineup from day one.
5. Kansas City DB Eric Berry Tennesse 5'11⅝" 211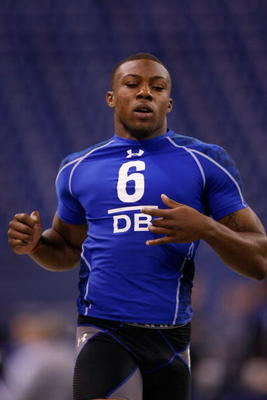 Berry is arguably the top player available in this draft due to his playmaking ability. He has the size, speed, and insticnts to develop into a Troy Polamalu, Ed Reed type of impact player. Kansas City has holes through out their roster and a best player available approach should help their team improve in 2010. The Chiefs lock up Berry and their free safety position for years to come, his play should take the Kansas City defense to another level.
6. Seattle DT Gerald McCoy Oklahoma 6'4⅛" 295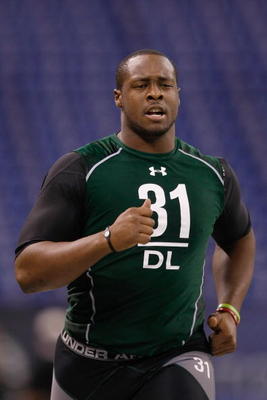 The Seahawks have a bigger need at defensive end however McCoy is too talented for new coach Pete Carroll and general manger John Scinieder to pass up. Although his best position would be at 3-technique tackle, he has the athleticism to line up at end and be effective. Some scouts believe McCoy is a better NFL prospect than Suh and only time will tell. Seattle's new brain trust adds an impact player to its defensive line knowing they can plug the hole at left tackle later in the round at # 14.
7. Cleveland CB Joe Haden Florida 5'10¾" 193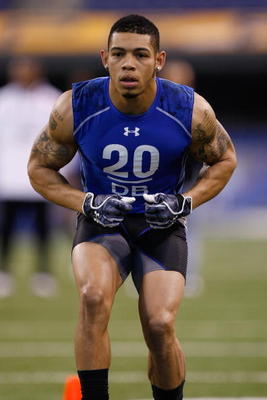 Joe Haden recovered from a disappointing performance in the forty at the combine which led his draft stock to fall. Improving at Florida's pro day (4.45) Haden moved himself back into the top third of the first round on most teams boards. Cleveland is in need of lots of help in the secondary and Haden is the best cornerback in the draft. He will immediately join Eric Wright in the starting lineup and improve the Browns pass defense in 2010.
8. Oakland OT Bruce Campbell Maryland 6'6⅜ 314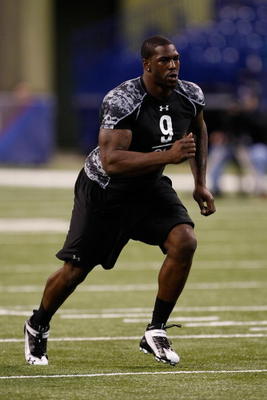 If it wasn't the Raiders I would go with somebody else but looking at owner Al Davis' draft history this pick just makes too much sense. Oakland has a need at offensive tackle and Campbell was the star of the combine in Indianapolis this spring. He ran the forty in a combine record for an O-lineman 4.77 seconds, Campbell is the classic athletic freak. However he never achieved up to that athletic potential in college and that leads to questions of whether he will be an underachiever at the next level.
9. Buffalo OT Bryan Bulaga Iowa 6'5⅜" 314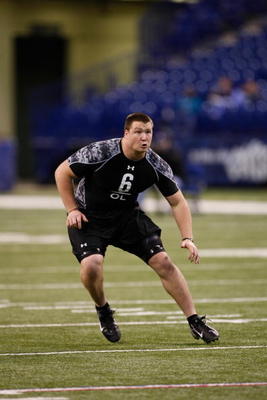 Bulaga displayed better than anticipated athletic ability at the combine sending his stock soaring. The Bills are in need of a franchise left tackle to protect whoever ends up playing quarterback having traded Jason Peters to the Eagles before the 2009 season. Bulaga should win the starting job over second year player Jamon Merideth, a 5th round pick cut by the Packers, who started a couple of games for the Bills as a rookie.
10. Jacksonville DE Jason Pierre Paul South Florida 6'4¾" 270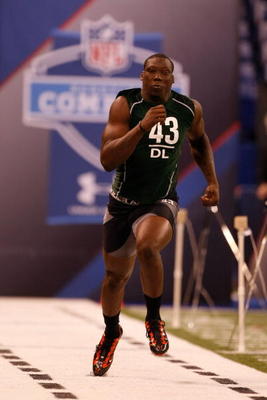 Jacksonville takes a home-state product just not the one most people were expecting. Pierre-Paul is a very raw player having played just one season of division one college football. He didn't even know what a quarterback was when he played his first football game ever during his junior year of high school. Pierre-Paul has the potential to be a player a lot like Jevon Kearse and already has Kearse's rookie sack record in his sights. The Jaguars had no pass rush in 2009 registering just 14 sacks as a team. Another rusher is needed in Jacksonville despite the signing of DE Aaron Kampman in free agency. The former Packer is a high character locker room guy, who will be great for the development of Pierre-Paul who comes into the NFL with some questions about his maturity
11. Denver LB Rolando McClain Alabama 6'3⅜" 254
McClain is an intense hard hitting linebacker who projects well as a middle linebacker in the 3-4 defensive scheme. He has the ability to rush the passer, play the run, and cover the pass. In addition he has great leadership skills, and will instantly join Brian Dawkins as a defensive leader. McClain will rejuvenate a Denver defense that started strong in 2009 (6-2) but faded over the final half of the season failing to make the playoffs.
12. Miami RB C.J. Spiller Clemson 5'10⅝" 196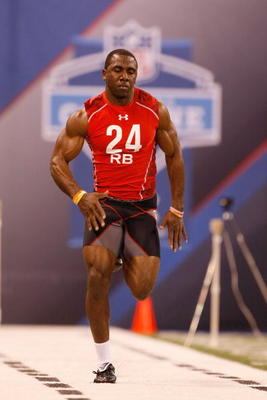 Spiller is the most dynamic playmaker on offense and special teams available in the 2010 draft. Running a 4.37 at the combine he has the ability to score from anywhere on the field. The Dolphins don't have a glaring need at running back returning Ronnie Brown and Ricky Williams who had a revival last season. Although Brown recently got himself into some legal trouble. Spiller can contribute as a running back ,a receiver, and a kick returner he also adds yet another dimension to the Dolphins ever evolving wild cat formation.
13. San Fransico OT Anthony Davis Rutegers 6'5" 323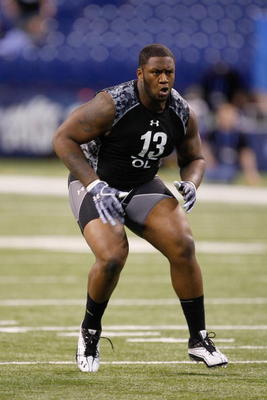 The 49ers are in need of help at offensive tackle and Anthony Davis is one of the last OT prospects who carry a first round grade available. Davis is probebly the least athletic of the top OT prospects but by no means is he a slouch. He is probably the most polished in his technique of the top OL prospects meaning he should be able to help San Francisco as a rookie providing he can overcome some character concerns. Davis will shore up the offensive line allowing the 49ers' offense to emerge as a unit in 2010.
14. Seattle OT Charles Brown USC 6'5⅜" 303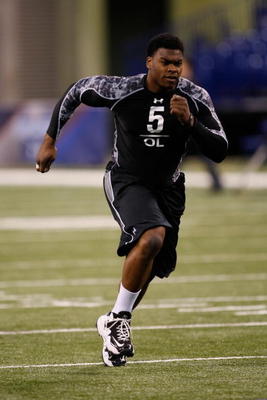 Having addressed the defensive line at six with Gerald McCoy the new regime shifts its focus to the offensive line. Pete Carroll goes with a player he knows well having coached Charles Brown last season at USC. Brown a converted tight end is perhaps the most raw of the top OT prospects but his vast potential and Carroll's familiarity with him make him the pick to replace perennial Pro Bowler Walter Jones on the left side in Seattle.
15. New York Giants LB Sean Weatherspoon Missouri 6'1¼" 239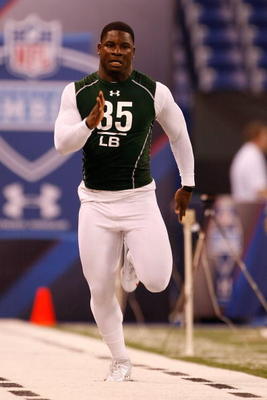 Many people believe Weatherspoon will be this year's Brian Cushing or Demeco Ryans both won defensive rookie of the year awards after being drafted in the mid first round by the Houston Texans. Weatherspoon has the ability to star at middle linebacker in a 4-3 defense, making Giants fans forget all about Antonio Pierce who was cut this off-season. The Giants defense will have a revival this season behind the play of Weatherspoon who will make tackles all over the field and recently acquired safety Antrell Rolle.
16. Tennesse WR Dez Bryant Oklahoma St. 6'2" 225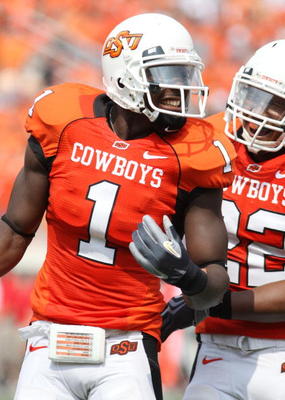 Bryant would likely have been a top 5 pick had he been able to play his final season at Oklahoma State. His maturity has come into question due to a number of incidents, most recently forgetting to bring his cleats to a workout in front of NFL talent evaluators. Tennessee gets him at # 16 to provide a deep threat for quarterback Vince Young. Teaming Bryant with Young, receiver Kenny Britt and 2000 yard rusher Chris Johnson gives the Titans a talented group of young playmakers to build around on offense.
17. San Fransico DB Earl Thomas Texas 5'10¼" 208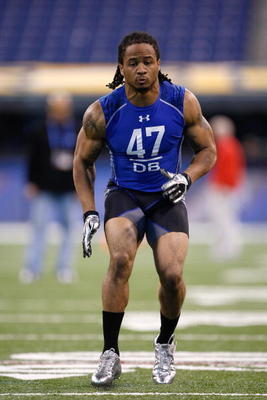 Thomas has been compared to Ed Reed because he's a slightly undersized DB with a propensity for making the big play. The 49ers have no one opposite hard hitting Dashoun Goldson at safety. It's the perfect match Thomas will instantly improve the 49ers defense both against the run and the pass. While bringing the big play to the Bay area. Thomas has a bit of Darren Sharper in him, so expect to see him sprinting to the end zone after an interception at least once in 2010.
18. Pittsburgh OL Mike Iuiapati Idaho 6'5⅛" 331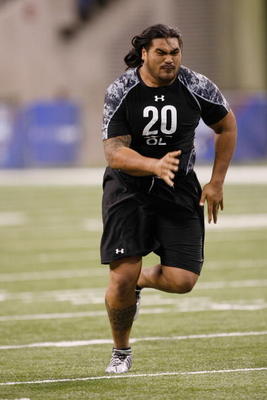 The Steelers have had success dipping into the Samoan well in the past so they try their luck again with Iupati. A guard in college some scouts think he could develop into a solid left tackle in the NFL. I think he'll play guard and play it at a high level for the next ten years in Pittsburgh. In a year or two he could be one of the top interior linemen in the game. Pittsburgh can find help on defense in the latter rounds, Iupati is too good to pass up here.
19. Atlanta WR Demaryius Thomas Georgia Tech 6'3¼" 224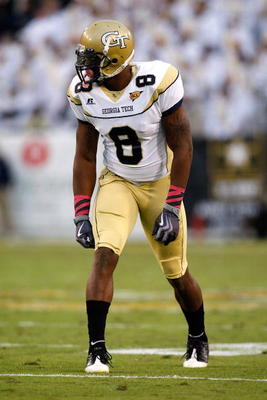 Despite the foot injury Thomas goes at #19 to the Falcons who have needs on defense but choose to get franchise quaterback Matt Ryan another weapon. Thomas remids scouts of another former Georgia Tech reciever Calvin Johnson and he will likely emerge as the starter alongside Roddy White. At the very least he will make a key contribution as the # 3 reciever during his rookie season. Mainly depending upon how his recovery from the broken foot he suffered in training for the combine progresses.
20. Houston CB Kyle Wilson Boise St 5'10" 194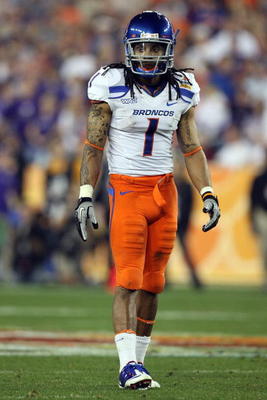 The Texans have needs at running back with not much beyond Steve Slayton who needs to regain his rookie form but they pass on RB Ryan Matthews to fill another need. Drafting Wilson to replace cornerback Dunta Robinson whom they lost to Atlanta in free agency. Wilson is ranked on most teams boards as the second best cornerback prospect behind Joe Haden. Wilson has the ability to play man or zone displaying good ball skills when making his break. He also has the ability to help the Texans on special teams as a returner. Wilson should compete for a starting job as a rookie.
21. Cincinatti S Taylor Mays USC 6'3⅛" 203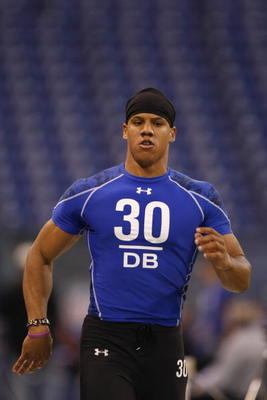 Mays is an incredable athlete running a 4.43 second forty at the combine good for the best mark among defensive backs who worked out at the combine. He is a hard hitting safety probably better suited playing close to the line of a scrimage than he is for a deep center field type of role. If put in position by the coaches to maximize his skill set I believe Mays will become the play making defender the Bengals defense is missing. The Bengals got a starter for their defense out of USC last year when they selected LB Rey Maualuga and they get one this year in Taylor Mays.
22. New England LB Brandon Graham Michigan 6'1⅜" 268
Graham just seems like a Belichick kind of guy he's undersized for an outside linebacker in a 3-4 but whatever he lacks in size he makes up in heart. Graham was the star of the senoir bowl and should fit well in the Patriots 3-4 scheme as a rush linebacker. With Addalious Thomas seemingly on his way out and Tully Banta Cain still on the market, New England could use an influx of young talent at the position. Graham will likely contend for the AFC defensive rookie of the year award.
23. Green Bay LB Sergio Kindle Texas 6'2⅞" 250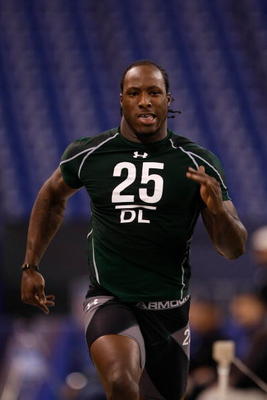 Kindle has been compared favorably to a hybrid defensive end that came out of Texas in 2009, Brian Orakpo. All Orakpo did in his rookie season is beat out Green Bay's Clay Matthews III for defensive rookie of the year honors in the NFC. Kindle is a playmaker and should push incumbent Brad Jones for the staring job opposite Matthews III at outside linebacker. If Kindle performs like he did at Texas the Packers will have a pair of bookend outside linebackers to rival any in the league.
24. Philadelphia DE Carlos Dunlap Florida 6'5¾" 277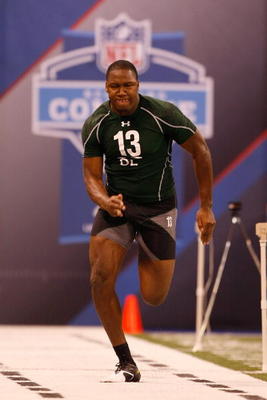 Prior to his DUI arrest during the 2009 season Dunlap was slated to be a top ten pick in this draft. He falls to the Eagles due to concerns about his character and effort not his physical ability. On the field Dunlap is a beast running a 4.68 forty at his size his physical potential is comparable to that of Julius Peppers. The Eagles could have a steal here if the coaches can get Dunlap to put it all together. He could be great in a year or two, as a rookie he shold compete for the starting job opposite Trent Cole.
25. Baltimore DE Jared Odrick Penn State 6'5"304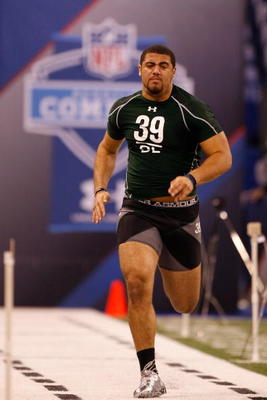 The Ravens lost starting defensive end Dwan Edwards in free agency leaving them thin along the defensive line. Odrick has the prototypical size to play end in the Ravens 3-4 defense, along with a good motor. A trait that is synomous with the Ravens defense. Odrick will be given ever chance to compete for one of the starting DE spots along the Ravens line in 2010.
26. Arizona QB Jimmy Clausen Notre Dame 6'2⅝" 222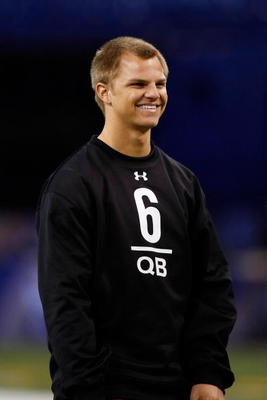 With Kurt Warner retiring after last season former first round draft pick Matt Leinart is slated to be the starter. He is unproven being inconsistent at best thus far in his NFL career. With little to no depth behind Leinart the Cardinals will select Clausen. Im sure the Cardinals didn't target Clausen in this draft expecting him to be long by # 26. Clausen immediately enters a battle with Leinart for the starting job in 2010 putting the Cardinals in a much more comfortable situation at quarterback than putting all their eggs in one basket with Leinart.
27. Dallas OL Maurkice Pouncey Florida 6'4½" 304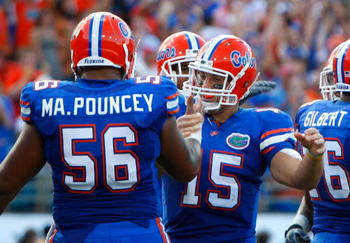 Pouncey has the ability to play anywhere on the interior line. Most scouts believe his best position to be at center but others believe he could step in at either guard position. Either way Pouncey should have a long career at whichever position he ends up most likely guard if the Cowboys do indeed draft him. The level of play along the Cowboys offensive line left something to be desired in 2009, Pouncey will step in and raise the bar either by winning a starting role or producing competition along the line.
28. San Diego RB Ryan Matthews Fresno State 5'11⅝" 218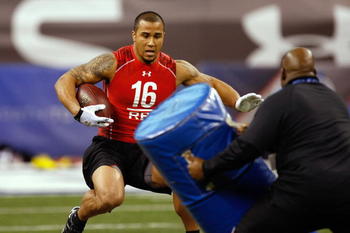 This seems like a story-book destination for the California native Matthews. He grew up idolizing Ladianin Tomilinson wearing #21 in high school, if only Tomlisnson hadn't departed this off season it would really be story-book. As it is Matthews is the perfect fit to replace his idol in San Diego. Matthews is a big back but still possess the speed to break a long run at any point in the game. By teaming Darren Sproels with Matthews the Chargers might not miss LT much.
29. New York Jets WR Golden Tate 5'10¼" 199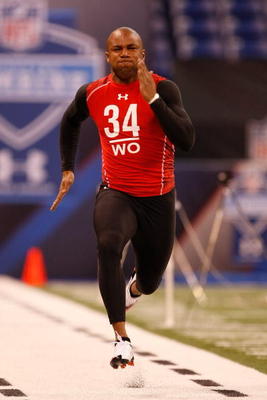 Tate will be the perfect complement to Jets starter Braylon Edwards. Tate is compact, both quick and fast, and he should develop into a weapon out of the slot for Mark Sanchez. If Tate can continue to be the big play receiver he was at Notre Dame the Jets passing offense will instill a lot more fear into opposing defensive coordinators than it did in 2009.
30. Minnesota DT Dan Williams Tennesse 6'2" 327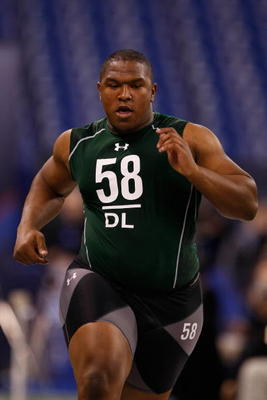 With one half of the Williams wall, Pat, likely to retire the Vikings have a need for depth at defensive tackle. Despite their recent signing of former Packers defensive end Michael Montgomerry who can play inside on passing downs the Vikings go with DT Dan Williams. The Williams wall is the main reason the Vikings run defense has been so formidable over the last 3-4 years. Dan Williams has the size and talent to be able to step right into the Vikings starting lineup replacing Pat Williams without significant drop off.
31. Indianapolis DT Brian Price UCLA 6'1⅛" 303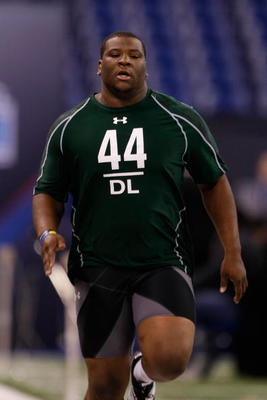 The Super Bowl runners up hope to avoid the let down that often folllows a loss in the big game. When Dwight Freeney was hampered in the Super Bowl the Colts defense struggled to stop Drew Brees and the rest of the New Orleans offense. Price is a DT with a good motor who has the athletic ability and speed to be a disruptive presence on the inside. He is good at anchoring agaisnt the run and his ability to collapse the pocket, should take some pressure off of defensive ends Freeney and Robert Mathis.
32. New Orleans DE Everson Griffen USC 6'3 ⅜" 273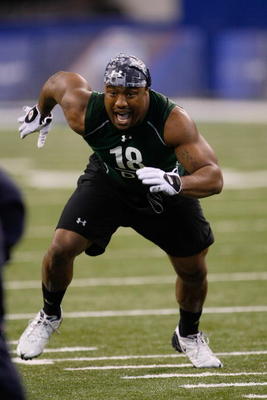 Charles Grant is no longer with the Super Bowl Champs leaving them with a hole at end along the defensive line. Grifffen has the talent to be able to push for a starting job as a rookie. He is big, strong and fast running a 4.65 forty at the combine leading some teams to covet him as an outside rusher in the 3-4 defense. Coming out of USC there aren't many questions about whether his skills will translate to the next level, he is good fit for the Saints at the end of the first round.
Trades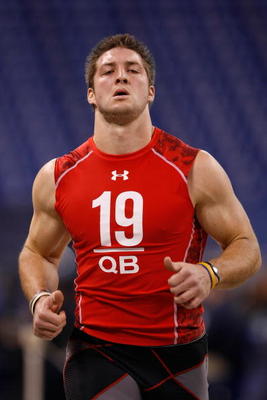 I believe there is a good possibility that there will be a couple of trades during the first round of the 2010 draft. Look for the Jacksonville Jaguars to trade down from ten with a team holding a pick in the twenties in an attempt to secure QB Tim Tebow and get back into the second round as they are without their own pick in the second. Also look for teams targeting specific players to attempt to jump back into the end of the first round by making a trade with a team in the twenties. The New England Patriots who hold 3 second round picks numbers 44, 47, and 53 could package two of those picks to get back into the first to select a player like TE Jermaine Gresham who's likely to be gone by # 44. An offer of numbers 47 and 53 could be attractive to a team in the mid twenties who knows there will be good players available in the second round in what scouts are calling one of the deepest drafts in memory. ( I will do another mock closer to the April 22nd draft that takes into account likely trades)
Keep Reading

New York Jets: Like this team?