Clash Of The Tennessee Titans Cheerleaders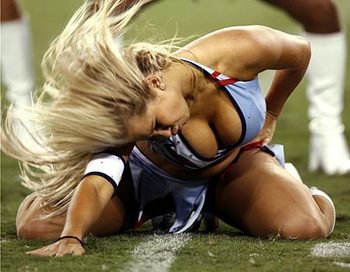 Clash Of The Titans comes out this Friday and even though it looks epic, it still won't feature the most impressive Titans in the world that day. That title belongs to the jaw-dropping cheerleaders for the Tennessee Titans.
They're consistently one of my favorite cheerleading squads, so in honor of the movie coming out bearing their name, I thought this would be as good a time as any to check out the goddesses that are the Titans cheerleaders.
Drop It Like It's Hot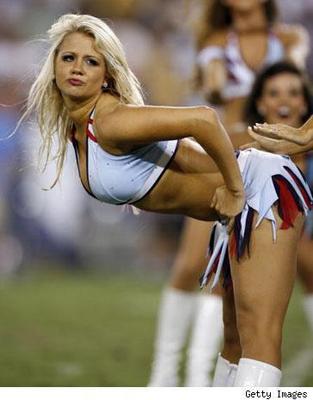 These girls know how to break it down. This move right here is not too different from ones the cheerleaders/strippers from The Replacements used.
Take note of the hands in the back of the picture. Almost like they're getting warm off that hot behind.
Lean Back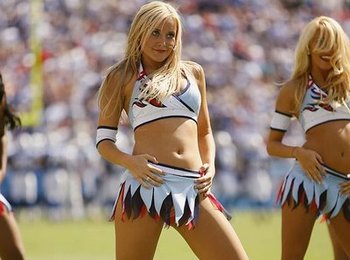 The Titans cheerleaders are one of the hottest dance squads in the NFL. This little belly roll/lean back move right here is a favorite of mine. Just sexy all the way.
Best Fashion Show Ever?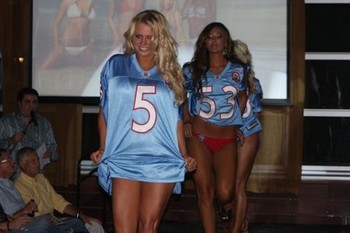 I'm not sure what was going on that the girls got to come out like this, but I am jealous that I wasn't one of those aw-struck old men in the front row.
It's the age old formula: Jerseys + Hot chicks - Pants = Amazingness.
She Seems Smart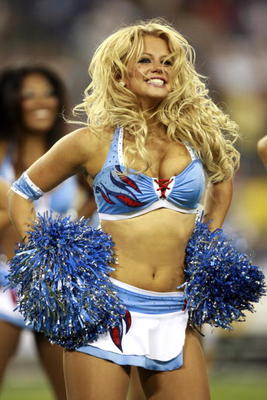 The Titans may not have the skimpiest cheerleading outfits in the NFL, but they definitely do a good job of, um, accenting certain good features.
I Love Halloween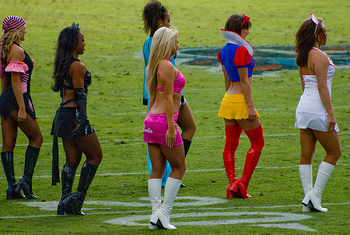 One of my favorite things about the Titans cheerleaders is when they dress up for Halloween. One of the sexy standards on Halloween is a cheerleader, so what do cheerleaders dress up as?
Apparently the skimpy versions of basically anything. I can't take my eyes off this.
More Halloween Goodness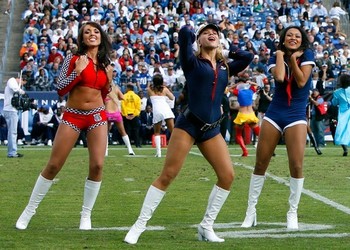 Dressing sexy for Halloween is as American as apple pie, and the Titans cheerleaders do it better than anyone else. I don't know what half of them are, and I could care less.
Fairy Tale Come True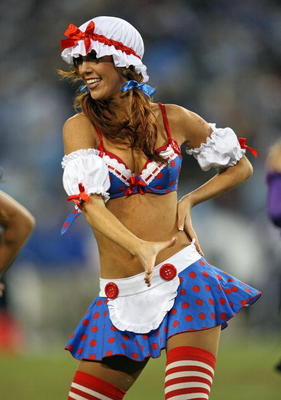 There's definitely nothing raggedy about this Anne.
School Girls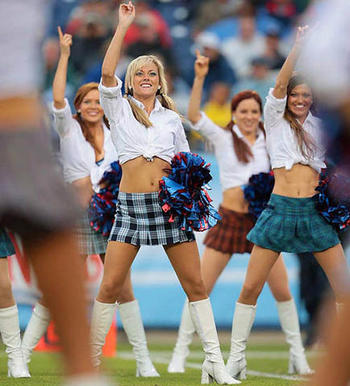 The Titans cheerleaders don't keep their dress up days to just Halloween. For fun, they onetime went with the sexy schoolgirl outfit at one of their games.
Oddly enough, nobody remembers whether the team won or lost, but they said it was awesome.
Come On Over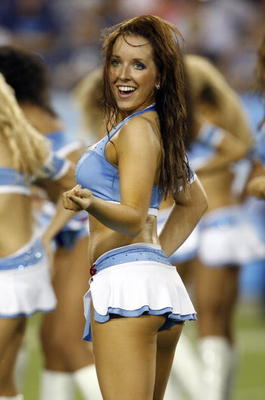 Tell me that you would be able to resist coming over if this cheerleader gave you one of these? Yeah, I didn't think so.
Glamour Shot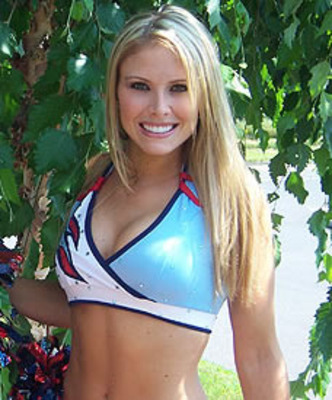 As hot as they are on the field, when these cheerleaders go off of it for photo shoots, they are even hotter.
'Ey girl. Can I getcho numbah?
Cute & Perky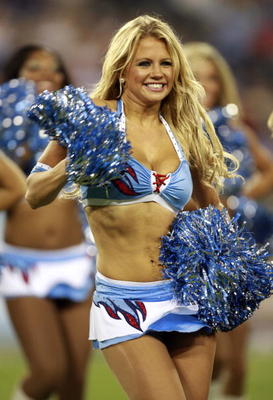 Just look at that smile. Seriously, look at the smile. Eyes up fellas. Ah, nevermind.
Gimme An...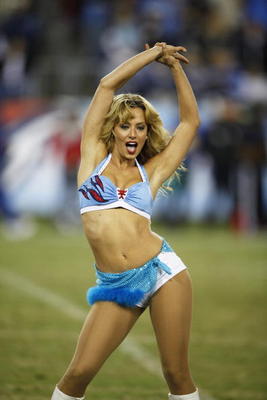 There may not be an O in Tennessee Titans, but there is one in Chris Johnson and Vince Young, so there.
Blondes Have More Fun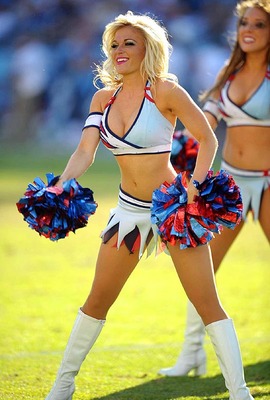 You can argue to the contrary all you want ladies, but it's just true.
All About The Pom Poms
I don't know why I love pom-poms so much. I think it's because it's hilarious that they still bring them out even though people stopped actually looking at them years ago.
I guess I'm just old school.
Yes, Somone Is Watching You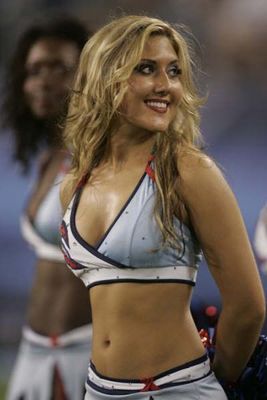 You don't need to look back sweetie, All eyes are firmly focused on you, trust me. What can I say? You've got some good lighting going on.
Boom Boom Pow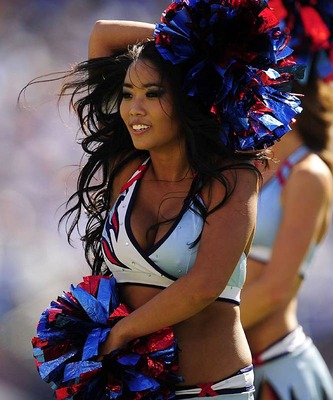 More pom-poms, this time just framing what we're really looking at. Her hair. No, seriously, you know.
Yay!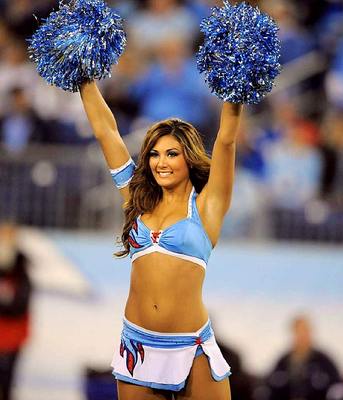 Me and this cheerleader have something in common. We're both excited by something that we see.
Knockin' Boots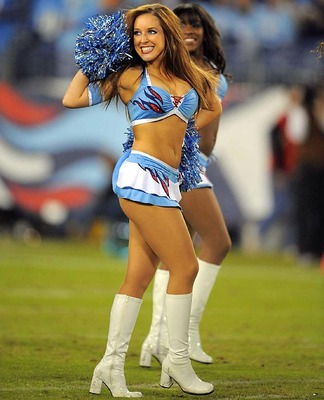 Oh man, I'm such a sucker for short skirts and long boots. I know it seems counter productive because you see less leg, but wow I can't help it. The high heeled boot is such a wonder of nature.
Got A Little Captain In Her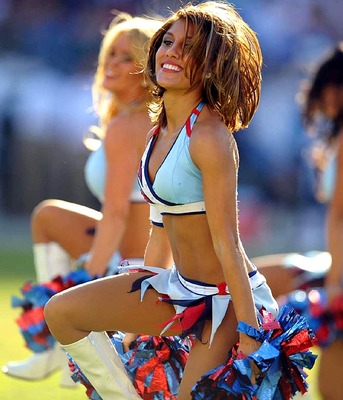 Gotta love that Captain Morgan pose. I have to say, it looks so much better on her than the millions of drunk guys that do it all the time.
Best Move Ever?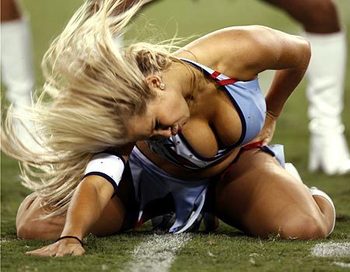 Keep Reading