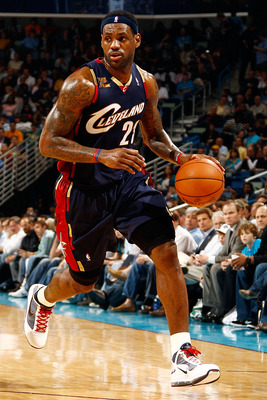 With the NBA playoffs coming closer and closer, the awards race is becoming farther and farther apart between candidates.
During the month of March, it has become very apparent as to who will win each award.
The awards that I am talking about are:

-NBA MVP
-Defensive Player of the Year
-Rookie of the Year
-Sixth Man of the Year
-Most Improved Player
-Coach of the Year
We are also going to be adding in the All-NBA First Team, Second Team, and the All-NBA Rookie First Team, and All-NBA Defensive First Team.
Now that there are only a few games left for each team during the regular season, it is safe to say that all the awards are locked up.
Now without further ado, these are your NBA award winners and your All-NBA Teams.
MVP: LeBron James (Cleveland Cavaliers)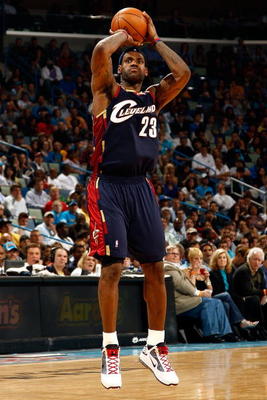 Stats: 29.8 PPG, 7.2 RPG, 8.6 APG
Runner Up: Kevin Durant, Oklahoma City Thunder (29.6 PPG, 7.5 RPG, 2.7 APG)
Sorry Kobe, but it's really no surprise that LeBron won the MVP award. He has consistently been dominating teams and has been the reason why his team is the best team in the league.
The 25-year-old Small Forward has done everything this year, he has led the league in points and is in the Top 10 for assists as well.
I cannot remember the last time, since Michael Jordan's outstanding 1988 season, that someone has dominated the game in all aspects like LeBron.
With LeBron's dominating play this year and during his career, it is safe to say that LeBron is now the best player in the game.
Now all the King has to do is to take the throne from Kobe and win the NBA Championship.
Defensive Player of the Year: Dwight Howard (Orlando Magic)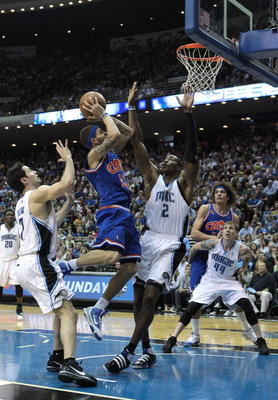 Stats: 18.6 PPG, 13.3 RPG, 2.7 BPG
Runner Up: Josh Smith, Atlanta Hawks (15.8 PPG, 2 BPG, 1.7 SPG)
Again, it is not a surprise that the most dominating big man in the game wins the award for Defensive Player of the Year.
The saying, "Defense Wins Championships," might be true for the Magic as they are looking to be the No. 2 seed in the playoffs.
The main reason that the Magic have the NBA's best defense is summarized in two words, Dwight Howard.
Howard has made it a nightmare for centers and even players to drive in on him or even try to score in the paint.
Howard deserves the award more than anybody this year and has proven it by dominating the best players in the game, when they are in the paint.
Rookie of the Year: Tyreke Evans (Sacramento Kings)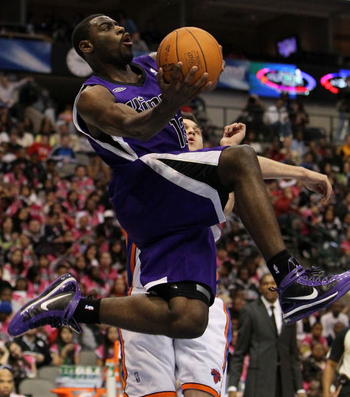 Stats: 20.3 PPG, 5.2 RPG, 5.6 APG
Runner Up: Stephen Curry, Golden State Warriors (16.5 PPG, 4.3 RPG, 5.6 APG)
The rookie sensation out of Memphis is proving to everybody this year that big guys can play point guard.
The 6'6" PG has done it all this year. He is averaging LeBron-esque numbers while trying to help Sacramento avoid being the worst team this year.
Evans is good, really good, and has shown it in all aspects of the game.
He has caused a lot of problems for some of the elite point guards in the league and it will be fun to watch the progression of Evans for years to come.
Sixth Man of the Year: Jamal Crawford (Atlanta Hawks)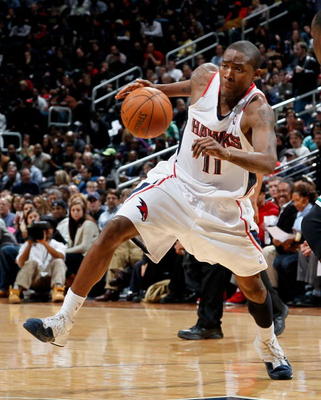 Stats: 17.7 PPG, 2.50 RPG, 3.0 APG
Runner Up: Jason Terry, Dallas Mavericks (16.8 PPG, 1.9 RPG, 3.8 APG)
The veteran guard from the Atlanta Hawks has put up unbelievable numbers this year for a sixth man. He has been one of the reasons why the Atlanta Hawks have been such a good team this year.
Coming off the bench for Mike Bibby this year, Crawford has been putting up numbers that most starting shooting guards can't put up.
Crawford has done it all this year, he has made half-court shots, buzzer-beaters, and has been a scoring monster during the season.

There is no candidate more deserving of this award than Hawks sixth man, Jamal Crawford.
Most Improved Player: Aaron Brooks (Houston Rockets)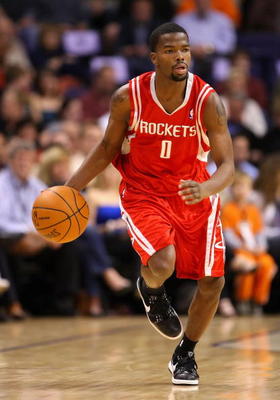 Stats: 19.7 PPG, 2.6 RPG, 5.2 APG
Runner Up: Carl Landry, Sacramento Kings (16.6 PPG, 5.8 RPG, 0.8 APG)
The little guy from the Houston Rockets has improved so much from last season to this season, that they should just rename the award the Aaron Brooks Award.
Brooks has been improving in every single category you can think of. Brooks has already started more games this year than in both of his previous years combined and it won't be difficult to guess that he won't be back on the bench anytime soon.
The reason why he should win this award is based on his numbers. He has averaged almost nine more points per game this year, his rebounds are a little up per game, and he is averaging two assists more than he was last year.
He has shown a lot of leadership for a young player by taking over games and giving the Rockets hope in the future, even without star players like Tracy McGrady and Yao Ming.
Coach of the Year: Scott Brooks (Oklahoma City Thunder)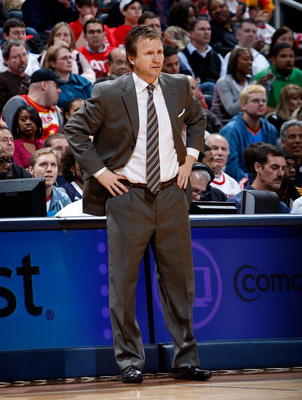 Resume: Took a team that was 23-59 to a playoff contender
Runner Up: Scott Skiles, Milwaukee Bucks, Resume: He has led the Michael Redd-less Bucks to two more wins than last year and as a solid playoff contender.
It was not too hard, looking back at it, to choose Thunder coach Scott Brooks, as coach of the year.
What he has done for the Thunder franchise in just the two years of existence is unbelievable. He has taken them from the NBA's third-worst team to one of the NBA's best teams in just one year.
What makes Brooks even more impressive is the team he has.
Brooks is playing with the youngest team in the NBA and the average amount of experience that his team has is about three years.
Brooks is making future All-Stars as well and has helped shape Kevin Durant into one of the league's top players.
The pick for coach of the year is a no-brainer and that is Scott Brooks.
All-NBA First Team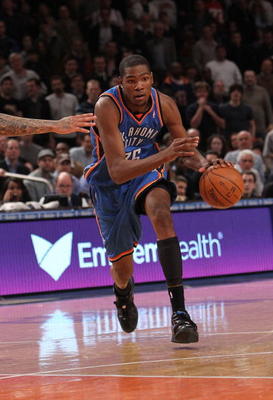 G-Dwayne Wade—26.4 PPG, 4.8 RPG, 6.7 APG
G-Kobe Bryant—27.2 PPG, 5.4 RPG, 5.1 APG
F-LeBron James—29.8 PPG, 7.2 RPG, 8.6 APG
F-Kevin Durant—29.6 PPG, 7.5 RPG,2.7 APG
C-Dwight Howard—18.6 PPG, 13.3 RPG, 2.7 BPG
All-NBA Second Team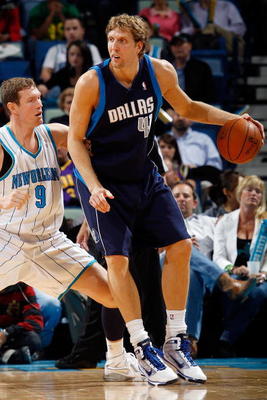 G-Deron Williams-18.5 PPG, 4.0 RPG, 10.5 APG
G-Steve Nash—16.6 PPG, 3.3 RPG, 11.1 APG
F-Carmelo Anthony-28.5 PPG, 6.7 RPG, 3.3 APG
F-Dirk Nowitzki-24.7 PPG, 7.6 RPG, 2.7 APG
C-Amar'e Stoudemire-22.9 PPG, 8.9 RPG, 1.0 APG
All-Rookie First Team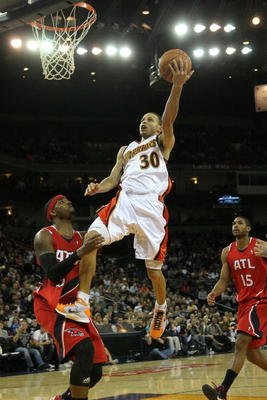 G-Tyreke Evans-20.3 PPG, 5.2 RPG, 5.6 APG
G-Brandon Jennings-15.8 PPG, 3.5 RPG, 5.9 APG
G-Jonny Flynn-13.4 PPG, 2.4 RPG, 4.4 APG

G-Stephen Curry-16.5 PPG, 4.3 RPG, 5.6 APG
G-Darren Collison-11.9 PPG, 2.5 RPG, 5.6 APG
All-NBA Defensive First Team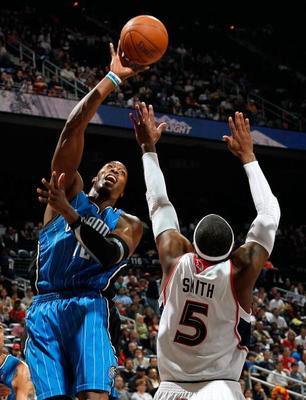 F-Josh Smith
F-Ron Artest
F-Gerald Wallace
C-Dwight Howard
C-Marcus Camby
For More...And an Exclusive All-Coaches Team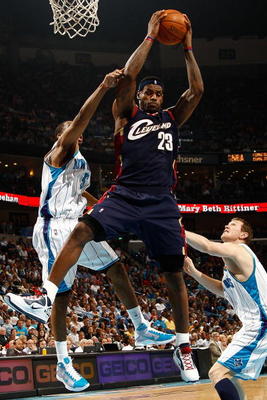 For more about the writing of Hamza Ahsan and many other star writers on Bleacher Report, visit a great sports blog called The Sports Dish.
The Sports Dish also has an exclusive All-Coaches Team for it's fans to see. So visit: (http://www.thesportsdish.com)
Also, if you would like your articles to be featured on The Sports Dish, just email Hamza Ahsan at chiballa4life@aim.com
Keep Reading