Breaking Down The Final Four Teams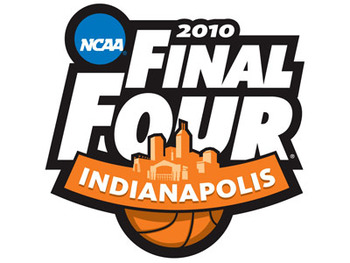 Well, here we are, the 2010 Final Four.
If you have Butler in your Final Four raise your hand.
Michigan St?
West Virginia?
Duke?
I know my Final Four is shot to hell and I'm ok with that.
This has probably been one of the greatest tournaments from the perspective of a fan and not someone trying to win money in pools.
Some people say this kind of Final Four isn't good for the tournament, but why isn't it?
We toss around the Cinderella term every year and then there is always a big letdown when those teams lose.
Granted Butler and Michigan St. are not Cinderella's but they sure weren't penciled into anybody's bracket either.
This is why the college basketball post season is so much better than college football.
When it is all said and done, no one will be complaining that so and so should have played in the title game, or somebody didn't go to the right game.
If you really want to be a title contender you go out, play your game, and leave it all on the floor.
Now with that rant out of the way, lets take a look at this year's 2010 NCAA Tournament Final Four.
The Butler Bulldogs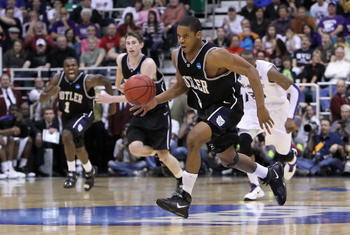 What a year for Butler to go to the Final Four.
This is the second year in a row that a Final Four team has played a "home game" this late in the tournament, Michigan St. played in Detroit last year.
RPI: 12
How Did They Get Here?
They beat No. 12 UTEP, No. 13 Murray State, No. One Syracuse, and No. Two Kansas St.
Key Stat: Points Allowed 59.6
Key Player: Gordon Haywood, tournament best 22 points and nine rebounds vs Kansas St.
Butler Strengths: Hard nosed, hustle, high percentage shots.
Butler Weaknesses: Three Point Shooting, not up to usual "Butler Standards."
The Michigan St. Spartans
Not living up to early season ranking—check.
Late season slump—check.
Losing best player—check.
Going to Final Four—check.
Here we are again, Tom Izzo has his team back to the Final Four for the second year in a row.
Nobody expected them to go this far after limping into the tournament as a No. five seed, however, they are back and are looking to go to their second title game in two years.
RPI: 28
How Did They Get Here? Beat No. 12 New Mexico St., No. Four Maryland, No. Nine Northern Iowa, No. Six Tennessee
Key Stat: Rebounds 42.0
Key Player: Durrell Summers, has led the team in scoring in the last three games. 26 vs Maryland, 19 vs Northern Iowa, and 21 vs Tennessee.
Michigan St. Strengths: Rebounding, Rebounding, and more Rebounding. They are 25-3 when out rebound their opponent.
Michigan St. Weaknesses: Dings, Bangs, and Bumps. The injuries are starting to mount for the Spartans.
The West Virginia Mountaineers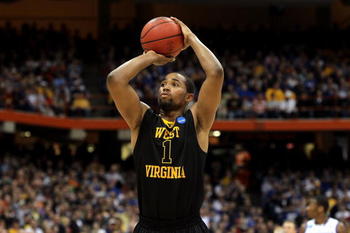 Bob Huggins came back to his alma mater to do one thing, win a national championship and here he is, one game away from the title game.
The lone Big East team left has had an easier run that some teams playing three double digit seeded teams, but showed their poise and experience vs Kentucky.
RPI: 4
How Did They Get Here? Beat No. 15 Morgan State, No. 10 Missouri, No. 11 Washington, No. One Kentucky
Key Stat: Points scored 72.8
Key Player: Da'Sean Butler, the teams go to player and All-Big East Team.
Butler has hit six game winning shots for the team this season. Led team with 17ppg this season.
West Virginia Strengths: 1-3-1 Zone, long arms of Butler and Ebanks make penetration and open shots difficult for opposing teams.
West Virginia Weaknesses: This team is turnover prone committing 23 turnovers vs Washington. If Bryant does play we will have to see if he helps or hurts the team.
The Duke Blue Devils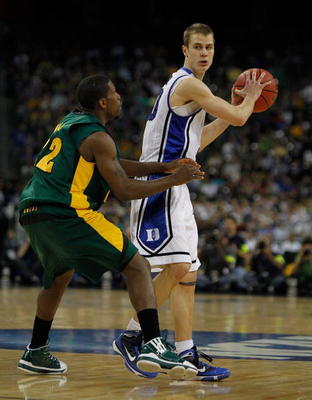 Can you believe that it has been six years since the Dukies have been to a Final Four?
After that long absence, here they are again, this time flying under the radar unlike most years.
Coach K has them back were they are used to being and is looking for his fourth title.
RPI: Three
How Did They Get Here? Beat No. 16 Arkansas-Pine Bluff, No. Eight California, No. Four Purdue, No. Three Baylor
Key Stat: Points scored 77.84
Key Player: Kyle Singler look for him to rebound in a big way after not recording a field goal against Baylor.
Before the Elite Eight game he was averaging 21 points and seven rebounds.
Duke Strengths: Perimeter Offense and Defense, they shot 38.9% 3PT and allowed 27.2% from opponents (second nationally).
Duke Weaknesses: Inside scoring, if their perimeter players aren't scoring it won't open anything up inside and they post players aren't big time scorers.
No. 5 Butler vs No. 5 Michigan State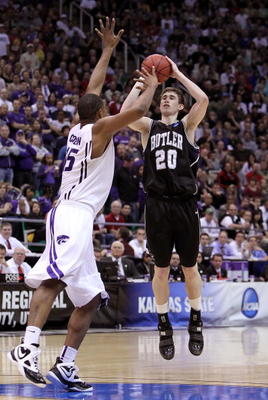 Front-court Advantage: Even
Back-court Advantage: Even
Coaching Advantage: Michigan State
Intangibles Advantage: Butler
Ultimate Edge: Slight Butler
Why Butler Could Win:
This team hasn't lost since December and has the
experience to play in big games late in the season.
Their top 10 RPI shows they can hang with the top teams, having beaten Ohio State and Xavier.
Their defense is one of the tops in the country, allowing fewer than 60 points a game.
Butler can score in the half court or in transition.
Their defense is stingy and will force Michigan St. into bad shots.
Even though they are undersized they have held their own against bigger teams; UTEP, Syracuse, and Kansas St.
Rebounding will go a long way in deciding this game for Butler.
Why Michigan St. Could Win
Izzo knows how to win in the tournament, and even though Kalin Lucas is out, having played only 16 minutes against Maryland.
Even without Lucas the Spartans boast two double-digit scorers in Raymar Morgan and Durrell Summers.
Also, Draymond Green averages just fewer than 10 a game at 9.8.
The Spartans are a veteran team and excels where Butler doesn't; on the boards.
Tom Izzo will have this team ready to play but will the injuries be too much to overcome?
No. 1 Duke vs No. 2 West Virginia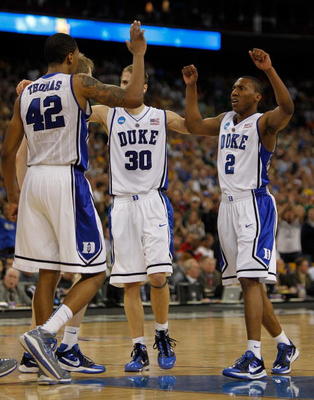 Front-court Advantage: Even
Back-court Advantage: Slight Duke
Coaching Advantage: Duke
Intangibles Advantage: Slight West Virginia
Ultimate Edge: Slight West Virginia
Why Duke Could Win:
The Blue Devils have the No. Two offense, No. Three defense, No. 12 strength of schedule, and the No. Three RPI in the nation.
They have also won 16 of their last 17 and are, strangely enough, an underrated team as a No. One seed.
Can Singler rebound from his 0-10 performance against Baylor?
If he does they will have a shot but if he doesn't it will most likely be the end of the road.
If Singler, Smith, and Scheyer have a good night shooting the ball it will open thing up inside for Zoubek.
I'm sure they'd like to bring home a title for Coach K's 30th year.
Why West Virginia Could Win
They have won ten in a row, and their résumé is tops in the country.
They also have a one-two-three punch in Devin Ebanks, Da'Sean Butler, and Kevin Jones.
While Butler is Mr. Consistent, you never quite know what you are going to get out of Ebanks.
West Virginia may scrap their 1-3-1 zone and man up on Duke to use their athleticism and length to gain an advantage. If they can hound Duke into similar three-point shooting numbers as they did Kentucky (4-22) then they will advance.
Predicted Winners....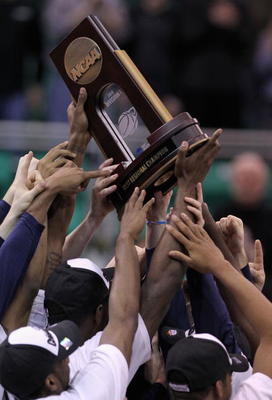 No. 5 Butler Bulldogs vs No. 2 West Virginia
Keep Reading