Big Ten's Top 10 POY Candidates for 2010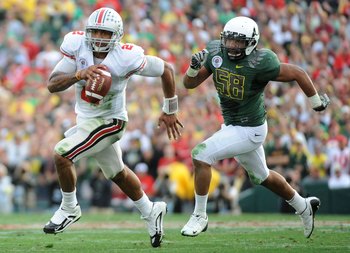 As spring practice gets underway for the Big Ten, teams are getting set to begin the 2010 football season.
The general consensus of the top teams next season includes Iowa, Wisconsin, and Ohio State. But which individuals will step up most for their teams this season?
The Big Ten seems to be a bit top heavy this season, with a big drop-off after the fourth or fifth best team. But each team has at least one star that will be feared by opposing teams throughout the league.
Check out the top 10 player of the year candidates—five on offense and five on defense—for the Big Ten in 2010.
QB Terrelle Pryor, Ohio State
After a miserable start last season that had some Ohio State fans calling for Jim Tressel to pull him as a starter, Terrelle Pryor lit up opposing defensive in the last part of the season and, after destroying the Oregon pass defense in the Rose Bowl, silenced the critics who said he wasn't a good passer,
Because of his masterful Rose Bowl performance, Pryor will come into the 2010 season as the most hyped quarterback in the league.
Is he worth the hype this time? We'll have to see.
Pryor still needs to improve his mechanics and work on finding open receivers, not just taking off and running every time the coverage is good.
But if he can prove that he is an improved passer and a duel threat quarterback, he will rack up a number of postseason awards and may be able to lead Ohio State to the National Championship next season.
QB Ricky Stanzi, Iowa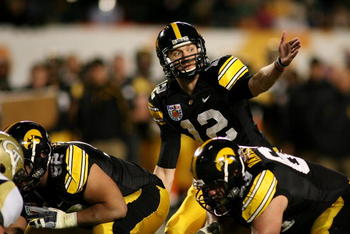 And cue the whining and complaining.
Last season, Ricky Stanzi was impossible to figure out. Not only was he inconsistent from game to game, but also from quarter to quarter.
For example, he threw four interceptions in the third quarter against Indiana last Halloween, but lit up the Hoosiers in the fourth quarter, throwing two huge touchdown passes and helping the Hawkeyes accumulate 28 points to take down Indiana 42-24.
For Stanzi, consecutive positions can be like night and day, but Iowa fans are hoping for some more daylight in 2010.
Although Stanzi had the most interceptions per pass attempt in the FBS last season, he knew how to win, as Iowa won every game that he started and finished last season.
The Hawkeyes are 18-3 in those games throughout Stanzi's career, and if he can cut down on the interceptions next season, expect the win column to go up even more.
Stanzi has proven to be a great player—when he's on, that is—and with his added maturity and experience, expect him to be one of the best quarterbacks in the Big Ten next season and possibly bring Iowa all the way to the National Championship.
RB John Clay, Wisconsin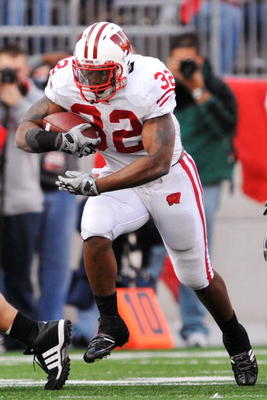 After last year's breakout season, Clay is being praised as the best running back in not only the Big Ten, but possibly in all of college football.
He is a power back that truly powered the Wisconsin offense last season, and destroyed many Big Ten defensive lines in 2009.
While quarterbacks typically rule POY ballots, this is the Big Ten, so expect Clay to be a frontrunner for the award from the start. Also expect him to be a frontrunner for the Heisman Trophy, especially if he can lead Wisconsin to BCS contention in 2010.
QB Scott Tolzien, Wisconsin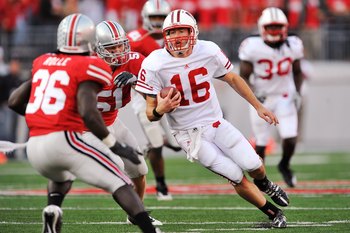 Another breakout player for the Badgers in 2009, Tolzien helped stabilize the Wisconsin quarterback situation, which had been shaky for the past few seasons.
He was a solid passer and was likely the second-best quarterback in the Big Ten last season, although Pryor might have had an edge at the end of the season.
Look for Tolzien to improve in 2010 and build himself into a legitimate NFL prospect.
He has some skilled players around him to help, including go-to receiver Nick Toon.
And while John Clay will likely be the center of attention for the Wisconsin offense in 2010, Tolzien will likely lead the passing attack to another successful season.
RB Evan Royster, Penn State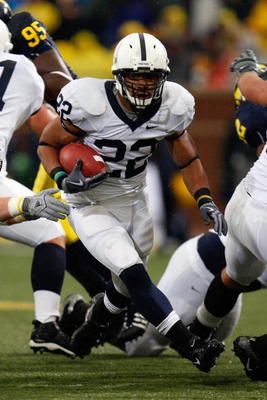 After a solid, under-the-radar 2008 season, Royster failed to meet large expectations in 2009.
Sure, he was good, but he wasn't the dominant player that most of the country expected him to be.
But he'll receive a lot of (undeserved) preseason hype again in 2010, which is why I'll tag him as a POY candidate.
Maybe I'm being too hard on Royster. He really is a solid player and will likely be the leader of the young Penn State offense this season.
However, I don't think he will match the success of John Clay and may even be passed up by Ohio State's Brandon Saine or Boom Herron or one of Iowa's three running backs—Adam Robinson, Jewel Hampton, or Brandon Wegher.
Nevertheless, expect to hear his name a lot in the months leading up to September, as he will still be one of the top running backs in the Big Ten.
DE Adrian Clayborn, Iowa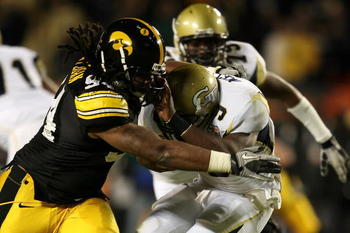 Clayborn is an obvious candidate for Big Ten Defensive POY. He broke onto the national scene last year after a monstrous game in the Orange Bowl against the nation's second best rushing attack.
But he was on the Big Ten radar much before that.
He destroyed the Penn State offense and blocked a punt that he returned for a touchdown against the Nittany Lions, helping lead Iowa to a 21-10 win in Happy Valley.
He also helped the Hawkeyes shut down the Wisconsin offense and was one of the only players to shut down John Clay last season.
The 2010 Orange Bowl MVP has been called "this year's Suh" by opponents and will likely be the best defensive end in college football this season, leading arguably the best defensive line in the sport.
Look for Clayborn to dominate opposing offenses once again in 2010, as he will likely rack up plenty of national awards, likely including being named to some All-American lists.
LB Greg Jones, Michigan State
A returning All-American, Greg Jones is the other obvious candidate for Big Ten Defensive POY.
Arguably the best linebacker in the country in 2009, Jones will be hungry to retain his spot as the Big Ten's best defensive player, but Clayborn is a very good challenger.
Jones was the nation's leading tackler last season and should be able to repeat that feat in 2010, especially with many top linebackers, such as Iowa's Pat Angerer, Alabama's Rolando McClain, and Florida's Brandon Spikes.
So, in short, expect Jones to be far and away the best linebacker in the Big Ten and in the country in 2010.
DE Cameron Heyward, Ohio State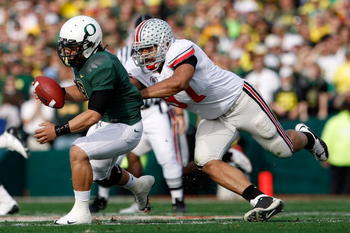 After finding the Big Ten spotlight last season, Heyward put together a solid year for Ohio State.
The top defensive lineman for the Buckeyes, he led the second best defensive line in the Big Ten last season.
But don't expect very much hype this year for Heyward due to the attention that Clayborn and Jones will get.
Don't get me wrong, Heyward is a great player and will likely be first team All-Big Ten, but hype—or lack thereof—will likely take him out of the top group of candidates for POY before the season even begins.
S Tyler Sash, Iowa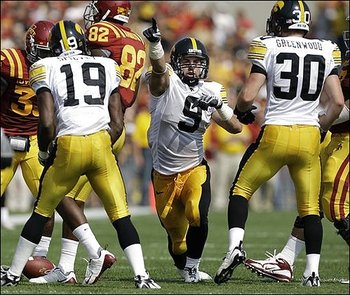 Interception machine Tyler Sash returns for his junior year at Iowa in 2010 and will likely be on the short list for All-American come December.
One of the most opportunistic players in the country, Sash intercepted six passes last season, including three against Iowa State and a game-changing pick-six against Indiana.
Were some of Sash's interceptions due to luck? Yes.
But his great football knowledge helps him know where to be on the field, allowing him to be in the right place at the right time.
And as long as he continues to bring in interceptions for Iowa (11 in the past two seasons), Sash will continue to rack up awards and begin to receive more national attention.
LB Ross Homan, Ohio State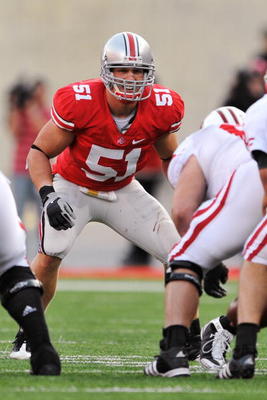 From this list, it's pretty clear that Iowa and Ohio State will be the dominant defenses in the Big Ten this season. Iowa will dominate the front and the backfield, while Ohio State will dominate the middle.
Homan returns following a solid 2009 season, in which he recorded 108 tackles and five interceptions.
He and Brian Rolle will lead the best linebacker corps in the Big Ten next season, and expect Homan to see some All-Big Ten lists come November.
He will be largely overlooked for Big Ten Defensive POY honors due to the spotlight facing mainly on Clayborn and Jones.
However, look for Homan to be one of the top linebackers in the league, and possible the country, in 2010.
Keep Reading

Iowa Hawkeyes Football: Like this team?