50 Burning Questions (And Answers) For the 2010 College Football Season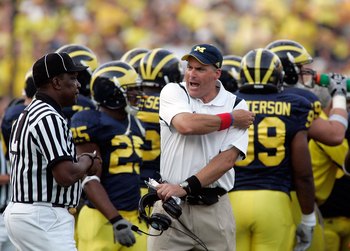 With the assistance of the unparalleled college football Featured Columnist community at Bleacher Report, we've brainstormed 50 (count 'em, 50!) burning questions for the upcoming 2010 season.
And if Jeremiah Masoli hadn't swiped our laptops, we would have reached 100, no problem.
Here is the most comprehensive, regionally representative and completely randomly organized list of questions that must be answered by season's end.
1. Who will emerge as the second-best team in the SEC behind Alabama?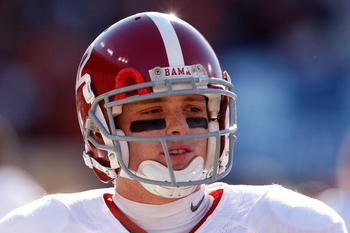 It's still Florida until proven otherwise, but LSU, Arkansas, Georgia, Tennessee, and Auburn all want a piece.
2. Can Iowa's Ricky Stanzi overcome his tendency to throw the pick-six?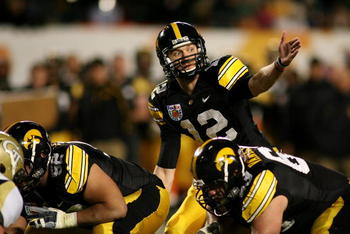 Yes. If Stanzi doesn't have a poster of Greg McElroy on his wall yet, he should.
Hand it to your backs, trust your offensive line, lead your team, and let the wins pile up. Maybe even titles.
3. Did Jake Locker make the right decision by returning to Washington?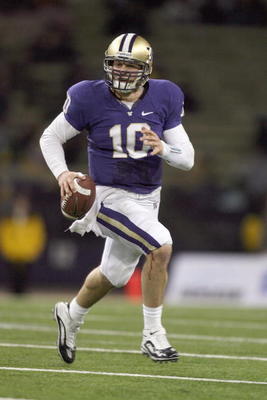 Maybe not financially depending on what happens at the NFL level, but Locker will benefit from another year in college under Steve Sarkisian, who may be coaching his third Heisman Trophy winner in the fall.
I'm still not sold on the belief that Locker would have gone ahead of Bradford and Clausen in the 2010 NFL Draft.
With another productive season at the college level, he'll almost certainly be the first quarterback off the board in 2011.
4. With 17 returning starters, is Temple the next unbeaten mid-major?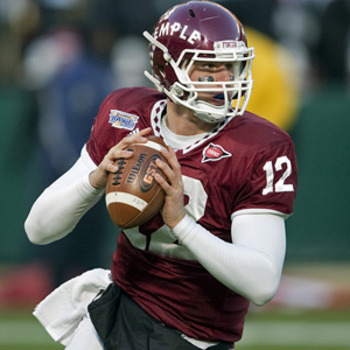 At Penn State is the only game on the 2010 schedule the Owls absolutely can't win. But if they do…Boise State, eat your heart out.
*Image courtesy espn.com
5. Will Robert Griffin be the same Robert Griffin we saw two years ago?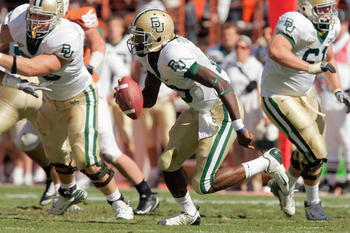 Not only will he be, but he'll also lead the Bears to their best season since joining the Big 12, ending Baylor's 15-year bowl drought in the process.
6. Will Pat Hill survive if Fresno State has another disappointing year?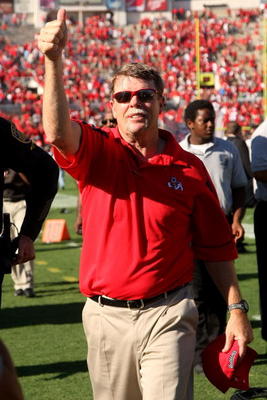 He should. Pat Hill is the reason college football knows Fresno State. He's got tenure.
7. Will Derek Dooley top Kiffin's first season at Tennessee...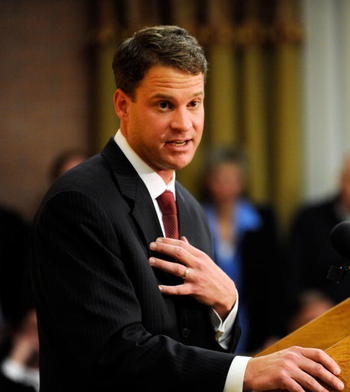 ...and if he does, will Kiffin get some of the credit?
7-6 is the mark to beat and figuring out the quarterback situation is the first order of business.
Neither Nick Stephens nor junior college transfer Matt Simms will have Bryce Brown lined up behind him. Eric Berry will be watching from the pros.
Given those hurdles, if Dooley does lead Tennessee to a winning season, then he—not Kiffin—deserves all the credit.
8. Who's going to win the Pac-10?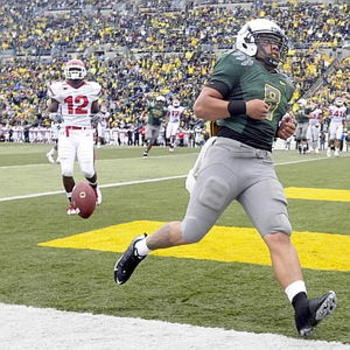 Jeremiah Masoli may have cost Oregon a chance to play for a BCS title. LaMichael James isn't helping matters, either. And Mike Bellotti vacating the AD seat in favor of an ESPN analyst chair smacks of "getting out of Dodge."
Chip Kelly was able to turn volatility into victories in 2009 and very well may duplicate the feat in 2010.
However, Oregon is too risky to be considered the favorite out West. That mantle probably goes back to USC. But my money's on Andrew Luck, Jim Harbaugh, and Stanford.
9. Is the Big Ten back?
Without question.
Assuming the SEC gets its traditional BCS Championship invite, the other should go to the Big Ten winner, Boise State or TCU.
10. Is this the last chance for Rich Rodriguez at Michigan?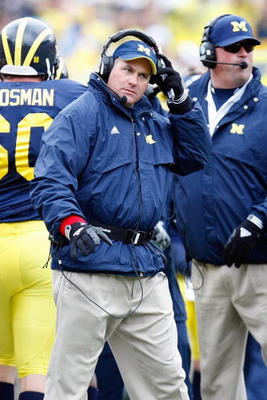 Yes. And with the Big Ten on an uptick, he picked a bad season to go all in.
If Rodriguez doesn't deliver in 2010, Michigan may have to scramble to get to Jim Harbaugh before the NFL does.
11. How will the Texas offense adjust to life after Colt McCoy?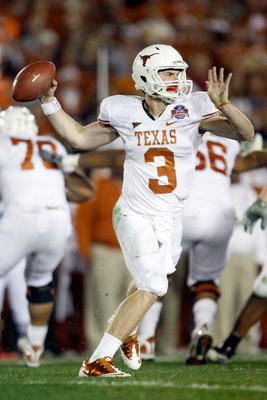 The Longhorns already did.
Name another first-year starter who already had BCS Championship Game experience?
"Tim Tebow," an astute college football fan might offer. He turned out alright, didn't he?
The real question isn't quarterback—it's developing a championship running game.
12. Can Ryan Mallett lead the Razorbacks to a BCS Bowl game?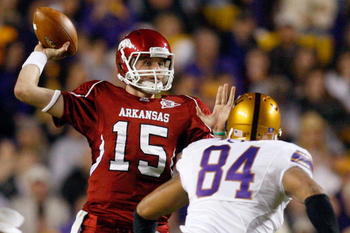 Have a seat and put your drink down…Unequivocally, yes he can.
The Hogs get Alabama and LSU at home and don't have to deal with Florida out of the East.
Arkansas is a solid surprise pick in the loaded SEC West, due in large part to Mallett's right arm.
13. Can the Nebraska offense move the ball effectively?
The Huskers barely cracked the top 100 in total offense a year ago, but perhaps the balanced attack that produced 396 yards in the Holiday Bowl was a sign of things to come.
Zac Lee and host of returning skill players will still be pedaling with training wheels compared to the other Harley Davidson offenses in the Big 12.
However, they don't have to improve dramatically to give Nebraska a look at a title.
14. Can Noel Devine become the first Mountaineer to win the Heisman?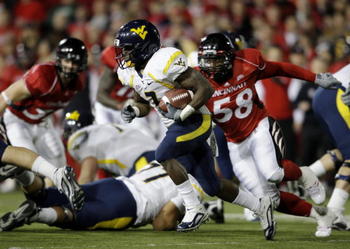 Doubtful. Not that he won't deserve consideration.
But playing in the Big East hurts his case, especially when he's not even regarded as the top college running back in the conference (see: Dion Lewis) to start the season.
15. Is John Clay Wisconsin's next Ron Dayne?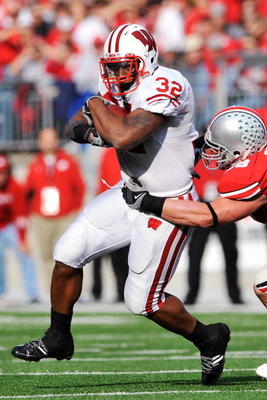 The reigning Big Ten Offensive Player of the Year is still relatively unsung. If Wisconsin makes a run for the roses by edging Iowa and Ohio State for the conference crown, that will change in a hurry.
With a Heisman season like the one Dayne posted in 1999, Clay could very well have the Badgers back in Pasadena, if not Glendale, Ariz.
16. Have Mike Stoops and Arizona become perennial Pac-10 players?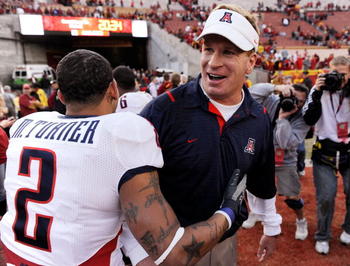 After consecutive 8-5 seasons, some Wildcats fans believe they're ready to contend on an annual basis.
But Arizona is still lagging way behind the likes of USC, UCLA, Oregon, and others in recruiting.
17. Who will start at QB for Georgia: Murray, Gray, or Mettenberger?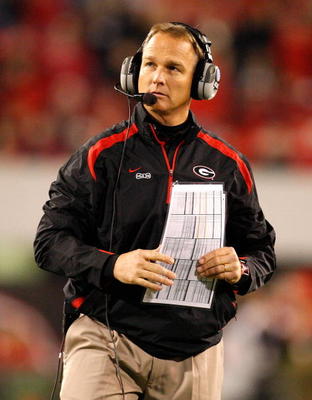 Zach Mettenberger, if Saturday's first full scrimmage was any indication.
The redshirt freshman was 7-for-10 for 157 yards and a touchdown. Aaron Murray and Logan Gray were both intercepted.
18. Will Iowa be able to reload on the offensive line again?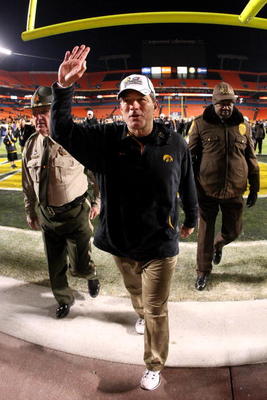 Is Kirk Ferentz still the coach?
It's what he does as well or better than any other.
Three Hawks either ran out of eligibility or opted not to petition for additional years this offseason. Bryan Bulaga entered the NFL Draft.
Yet, Ferentz tells the Quad City Times, "I'm not overly concerned."
19. Who is the best quarterback in Texas?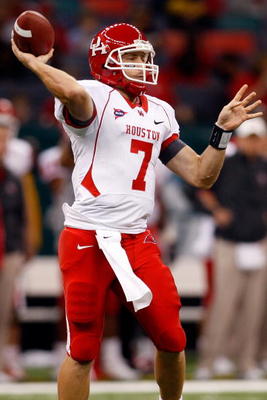 After Case Keenum was intercepted six times in Houston's bowl game, we should probably give the nod to Andy Dalton…except he was picked three times in TCU's season finale.
Either way, those two are the favorites only in the statistical sense.
I prefer Jerrod Johnson and Robert Griffin to both, and I'm sure Texas wouldn't trade Garrett Gilbert for either.
20. Who is the best team in Texas in 2010?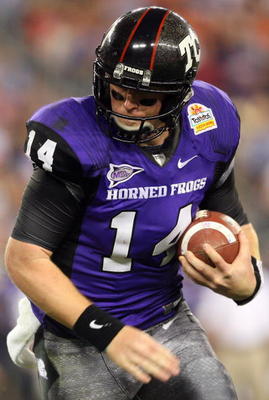 If college football had a commissioner, he (or she) would force the Longhorns and Horned Frogs to actually play, so that this running debate could be settled on the field.
It's UT until proven otherwise.
21. What happens when you mix SEC defense with Big 12 offense?
Tommy Tuberville is about to show us.
If the Bob Stoops experiment was any indication (Stoops was Florida's defensive coordinator before winning a national title in his second season at Oklahoma), Texas Tech will be worth watching really soon.
22. What program will enjoy the biggest turnaround this year?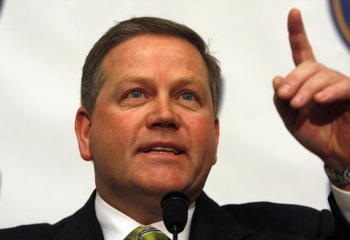 A bold voice shouts, "Syracuse!"
And the Orange do return 20 starters for Doug Marrone's second season. Possible, not probable.
How about big names like Notre Dame, Michigan, and even USC?
23. Can USC return to prominence in the Pac-10?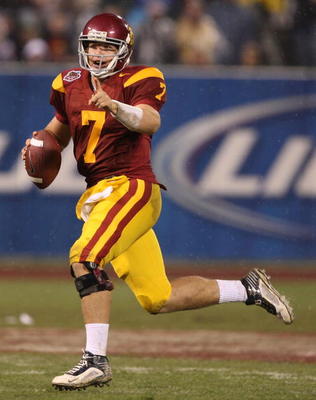 Sounds crazy, I know. But by the end of last season, it certainly felt like smoggy Los Angeles needed a breath of fresh air, didn't it?
Of course, Lane Kiffin isn't a better coach than Pete Carroll. But that doesn't mean a new face can't have a positive impact on a team that lost three of its last five regular-season games in 2009.
Health wouldn't hurt, either.
BONUS: Will we ever hear anything about the USC recruiting scandal?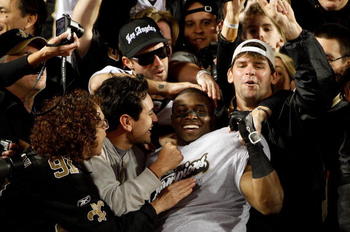 What USC recruiting scandal?
(Crickets…)
24. Will Robert Marve finally live up to potential at the Cradle of QBs?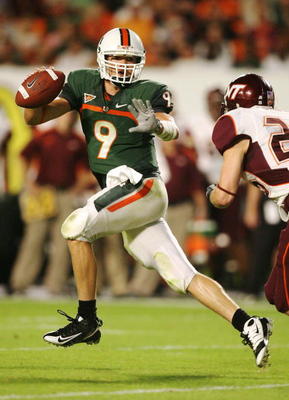 The Purdue offensive line is bodyguarding the former Florida Mr. Football—even in interviews.
Marve surrounded himself with the Big Uglies in Friday's post-practice media session.
If he's this inaccessible to Big Ten defenses, Purdue is going to be a thorn in some program's championship hopes.
25. Will an SEC team win the National Championship again?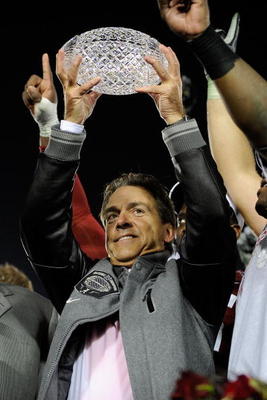 Probably—it's just a matter of which one.
Come September, would you take Ohio State, Boise State, TCU, Iowa, Virginia Tech, Texas or Nebraska against "SEC Team To Be Named Later?"
You shouldn't.
26. How much will the Gators miss Tim Tebow?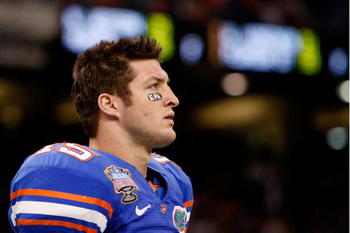 Not nearly as much as the girls in Gainesville.
In all seriousness, for as much as we enjoyed poking fun at, critiquing, glorfying, overrating, trashing, and exploiting Tim Tebow over the past four years, his departure to the NFL hurts college football.
But not nearly as much as it hurts Thom Brennaman.
27. Will Miami dash Ohio State's hopes of going undefeated?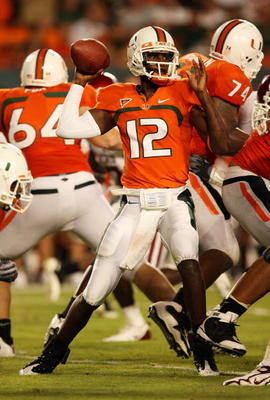 Not in The 'Shoe.
Terrelle Pryor and Ohio State appeared to have turned a corner at the end of last season.
Jacory Harris and Miami were left wondering if they were back to square one.
28. Will Terrelle Pryor take a step up, or a step back?
Up.
It's his third year starting in this system, he's got chemistry with DeVier Posey and Dane Sanzenbacher, and he's still faster than virtually every defense he'll see.
Trust Jim Tressel and he may not get the Heisman, but he'll be playing for a lot more in January.
29. Is "Linebacker U" still "Linebacker U?"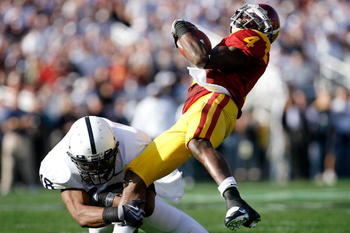 To be blunt, Penn State isn't even the best linebacker program in the Big Ten anymore.
Ohio State is. (See J.D. Schaller's latest for more details.)
In 2010, the Nittany Lions have some rebuilding to do at that position, as Navorro Bowman left for the NFL, while Sean Lee and Josh Hull graduated.
30. Can Jordan Jefferson turn potential into production at LSU?
112th out of 120 in total offense. That's not all on Jordan Jefferson, in fact, the 90th-ranked rushing attack is the primary culprit.
But it remains to be seen whether or not he'll even be the starter.
Jarrett Lee has been pressing him for the job this spring; however, both disappointed in last weekend's spring game.
Lee threw a pick-six (he had seven of them in 2008), while Jefferson was just 8-of-23 for 94 yards.
Mercifully, the ground game exploded with 340 yards.
31. Can Cincinnati three-peat as Big East Champs?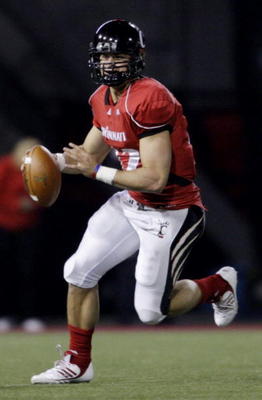 I like Pitt out East. And Bill Stewart may have to find a way for West Virginia to win the title. (More on that in a moment.)
However, Cincinnati definitely has the edge in replacing a starting quarterback.
Zach Collaros proved to be a more than adequate fill-in for an injured Tony Pike last season. Bill Stull's void may not be as simple to fill at Pittsburgh.
32. Is 2010 Bill Stewart's Farewell Tour?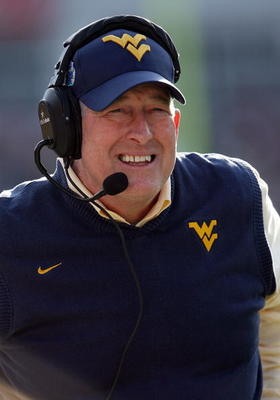 It's hard to put a coach on the hot seat for back-to-back 9-4 seasons.
But the Big East has seemingly caught up to—and passed—the program that was routinely winning conference titles under Rich Rodriguez.
If it becomes a three-year drought this fall, the Mountaineers will demand more.
33. How will Skip Holtz fare in a BCS conference?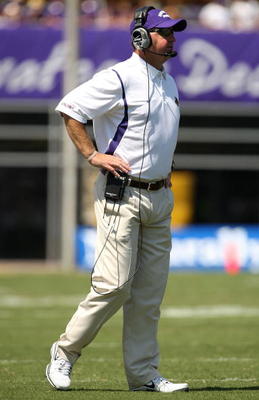 He's already 1-0. Despite taking over a program in turmoil, in mid-January, after Jim Leavitt—the only coach South Florida has ever known—was fired for allegedly choking a player, not one Bull defected.
Holtz is more than a last name. He and B.J. Daniels are going to win a Big East title before they're done.
34. Does the SEC West have more elite teams than some conferences?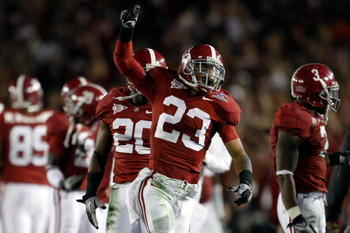 Yes, including the Pac-10 in 2010.
35. Will Auburn's top recruiting class pay dividends immediately?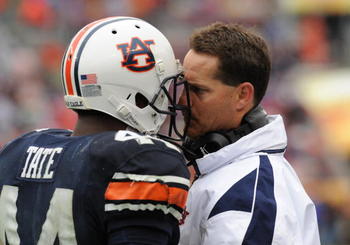 According to B/R recruiting guru Bryan Kelly:
"No question. Auburn lost its starting QB and RB in Chris Todd and Ben Tate, so Newton and Dyer are expected not only to contribute, but to start.
"Newton was basically born to run Malzahn's offense, and Dyer is a bruiser, and probably 2010's top all-purpose back—versatility and conditioning are both must-haves.
"The offensive line got a big upgrade as well in OG Eric Mack, who they stole from South Carolina. On the defensive line, DE Corey Lemonier and (maybe) DT Jeff Whitaker should be in the rotation immediately.
"Also, WR Trovon Reed is the ideal speedy slot-man, the guy Auburn's been missing. They're getting way, way faster."
*As an aside, please send your positive thoughts to OL Shon Coleman, whose family recently revealed that he's undergoing chemotherapy. Our best wishes for a successful fight.
36. Will Bob Stoops finally break his BCS curse?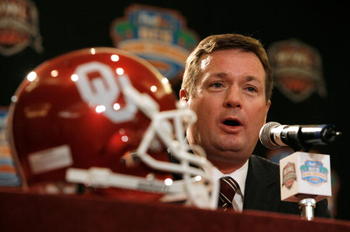 He won't get the chance this year.
The Sooners aren't the favorite in the South and have the most challenging schedule in the Big 12, if not the country.
OU will be improved if it can repair the offensive line, but the Sooners don't jump off the page as BCS-worthy.
37. Will history repeat itself for the Missouri Tigers in 2010?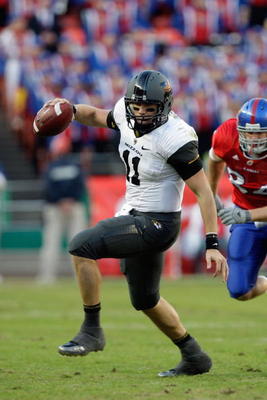 Guest co-author Ryan Faller explains the phenomenon:
"A lot of people who pay close attention to the MU program have begun finding striking similarities between this season's team and the 2007 squad that ascended from obscurity to win 12 games, capture the Big 12 North, and land the school's first No. 1 ranking in 40 years.
When you delve into it, the similarities are pretty eerie. In 2010, the Tigers will have a junior quarterback who proved his mettle as a first-year starter in his sophomore campaign.
Now, the expectation is that Blaine Gabbert will make an astronomical leap similar to that of Chase Daniel, who exploded on the scene in his second full season as the starter and served as the lifeblood of that team that captured the Cotton Bowl.
Secondly, MU entered 2007 with plenty of options at WR (Martin Rucker, Will Franklin, Tommy Saunders, Chase Coffman, Jeremy Maclin), but none of those players had too much in the way of proven production.
Simply put, there was no clear-cut No. 1 threat in the passing game. In the end, 12 wins later, that group combined to produce 297 catches for 3,422 yards, 31 touchdowns, and two All-American selections.
With the departure of seniors Danario Alexander and Jared Perry, who combined to account for more than 65 percent of the offense in '09, the Tigers will lean upon a number of unproven receivers that includes Jerrell Jackson, Wes Kemp, and Rolandis Woodland.
And finally, there is the defense, where the Tigers have a unit that could surprise some people, much like the defense did in 2007 when it ranked No. 5 in the Big 12 overall.
That season, junior college transfer safety Pig Brown was arguably the team's best defensive player.
For 2010, the Tigers are counting upon a pair of junior college transfers—Jasper Simmons and Jerrell Harrison—to follow in Brown's footsteps and excel at the back end of the defense in their second season."
38. How much will Notre Dame's defense improve under Bob Diaco?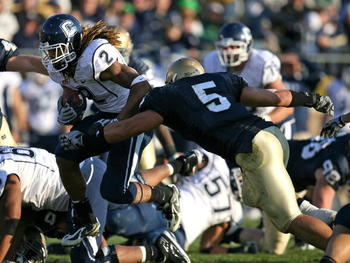 If he can tackle, give him a jersey.
Diaco takes over an already bad Irish defense that will now have to play at Cincinnati's pace. Hard to envy that task.
However, Charlie Weis' best recruiting class is entering its junior season, and there's no shortage of four-star talent on the depth chart. Plus, Diaco has a reputation for sacks and tackles for losses, two things Notre Dame needs desperately.
Expect to see Manti Te'o take a monumental step forward in his sophomore season. The more he can take on, the better for Brian Kelly in year one.
39. Will a non-BCS school finally get to play for the title?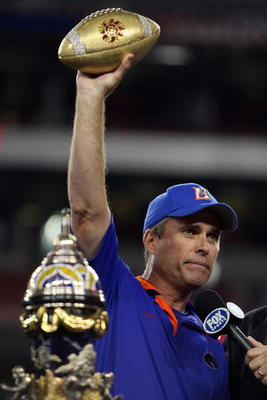 Nope.
With the Big Ten's reputation restored, the little guy is going to get pinched again.
The Midwest Megapower, which is already considering its choice of Big 12 and Big East prospects for expansion, is not going to sit by and watch Boise State or TCU play for it all.
40. Will Steve Spurrier finally find a quarterback he likes?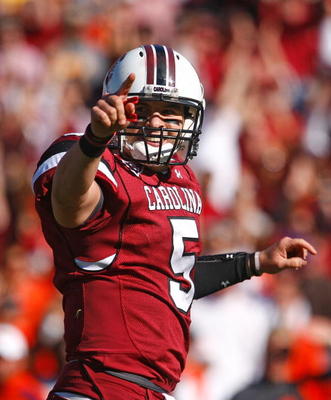 In Stephen Garcia, he's finally found a quarterback he's willing to start for 12 games.
But "likes?"
Let's not get crazy.
41. Will UF still be the best team in Florida after the 2010 season?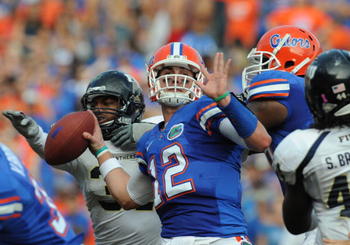 Of course.
Jimbo Fisher's first recruiting class was great, but Urban Meyer's 2010 group was still better.
Florida State and Miami still have a long way to go, and the toughest part of the journey is still ahead.
42. Will Kellen Moore become the first Heisman from a non-BCS?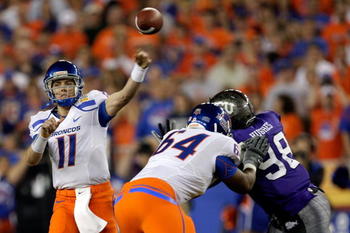 If he plays well against the Hokies and Beavers on national television, and the Broncos run the table, I like Moore's chances.
43. Can Garrett Gilbert lead Texas back to the BCS Championship?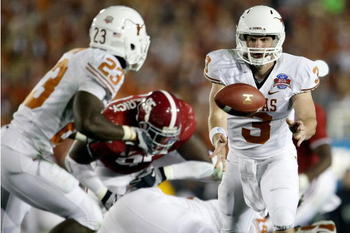 Can't see why not.
Sure, the 'Horns have holes to fill—but what team this side of Boise doesn't?
The fact remains that Texas reloads with the best of them, will be the favorite in an otherwise wide open Big 12 South, plays a non-conference schedule that's conducive to going undefeated, and would make for a compelling BCS Championship rematch with Alabama should things play out that way.
44. Will the 3-4 defense sink or save Mark Richt at Georgia?
No coincidence that Georgia hired a Nick Saban disciple, Todd Grantham, to replace the deposed Willie Martinez.
Richt says it was his decision, independent of outside pressure, and therefore his job is now attached to a similar version of Alabama's 3-4 defense, something that Grantham believes will allow the Bulldogs to be more balanced against all the SEC formations.
Judge Richt's tinkering by 2011, not 2010.
45. Is this the year of the ACC?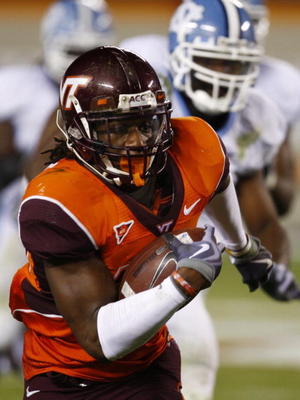 Here's one of the least recognized realities of the BCS era: The ACC—not the Big East—has been the least successful major college football conference. Just two wins against 10 losses, and zero at-large BCS invitations.
This has to be the year for the ACC, with five teams (Virginia Tech, Florida State, North Carolina, Miami, Georgia Tech) that should be ranked in the preseason top 25.
46. Is Dion Lewis of Pitt the next sophomore Heisman winner?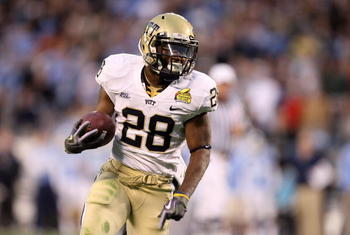 Sophomore is the new senior, and after rushing for nearly 1,800 yards and 17 touchdowns as a freshman, Dion Lewis has the potential to extend the trend.
But with the Panthers replacing three interior offensive lineman in 2010, not to mention their Big East conference affiliation, Lewis is a dark horse.
47. How much longer will Joe Paterno coach?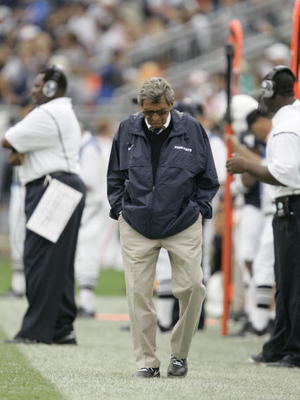 Here's one question we won't attempt to answer, but is worth including as a rhetorical as Paterno enters his 45th season at 83 years of age—and this will be a rebuilding one at Penn State.
Let's hope we have to ask this question again next spring.
48. Can Nebraska's defense be BETTER without Ndamukong Suh?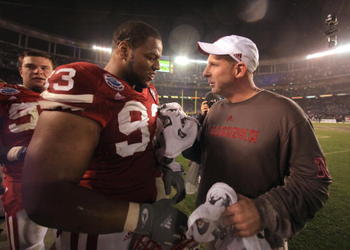 Bo Pelini thinks so. Who are we to argue?
If nothing else, there's more depth on the line than ever before, and so many position battles across the defense that Pelini's been quoted as saying, "The depth chart isn't worth the paper that it's on."
Still, there is no Suh 2.0 upgrade. Impossible for Nebraska to be better on the interior, even if the overall defensive statistics improve.
49. If Alabama repeats, has Saban surpassed Meyer as best in CFB?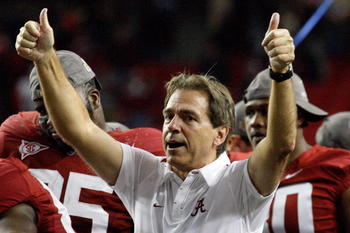 These things are cyclical, but it would definitely give Saban the temporary lead and presumably the head-to-head advantage.
Thankfully, there's a good chance we'll be treated to a pair of Meyer-Saban Bowls in 2010, as the Gators and Tide will also meet in the regular season, on Oct. 2 in Tuscaloosa.
Keep them in the college game, and this has the potential to be the greatest coaching rivalry in sports.
50. How many undefeated teams will there be in 2010?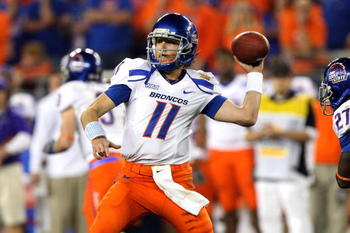 Three, at most.
Boise State, TCU and (maybe) Alabama. All the other contenders either have too many question marks or play in conferences that are too difficult to run the table.
Keep Reading