The Top 10 "Worst" College QBs: Do They Deserve All the Criticism?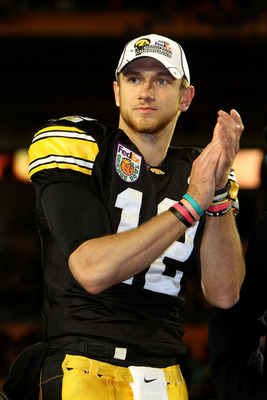 Never having been a fan of "worst" lists, I thought I'd take a fresh look at an old premise.
The Internet is littered with articles slamming various players, particularly quarterbacks, oftentimes without digging deeper into why that player had a bad season.
To be fair, sometimes their subpar seasons are also the byproduct of external forces: coaching changes, injuries, new offensive schemes, battered or inadequate offensive lines, the lack of a consistent running game, dropped passes, voodoo curses, etc.
This slideshow will attempt to scratch beneath the surface of these players' lack of production and try to offer contributing factors (if any) that might have led to each player's poor performance in '09.
So instead of being a litany of negativity as to why "this player sucked," this article will try to paint a broader picture behind each of these quarterback's statistical failures and then determine whether the criticism they received was warranted or not.
Also, in the interest of fairness, freshman quarterbacks were not included.
You might disagree with some of the conclusions, but then that's the beauty of websites like this. Everyone has an opinion and can defend their favorite players if they so choose.
Enjoy.
10. Ricky Stanzi—Iowa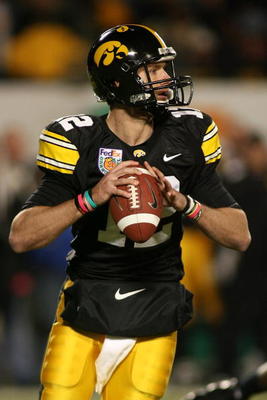 Hawkeye fans are quick to defend Ricky Stanzi in the face of continued criticism.
They point to his comeback win against Indiana after throwing five picks as proof of his greatness.
The knock against Stanzi is that he often suffers from "Jake Plummer Syndrome," meaning that he has to elevate his play in order to compensate for earlier mistakes.
However, in regards to Stanzi, two numbers leap out above all others.
The first is Stanzi's interception-per-attempts ratio of 1:20.2, worst among all FBS quarterbacks in 2009.
I'll get to the second number in a minute.
So based upon what we've covered so far, is the criticism of Stanzi warranted?
Statistically speaking, yes.
Only one other returning QB from a BCS school had more interceptions than Stanzi in 2009. Miami's Jacory Harris had 17 picks to Stanzi's 15, though to be fair, Indiana's Ben Chappell, Minnesota's Adam Weber, and UNC's T.J. Yates all had 15 as well.
While the Indiana game might have been a bit of an aberration, a pick-six from Stanzi on the Orange Bowl's grand stage hasn't helped his overall reputation.
However, this is where the second number comes into play.
Stanzi has an impressive 18-4 record as the Hawkeyes' starter, and while one might question his play during some of those wins, it's hard to argue with results like that.
Sure, the formidable Iowa defense played a large part in that record, but Stanzi seems to possess a certain "IT" factor and was able to lead his team to multiple victories in 2009 despite a depleted backfield.
He's a likable player with NFL potential, and he isn't self-assuming, as evidenced in a recent interview in the Cedar Rapids Gazette.
On his spate of interceptions: "That's all up to me. There's no one else to blame on that one. You have to learn how to deal with those things during the course of the game and at the end of the season. A lot of it comes down to moving with your feet and not your arm."
At the end of the day, Stanzi has the ability to get the job done.
In 2010, Iowa will have to contend with a retooled offensive line. Nevertheless, the Hawkeye faithful are hopeful that Stanzi will cut down on his interceptions and continue his winning ways.
9. Jacory Harris—Miami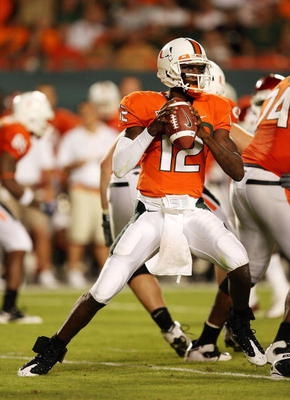 Last season, after Miami's wins over Florida State and Georgia Tech, Hurricane fans were ready to anoint Jacory Harris as the next legitimate Heisman contender.
However, following Harris' entire 2009 campaign in which he hurled 17 interceptions, Miami fans might have to put their pink suits and pimp cups under wraps for a while.
Despite such lofty expectations, Harris could very well develop into a great player—the potential is there.
As a sophomore with only one meaningful start under his belt, Harris threw for 24 touchdowns while maintaining a 59.6 completion percentage and a 140.1 QB rating.
Not bad at all, especially considering that Miami was ranked 100th in the nation in sacks allowed and Harris ruptured ligaments in his right thumb during the 'Canes game against Duke (though it's worth noting that the injury came after Harris' four-interception performance against North Carolina).
Taking all that into account, should Harris find himself in the eye of a swirling storm of criticism?
Yes, but not for reasons you might expect.
While much of the hype surrounding Harris was created by overeager Miami fans, anyone who says that he'll wear a pink suit and carry a pimp cup to his own Heisman trophy presentation is begging for ridicule.
Enjoy the following exchange between Harris and radio host Dan LeBatard last July:
Harris: I'm gonna wear a pink suit to the ceremony, pimp cup and all.
LeBatard: You're gonna bring a goblet to the Heisman ceremony?
Harris: Yeah, I'll bring it.
LeBatard: How bout the fedora?
Harris: The padora?
LeBatard: The hat. The pimp's hat.
Harris: I don't know about that. I might want to show off my hairstyle at the time.... I'm going through phase two.
LeBatard: Explain that.
Harris: You have stage one, when you start. Then stage two, where you have your little ugly stage. Then you have stage three, where you busting out of the cocoon, and you're ready for the braids, and all the different hairstyles.
LeBatard: Bustin' out of the cocoon like a beautiful afro butterfly?
Harris: Yeah, like an afro butterfly.
Shades of Ryan Perrilloux, anyone?
Please don't misunderstand the inference; no one is expecting Harris to suffer the same sordid fate as Perrilloux.
Especially since Harris has become more contrite about his interceptions after issuing potentially careless statements such as, "I don't think any interceptions put us in real bad situations to the point where we couldn't get out of it."
In 2010, if Harris can resist the urge to blindly heave the ball downfield, the nation will be watching intently to see if the "afro butterfly" can unfurl his wings and ride the Hurricane winds to New York City this December.
8. Stephen Garcia—South Carolina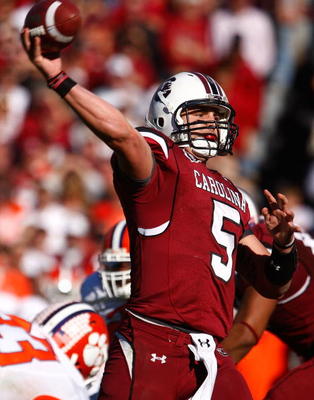 Unlike some of the quarterbacks on this list, South Carolina's Stephen Garcia showed improvement between his 2008 and 2009 seasons.
In limited duty during his freshman season, Garcia threw for 832 yards, six touchdowns, and eight interceptions while completing 53.3 percent of his passes and finishing with a 113.69 QB rating.
Garcia's '09 numbers were better all-around; 2,862 yards, 17 touchdowns, and 10 interceptions. His accuracy and QB rating were also higher, 55.3 percent and 119.33 respectively.
While his numbers were stronger (for lack of a better word), Garcia routinely makes "worst" lists such as this one.
Should he still be included among the nation's bottom-dwelling quarterbacks?
Yes, at least for now.
While it's true that Garcia raised the bar in 2009, and USA Today recently described him as one of the SEC's most quietly consistent quarterbacks, his stats are still far from being noteworthy.
His quarterback rating was 84th in the nation last year, and his completion percentage was 91st.
Not good for a struggling quarterback whose public image has been tainted in the past by repeated run-ins with the law.
However, things might change for Garcia in 2010; along with the return of the Cocks' leading rusher, Garcia will also have emerging talent in sophomore wideout Alshon Jeffery and highly-touted recruit Marcus Lattimore, the nation's No. 1-rated running back prospect this year.
Garcia could very well continue his upward trend in 2010, but when a quarterback has such low rankings, there isn't anywhere to go BUT up.
7. Zac Lee—Nebraska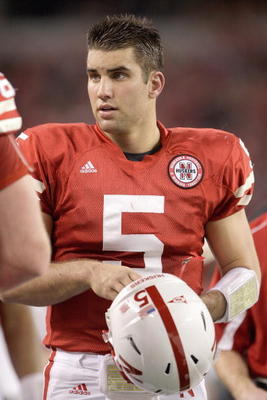 While the Husker offense sputtered like an aging John Deere tractor on Nebraska's trip to the Big 12 Championship, bushels of criticism were heaped on quarterback Zac Lee.
One could easily imagine hard-working farmers all across the Cornhusker state, pausing briefly once the day was done and giving their honest opinion about the the pretty boy from California.
"Why, he couldn't hit the broad side of a barn."
"Heck, if he jumped into a pond, he'd be lucky to hit water."
OK, so I'm exaggerating. Sue me.
Sure, Lee had a bad season (14 touchdowns, 10 interceptions, and a 126.9 passer rating) but his 58.6 percent completion percentage and 7.1 yards-per-attempt average were somewhat respectable.
Still, fans wondered how the son of an NFL quarterback could struggle so mightily.
Was it the offensive coordinator, the highly unpopular Shawn Watson?
The mystery lingered all season until after the Huskers' convincing Holiday Bowl win.
Immediately afterwards, the truth came out: Lee had tweaked his throwing arm in the second game of the season and then landed on it awkwardly during the Virginia Tech game in Blacksburg.
The result? A torn flexor tendon in his throwing arm. Lee required immediate offseason surgery.
His coaches had kept it secret so that their opponents couldn't exploit it.
Lee soldiered along and played through the pain without complaint, though it was obvious that something was wrong.
Backup Cody Green tried to spell Lee in the Baylor and Oklahoma games, though it quickly became apparent that Green was too green.
Further compounding the problem were injuries to Nebraska's top two running backs and virtually their entire offensive line, as well as poor play from the two receivers atop the initial depth chart.
Meanwhile, Husker nation, bold in their ignorance, mercilessly ripped Lee at every turn.
Was their criticism justified?
In light of the true circumstances, no.
You might disagree and will probably let your opinion be known, even now.
While that's perfectly acceptable, if you believe that a quarterback should be able to perform at an elite level with such an injury, you need to pull the corn cobs out of your...ears.
6. Austen Arnaud—Iowa State
The more you learn about a player, sometimes it's hard to criticize him.
Austen Arnaud is one of those players.
A December article in The Arizona Republic called Arnaud Iowa's favorite son.
He grew up in Ames, was a star for the Little Cyclones of Ames High, and his father played for the "Big" Cyclones from 1980-82.
When that same player says something like, "Going to Iowa State means everything to me. I really appreciate all the support I get from the people there," it makes criticism all the more difficult.
However, while he's beloved by his fans, Arnaud is betrayed by his statistics.
Last year, he threw two more touchdowns than interceptions (15 to 13), and his QB rating (122.34) and his yards-per-attempt (6.6) were 78th and 83rd respectively in the country.
He also threw for roughly 1,000 yards less in his redshirt junior year than as a redshirt sophomore, a fact that he cheerfully attributes to the more balanced attack that his new coach, Paul Rhoads, installed.
"Last year (when the team was 2-10), we were always playing catch-up, so we had to throw a lot. This year we are a lot more balanced, which is good."
Arnaud also injured his throwing hand against Baylor, though he missed less than two games as a result.
So, does Arnaud deserve inclusion in this list of putrid passers?
As it relates to the Cyclones' change in offensive philosophy and his injury...no.
However, his INT:TD ratio and QB rating tells a different story.
Sometimes, nice guys do indeed finish last.
5. T.J. Yates—North Carolina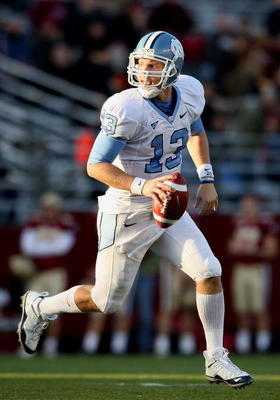 When comparing Yates' production in 2008 versus that in 2009, it would appear that Yates regressed as a quarterback.
While Yates hurt his ankle in the 2008 game against Virginia Tech, an injury that caused him to miss six complete games, his play before and after that setback was more than respectable.
In the seven games Yates played in '08, he threw for 1,168 yards, 11 touchdowns, four interceptions, and a 153.64 QB rating with a 60 percent completion rate.
Then came his seemingly dismal performance in 2009.
Despite maintaining a 60.3 percent completion percentage, Yates had 15 INTs to only 14 TDs after throwing for 2,136 yards and a 115.39 QB rating.
So is the criticism of Yates fair?
Yes...and no.
First off, Yates will be the first to admit that he's played poorly, and criticism abounds concerning his accuracy (despite his completion percentage) and his decision-making, notably not utilizing his running backs and tight ends when his wide receivers are covered.
Having said that, Yates has had to contend with a porous offensive line and a total lack of a running game; in the Georgia Tech game, the Tar Heels had 17 yards rushing.
2009 also saw a dearth of experience in the receiving corps.
So, bottom line, what the Tar Heels have in Yates is a decent but not great quarterback, whose lack of offensive support has exacerbated his already poor decision-making skills.
4. Adam Weber—Minnesota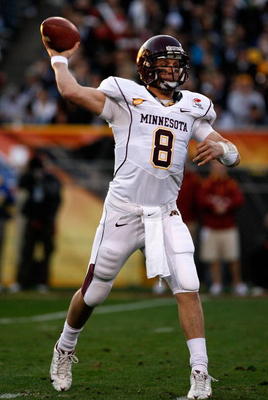 Prior to the 2009 season, if you had told Gopher fans that Adam Weber was an inaccurate passer, you had better be ready for a fight.
The bulk of them would proudly point to the fact that Weber was Minnesota's all-time leader in completion percentage.
Perhaps they were right...as long as Weber was throwing to his favorite target, WR Eric Decker.
Therein lies the rub.
Decker was injured in the first quarter of the Ohio State game and did not play for the remainder of the 2009 season.
Weber's over-reliance on Decker made him comfortable (maybe even complacent), and as a result, he rarely followed his progressions. Once Decker was gone, Weber was unprepared to make the necessary reads.
This is clearly illustrated in the Gophers' last five games (including Ohio State), in which Weber's completion percentage fell sharply.
During that span, Weber completed more than 47.6 percent of his passes only once and reached a season low against Iowa of 35 percent.
To be fair, Weber's accuracy did improve in the Insight Bowl.
However, the loss of Weber's security blanket, coupled with a suspect offensive line and a virtually nonexistent running game, caused Weber to regress. He ended the season with 13 touchdowns, 15 interceptions, a 52 percent completion mark, and a QB rating of 114.65.
So while some of his criticism might be warranted, the loss of Decker could actually help Weber be a better all-around quarterback in 2010.
3. Larry Smith—Vanderbilt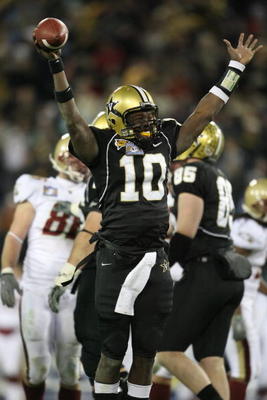 Do you think that Vandy fans miss Jay Cutler?
Judging by Larry Smith's injury-shortened 2009 season, the answer is a resounding yes.
In 2005, Cutler threw for 21 touchdowns and only nine interceptions with a 59.1 percent completion percentage and a 126.1 QB rating.
Smith?
Last year, he trudged along to a four-touchdown, seven-interception performance with a 46.7 percent completion percentage and a lowly QB rating of 88.0.
A host of injuries to the offensive line certainly played a part in the Commodores' forgettable 2009 season, but the rushing offense was still able to finish the year among the nation's top 50 units.
So where does the blame for Vanderbilt's 112th-ranked passing offense lie?
Smith knows the answer.
Despite being the hero of the 2008 Music City Bowl, Smith now carries the bulk of the criticism on his broad shoulders.
Averaging 125.1 passing yards a game (107.3 minus Vandy's win vs. Rice), Smith failed to throw a touchdown pass in five of the nine games he played.
Through it all, he's kept a positive attitude this spring, even though he'll be fighting to regain his job.
"Competition makes everybody better," Smith told ESPN. "You have to go out there every day and compete. If you don't, you're not going to have a chance. You've got to get better every day."
The question is how many days Smith has left.
2. Cody Hawkins—Colorado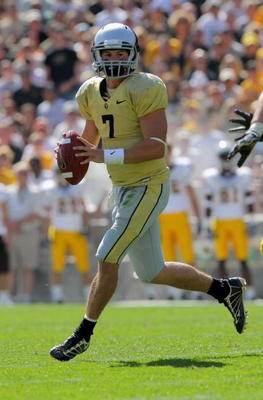 On April 1, 2009, a Buffs fan thought it would be funny to post a bogus story on a garishly gold message board about Cody Hawkins quitting football.
While no one bought the gag, many thought it was too good to be true.
For months, Colorado fans had been impatiently waiting for their coach's son to finally be shelved. However, Dan Hawkins had stubbornly held on to Cody, not unlike the university's inexplicable insistence on retaining the elder Hawkins as head coach.
On Oct. 10, Buffalo fans finally got their wish in the form of a 92-yard interception return for a touchdown by Texas' Earl Thomas.
The roar heard 'round the country was a mixture of the Longhorns fans' elation, the Buffaloes fans' relief, and exasperation by the rest of the Big 12 North after Texas messed up a good thing.
After all, the 5'11", human slow-motion reel Hawkins had thrown nine interceptions in five games.
However, the supposedly permanent benching of Hawkins, which caused Tyler Hansen to burn a second redshirt, didn't stick.
Like a bad penny, Hawkins turned up again in the Kansas State game and promptly surrendered two more picks, then resurfaced once more against Oklahoma State after Hansen injured his thumb.
For the season, Hawkins threw 10 touchdowns and 11 interceptions as he plodded his way to a QB rating of 100.11.
Is Cody's criticism unfounded?
Before asking that question on the CU campus, make sure that your health insurance is current. You might also want to write your blood type and any drug allergies on a handy laminated card.
This spring, Hawkins will share reps with Hansen, and, while Hansen is the starter, it wouldn't be surprising if nepotism rears its ugly head once again in Boulder this fall.
If it does, a lynch mob won't be far behind.
1. Marshall Lobbestael—Washington State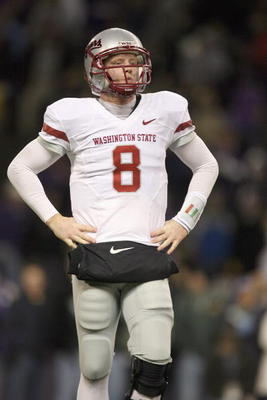 The picture says it all.
Lobbestael tops our list, which in this case is a bad thing.
A very bad thing.
A year and a half ago, Lobbestael stepped into the Cougars' game against Portland State, threw for 149 yards and two scores on 9-of-12 passing in a 48-9 victory, and was named the Pac-10 Offensive Player of the Week.
To this day, it remains the high point of his career.
Last season, Lobbestael shared time with Jeff Tuel and Kevin Lopina as a result of injuries and chronic ineffectiveness by the Cougar offense.
His limited action in 2009, made even more sporadic by a sore knee, resulted in 655 passing yards, three touchdowns, eight interceptions, a completion percentage of 46.5 percent, and a QB rating of 80.5.
As if further explanation is needed, his best game came against SMU, in which he threw for two of his three touchdowns (and two interceptions), while in his worst game (against UCLA) he had more interceptions (three) than completions (two).
In this case, the criticism query is unnecessary.
Those who have followed my fledgling foray into the world of sportswriting know that I always try to end things on a positive note, so I'll leave you with the not-so-immortal words of Wazzu's head coach Paul Wulff as he praised Lobbestael after the Portland State game:
"There is no question he's got a feel for the game. He ran the offense to a 'T' and sparked us.... You can tell he's got a little bit of moxie."
On a totally unrelated note, physicians in Pullman are now offering free moxie vaccine. Symptoms of moxie include a total lack of depth perception, uncontrollable flailing of the arms, and an irresistible urge to share your balls with strangers.
Keep Reading