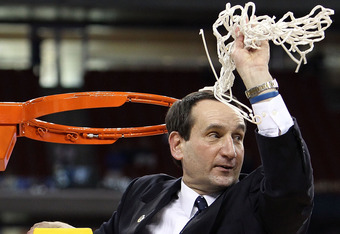 Ronald Martinez/Getty Images
Once upon a time, there was a commercial where an imposter thirsty for Bud Light tries to impersonate everyone's favorite basketball coach with the funny name. His response of "Yes. I'm Coach Crih-jah-new-ski" is infamous in beer commercial lore. But for the last half decade, Coach Mike Krzyzewski has been holding the empties of coaches like Roy Williams, Tom Izzo, Thad Matta, Ben Howland and other final four competitors.
Coach K and Duke University haven't appeared in a NCAA Final Four since 2004. In fact, they hadn't advanced past the Elite Eight since then. This season, Duke was the team that least deserved a number one seed. They were at the top of a weak Atlantic Coast Conference that saw Maryland, Wake Forest and Georgia Tech struggle while North Carolina and NC State fell off the college basketball map. Many thought West Virginia, their opponent on Saturday, deserved the last number one seed over the Blue Devils from Durham, North Carolina.
Before the tournament began, ESPN's conglomerate of 12 college basketball experts picked their Final Fours. In the South Region, just three analysts picked Duke to advance into the Final Four. Four experts took Baylor and the remainder jumped on the Villanova bandwagon. So much for being a number one seed and a favorite. It's too bad Hubert Davis didn't follow his Carolina blue blood and pick against the Devils, then it would have been even more stacked against Duke. Although, Duke grad Jay Bilas did pick Nova, so it would have all balanced out had allegiances been followed. That was what viewers were expecting from Duke entering the first weekend of the tourney.
But then Kansas fell to Northern Iowa in the 2nd round, Syracuse stumbled against Butler in the Sweet Sixteen, Kentucky was outshot by West Virginia in the Elite Eight and Duke became the highest seeded team remaining. They survived while the other "ones" fell. They outlasted all but one number two seed, every number three seed and every number four seed to round out an improbable Final Four. They survived.
The mainstream media wrote the Devils off, citing recent tournament struggles, the weak ACC and the lack of a standout player like the J.J. Redicks, Christian Laettners and Elton Brands of the past. Analysts talked about the stumbling blocks ahead of Duke with strong teams like Villanova and Baylor waiting to take them and punch their own ticket to Indianapolis. But Duke survived.
And why should we have doubted them? They are coached by one of the best in the country. Coach K is the chosen leader for USA Basketball, the man who turned down the Lakers and the emperor of a basketball institution. After all the talk about Izzo and Williams, he was shuffled into the background of coaches that have had more success in recent years. But Coach K survived.
This Blue Devil team doesn't have Bobby Hurley or Grant Hill. They don't have Jay Williams or Shane Battier. What they do have is a trio of stars that play unselfish basketball. Three players that are upperclassmen in the age of one-and-done. They have a senior point guard, the trademark teams want when tournament time rolls around. While other player jumped ship, Duke players stuck around and survived.
Senior Jon Scheyer runs the show from the point, flanked by junior Nolan Smith, who poured in 29 points in the regional final against Baylor. Duke's third "S" is junior Kyle Singler, a lanky small forward with a high basketball IQ and a great all-around game. All three averaged better than 17 points a game during the regular season. Mix in role players like senior big men Brian Zoubek and Lance Thomas and the young Plumlee brothers and the recipe that Coach K used for years suddenly turned out another successful dish, right under our noses. The taste may not have been there for the last half decade, but the recipe survived.
Kudos to Duke for doing it again when no one thought they would. The darling story of the tournament may be Butler, the top coach in the world may be Izzo and the hottest team may be West Virginia, but the team no one thought should be a number one seed may just have the right formula to win the whole thing and survive. This isn't Coach K's first rodeo and while pre-Final Four press conferences will focus on the amazing story of newcomer Brad Stevens of Butler, the enigmatic Bob Huggins and the all-everything Izzo, Krzyzewski will wait, surviving the press conferences before putting his product on the floor.
The predecessor to the famous Bud Light commercial with Coach K featured the same freeloader trying to pass himself off as Dr. Galakiewicz, only it comes out as "Gally-week-its". When asked if he'd ever been in a limo before, he replies, "In a limo this small." Certainly, Coach K and Duke have been in the Final Four limo before, but maybe not one with such a small amount of hype.
I get the feeling they like it that way.
This article is
What is the duplicate article?
Why is this article offensive?
Where is this article plagiarized from?
Why is this article poorly edited?

Duke Basketball: Like this team?