Two To Go: Top Five Upcoming Matchups In Second To Last Week of NHL Season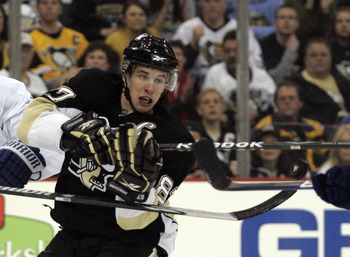 Doesn't seem too long ago that we were in the 'dog days' of January, with the ambiance of the beginning of the regular season far gone and the playoffs seemingly never to arrive.
But now, there are exactly two weeks until the end of the regular season, and the picture is becoming clearer as to who will be playing past April 11 and who will not be.
Sidney Crosby (pictured above) will be participating in playoff hockey. But will he be participating in one of the five most important games of this week (Monday 3/29-Sunday 4/4)? Keep clicking to see (Hint: Three of them are on the same day).
No. 5. Tuesday 3/30- Phoenix Coyotes vs. Vancouver Canucks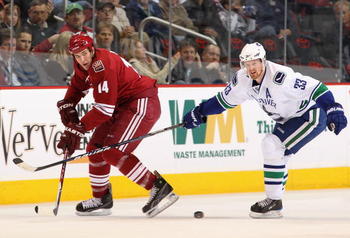 Time: 10:00 PM EST
On TV: Fox Sports Arizona, SportsNet Pacific, CSN-NW
Storyline: The Phoenix Coyotes could use the two points up for grabs in this game, as they fell to four points behind the first-place San Jose Sharks after the Sharks' victory against the Avalanche at home on Sunday night.
A higher seed for Phoenix could be the difference in them facing a team in the first round that is sputtering down the stretch, such as Colorado, or facing a more formidable opponent such as Nashville or Detroit if Phoenix lands in the more dangerous No. 4 spot.
Winning their first division title in franchise history is very much in Phoenix's reach, so look for them to show no holding back over their last six games.
Vancouver is on the verge of their second straight Northwest Division title, currently holding a five-point lead over Colorado with seven games to go, while holding one of the league's best home records at 27-8-2.
No. 4. Thursday 4/1- Vancouver Canucks vs. Los Angeles Kings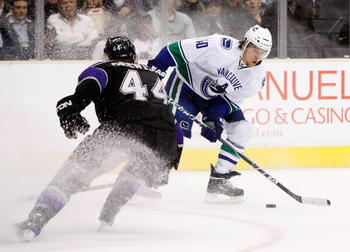 Time: 10:30 PM EST
On TV: SportsNet Pacific, CSN-NW, NHL Network (USA).
Storyline: The Canucks go from one over-achieving team to another.
The youth-driven Los Angeles Kings have been one of the more surprising teams in the NHL this season and look to be in the playoffs for the first time since the 2002 campaign.
With some slight shifting around in the standings in the upcoming two weeks, we could see the Kings and Canucks battling in a first-round matchup.
That could possibly be bad news for Los Angeles, as they are 0-2-1 against Vancouver so far in the season series, while scoring just one goal in each of the three games.
I'm sure they'd like to avoid Vancouver in light of that record, but just in case, they'd love to get a win against the 'Nucks heading into the second season to show they're capable of beating Luongo.
No. 3. Friday 4/2- Montreal Canadiens vs. Philadelphia Flyers
Time: 7:00 PM EST
On TV: RDS, TSN, CSN-Philadelphia
Storyline: As of right now, the Flyers and Habs are tied with 82 points, but the Flyers currently hold the higher seed (sixth) due to their 37 wins, higher than Montreal's 36.
That sixth seed must look like gold to Montreal and Philadelphia, as that spot means they most likely get to avoid New Jersey or Pittsburgh in the first round and get to take their chances with a Ryan Miller-led (yet streaky) Buffalo Sabres team, with not as much experience (New Jersey) or offensive capabilities (Pittsburgh).
This game is certainly more important for the Flyers, as before tonight's 5-1 win over New Jersey, they were in the midst of a 1-5-2 drought.
They play the Rangers in the final two games of the season who, if close enough in the standings, could knock the Flyers out of playoff contention if the Rangers can win both games.
Philadelphia certainly doesn't want to be in a position where those games mean something for the Rangers, so they need to pick up as many points as possible between now and then.
No. 2. Friday 4/2 Chicago Blackhawks vs. New Jersey Devils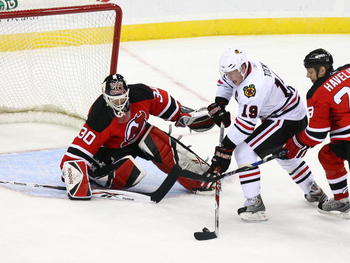 Time: 7:00 PM EST
On TV: NHL Network (USA), CSN-Chicago, MSG Plus
Storyline: Both teams are near the top of their respective conferences, making this a possible Stanley Cup Final preview.
Chicago has been a bit lost since returning from the Olympic break, going 3-5-2 in their last ten, including an absolutely embarrassing performance against the Blue Jackets where they lost 8-2 in a no-contest affair. No matter their struggles, however, as they are almost certain to win their first division title since 1993.
New Jersey is in the midst of a neck-and-neck race with Pittsburgh to capture the Atlantic Division crown, which will most likely come included with a No. 2 seed in the Eastern Conference come playoff time.
The Blackhawks drew first blood this season, as they smacked the Devils around in Chicago, winning 5-1 on New Year's Eve.
No. 1. Friday 4/2- Calgary Flames vs. Colorado Avalanche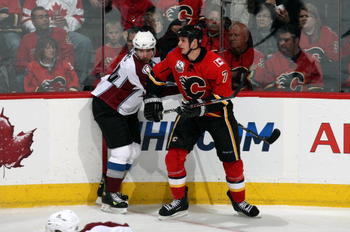 Time: 9:30 PM EST
On TV: SportsNet West, Altitude Sports
Storyline: If the Flames want to have any chance at all of making the 2010 Stanley Cup Playoffs, this is an absolute must-win.
The Avalanche currently hold the 8th seed in the Western Conference, four points ahead of the 9th place Calgary Flames with a game in-hand for Colorado.
While the Flames are struggling just as the Avalanche are, if Calgary can take two points against a young Colorado team, you'd have to wonder about the mental makeup of a very young squad, led by a very young coach.
Will the Avalanche feel the breathing of a more experienced Calgary Flames team on their neck if the Flames can take this matchup?
I'd be extremely intrigued to see how the Avs would respond over the last ten days of the season if the Flames were to close ground on them late.
For reference purposes, the Avalanche are 4-0-1 against the under-achieving Flames this season.
This is certainly the biggest and most interesting game of the upcoming week of NHL action.
Conclusion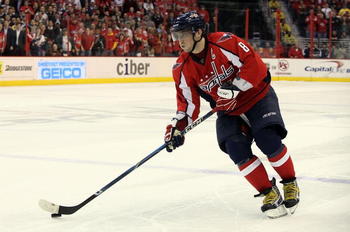 There are my personal choices for the top five games you GOTTA see over these next seven games.
Don't have those channels? Order NHL GameCenter Live or NHL Center Ice! They're currently at their lowest prices of the season, and there's no better time to buy, because almost every game means something.
Disagree with my choices? Do you think MVP-candidate Alexander Ovechkin and the Washington Capitals are taking part in one of the most important games of the week?
Let me and everyone else know in the comments section. Enjoy, and we'll be back with this segment next Monday!
Keep Reading