The Relegation Run In: Who is for the Drop?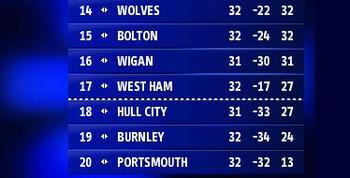 With only six games left for some clubs, who is for the drop to the Championship,and who will live to fight another day in the Premiership?
Any three from the bottom seven clubs are still realistically in the mix for relegation.
That includes Portsmouth, who have had their backs against the wall with a nine-point deduction after going into administration leaving them with only the smallest of chance of survival, but who will join them in the Championship?
Portsmouth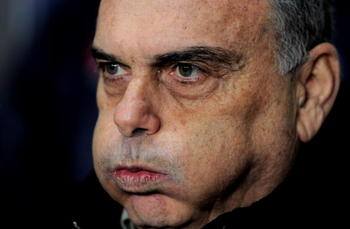 The dour Israeli has really had his work cut out at Fratton Park. Pompey have been fighting for their life in more ways than one as they have been struggling to remain as a functioning football club as well as a Premier League football team.
With fixtures against:-
Blackburn Rovers (H)
Wigan Athletic (A)
Aston Villa (H)
Bolton Wanderers (A)
Wolverhampton Wanderers (H)
Everton (A)
Grant will be keen to show that his team, despite all their problems, do not go down without a fight. They showed Hull City last week when they managed get two late goals to record a very good victor in the race for survival.
However, with a crucial FA Cup semi Final at Wembley against Tottenham Hotspur will the league take a back seat for Pompey.
Blackburn Rovers (L)
Wigan Athletic (D)
Aston Villa (L)
Bolton Wanderers (L)
Wolverhampton Wanderers (W)
Everton (L)
Currently 20th place on 13 points
Prediction 20th place on 17 points
Burnley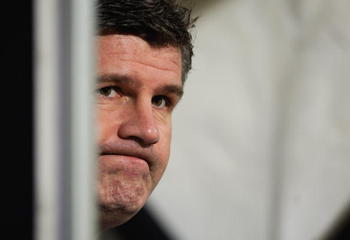 Burnley currently sits in 19th place on 24 points. After a phenomenal start to the campaign under Owen Coyle, the Clarets have been on a downward spiral.
Coyle saw the writing on the wall and jumped at the first opportunity and moved to Bolton who had a better chance of providing him a Premiership platform to demonstrate his skills.
In his place the Burnley board appointed the recently fired ex-Sheffield Wednesday manager Brian Laws, much to the consternation of of the Clarets' long-suffering fans.
Since his arrival, Laws has been unable to halt the Clarets' slow slide into the relegation places and looks devoid of ideas of how to turn Burnley back into the side that started their Premiership campaign so well.
Burnley's remaining fixtures include:-
Manchester City (H)
Hull City (A)
Sunderland (A)
Liverpool (H)
Birmingham City (A)
Tottenham Hotspur (H)
A tall order for Laws to gain any points from their remaining fixtures, let alone enough to provide survival for another season.
Laws will be targeting the Hull City games as the tie with the highest likelihood of a victory.
However, on current form it would seem like Laws will be back in the Championship if Burnley even extend his contract.
Manchester City (L)
Hull City (L)
Sunderland (L)
Liverpool (L)
Birmingham City (D)
Tottenham Hotspur (L)
Current position 19th on 24 points.
Prediction 19th, on 25 points.
Hull City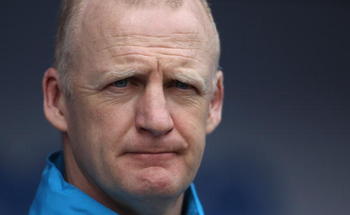 The Tigers have been through some major changes recently. From the removal of the club's most successful manager, in Phil Brown to the appointment of a manager who was very low on the fans' most wanted list, in Iain Dowie.
However, since the arrival of Dowie in place of Brown, the East Yorkshire team have had a mini resurgence. From a series of four successive defeats before his appointment, the Tigers have shown some claws.
Despite a defeat to Portsmouth in Dowie's first outing where his team snatched defeat from the jaws of victory, he has changed the dynamic of the side.
His Hull City side appears to defend further up the field and better as a unit as a whole than under Brown. Something that the team achieved under Brown but only in small doses.
Whether this is due to the "New Manager Effect" or not the Hull City fans will not mind if the teams keeps up this level of commitment until the end of the season.
Remaining fixtures:-
Stoke City (A)
Burnley (H)
Birmingham (A)
Aston Villa (H)
Sunderland (H)
Wigan Athletic (A)
Liverpool (H)
What is of some comfort for Dowie and Hull City fans alike is that the clubs home form is very good, and with four of the remaining seven games at the KC Stadium it is possible that the Tigers could survive for another season in the top flight.
Stoke City (D)
Burnley (W)
Birmingham (D)
Aston Villa (D)
Sunderland (L)
Wigan Athletic (W)
Liverpool (L)
Current position 18th, 27 points.
Predicted 16th, 36 points.
West Ham
Gianfranco Zola, the wonderfully gifted player, is getting some hammer as the West Ham manager at the moment. His side haven't won in six games and look like a team with no confidence.
They are currently looking at the possibility of another defeat as they travel to Everton's Goodison Park next Saturday, which could see them slip into the relegation zone for the first time since 2-1 loss to Burnley in early February.
Zola has taken a break back in his homeland of Italy, with the Hammers new owner, David Gold saying that his job is secure, but for how long.
The Hammers remaining fixtures:-
Everton (A)
Sunderland (H)
Liverpool (A)
Wigan Athletic (H)
Fulham (A)
Manchester City (H)
Zola will be targeting the two home games against Sunderland and Wigan to get full points and the away tie against Fulham for another victory.
But with current confidence levels at zero and the Hammer's fans increasingly disenchanted with Zola's tenure, will his West Ham side be able to rise their game and save their season?
Everton (L)
Sunderland (D)
Liverpool (L)
Wigan Athletic (W)
Fulham (D)
Manchester City (L)
Current position 17th, 27 points.
Predicted position 18th, 32 points.
Wigan Athletic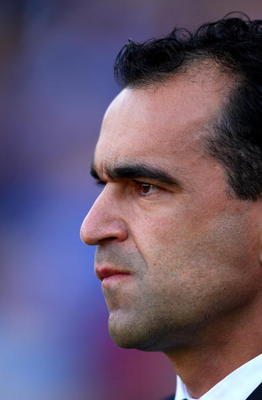 For Martinez this season has been a difficult inauguration to the Premiership.
He has discovered that the gulf in class can be huge and for a team with meager resources at the wrong end of the division, your team has to be at the top of its game every time they cross the touch line or they will be punished.
With the Latics only having a four point cushion (31-points) between themselves and 17th and 18th-placed West Ham and Hull City they will feel that they have it all to play for.
However, with many of Wigan's remaining fixtures against their relegation rivals, they could easily be dragged back into the relegation dogfight.
Wigan's remaining fixtures:-
Manchester City (A)
Fulham (A)
Portsmouth (H)
Arsenal (H)
West Ham (A)
Hull City (H)
Chelsea (A)
Martinez will be looking to get wins against Wigan's relegation rivals, Portsmouth, West Ham, and Hull City but as everyone knows, six pointers are never as easy as they look on paper.
Manchester City (L)
Fulham (D)
Portsmouth (D)
Arsenal (L)
West Ham (L)
Hull City (L)
Chelsea (L)
Current position 16th, 31 points.
Predicted 17th, 33 points.
Bolton Wanderers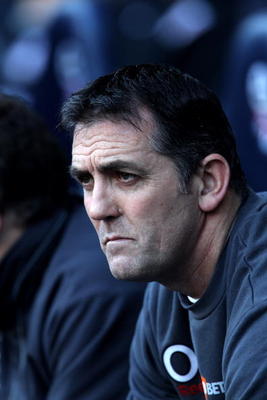 Bolton would appear to be safe from the relegation drop after climbing away from the bottom three when Owen Coyle joined the Trotters at the expense of Burnley.
With 32 points already on the board for Bolton conventional wisdom would say that they are safe but football doesn't always follow conventional wisdom.
Their remaining fixtures includes some tough games.
Aston Villa (H)
Chelsea (A)
Stoke City (A)
Portsmouth (H)
Tottenham Hotspur (A)
Birmingham City (H)
On the back of two defeats to Everton and Manchester United the Trotters will have to navigate some very tricky games before they can be sure of survival.
With their next two games against opposition that are just as difficult as their last, they could easily be dragged back into the relegation dogfight before they know it.
Aston Villa (L)
Chelsea (L)
Stoke City (D)
Portsmouth (W)
Tottenham Hotspur (L)
Birmingham City (D)
Current position 15th, 32 points.
Predicted position 14th, 37 points.
Wolverhampton Wanderers
For Wolves and Mick McCarthy, they will think that the hard work is now done and they only have the sprint to the finish line.
The reality is that some of the hardest games of the season still await McCarthy's Wolves.
Wolves remaining fixtures:-
Arsenal (A)
Stoke City (H)
Fulham (A)
Blackburn (H)
Portsmouth (A)
Sunderland (H)
Wolves will be targeting victories against all but Arsenal. McCarthy has got his team well organized but a possible loss against Arsenal, then a crucial midlands derby against Stoke City will be key to their season.
If they can get good results in those ties they will be safe but if they fail to gain any points from their next two games then the pressure will really be on for McCarthy's men.
Arsenal (L)
Stoke City (D)
Fulham (L)
Blackburn Rovers (D)
Portsmouth (L)
Sunderland (W)
Current position 14th, 32 points.
Predicted position 15th, 37 points.
Who Will Survive?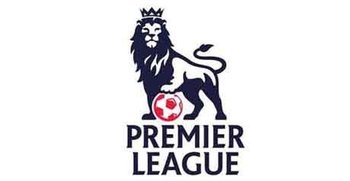 Obviously, this is all speculation but there are a few truths in this analysis.
Confidence is key to every team in the relegation zone. For West Ham, Wigan Athletic, Bolton Wanderers, Burnley and Portsmouth they really have their backs against the wall from a confidence factor. Hull City, and Wolves have their tails in the air.
Hull City have produced some good displays and the spirit in the camp is there. The Wolves too have taken some positive steps in the right direction and pulled a little clear of the bottom three. The confidence they have in their camps may be the difference between the Championship and the Premiership.
For all the teams in the bottom seven they have to look at who they play and see that some of those games are more tricky than others. None of them are easy, but for teams involved in six pointers they can inflict great harm on their relegation opponents.
Against teams that are fighting it out at the top, they too will be suffering from jittery nerves so everything is still to play for.
Whichever way the season ends there is still some fantastic football to be had at the wrong end of the table.
The football is as exciting at the wrong end of the table but with all to play for in the few remaining games of the season, it's worth turning your gaze away from the predictable Champions League race at the top of the Premier League and looking at who is fighting just as hard to stay in the world's best football league.
Keep Reading