2010 NFL Mock Draft: Will The Lions Shock The NFL World?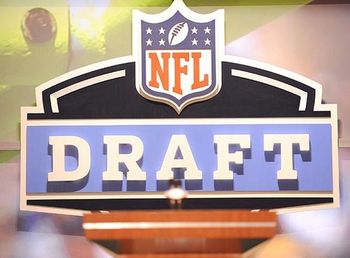 This is my first ever NFL Mock Draft. I hope that you enjoy it; if you have any questions please ask in the comment section. This year's draft class is one of the most talented in a long time. It should be interesting to see how it unfolds. I would love to hear what you have to say about my mock draft. Here's how I think the NFL Draft is going to unfold.
1. St. Louis Rams: Sam Bradford, QB, Oklahoma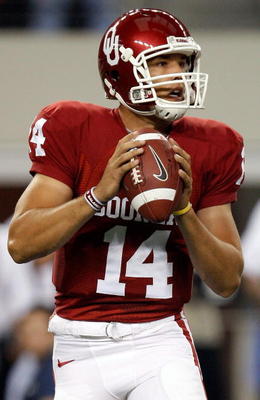 The Rams are looking for a new face of the franchise. Sam Bradford will be their face of the franchise for some time to come. Despite missing most of last season, there is no question that this kid has an insurmountable amount of talent.
2. Detroit Lions: Gerald McCoy, DT, Oklahoma
Yes, part of me believes that the Lions will pass up on Ndamukong Suh for Gerald McCoy. I think that the Lions will go for McCoy because they have been looking at him long and hard. When the Rams were expected to pick Suh, the Lions began to look at Gerald McCoy. I think that in the time they were looking at him, they might have fell in love with him. It is easy to fall in love with a player like this. This guy has a big chance to be a dominant defensive tackle for years to come. Although I won't be surprised if Detroit picks Suh, I won't be surprised if they go with McCoy instead.
3. Tampa Bay Buccaneers: Ndamukong Suh, DT, Nebraska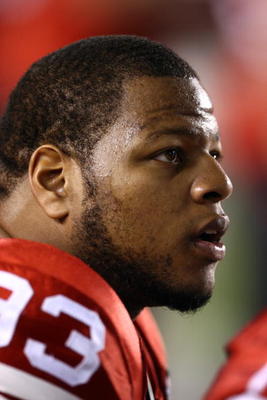 The Buccaneers dreams might come true. Every team would love to have a player like Suh, especially the Bucs. They have been lacking a dominant defensive tackle since the Warren Sapp days. Suh, should change that. This guy is a physical freak, and should rip through NFL offensive lines like he did in college.
4. Washington Redskins: Russell Okung, OT, Oklahoma State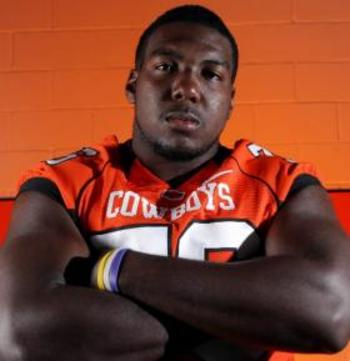 What good is a quarterback when you can't protect him? Not so good. The Redskins will have to decide if they are going to stick with their quarterback Jason Campbell. I think that they are going to give Campbell one more year to prove himself. Okung will help Campbell a lot. This guy doesn't let anything get past him. He will deeply help the Redskins if they get him. He should help Campbell perform up to his abilities. When Campbell does his best he is great. This will be a step in the right direction for the Redskins.
5. Kansas City Chiefs: Eric Berry, S, Tennessee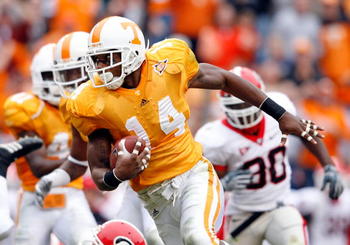 Eric Berry just might be the best all around player in the draft this year. The Chiefs could definitely use a play maker like him. His motto is, "If you don't pick me I'll pick you." I guess he is definitely going to pick off the Rams, Lions, Buccaneers, and Redskins. Berry is the real deal. He is a very safe pick; he should also make the Chiefs more exciting to watch.
6. Seattle Seahawks: C.J. Spiller, RB, Clemson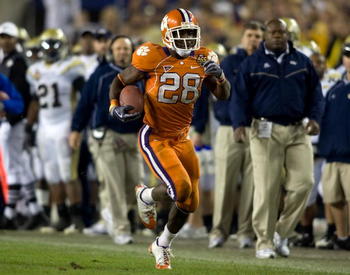 Spiller is my favorite college football player. He's the reason why I am a Clemson fan. He is the most exciting college player in a long time. Spiller has blazing speed, that he uses well by running and returning kicks and punts. He is very versatile and should immediately help the Seahawks. Spiller is also fantastic leader and a great person, two thinks that you can't teach a player. He is the full package, and the Seahawks will have themselves a great player.
7. Cleveland Browns: Joe Haden, CB, Florida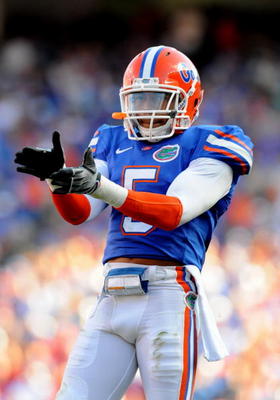 Despite Haden's stock dropping, I still think that the Browns will pick him with their seventh overall pick. Haden is arguably the best cornerback available in this year's draft, and the Browns could use a cornerback like him. They could also use a quarterback. Some people have them picking a quarterback in the first round. I don't think that they will, I think that they will pick a quarterback like Colt McCoy in the second round. Overall, I think that the pick of Joe Haden will be a good first round pick for the Browns.
8. Oakland Raiders: Bruce Campbell, OT, Maryland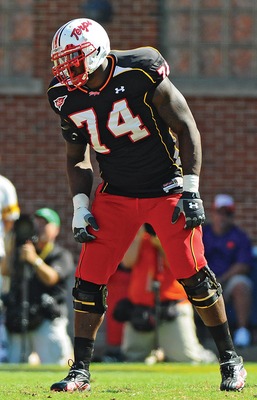 You never know what Al Davis will do on draft day. This year it looks like they will pick offensive tackle Bruce Campbell of Maryland. He is a great protector and will help whoever the Raider's quarterback will be this season. He looks like a safe pick. But, like I said, you never know what Al Davis is going to do. He might stick with Maryland in the first round for the second year in a row, or shock the NFL world once again.
9. Buffalo Bills: Jimmy Clausen, QB, Notre Dame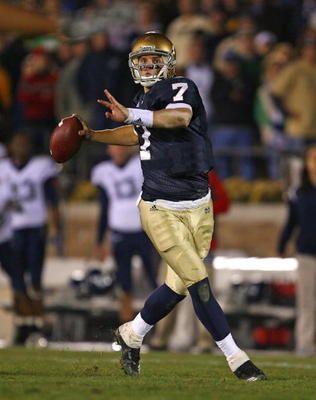 Trent Edwards hasn't been what the Bills wanted him to be lately. He was looking like he was going to turn into a solid starting quarterback, but that did not happen. Now, the Bills are looking for a quarterback. A talented quarterback that would fit their team nicely. That quarterback will prbbly be Jimmy Clausen. The Bills will be hoping that Clausen drops to them. Even though some people think that Clausen has reached his ceiling, I don't. Clausen is a coachable and talented kid. With the right coaching I see Clausen getting even better than he is now. He can be the franchise quarterback for the Bills, and a pretty good one too.
10. Jacksonville Jaguars: Derrick Morgan, DE, Georgia Tech.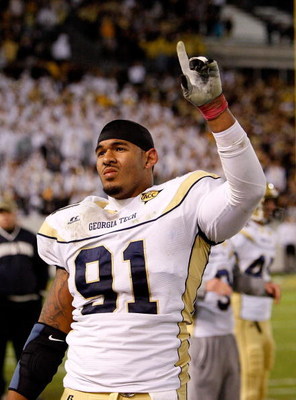 Morgan is simply a beast. The Jaguars have been lacking a rusher like Morgan. Morgan always puts the pressure on and puts his team in great situations. Morgan definitely deserves to be a top 10 pick, and I think he will be. The Jags need some more excitement on defense, Morgan will bring that.
11. Denver Broncos: Dez Bryant, WR, Oklahoma State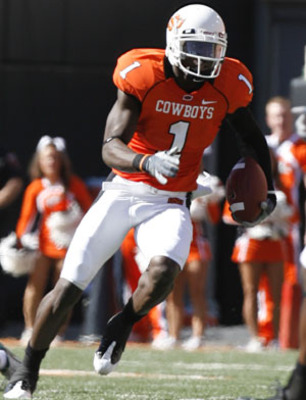 Dez missed most of the 2009 season, but he still remains the best wide receiver in the draft by a lot. He has amazing hands and runs his routes very well. He also has the ability to make spectacular plays. The Broncos are most likely going to part ways with their wide receiver stud Brandon Marshall. If they get rid of Marshall then they will be looking for another dominant wide receiver, Bryant will be that guy.
12. Miami Dolphins: Dan Williams, DT, Tennessee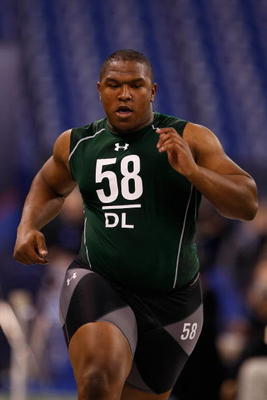 Williams' draft stock has been steadily rising. He has been impressing pretty much everybody. The Dolphins are in need of a defensive tackle and Williams will fit that spot nicely. Williams will open many spots for Miami's linebackers, and help his team out a lot. He will be a difference maker on whatever team picks him. This will be a smart pick for the Dolphins.
13. San Francisco 49ers: Jason Pierre-Paul, DE, USF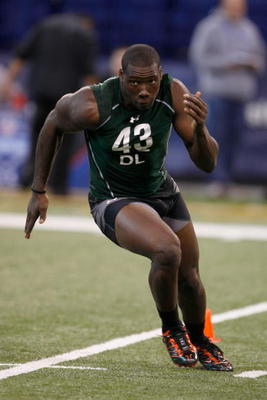 Pierre-Paul is extremely athletic. He is 6-6 and 260 pounds. He has the perfect frame for a dominant defensive end. He might not have as much experience as some other players, but he does have a load of potential. I think that the Mike Singletary will not pass up on this opportunity to get this freak of nature. This guy should create quite a stir in the NFL.
14. Seattle Seahawks: Bryan Bulaga, OT, Iowa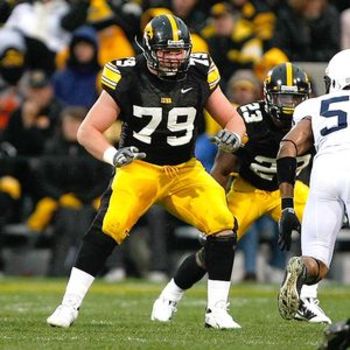 Bulaga is a big offensive linemen with quick feet. Those are not a dime a dozen. Bulaga still has a whole lot of room to improve. His run blocking is steadily improving. He had a great combine, and if the Seahawks get him he can help pave the way for C.J. Spiller. The Seahwaks would definitely have something great brewing with their first two picks of their draft.
15. New York Giants: Rolando McClain, ILB, Alabama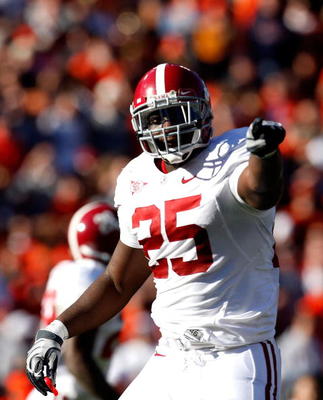 The Giants are in need of another dominant linebacker. It seems that all of their linebackers have just vanished over the past few years. McClain will be a great addition to the team. He lead Alabama to a national championship last year. He is a game changer. He should flourish in the New York spotlight. The Giants have a shot to be great next year and McClain will only make them better.
16. Tennessee Titans: Carlos Dunlap, DE, Florida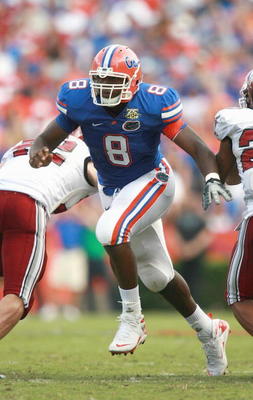 Dunlap's questions aren't about his talent. Everybody is questioning Dunlap's heart and character. Those two things are hard to teach, but he can improve him. He might be the best defensive end talent-wise in the draft. Dunlap will really help the Titans' defensive line a whole lot. Dunlap will either be great or a bust, is it worth the risk? I think the Titans will take the risk; Carlos Dunlap is just so talented and he is what they need. It will get really interesting when he actually hits the field.
17. San Francisco 49ers: Kyle Wilson, CB, Boise State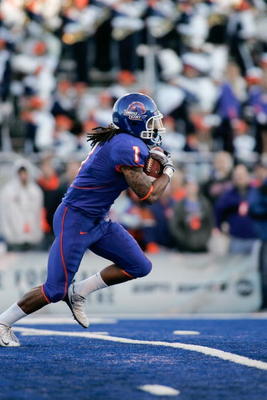 Wilson has seen his draft stock rocket. He has really showed that he can be a great NFL cornerback. He has great tools and a fantastic skill set. He can be another playmaker for the 49er defense. I think that this would be a great pick for San Francisco. Pierre-Paul and Wilson could take the 49ers defense to the next level.
18. Pittsburgh Steelers: Anthony Davis, OT, Rutgers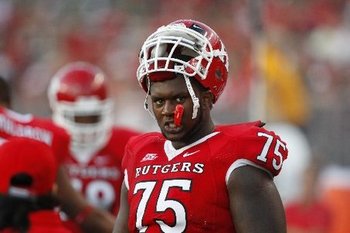 Davis has the size to be a very good offensive tackle at the NFL level. He had a great 2009 season and he decided to enter the NFL draft a year early very quick. The Steelers need to protect Roethlisberger better, Davis will help protect Big Ben. He will also open up some gaps for the running game. He would be a great pick for the Steelers.
19. Atlanta Falcons: Sergio Kindle, LB/DE, Texas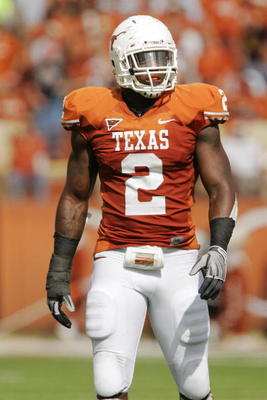 Kindle is a freak. He is a fast, hard-hitting stud. He is very versatile, he can either be a linebacker or a defensive end. Any team would love to have this guy. The Falcons are in need of a young linebacker. Sergio Kindle should help the Falcons out in 20010 no matter where he is on the field.
20. Houston Texans: Earl Thomas, S, Texas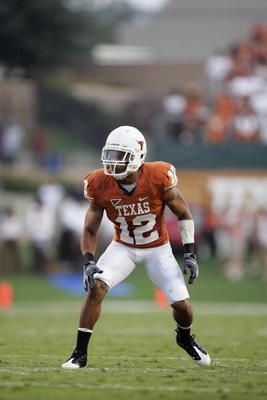 Earl Thomas is undersized for the NFL, but he is still pretty strong. He also knows how to pick the ball and swat it. Last year he had eight picks and he broke up 16 other passes. He is a great player, and his size shouldn't be problem. He has hops, and he is a playmaker. He is very versatile and can fill most of Houston's gaps.
21. Cincinatti Bengals: Jermaine Gresham, TE, Oklahoma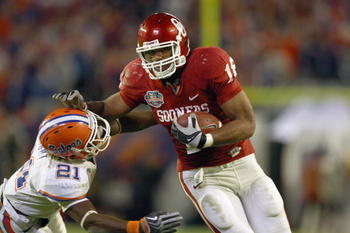 The Bengals had a great year last season. They showed that they can be a great team. One of their problems was that their quarterback, Carson Palmer didn't have a lot of offensive weapons. Chad Ochocinco was great, but he was surely missing T.J. Houshmandzadeh. A great tight end can greatly improve the Bengals. Carson Palmer is a very good quarterback and a good tight end will make him even better. Gresham missed all of 2009 but he still remains the top tight end in the draft. I think that he can turn out to be a great tight end in the NFL. This would be a good pick for the Bengals.
22. New England Patriots: Everson Griffen, DE, USC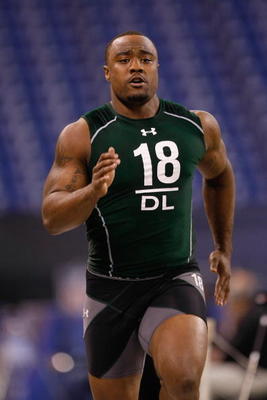 Griffen has good size and speed combination. He is agile, quick, powerful, explosive, and he has great snap anticipation and instincts. He also uses his hands very well. This guy sounds fantastic and he is.. when he wants to be. Griffen's only weakness is his lack of consistency. He doesn't always play with a high level of intensity. If Bill Belichick and the Patriots can get Griffen into the right mindset then he will be a force to be reckoned with.
23. Green Bay Packers: Trent Williams, OT, Oklahoma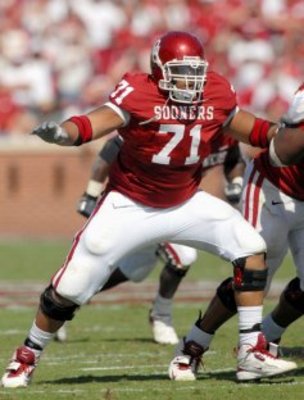 The Packers are on the brink of being fantastic. The only thing that held them back last year was their offensive line. Aaron Rodgers was always getting sacked and it was very hard for him to make plays. He was always pressured. Trent Williams should help out Green Bay's offensive line. He is big guy who can manhandle a lot of players. This will be a step in the right direction for Green Bay.
24. Philadelphia Eagles: Sean Weatherspoon, OLB, Missouri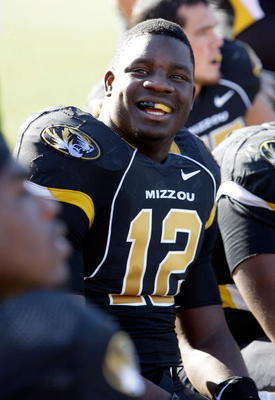 Weatherspoon is one of the most balanced players in the draft this year. Nothing about him is amazing, he has above average speed, power, size yet he continues to dominate on the field. He is very productive, and just what the Eagles are looking for. He gets into the backfield and drops into coverage very well. Weatherspoon can be a very good player in the NFL. This would be a great pick for Philadelphia.
25. Batimore Ravens: Jared Odrick, DT, Penn State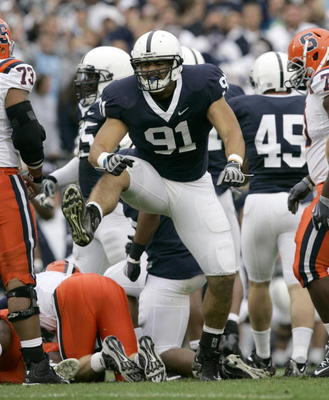 Odrick always seems to make plays. He almost always finds himself in the backfield. He rips through blockers easily. He is a solid athlete, and goes hard on every play. He has a lot of room for improvement, his run defense shall improve and he will make a great interior pass rusher. He will be a great addition to an already fantastic Ravens defense.
26. Arizona Cardinals: Brandon Graham, DE, Michigan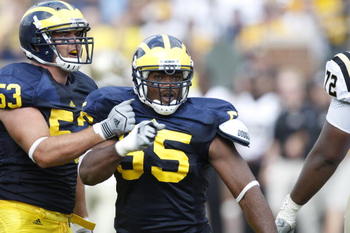 Brandon Graham's draft stock sky rocketed after the Senior Bowl. He racked up five tackles, three tackles for loss, two sacks, and a forced fumble. He isn't a huge guy, but he plays the run well for his size. He chases ball carriers right into his linebackers and has a quick first step and many pass rushing maneuvers. This guys is extremely talented, and I expect him to have a fantastic rookie year with the Cards.
27. Dallas Cowboys: Taylor Mays, FS, USC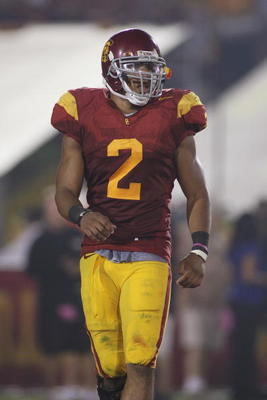 Taylor Mays is simply a beast. He is a fantastic athlete. He stands at 6'3 and is very agile. He has great coverage awareness, and has the acceleration and speed to assist cornerbacks over the top. He is great in pursuit, and almost always stays with receivers downfield. I think that the Cowboys will not pass up on this guy. He can be a star, and he would be an upgrade for the Cowboys. He can make an immediate impact in the NFL, and who better to do it with than the Dallas Cowboys?
28. San Diego Chargers: Ryan Mathews, HB, Fresno State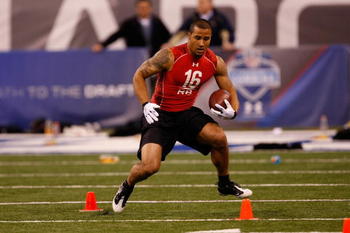 The Chargers lost their future hall of fame running back, LaDainian Tomlinson earlier this offseason. Now they are left with Darren Sproles at running back. The Chargers are going to be looking running back early in this draft. Mathews draft stock has quickly risen to first round talent. He has the ability to cutback and great speed. He has a lot of upside and I think he will be a smart move for the Chargers.
29. New York Jets: Golden Tate, WR, Notre Dame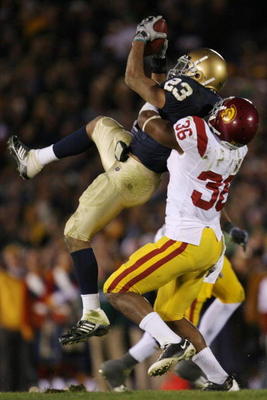 Golden Tate is a serious playmaker. He has excellent speed, and has great hands. He is a drop back receiver, and I think he will deeply help the Jets. The Jets are in need of another wide receiver and Golden Tate would fill that hole. Tate has all the tools to be a fantastic wide receiver in the NFL.
30. Minnesota Vikings: Maurkice Pouncey, C/G, Florida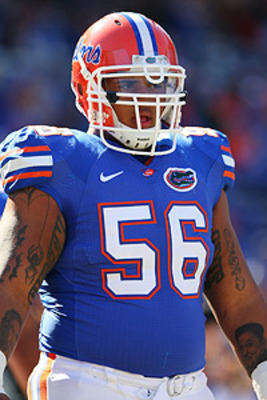 Pouncey is very versatile. He can either play at guard or center. He is 6'5" and 320 pounds. Although his huge stature he is pretty fast. He had a 5.23 40-time at the combine. He has a great combination of speed and power. The Vikings could use his versatility on the offensive line. I think that this would be a solid pick for the Vikings.
31. Indianapolis Colts: Mike Iupati, G, Idaho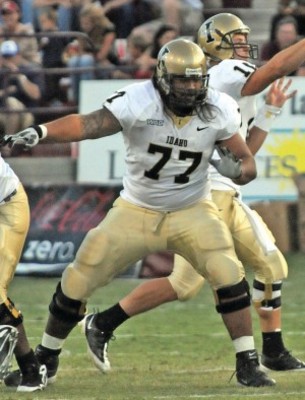 The Colts running was dormant last year. Of course, when you have Peyton Manning at the helm you don't need to have a great running game but it will certainly help. Mike Iupati is a fantastic guard, he has great size and might grow even more. He will help the Colts running game.
32. New Orleans Saints: Jerry Hughes, DE, TCU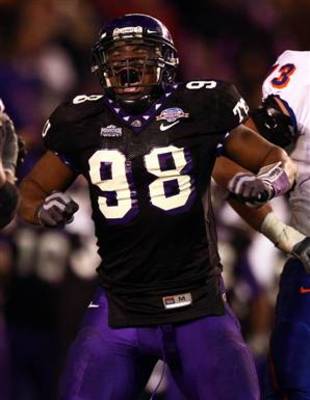 Jerry Hughes is an amazing player. He is explosive, athletic, and plays with great intensity. He always seems to be near the ball, and can be extremely disruptive when turned loose in the open field. Hughes will greatly help the Saints defense.
32. New Orleans Saints: Jerry Hughes, DE, TCU
Jerry Hughes is an amazing player. He is explosive, athletic, and plays with great intensity. He always seems to be near the ball, and can be extremely disruptive when turned loose in the open field. Hughes will greatly help the Saints defense.
Keep Reading

Detroit Lions: Like this team?