Stay Or Go? Should McNabb Be Traded.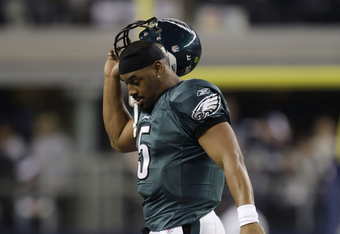 Jamie Squire/Getty Images
Well the last few weeks there have been a lot of talks about McNabb being traded to the Rams, Raiders, Bills and somewhat the Vikings.
But so should McNabb be traded? The answer is yes. Despite leading to The Eagles to Five NFC championship games and a Super bowl. The end results have been subpar. As McNabb as failed to lead the Eagles to the ultimate super bowl win.
Also during those two Dallas games last season, it showed that McNabb wasn't the right fit in the offense, as he overthrow open receivers. He failed to hit receivers in stride, and looked very ill-prepared for what the Dallas had coming for him. Now of course you can blame some of it on the o-line but the over and under throws of open receivers is inexcusable.
Even in the six game winning streak the Eagles had before the Dallas implosion. McNabb wasn't the reason they were winning it was the fact that Andy Reid was having a balance pass to run ratio. Which says to me that McNabb isn't good enough as he once was to put the offense on his shoulders, something that Andy Reid likes to do with his Starting Qb's?
Don't get me wrong McNabb is a very good Qb but he not what he once was. Especially in the west coast offense, which is an offense that needs an accurate Qb at the helm? McNabb would great in an offense that is based on running the ball, where he doesn't have to make something happen on every play. A team like the Vikings or 49ers would be a great fit for him. As of know Him getting traded to the Vikings depends on what Favre and the 49ers have displayed no interest according to my sources.
If McNabb were to get traded to Oakland or Buffalo, McNabb won't agree to any extension but Oakland wouldn't mind that, because of their desperate need for a Qb.
On the other side I think the Eagles will be fine with Kolb as the starter, he is accurate, and shows great pose in the pocket. The only problems some people with say is lack of experience or a bit of a gun slinger that leads to many INTs. Thought the end result in my opinion I think Kolb will be a very effective Qb in this system, and with this young corps of receivers we could develop a bound with them that could lead to a long time of wining for the Eagles.
If the Eagles were to keep McNabb, it could be a team waiting to erupt, as for the Eagles all ready came out and declared McNabb for trade. Keeping McNabb who as shown a bit of think skin attitude, it would catastrophic on his enthusiasm on the field which would hurt the Eagles during the season.
The Eagles will most likely traded McNabb, and keep Kolb. The Eagles are not Contenders just yet in the NFC they still need help on the defensive side of the ball, but traded McNabb would be a good start on that road to become a contender in NFC in my opinion.
This article is
What is the duplicate article?
Why is this article offensive?
Where is this article plagiarized from?
Why is this article poorly edited?

Philadelphia Eagles: Like this team?