Green Bay Packers 2010 NFL Draft Seven Round Mock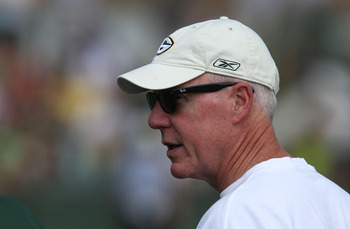 Packers General Manager Ted Thompson can put his team in position to contend for the Super Bowl with a strong draft in 2010. The Packers could use:
*A left tackle capable of replacing starter Chad Clifton in a year or two
*A dynamic athlete capable of returning kicks and contributing on offense
*A safety capable of pushing Atari Bigby for the starting job
*A pass rusher to fill the void left by Aaron Kampman's departure
*A player to provide depth at running back
I haven't listed cornerback as an area of need due to the fact that the Packers have Al Harris, Will Blackman, and Patrick Lee coming back from injury to replenish the position.
First Round Pick #23: OLB Sergio Kindle, Texas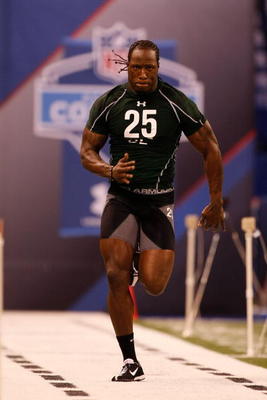 Kindle is 6'3", 250 and ran the forty in 4.72 seconds.
He has the skills to win the starting job opposite Clay Matthews III and provide the Packers with bookend pass rushing outside linebackers.
Second Round Pick #56: OT Roger Saffold, Indiana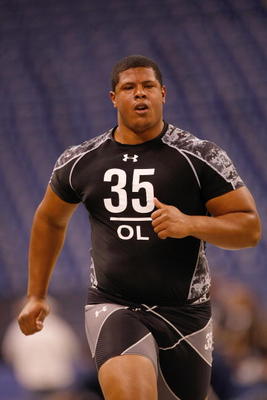 Saffold is a left tackle prospect with good size, 6'5" 316, and the athleticism (5.21 seconds in the 40) to thrive in the Packers' zone blocking scheme.
He would become aging tackle Chad Clifton's primary backup and heir apparent from day one.
Third Round Pick #86: WR/KR/RB Jacoby Ford, Clemson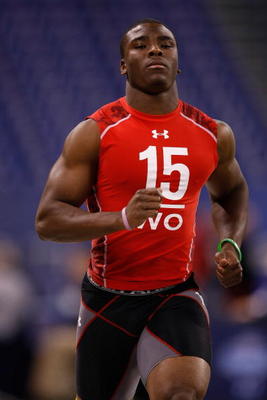 Ford is the type of dynamic threat that the Packers have been missing on offense and special teams. With blazing speed, Ford can score from anywhere on the field.
He would instantly give opposing coordinators another dimension to worry about when game planning for Green Bay.
Fourth Round Pick #122: S Major Wright, Florida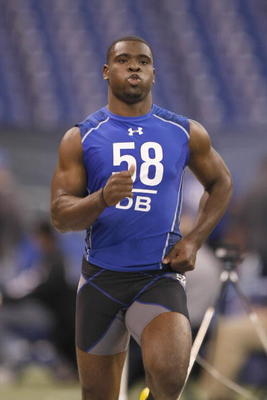 Wright is an athletic safety with good size, 6'0" 206, and speed. He ran the forty in 4.44 seconds, and also is solid in coverage.
He has the potential to push Atari Bigby for the starting job opposite Pro Bowler NIck Collins, allowing Collins to play closer to the line in some situations.
Fifth Round Pick #154: RB Lonyae Miller, Fresno State
Miller was overshadowed in college by teammate and likely first round pick Ryan Matthews, but he too has the potential to become a productive NFL running back.
At 6'0" and 221 pounds and 4.43 forty speed, Miller has the size and quickness to become a starter in the NFL, and will provide good depth behind Ryan Grant in 2010.
Fifth Round Pick #169: QB Jevan Snead, Mississippi (Compensatory)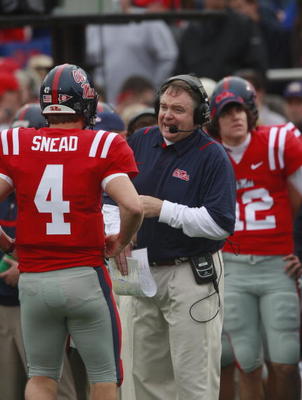 Snead has good size at 6'3" 219, and a well above-average NFL arm.
If the Packers can develop him enough this season, he could take over as Aaron Rodgers' backup and allow Green Bay to trade current backup Matt Flynn for a pick in 2011.
Sixth Round Pick #193: S Myron Rolle, Florida State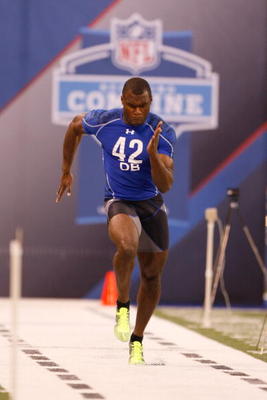 Rolle, 6'2" 215, is too good a value this late in the draft to pass on, despite concerns regarding his desire to play football long-term.
He would provide excellent depth at safety and contribute on special teams.
Seventh Round Pick #230: OLB O'Brien Schofield, Wisconsin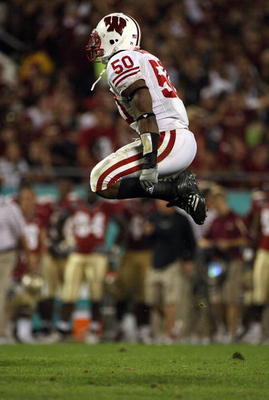 The home-state product suffered a serious knee injury while training for the combine, which allows the Packers to take a chance on him this late.
At 6'2" 221, Schofield needs to add some weight to be effective in the 3-4 scheme, but he has the natural pass rush ability that is so key.
Keep Reading

Green Bay Packers: Like this team?