Bold Predictions: Five Things That You Should Expect Come NBA Playoffs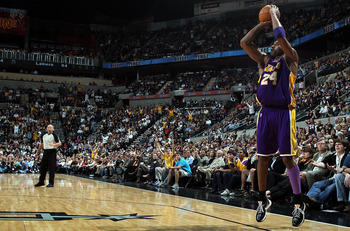 It has almost arrived. The NBA's equivalent for March Madness. For now we can content ourselves with watching our collegiate players try to identify their game and muse themselves higher into the draft.
But come April, the big boys take over. All 16 teams; some powerhouses, some obvious teams, some new comers; all trying to take over. All trying to claim possession of the Larry O'Brien Trophy.
You listen, you read; all predictions pretty much clone themselves; Lakers and Cavs will finally come together in the championship series, giving David Stern, and all the fans, the series they have been dreaming about.
It's obvious they say; no other team will step in the way of this. Even the refs are rooting for this, how could it turn out in any other dimension.
But I'm going to go out on a limb here, and give you five predictions, predictions you probably won't hear any where else.
But, nonetheless, five predictions you should await.
Here goes...
1. The Illusion That The Cavs Will Win the Championship Is False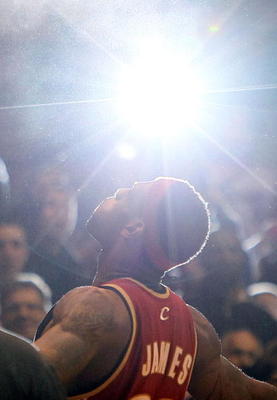 Lebron James has matured. The supporting cast is better than ever. It's James' seventh year; Jordan won it in his seventh year. No other East team can compete with the Cavs.
Those are all sentiments tossed around. They all might be true, but, really, so what? The same illusions were here last year, and even the year prior to that.
Listen to me when I say this: There is no way in the name of Kobe Bryant that the Cavaliers will win a championship this year.
First and foremost, there are four competitors headed into the Eastern play offs that shouldn't have much trouble handling Cleveland: Orlando, Boston, Atlanta, Charlotte.
Orlando beat them last year, which would mean the momentum would be swinging in their favor.
If every one is healthy on Boston, and playing to almost full potential, Boston could honestly still be the second best post season team in the league behind the Lakers.
LeBron knows this. And so does Boston. Though Cleveland would have a true shot at beating the Celts, Boston would hold a better shot.
Atlanta has probably the best option in shutting down James in Josh Smith. This may sound crazy, but this match up come to life in the playoffs, I would hold no surprise in seeing James average around 20-23 points being guarded by Smith.
Not only is Smith a great shut down man-on-man defender, he is probably the only, apart for Howard, player in the league who could not be scared in going up to block one of Lebron's un-human dunks.

James frustrated would devastate Cleveland, and completely ruin their chances. Atlanta wins this match up.
Then we have Charlotte; those of you who don't watch either of these teams might chuckle at this prediction. But one stat is all you need: the Bobcats dominated the season series 3-0, winning convincingly in all three games.
This team can run with LeBron and the Cavs, and could pose huge problems for Cleveland with Gerald Wallace and Stephen Jackson.
If this series should happen, save your time by saying bye to LeBron now.
Let's hypothesize Cleveland wins the East. They will almost surely face the Lakers or the Nuggets.
The Lakers would crush, Kobe out dueling Lebron, whilst the Nuggets have an experienced point guard, and more options.
I would bet on this: no matter what team come out of the West, they're beating the Cavs.
Or any other Eastern team.
2. The Thunder Will Win Its First Series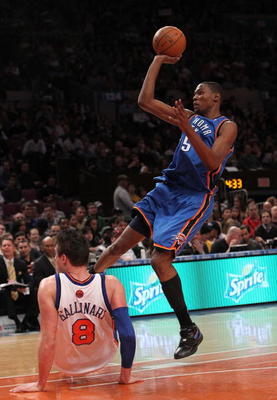 If the playoffs were to begin today, the Thunder would be left to play the Mavericks.
But considering the playoffs are still a ways to go, here are the other teams the Thunder could be left to play: Nuggets, Jazz, and Suns.
All four of these teams, save the Nuggets, should be fairly easy series wins for the Thunder.
Ever since their 13-game win streak with their new roster, the Mavericks have silently become probably the most over rated team in the league.
People tend to forget they are an extremely old and fragile team, whilst the Thunder a young and speedy roster bunch.
Furthermore, the Mavs will have immediate trouble guarding Durant, who can score against pretty much anyone, and Green at the same time.
And, Kidd with his aging body, will have no chance in keeping up with much faster Russel Westbrook.
If the Mavs falter later in the season, though, the Thunder could be left to play the Jazz.
Though the Jazz are an extremely talented team, more talented than the Thunder, the Thunder hold to many weapons for the Jazz to defend, and should shove them out of the play off race.
The Jazz could present a somewhat difficult series, but the Thunder will overcome because of their many possibilities in scoring offensively.
If both of those teams somehow move lower in spots, Thunder will face a first-round series playing Phoenix.
The Suns have historic trouble come postseason, and are a terrible defensive team. Their straight up option to guard Durant, would be Stoudemire, who is an embarrassing defender for his size and position.
Durant should have no trouble in taking him out of the paint, and scoring on him.
Durant could easily average over 35 in this series, and honestly, a sweep would not be out of the question.
As it stands now, the only team I can see beating the Thunder here in the first round, are the Nuggets who would beat them on both sides of the court.
3. Durant Will Average 37 Plus in the Playoffs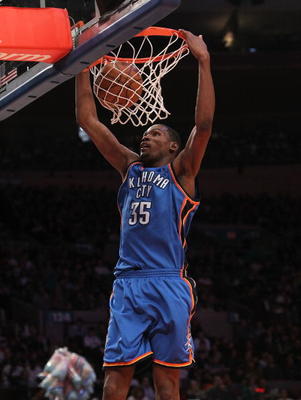 Somewhat illustrated in my last slide, Durant is the single-best pure scorer in the league. Kobe in his prime would be. But the now Durant, only in his third season, has stolen that title from Bryant.
Durant scored 25 plus in over 25 games, which is simply unbelievable. LeBron recently said if he wanted to, he could lead the league in scoring. Yet, any player taking an obscene amount of shots could.
The difference being, Durant could lead the league in scoring still being the least selfish of the bunch.
Unlike other stars, though, Durant taking matters into his hand scoring wise, extremely benefits his team. The Thunder are a very inexperienced team, their three leading scorers never smelling post season air.
Durant will have to take more than just control, which he should do with a fair amount of ease.
My prediction: Durant scores over 40 three times, and averages at least over 35, if not 37.
4. Atlanta and Orlando Will Meet in the Conference Finals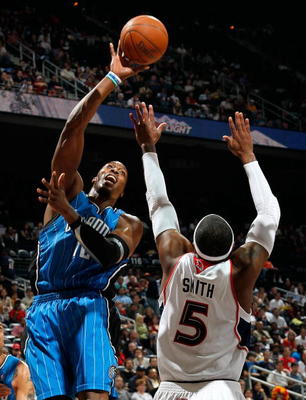 This will prove to be a fascinating conference final to watch. On one end of the court, you have a team desperate to return to last year's glorious run, hoping to finally earn that ring.
On the other side, you have a team that was one of the laughing stocks of the league not more than three seasons ago, yet has possibly the most athletic team in the L.

Here's how these two teams meet up. As the fourth seed, Atlanta will most likely face Bucks, who look as if they will end the seasons as the fifth in the East.
Though the Bucks are ending this season on a somewhat great note, inexperience and no real go-to guy will prove to be their own demise.
Atlanta wins.
Following this match up, if Cleveland handles Toronto like they should in the first round, they will face the Hawks in an epic battle.
In my first slide, I claimed the Hawks were one of the teams that could beat the Cavs; I mentioned it was because Smith could shut down LeBron, frustrating him and the rest of the team.
If Johnson, Smith, and Horford play to what they are capable of, in a 6 or 7 game series, Atlanta should hold on for the win.
That leads them to the Conference finals.
Orlando, the clear second best team in the East, will have no trouble with any team save the Cavaliers. Who have, if Atlanta does as should, dissipated already.

That leaves Orlando with two easy series, then a series in which they will face the Hawks.
Orlando have caused trouble in Atlanta three times this season already--
nothing will change in that series.
Orlando returns to where they are now familiar this season, hoping to finally hold on to that ring.
5. In Repeat Of Last Years Finals, Lakers Win Again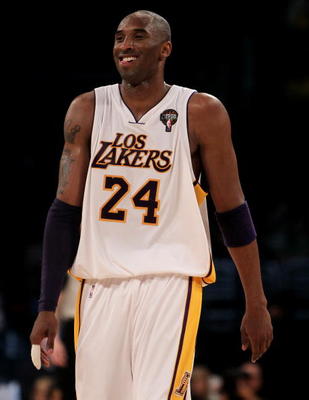 So, we've clarified that the Magic will once again come to the Finals. Why would the Lakers want to miss out on the reunion?
Obviously the Magic will have momentum on their side, knowing they're here again, stronger than last year with the addition of Carter. Carter will indeed be a major difference in this series, but no more than one game.
I find this series will go to seven games, but experience, and Kobe, will lead the Lakers to become victorious once again.
Though Carter is a great offensive player, a defender has never been something he has categorized himself as. Thus, leaving the Magic, again, with no real defender for the Black Mamba.
Though Magic will give them a run for their money, the Lakers boast a better coach, a better bench, a better star, better role players, and, making their case even stronger after the end of this year, a better number of championships.
Keep Reading