Champions League: The Tale of Tactical Brilliance and Sweet Revenge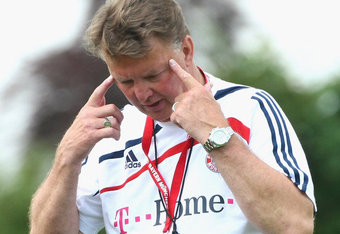 Looking at this year's Champions League draws reminded me of the '90s spells of Champions League—which I precisely discussed with stats at the start of my previous article .
This time, it's all about tactical brilliance and sweet revenge for the teams left in the biggest European Football club tourney.
Let's have a quick look at the managers remaining in the competition:
Alex Ferguson (Manchester United): A "Stalwart"—you just have to admire and respect him for his contribution to Manchester United and English club Football.
Louis van Gaal (Bayern München ): An "Elegant Manager"—he may want to tell you that he can bring the glory days back to Bundesliga.
Jose Mourinho (Inter Milan): A "Born Genius"—you just can't question his class of tactical knowledge and level of management.
Josep Guardiola (Barcelona): A "Go-Getter"—makes you think there is something precious in playing under some great tactical managers, namely Johan Cruijff, Bobby Robson, and Louis van Gaal.
Arsene Wenger (Arsenal): An "Aberrant Tactician"—he always finds his own ways, and the others find ways in his ways.
Laurent Blanc (Lyon): An "Enthusiastic Individual"—I can't think of any other defender (old-fashioned sweeper) who scored 100-plus goals.
Claude Puel (Bordeaux): A "Loyal Person"—he imparted loyalty in the world of Football and now is getting it back from his players in the shape of dedication and commitment.
Leonid Slutsky (CSKA Moscow): A "Presumable Outcast"—would like to demonstrate that you only need a balanced side to make history, not money.
Breakdown of the Clashes:
Jose Mourinho vs. Leonid Slutsky (Inter Milan vs. CSKA Moscow):
This clash will be all about tactical brilliance.
One may like to think that Jose has victory written all over this draw, but Leonid's side consists of some of the most brilliant emerging players, Igor Akinfeev and Kaisuke Honda—including decent wingers Miloš Krasić and Mark González with Czech Republic's future goal prodigy, Tomáš Necid.
No matter the outcome of this clash, CSKA Moscow has won the hearts of Football fanatics with its insightful knowledge of tactics and brilliance on the pitch.
Their display and discipline at "The Theatre of the Dreams" in group stages were worth applauding.
On the other hand, Jose Mourinho has two of the best, most under-rated center backs in Walter Samuel and Lucio.
He has a perfect "No. 10" in Sneijder, a lot of options up front with the likes of Eto'o, Pandev, and Milito, who can give some headaches to opposition.
Add to that a mixture of veterans and young guns in the likes of Stankovic, Cambiasso, Balotelli, and Zanetti, and it makes this side an intimidating opponent at any given Sunday.
If Inter Milan wins this competition, I would compare it to that of Italy's win in World Cup 2006. It would be as if everyone was looking at Barcelona, Manchester United, and all of a sudden a "Nerazzurri Twister" came and blew them away!
Fun Fact:
Slutsky: This man retired from playing Football in his teenage years.
Mourinho: This man is fun in himself, guess the pun, guys!
Claude Puel vs. Laurent Blanc (Lyon vs. Bordeaux)
One has played all his life for one club, AS Monaco—Claude Puel.
The other has played for numerous clubs, including Barcelona, Marseilles, Inter Milan and Manchester United—Laurent Blanc.
Both are now managing two top Ligue 1 teams into the second knockout stage of the Champions League.
This clash screams of revenge.
Claude Puel will surely want to avenge the wound he suffered of being the first Lyon manager to not win the league title within eight years by eliminating the side of Laurent Blanc—who has had a big hand in that heartache.
On the other hand, Laurent Blanc will make sure Puel suffers an imaginary heart attack from seeing Bordeaux sneak into the Semi-finals of the Champions League at the expense of Lyon. It would be icing on the cake for Laurent Blanc.
Fun fact:
Puel: Despite playing nearly two decades and almost 500 matches for AS Monaco, he has never played for the French National team. I am serious!
Blanc: Despite playing as a sweeper, Blanc has managed to score for every club he has played for.
Arsene Wenger vs. Josep Guardiola (Arsenal vs. Barcelona)
Will this be sweet revenge for Arsene Wenger or tactical brilliance for Pep Guardiola? We will know our answers by two weeks time.
Arsene Wenger has forged a team of young guns who are set to become legendary icons in the near future for the youngsters around the globe. You have to commend him for that.
But this is not the '90s and this side is not Ajax.
You must have a blend of young guns and exemplary veterans to "knock 'em off!"
Despite that, Arsenal are fighting for the English Premier League title, closing the gap at the top of table while missing their star striker Robin van Persie for most of the season. Again, you have to commend Arsene for that.
On the other side, we have a student of tactical managers—Josep Guardiola.
Barcelona will be facing Arsenal for the first time since the departure of Frank Rijkaard. Guardiola will make sure that he doesn't let the legend down.
Both teams will meet after their Champions League clash, but both managers have a point to prove. Arsene needs to win a Champions League title to be inducted into the league of elite managers, and Guardiola has to prove whether Barcelona can win against an all-attacking side.
Fun Fact:
Arsene: Arsene Wenger has managed a team in the Japanese League.
Guardiola: Being a close friend to Johann Cruijff will keep you close to tactical brilliance!
Louis van Gaal vs. Alex Ferguson (Bayern Munich vs. Manchester United)
This is the recipe for football purists: a clash between two legendary managers instead of goal-scoring delight, and a blend of tactical brilliance and sweet revenge.
One may get reminiscent of Champions League Finals 1999, when Manchester United beat Bayern Munich at Camp Nou.
Others would like to remind you of Champions League Quarter-finals 2001, when Bayern Munich outclassed Manchester United and went on to win the Champions League title.
People supporting both clubs share some bad romance with each other.
You can't go wrong with Alex Ferguson when it comes to mind games, trophies, and classic moments.
You should not go wrong with Louis van Gaal, either. He orchestrated the Champions League victory for Ajax where he outshined his opponent Fabio Capello of AC Milan.
Both teams are gunning to show how tactics are played, and both teams are engulfed in being avenged by each other.
Fun fact:
Van Gaal: Louis van Gaal considers the Bayern Munich job as a "dream job."
Ferguson: Fergie is two-years short of his "Silver Jubilee" anniversary at Old Trafford.
Personal Opinion:
This is the best Champions League Quarter-Finals draw since the '90s.
This article is
What is the duplicate article?
Why is this article offensive?
Where is this article plagiarized from?
Why is this article poorly edited?