Elite Eight 2010: Five Ways Tennessee Can Beat Michigan State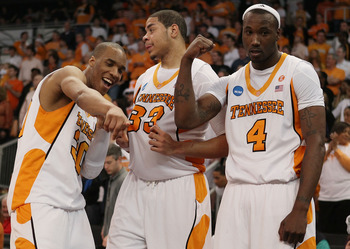 Michigan State has been here before. This is their seventh Elite Eight under legendary coach Tom Izzo. The Vols, formerly known as a football power, are making their first Elite Eight appearance.
MSU is missing star point guard Kalin Lucas, but they have won six out of seven and played lock down defense. Can the Vols knock off a second straight Big Ten squad? Here are five keys to their success.
1. Expose MSU's Limitations Without Kalin Lucas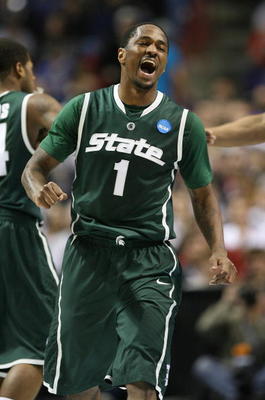 In the middle of Big Ten conference play, Lucas got hurt, and the Spartans lost their best scorer (14.8 points per game), playmaker (4.0 assists per game), and an experienced junior leader.
His replacement Korie Lucious has been an excellent clutch shooter in the tourney, but he turned the ball over six times in his first stint replacing Lucas.
Tennessee's ball thieving guards Bobby Maze and Melvin Goins can create opportunities on the break from Lucious' mistakes, and Maze can use his blow by ability to get to the rim for easy deuces.
2. Punish MSU on the block with Wayne Chism and Brian Williams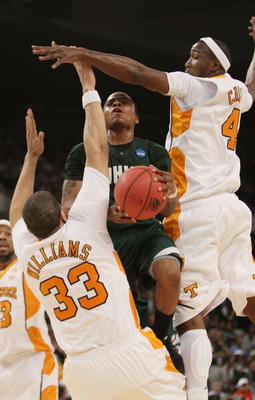 Against the Buckeyes, the Vols dominated OSU's lumbering big men with Chism and Williams combining for 31 points and 23 boards.
Powerful big men like Greg Oden have doomed many Tennessee teams in the past, but Michigan State only has the offensively limited Delvon Roe and the 6'6" mostly perimeter oriented Draymond Green.
These guys are quicker than the Buckeyes' posts, but Tennessee can use their girth inside to get offensive boards and easy layups and tip ins.
If Chism can be unstoppable inside with his post moves, and Brian Williams contributes with rebounds and tip ins, Tennessee should easily win.
3. Defend and Make the Three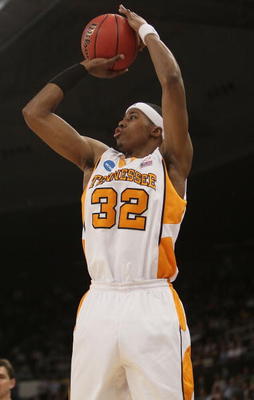 In the Sweet 16, the Vols only made four outside shots, and this guy (see pic) made none. On the other hand, the "make it rain" ability of Durrell Summers, Korie Lucious, and Chris Allen (seven threes made) saved Sparty from an early exit.
Chism is known for his post dominance in this tournament, but his outside game is what makes Weezy so hard to defend. If the Vols put their long athletic defenders like Scotty Hopson and Bobby Maze on the perimeter, they can shut down MSU's bread and butter and prevent the Spartans from making an eighth Final Four.
4. Stop Raymar Morgan from Being Active on Offense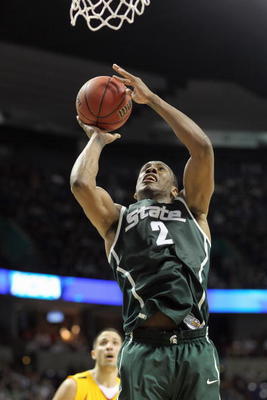 As the only Michigan St. senior who gets consistent minutes, Morgan carries a heavy load on his chiseled 6'7", 230 lb frame. If he's not in foul trouble like he was against N. Iowa, Raymar Morgan can score in bunches (14.0 ppg in the first two tournament games).
He has some weight on Tennessee wings J.P. Prince and Steven Pearl, and they must front him and cause turnovers to prevent his basket cuts and finishes in Tom Izzo's precise zone motion offense.
5. Be Patient in Half Court Sets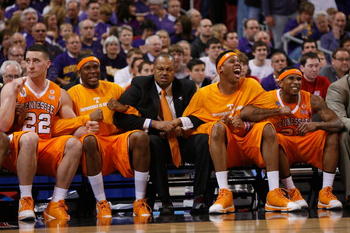 Tennessee runs the best Flex offense in NCAA basketball because they have a steady point guard in Bobby Maze and have athletic, versatile wings like J.P. Prince and Scotty Hopson to make flex cuts to the rim.
In the tournament, with the exception of the San Diego St. game, the Vols have been patient and looked for Chism and Prince cutting to the hoop instead of taking difficult threes early in the shot clock.
If they continue this style of play with their taxing full court press and control the tempo of the game, the Vols can make the Final Four. But if they go back to not looking for the flex cuts and jack up threes like in the Kentucky game (2-15 from three), the Vols will make an early exit.
Keep Reading

Tennessee Volunteers Basketball: Like this team?