MLB Spring Training Power Rankings and Preview for 2010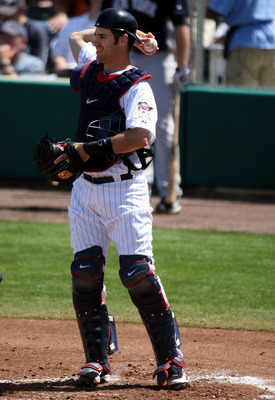 So, it is too early to predict anything, but it is always fun to see which predictions came true, and which ones didn't. These rankings are just preliminary, or course.
For example, most experts picked the Indians to win the division last year and they came in dead last.
I'm sure I will have many disagreements, but I did my research to create the most accurate rankings I could. Without further ado, here they are...
30. Pittsburgh Pirates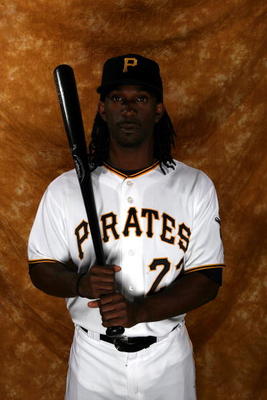 The Good: Andrew McCutchen is a really talented young outfielder. He can hit for average, has a little bit of pop in his bat, can flat-out run, and can field pretty well.
RF Garret Jones hit .293 last year, while hitting 23 home runs in the process. Of course, when no one gets on base, most of those home runs would be solo.
The Bad: This is an extremely young team. Now, usually that's not a bad. But good teams usually surround good young talent with good veterans. That's not the case with the Pirates.
GM Neil Huntington cleaned house by trading everybody from the opening day starting lineup, except for C Doumit. This is an EXTREMELY risky by Huntington, but it may have been necessary. Time will tell if the trades for all these young prospects will work out.
29. Washington Nationals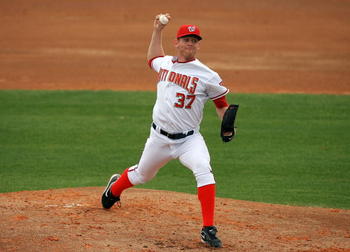 The Good: Stephen Strasburg. He is the best pitching prospect come along in many years. He's blessed with a wonderful fastball, along with some off-speed pitches including his superb curveball.
I can see why Strasburg is spending some time in AA. He'll get some confidence, and when he's ready, he'll be called up in a couple of months.
Also, John Lannon pitched very well for the Nationals. They also picked up All-Star Jason Marquis in free agency...3B Ryan Zimmerman is a bright young star for the Nats. He even had a 30-game hit streak at one point.
The Bad: That awful, awful bullpen. Who knows whose going to be closing in two weeks, let alone this season. Scott Olsen has some talent, but he comes with a lot of character baggage.
Jason Bergmann has never closed, and there's reasons why. He has had at least 4.45 ERA the last three seasons in Washington.
Play some defense. It's not as if it was all the pitchers' fault. The defense was just awful. As good as Adam Dunn is hitting, he needs some major help in left field.
He's not the only one, though. The only exception was 3B Ryan Zimmerman.
28. San Diego Padres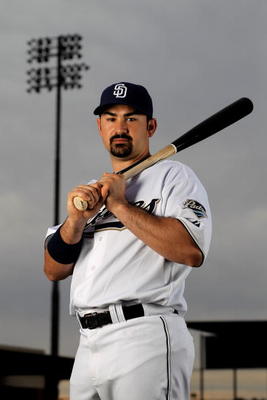 The Good: Adrian Gonzalez is a flat-out beast. He is a fantastic power hitter and a Gold Glove-caliber first baseman. He won't have the greatest average. That's because there's no one in the order who can protect Gonzalez.
Another bright spot for the Padres is Heath Bell. He pitched wonderfully for the Padres. He throws a hard fastball...Also, pitching prospect Mat Latos has some good stuff and should head the staff.
The Bad: Well, neither Gonzalez or Bell should be with the Padres if the Padres knows what's good for them.
As good as the pair are, they have to get some good young players for them. The fact is is that they aren't going to the playoffs with them.
27. Kansas City Royals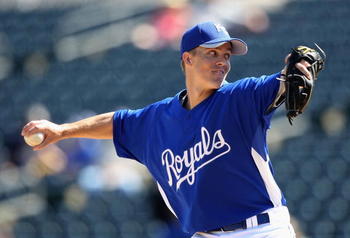 The Good: They boast the reigning Cy Young award winner Zach Greinke. Man, is he good. He throws his fastball in the mid 90s, throws a good change-up, along with a superb curve. Those are his three best pitches. He mixes them so well.
Joakim Soria is a very talented closer. He has some good off-speed pitches, with a good fastball.
1B Billy Butler is a solid player. He had a career year in 2009 hitting .301 with 21 homers and 93 RBI.
The Bad: Jose Guillen. Boy has he NOT lived up to that big contract over the past two years. He hit .241 last season with only 9 homers and 40 RBI. He only stayed on the field to get 281 AB.
The rest of the pitching staff underperformed last year. Gil Meche had an 5.01 ERA. Not an ERA you expect out of a guy you're paying $12 million a year.
26. Oakland A's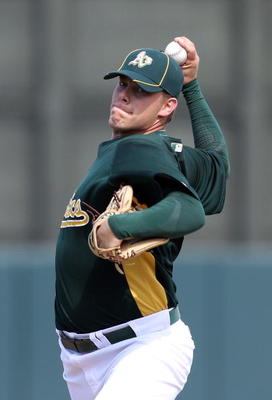 The good: Closer and reigning ROY Andrew Bailey was awesome last season. He threw around 84 innings (26 saves) with a 1.84 ERA as a rookie.
GM Billy Beane added Ben Sheets this offseason. If Sheets can regain his old form with that great fastball, he can make a nice one-two-three punch with young up-and-comers Trevor Cahill and Brett Anderson.
The bad: If you look at their infield on the depth chart, they literally have no experience, except for 2B Mark Ellis (over four seasons in MLB). Kevin Kouzmanoff is just an ordinary hitter without great potential.
I think Jake Fox will ultimately beat Durik Barton for the first base job because Fox is a superior hitter.
25. Toronto Blue Jays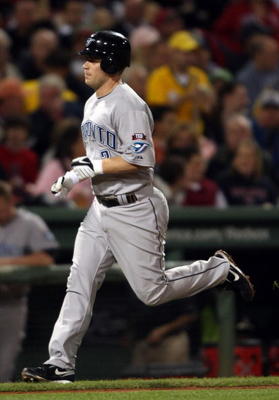 The Good: All-Star 2B Aaron Hill was fantastic last year. He hit .286 with 36 homers. That's very good production coming from the 2B spot.
DH Adam Lind also hit 35 home runs with 114 RBI.
Another good thing is that we can finally say FORMER GM JP Riccardi is finally out.
The Bad: No more Roy Halladay. That automatically wipes out at least five or six complete games a season.
It eliminates all the little things that would help the bullpen out. It was a necessary move, though. They got one of the most coveted pitching prospects in Kyle Drabek back in the deal.
Speaking of Riccardi, doesn't the Vernon Wells deal keep on giving and giving? Look, he's a good guy. But that HUMONGOUS contract doesn't equal that .260 average with 15 homers and 66 RBI. Does it?
24. Cincinnati Reds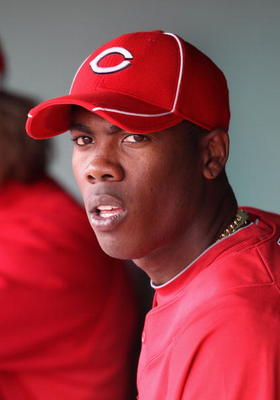 The Good: They won the bidding war for top Cuban SP prospect Aroldis Chapman. He has an unlimited amount of potential because of his great arm. He has a fastball that scouts die for. They have a solid lineup.
Joey Votto played pretty well last year. He hit .322 and hit 25 HRs. Brandon Phillips hit a solid .270 with 20 homers.
They also made a good trade snagging third baseman Scott Rolen. He hit well last year, but whatever power he had left him. But he does hit in a hitters park.
The Bad: Jay Bruce was just plain bad last year. He never got into a groove (injury), and ended up hitting only .223. He's only 22 years old, so I think he'll bounce back nicely.
SPs Johnny Cueto and Homer Bailey both struggled mightily at times. I think Cueto will bounce back, but Bailey is a one-dimensional fastball pitcher as of right now.
23. Milwaukee Brewers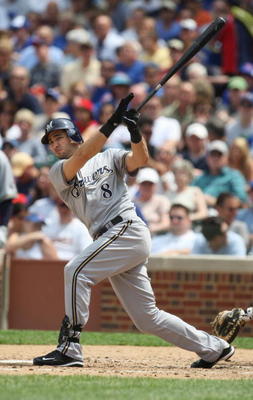 The Good: They have a really great three-four punch with Ryan Braun and Prince Fielder. They complement each other so well. Both hitters are capable 40-home run guys year in and year out.
The No. 1-4 starting rotation is very solid. The Randy Wolf addition will help tremendously to the bullpen. Yovani Gallardo was excellent for much of the season last year. He is one of the best young pitchers in baseball.
The Bad: The rest of the lineup is weak. Richie Weeks continues to underwhelm, as does Corey Hart.
The team's fielding is just not very good. Even though Fielder and Braun can hit, they still have a ways to go in terms of fielding. Braun doesn't sense the ball well off the bat.
22. New York Mets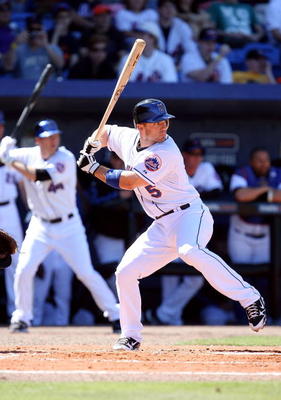 The Good: The Mets, when healthy, have a damn good lineup. They added free agent OF Jason Bay, and he goes along with 3B David Wright and OF Carlos Beltran in the No. 3-4-5 spots.
SP Johan Santana was as good as he always is last season, finishing with a 3.13 ERA. He finished 12-9 because the Mets were offensively challenged for most of the season.
The Bad: The rest of the rotation. Oliver Perez was all kinds of bad last season. In fact I'm not sure when it was, the last time he threw a strike (yes, he was that wild).
Pelfrey was below average with a 5+ ERA. John Maine only threw 81 innings last season, because he was on the DL.
Last season, it overflowed with Mets. As I recall, Luis Castillo broke his ankle going down stairs. No matter freak accident or whatever it was, the Strength and Conditioning coach was awful.
If Jose Reyes can return to the starting lineup healthy, it would be a big lift for the Mets. I'm not sure we will see him entirely healthy this year.
21. Cleveland Indians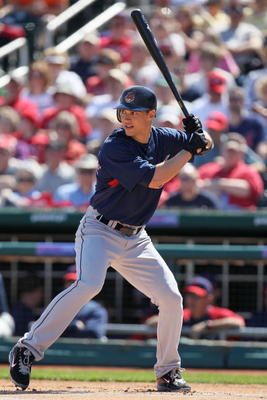 The Good: OF Grady Sizemore is back healthy. When he is healthy, he is one of the top 25 players in baseball. He only hit .248 last season, but I think that's a fluke. He usually hits around the mid 20s in home runs, and is a .270 hitter. He will be hitting in the No. 2 spot in the lineup.
2B Asdrubal Cabrera had a great year hitting .308 for the Indians. He'll be leading off, but he needs to get his OBP up. The 24-year-old has a bright future.
OF Shin-Soo Choo had a fantastic season, hitting 20 home runs and stealing 21 bases. He is another high-ceiling guy.
The Bad: This is the team may have the most question marks surrounding them. Here are five of them:
Will SP Jake Westbrook return to his 2007 form?
Will SP Carmona do the same, after falling in a funk the past two seasons?
Can DH Travis Hafner return to the RBI machine he once was?
Can Matt LaPorta finally break through, and keep his starting spot throughout the year?
Can Closer Kerry Wood stay healthy, and revert to his 2008 form where he had a 3.26 ERA?
20. Detroit Tigers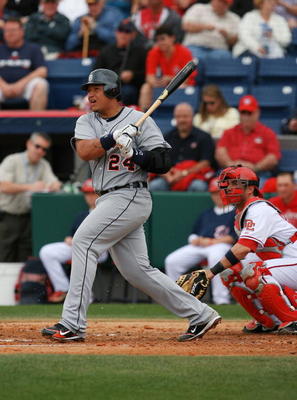 The good: Miguel Cabrera seems to have come in this season with a renewed focus. Cabrera has seemed to have gotten over his drinking problem, which is a great sign. He is a fantastic power hitter (34 homers last season), and can hit for average (.324).
Justin Verlander can light it up. He struck out 269 batters last season. In the American League, that's extremely impressive.
Rick Porcello also pitched well last season, even contending for the ROY. He had an ERA of 3.96.
The Tigers added RF Johnny Damon recently, bolstering the outfield.
The Bad: Magglio Ordonez and Carlos Guillen sucked. They combined to only hit 20 home runs and 91 RBI. That's not what you expect out of the middle of your lineup. Magglio was even benched for part of the season.
The Tigers traded away CF Curtis Granderson, and will put rookie OF Austin Jackson in that spot. It's a risky move, since Jackson isn't a great average hitter, and will be asked to it in that leadoff spot.
For a rookie, that's probably not a spot you want to be in.
19. Seattle Mariners
The Good: They have one of the best one-two punches in big leagues in SP Cliff Lee and SP Felix Hernandez. They were both excellent last season. Lee throws some nasty off speed pitches, as does Felix with a good fastball.
The Mariners picked up UTIL Chone Figgins in Free Agency. He'll probably start in the 3B position and lead off. He brings a lot of intangibles to the Mariners.
Year in and year out, Ichiro always hits at least 200 hits and hits at least .350. There's no reason not to believe he won't do it again this season.
The Bad: As good as Ichiro is, there's no denying he's not getting any younger (36 years old). In fact, the whole lineup is old.
Everyone is at least 26 years old. They've traded away many of their prospects.
The aquisition of OF/DH Milton Bradley was a questionable one. He doesn't play great defense, and he's more suited to DH. In fact he's a liability out there.
Unfortunately, Ken Griffey Jr. is playing in the DH spot. Also, Bradley was kicked out of Chicago for his comments against the team. He still hasn't owned up to his comments, even blaming Chicago for his failures.
18. Baltimore Orioles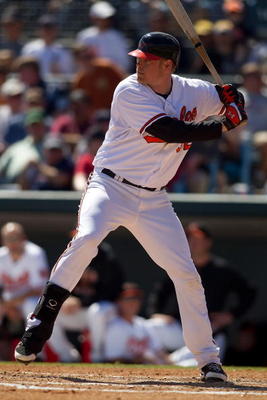 The good: OFs Adam Jones and Nick Markakis lead what is a very solid lineup. Jones made the All-Star team last season, hitting for an average of .277. Markakis hit only 18 HR, but drove in 101 RBI, which is a somewhat remarkable feat for a hitter.
One of the best young players in baseball is C Matt Wieters. He hit for a good average last year for a rookie (.288). It'll take him a couple more years to start hitting for power (think Joe Mauer), but he has an outstanding future.
3B Miguel Tejada is back. He played well last year in Houston, hitting .313 for the team, and played in 158 games.
The Bad: Like many of the teams I've listed, the Orioles have struggled with their rotation. They added Kevin Millwood (who had 3.67 ERA last year), but last year may have been a fluke.
Jeremy Guthrie did little to inspire confidence, pitching a 5+ ERA. The other three guys (Brian Matusz, Chris Tillman, and Brad Bergesen) don't have much experience starting.
SS Cesar Izturis did not play especially well last year, hitting .256. Neither did Garret Atkins (with Colorado), who hit only .226.
Mike Gonzalez will close for the team to start the season, but I'm not sure he will be there for long. They don't have a good closing candidate, since they traded George Sherill to the Dodgers.
17. Houston Astros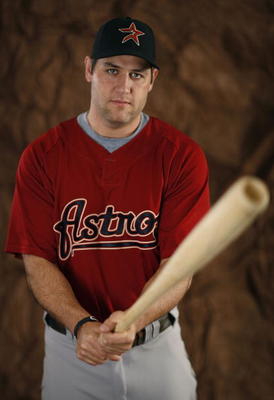 The good: OF Hunter Pence made the All-Star team last year, hitting .282 with 25 homers. He should be even better this season. I imagine he'll improve his average by around eight or nine spots.
OF Michael Bourn was electric last season, stealing 61 bases. There's no one that covers more ground, and he's the perfect player to do it in one of the biggest center fields in the majors.
He has a chance to be a top leadoff hitter this season, if he wasn't already.
SP Wandy Rodriguez was very good last season. He pitched a 3.02 ERA, won 14 games and lost 12. Run support was a major problem for him.
The bad: SP Roy Oswalt had an uncharacteristically bad year. He had a 4.12 ERA and had only 14 decisions (8-6) out of 25 starts. I believe he'll bounce back fine, as he's a savvy veteran.
1B Lance Berkman was just okay last season hitting .274 with only 80 RBI (missed 26 games on DL). It was most surprising because he had such a good year in 2008. He needs to drive in a lot of runs because the Astros have to rely on him for a lot of the run producing.
16. San Francisco Giants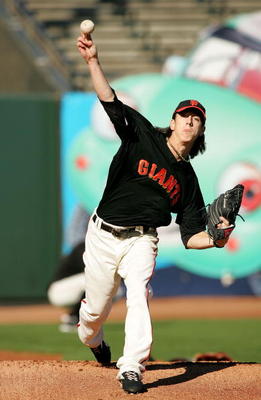 The good: They have the best pitcher in all of baseball in Tim Lincecum. The two-time reigning Cy Young award winner was sensational yet again last season. He had a 2.57 ERA and won 15 games for the Giants.
He throws a hard fastball, with some wicked breaking stuff in between. He is just filthy on the mound.
Another guy who broke out last season was SP Matt Cain. He started the season 8-0. He had an excellent ERA (2.89), but needs to finish the season stronger this year.
3B Pablo Sandoval hit for a high average (.330), and hit for power (25 homers).
The bad: Of Aaron Rowand is just average. He was given a big deal, and in Year Two was still disappointing. He only hit .261 with 15 homers.
When will Jonathan Sanchez finally be a consistent pitcher? He threw a no-hitter last season, but that's it. He throws some good off-speed pitches, but he's never seemed able to harness it except for that one magical night.
SS Edgar Renteria was just bad last season. He hit only .250 last season. It's embarrassing for a player of his caliber. It looks like he's finally started his decline at age 34.
15. Chicago White Sox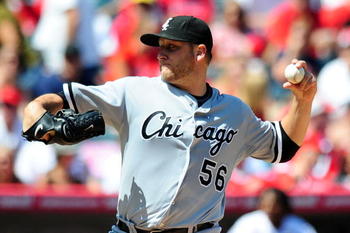 The good: SP Mark Buehrle had a good season (3.84 ERA), even throwing a perfect game for the White Sox. But he wasn't as consistent as he's been in the past. I don't think he's wearing down, put his strikeout totals were way down last year (145 to 105).
Gordon Beckham showed some major progress, hitting .270 with 14 home runs. He proved himself more of a gap hitter (28 doubles).
The Sox made some good acquisitions by trading for OF Juan Pierre, signing 2B Mark Teahen, and signing back up SS Omar Vizquel.
The bad: SP Gavin Floyd started the season so well last season (around a 3.00 ERA). But he finished 4.06 ERA. He hit somewhat of a rookie wall. But he's 27. Every pitcher goes through their bad outings, but he has got to start pitching up to his potential for a whole season.
Carlos Quentin is a very good player when healthy. But that's part of his problem. He makes his home on DL Drive. He only hit .236 last season with a foot injury. I think he will bounce back, but how long will he stay healthy?
Speaking of healthy what about SP Jake Peavy? If he can regain old form, this team can be dangerous.
14. Arizona Diamondbacks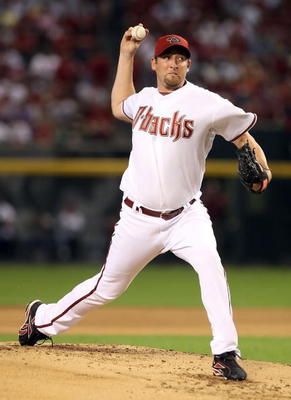 The good: They have a spectacular one-two-three punch if SP Brandon Webb can finally come back healthy. He'll start the season on the DL, and the Diamondbacks are going to take this slowly.
SP Edwin Jackson was acquired from the Tigers for Max Scherzer. Jackson pitched well enough to make the All-Star team last year.
3B Mark Reynolds had a breakout year, hitting 44 home runs and 102 RBIs. He fielded wonderfully at 3B, making great play after great play.
Justin Upton also had a brilliant season. He hit an even .300 and hit 26 balls out of the park.
The bad: OF Chris Young was just awful last year. He didn't even reach .200 before being demoted to the minors. He's never been an average guy, but he showed that he doesn't handle adversity well at all.
OF Conor Jackson missed most of the 2009 season with a fungal condition known as Coccidioidomycosis. I's usually caught in warm areas, and sometimes the effect can be bad, as it was for Jackson. He should be back for the start of the season. Time will tell how he tries to regain his 2008 form.
13. Tampa Bay Rays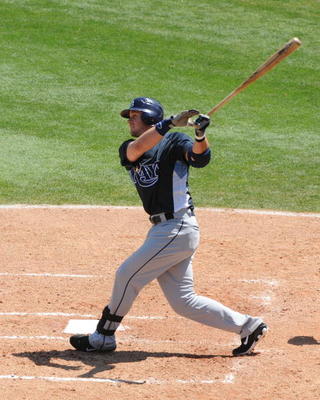 The Good: 3B Evan Longoria is just a beast. He had another great season hitting 33 homers and driving 113 runs in. Another notable thing went down: his strikeout ratio. In only 122 games in 2008, he struck 122 times. In 2009, he played in 157 games and struck out only 140 times.
UTIL Ben Zobrist had a breakout season. You name a position, he played it last year. HE showed some pop, hitting 27 home runs. His ONP was also very good (.405).
The Bad: The starting pitching was just average last season. The lowest ERA was Jeff Niemann with a 3.94 ERA. I wonder if young pitchers Shields, Garza, and Price to get at least a 3.80 ERA and 12-13 wins. If they get that, they'll be serious contenders in the AL East.
1B Carlos Pena's batting average has been declining each of the past two seasons in Tampa Bay. He hit only .227 last season. Although he hit 39 homers, I'd expect a guy who hits in the No. 3 spot to hit at least .260.
12. Chicago Cubs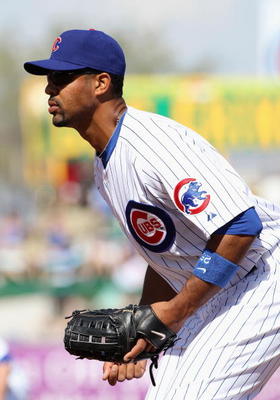 The good: 3B Aramis Ramirez was excellent when he came back from injury last year. The problem was that the Cubs never got rolling. But Ramirez was one of the bright spots. He managed to hit .317 and drive in 65 RBI in exactly half a season.
1B Derek Lee had his best season in four years. He hit .306 while hitting 35 homers and 111 RBI. If he can play like the same baseball this season, this Cubs team will definitely be in contention.
SP Carlos Zambrano wasn't great last season, but was okay by his standards. He didn't pitch very long into games (169 innings), and that's why he only got 16 decisions. He's definitely going to have to help the bullpen out.
The bad: C Geovany Soto was awful prior going on the DL. He hit only .218. He's another young player who couldn't handle the success of his rookie campaign. We'll see how he bounces back.
OF Alfonso Soriano continued to disappoint last season. He hit only .241 and hit 20 homers and 55 RBI. Before last season, he had never hit below .268. P.S.: His fielding still isn't getting better.
11. Florida Marlins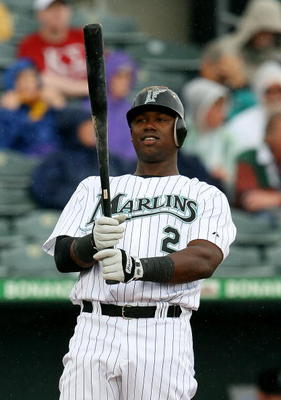 The good: SS Hanley Ramirez won his first batting title (.342). He drove in 106 RBI, but his home run numbers and stolen bases continue to decrease.
SP Josh Johnson was another young pitcher who excelled last season. He threw a nasty slide piece with a great fastball. Johnson had a streak of seven or eight starts allowing no more than three earned runs a start.
1B Jorge Cantu hit really well last season driving in 100 runs. However, it was curious to me that his home run numbers continued to dwindle (29 in 2008 to 16 in 2009). This is something to keep an eye on.
The bad: The Marlins fielding became a big issue last season. They finished in the bottom five of errors (106). A lot of the Marlin players were a little lazy (ahem Hanley Ramirez), but 3B/2B Dan Uggla was especially weak.
It doesn't help that he hit only .243. You'd hope that he would hit at a higher average but his numbers have been pretty consistent from year to year.
The closer position is pretty weak. Even though RP Leo Nunez is their best option, he only went 26 of 33 in save opportunities. My best bet is that they deal for another low-cost relief pitcher during the season.
10. Atlanta Braves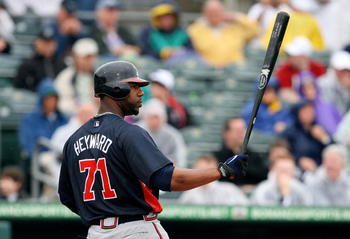 The good: Super OF prospect Jason Heyward has had a fantastic spring training. Hyped as the best overall prospect, Heyward is a five-tool player. I think we should temper expectations slightly because he still is only a rookie. But this guy is going to be great.
2B Martin Prado was excellent last season, hitting .307 in 450 at bats. It would be an added bonus if he can hit a few more home runs for the team, because it does not have many players who hit the deep ball consistently.
SP Tommy Hanson was spectacular last season in his rookie year. He finished with a 2.89 ERA and won 11 games out of his 21 starts.
The Bad: 3B Chipper Jones had one of the worst seasons of his career in 2009. His strikeouts were up, and all the other major categories were down. He never got into a groove like in 2008, which is unfortunate. This could be his last year, and he's looking to redeem himself.
SP Derek Lowe did not pitch like an ace. His ERA (4.67) was as bad as its been since his days in Boston. He made 34 starts but didn't even reach 200 innings (5 innings a start).
I look for him to bounce back, but he does pitch in a hitter's park, unlike L.A. In fact, I'm starting to think his numbers in L.A. were a fluke.
9. Los Angeles Dodgers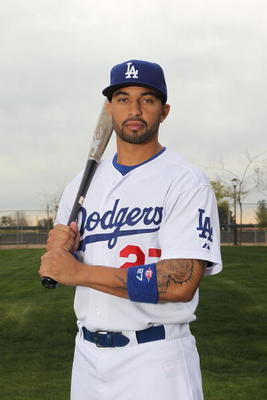 The good: OFs Matt Kemp and Andre Ethier enjoyed breakout seasons. In my opinion Kemp, was the breakout player of the year. His stat line was this: .297 26 home runs, 101 RBI, 25 doubles, and 34 steals. That's pretty damn good.
He is also a great athlete in center field and covers it well. He will need to fix his base-running errors. He made way too many mistakes on the base paths.
Andre Ethier was the most clutch player in the majors with six game-winning hits. He started developing into a power left handed batter (31 home runs and 106 RBIs). He fell into a midseason slump, but got out of it fairly quickly.
SP Clayton Kershaw was absolutely wonderful last season. He doesn't have a brilliant fastball, but he throws an awesome curveball. He needs to pitch longer into games if he wants to get more decisions.
The bad: OF Manny Ramirez did not bat well coming back from his 50-game suspension. He just didn't seem to have it in him. This is most likely his last year in L.A., so I look for him to come in with something to prove.
SP Chad Billingsley was just awful in the second half of the season. He finished with a 4.03 ERA, after making the All-Star team. He didn't even start in the playoffs, he struggled that much. We'll see how he bounces back from this.
8. Texas Rangers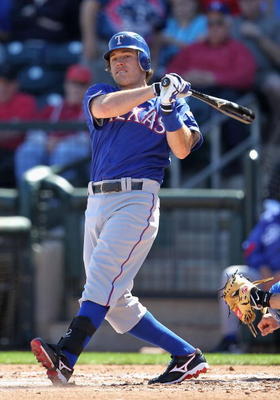 The good: OF Nelson Cruz was excellent, hitting 33 home runs. He even earned himself a spot in the Home Run Derby.
Sometimes, you just take 3B Michael Young for granted. He hits at least .300 most years, hits around 15-20 home runs, 35 doubles, and plays good defense. You can't ask much more year in and year out for a player.
RP Neftali Feliz is going to be really good. He has an electric arm that throws a one of a kind fastball (okay, maybe not, but it's pretty damn good). He needs to be either a starter or the closer. They just can't waste talent like that as an average bullpen pitcher.
The bad: 2B Ian Kinsler had a poor average (.253), but became a better power hitter (31 home runs). I'd prefer him to be more of an average hitter because I think they have enough power without him trying to do too much. By the way, he'll start the season with a high ankle sprain. They need to take it cautiously.
OF Josh Hamilton was out for much of last season with a recurring back problem and abdominal problem. In fact, he only played in 89 games. If he can come back healthy, Hamilton could push the Rangers past the Angels.
7. Minnesota Twins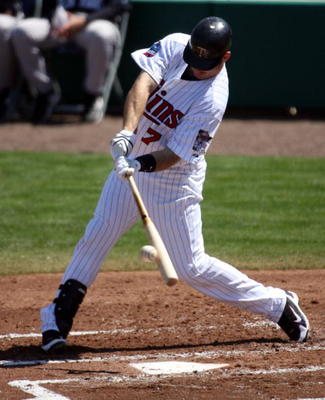 The good: C Joe Mauer is the best position player in the American League. He finally showed some power, hitting 28 home runs, while winning a batting title (.365). He shows good command of the pitching staff, and is fearless on defense. Mauer also got an extension worth $184 million for eight years. Life is good in his house.
1B Justin Morneau had a good season, adding his usual 30 homer, 100 RBI season. With him, it seems like every other season he has a spectacular year followed by a just a good year. If that pattern continues, it looks like Twins fans will be very happy.
OF Denard Span was just excellent, batting a solid .311 from the plate. He'll be leading off this year, being a perfect catalyst for this loaded lineup.
The bad: Closer Joe Nathan effectively ended his season with Tommy John surgery on that right elbow. He's a top three closer, and it drastically changes the ninth inning.
"Big" Jon Rausch will probably start the season closing, but he's not a guy that will overwhelm you with his fastball. That's the most important pitch a closer has, too. I expect them to trade for a closer (think Heath Bell) in mid-season.
6. Los Angeles Angels of Anaheim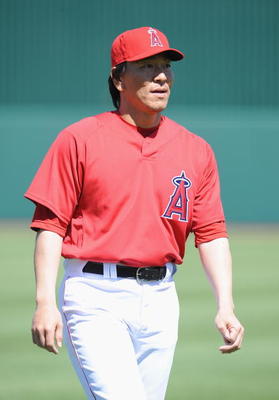 The good: 1B Kendry Morales had a breakout season hitting .306, 34 homers, and 108 RBI. Don't be fooled by his underrated status, this guy is no one-year wonder.
The Angels made a great move replacing Vlad for DH Hideki Matsui. Matsui wasn't great last year but showed himself as a clutch postseason hitter for the Yankees. And the Angels surely need one of those.
SP Jered Weaver was excellent in 2009. He had a 3.75 ERA and striking out a career-high 174 batters. The Angels will need him to be good this season if they want to beat the Rangers for the division title.
The bad: After being superb in 2008, SP Joe Saunders just didn't have the same stuff in 2009.
Yes, he won almost the same amount of games, but he also allowed 9 more home runs, and his ERA rose over one run (3.41 to 4.60).
SP Ervin Santana was just awful in 2009. After coming back from injury, he never got into a groove with his off speed pitches. The Angels are hoping he reverts to his 2008 form.
5. Colorado Rockies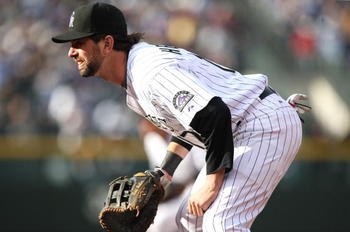 The good: 1B Todd Helton had an excellent season, hitting .325 and driving 86 runs. He is kind of left in the dust with all the young up and coming first baseman, but when you look at his numbers trough the years, you think "First ballot HOFer." There's no reason we shouldn't expect a great season from him.
SS Troy Tulowitzki is a fantastic all around SS. He hit 32 homers and even stole 20 bases, which was unexpected. Overall, you can't find a better SS in the game with exception of Derek Jeter.
SP Ubaldo Jimenez was wonderful, after starting off the season rough. He finished with a 3.47 ERA, and struck out almost 200 batters. It looks like he's finally harnessed his talent.
The bad: 2B Clint Barmes continued to struggle hitting only .245, but did hit 23 home runs. Only in 2008, he hit .290.
Really, the only other glaring hole on this team is at catcher with Chris Iannetta and Miguel Olivo sharing time. This team is absolutely loaded with talent.
4. Boston Red Sox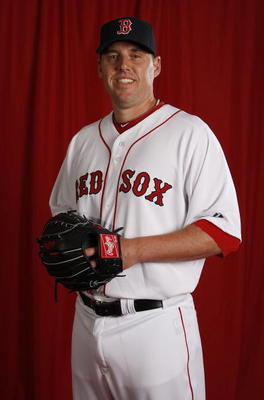 The good: This is the best rotation in the Majors. One through five is nothing but aces or future aces. I guess the only question mark is Dice-K, but if he can come back healthy, this rotation is almost unstoppable with the addition of John Lackey.
1B Kevin Youkilis is a really solid player. Every single day he comes to the ball park ready to work his tail off. He hit his usual .300 batting average with 27 home runs.
CF Jacoby Ellsbury is the best base-stealer in the big leagues (70 SBs). Whatever power he hits with is a bonus with him.
The bad: DH David Ortiz was awful for much of the season. He struggled to hit a home run for the first month of the season, but he eventually got going. He definitely showed signs of slowing down.
By failing to re-sign Jason Bay, they sign Mike Cameron to fill his spot. Mike Cameron is okay, but he's not as good as Jason Bay. Not even close. This is a big hole in the lineup.
3. St. Louis Cardinals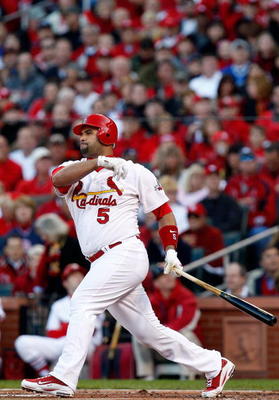 The good: 1B Albert Pujols...need I say more?
Signing OF Matt Holliday to a long-term deal was crucial because it gives Pujols protection in the order. Plus, it's not as if Holliday is a slouch next to Pujols. He hits around .320 every year, and 30 home runs on top of it.
The Cardinals have a special 1-1 in the staring rotation. Both Adam Wainwright and Chris Carpenter are aces. Wainwright throws a lot of strikes, and throws some filthy breaking stuff on top of it.
Carpenter may have pounded the strike zone better. He only had 38 walks in 28 starts. That is unbelievable, right there.
The bad: Really, the only glaring thing I see with the Cards is the back end of the rotation. SPs Brad Penny and Jaime Garcia don't inspire much confidence. Brad Penny is way past his prime. You know those melons shown in the 2K10 commercial, I'm pretty sure that's what Penny's fastballs look like.
2. Philadelphia Phillies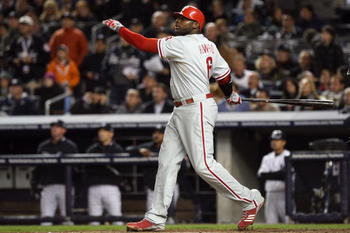 The good: This lineup is loaded. From No. 1-8, there are no weak spots. In fact the No. 1-7 hitters are all capable of hitting 20 homers in a season. It also helps that they play in the most hitter-friendly park in the league.
SP Roy Halladay is a great acquisition for the Phillies. All of his pitches have movement on them, even his four-seamer. He is probably going to be even better pitching in the National League once he gets a feel for all the batters.
The bad: SP Cole Hamels never got going last year. He was plain average. He seemed to have a fear to throw his curveball, which made him only a two-pitch pitcher. Although, that change up is one helluva pitch when its on. If Cole Hamels can get going, this team is almost a lock for the World Series.
1. New York Yankees
The good: 3B Alex Rodriguez was fantastic coming off hip surgery last season. If he can hit 30 homers missing a whole month, then I'm pretty sure he's a lock for 40 this season.
SS Derek Jeter had one of his best single seasons ever for the pinstripes. He hit .334 with 28 home runs while playing good defense at short. The guy continues to amaze me.
SP CC Sabathia was terrific yet again, finishing with almost 200 Ks on the season.
The bad: What are the Yankees doing with Joba Chamberlain? They're ruining him. They monitor his innings, and were very cautious with him. But, why? Why didn't they give him that fifth spot?
Keep Reading