Atlanta Braves, Chicago Cubs Raring for Historic Opening Day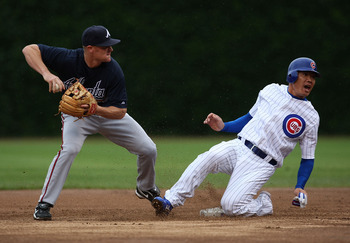 It's a tale of two teams, but three cities. And as Charles Dickens wrote, it's a tale of the years they intertwined from the start, one enjoying a "season (or seasons) of light," the other dreading a "season of darkness."
The Atlanta Braves and Chicago Cubs always pop up on each other's schedules at least twice, sometimes more, every year. But rarely do they begin a regular season against each other. Same was the case when the Braves played their home games north of Chicago.
This year, though, the stars are aligned and the clubs are set to reunite again on April 5.
If history is any indication, the 2010 opener (and the events of the season) could be wrapped in irony, much like its predecessors.

Opening Day at Turner Field marks an afternoon ripe with both real significance and bizarre coincidence. And at the least, a few fun facts (okay, maybe a lot).
Two talent and tradition-rich franchises—teams that have each run the gamut from maddening stretches of mediocrity to flashes of excellence and staying power—meet again for an opening contest in Atlanta.
Possibly the next face of the franchise, 20-year-old phenom Jason Heyward will make his major league debut in right field for Atlanta.
At the end of the bullpen, Billy Wagner, who turns 39 this summer, will be Atlanta's oldest Opening Day closer in recent memory.
The Cubs starting nine will look largely the same as last year, with the exception of center fielder Marlon Byrd (who led the American League in sacrifice flies in '09).
And the Cubs' renowned fatties, pitcher Carlos Zambrano and catcher Geovany Soto, dropped a collective 60-plus pounds in the offseason. Zambrano makes a club-best sixth straight opening day start.
Turner Field To Host its First Braves-Cubs Opener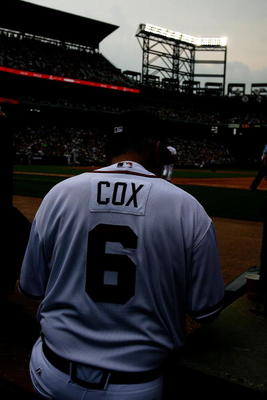 Only four times in the history of the game have the Cubs and Braves faced each other in a regular season opener.
It happened twice when the Braves called Milwaukee home (1956-57); only once in Atlanta (1988); and most recently at Wrigley Field in Chicago (1993), when former Cub and future Hall of Famer Greg Maddux nearly went the distance in shutting down his former employer as a first-year Brave.
Turner Field now hosts its first Braves-Cubs Opening Day, and both squads are hungrier than ever to ultimately return to postseason play.
By all accounts, it will be the last chance for Atlanta with Bobby Cox calling the shots. Many have speculated that 2010 will also be the final run of Cubs manager Lou Piniella's career.
As a new decade begins in baseball, the Braves and Cubs each find themselves in a similar shroud of mystery that befell Atlanta at the dawn of the 1990s and Chicago as Y2K approached.
The Braves, of course, became known as "The Team of the '90s," behind such home-grown stars as Tom Glavine, John Smoltz, David Justice and Chipper Jones, to name a few.
And the Cubs, well, the Cubs did win back-to-back division titles (2007-08) for the first time in 100 years. But they couldn't avoid passing the century mark between World Series trophies.
Despite winning the National League East division in '89, the only thing the organization strengthened during the decade of the '90s was its "lovable losers" tag.
Including the '98 Wild Card playoff spot, Chicago never finished a season better than 12 games behind first place from 1990 to 2000 (the Cubs followed up their first playoff appearance in nine years by trailing the NL Central Division winner by 30 games in both 1999 and 2000).
But things began looking up for the Cubs in '03 when they made their most high-profile managerial hire in years, luring Dusty Baker from San Francisco.
Whereas the surprise '98 team was mostly a patchwork group of aging but serviceable journeymen, the '03 Cubs won a relatively weak division behind bigger bats, stellar pitching and a brand new swagger.
The marketing slogan used by then-team president Andy MacPhail in '94—"We're working on it"—looked to be taking form at long last.
Atlanta's recent problems began at the halfway mark of the last decade. During the '90s the Braves never lost in the first round of the playoffs, only failing to reach postseason play once, in '90 (not including the strike-shortened '94 season).
But from 2000 to 2009, the team has only won the first round once, in '01.
Strikingly Similar Clubs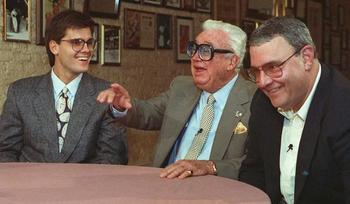 These teams have fascinating similarities and parallels surrounding their past Opening Day match-ups—and also each organization's time-line.
For one, they're the two surviving charter franchises of the National League (in 1876, they were known as the Chicago White Stockings and the Boston Red Caps).
For over 20 years both teams had a Caray in the broadcast booth. At the same time Harry Caray was the voice of the Cubs for WGN-TV (1981-97), his son Skip anchored the Braves broadcasts (1976-2008) for WTBS.
Skip's son Chip also handled play-by-play duties for the Cubs (1998-2004) and is now the voice of the Braves on Fox Sports South.
The Cubs and Braves have had far-reaching telecasts for many years. Tribune Broadcasting's WGN-TV began syndicating Cubs games in '78. The station, now known as WGN America, reaches an estimated 60 million viewers outside of Chicago.
After purchasing the club in '76 from close friend and Chicago executive William Bartholomay, media mogul Ted Turner made the Braves available to cable subscribers across the country on his superstation, WTBS. He soon proclaimed them to be "America's Team," despite their lack of success on the field.
By '84, though, the Cubs had supplanted the Braves in the ratings and tried to wrestle the moniker away from them.
Since '08, TBS no longer features Braves baseball. Instead, a number of local and regional outlets (Peachtree TV, FSS, CSS, etc.) broadcast the majority of games. Likewise, WGN America now splits its coverage of Cubs games about evenly with CSN Chicago.
Braves, Cubs Top Draw on Opening Day '56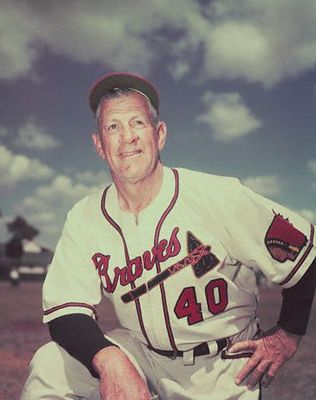 The first-ever Opening Day between the two franchises took place on April 17, 1956 at County Stadium in Milwaukee. It was by far the biggest draw in the National League that day as nearly 40,000 fans packed the stadium.
Starting pitcher Lew Burdette was masterful and the Braves won easily, 6-0. Pitching in the prime of his career, the crafty right-hander went the distance, allowing just six base runners and striking out nine to get the win.
Burdette led the NL in earned run average (2.70) and shutouts (six) in '56; he later spent parts of '64 and '65 with the Cubs towards the end of his career.
Filling out lineup cards for the Braves was none other than Charlie Grimm, the last manager to lead a Cubs team to the World Series (1945).
In the Braves' fourth season since moving from Boston, team owner Lou Perini had set the bar especially high. The construction magnate announced at the season's onset that he expected his men to bring home a pennant.
The team had finished no worse than third since relocating to Milwaukee, setting NL-best attendance records. Perini's gamble to relocate the franchise had paid off as fans were coming out in droves. Three-year-old County Stadium had also been the site of the Midsummer Classic the year before.
Milwaukee, however, sputtered throughout April and May, and Grimm, nicknamed 'Jolly Cholly' for his affable demeanor, was forced to resign in the middle of a series against Brooklyn that June.
Fred Haney took the reins and the Braves won 11 straight.
(In the second game of the Cubs series, Dave Jolly pitched the final two innings for Milwaukee in a 3-1 Braves win.)
Opposite Grimm on Opening Day in the visitors dugout was Stan Hack, one of the all-time greats as a Cubs player.
"Smiling Stan" had led the NL in hits in '40 and '41, but Hack couldn't cut it as a skipper. The '56 Cubs finished dead-last that year and Hack resigned at season's end.
Grimm, who made a habit of coming and going with the Cubs, reentered the fray in October as a vice president of sorts—primarily being used to scout talent within the organization.
Cubs Take Plunge, Braves Take Series in '57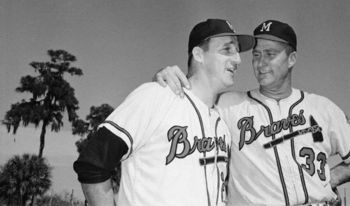 Bob Scheffing was tapped to steer the Cubs down the road to nowhere from '57 to '59. The third consecutive former Cub to manage the team did a fine job of keeping Chicago firmly entrenched in the cellar of the NL.
As for Milwaukee, Haney kept his job in '57, despite the Braves narrowly missing Perini's demand the year before (Perini removed himself as president in January that year and gave complete control to Joseph F. Cairnes, while still retaining ownership).
The Opening Day game at Wrigley Field on April 16, 1957 featured another dominant pitching performance—this time by Hall of Famer and Braves legend Warren Spahn. The lanky left-hander tossed a complete game in Milwaukee's 4-1 victory and went on to win the Cy Young Award that year.
Spahn would have had a shutout had he not had to face Bob Rush, Chicago's starting pitcher. Rush could occasionally put good wood on the ball, and that afternoon was no exception.
The 6'4" righty went 2-2 and drove in the Cubs' only run with a double to left in the bottom of the fifth (in December, Rush was traded with future Atlanta Braves manager Eddie Haas to Milwaukee in a package deal).
Haney, who competed in four games for the Cubs in the twilight of his playing career, led the Braves that season to the franchise's first world championship since 1914—a seven-game series win over the New York Yankees. Burdette recorded complete-game shutouts in Games Five and Seven and was named World Series MVP.
Ironically, three of Haney's assistants were given pink slips after the World Series—among them Charlie Root, widely regarded as one of the greatest pitchers in Cubs history.
Root is still the all-time Cubs leader in wins, games pitched and innings pitched (he also has the unfortunate distinction of being the pitcher who gave up Babe Ruth's fabled "called shot" in the 1932 World Series).
Grimm, who once said "these hands were never meant to carry a briefcase," became Chicago's manager a third and final time in 1960. It would only make sense that Root was hired as his pitching coach.
Although an inept pitching staff continued to negate any progress at the plate, the Cubs finally found their stride on offense in '58, led by "Mr. Cub" Ernie Banks and Bobby Thomson.
The Scottish-born center-fielder started both Opening Day games as a Brave in '56 and '57; Thomson is best known for hitting the "Shot Heard 'Round the World," which gave the New York Giants the '51 NL pennant.
The Cubs continued to slug through a miserable 20-plus-year period that featured numerous managerial changes, including the wacky and ill-fated "College of Coaches" system in the early '60s. The club also had its only two 100-plus-loss seasons that decade, in '62 and '66.
Relocation for Braves, Shake-ups for Cubs, Don't Spell Success
By the early '60s, fans in Milwaukee were no longer abuzz with the Braves, and Bartholomay secretly sought a move for his club. A testy court battle, however, prolonged his plans.
But by April 1966 the Braves had a new home and a new stadium in Atlanta.
In the time it took the Braves and Cubs to reappear on each other's schedules for Opening Day, neither had won a postseason series.
From '58 to '88, Chicago had made just one playoff appearance ('84).
The Braves returned to the World Series to face the Yankees again in '58, but lost in seven games. In the first-ever NL Championship Series, the Atlanta Braves were swept by the New York Mets in '69 and again in '82 by St. Louis.
But Atlanta was banking on a turn-around within about two years. Cox, then Atlanta's general manager, had begun laying the groundwork in '86 for the organization's historic rebirth (rookie pitchers Tom Glavine and John Smoltz joined the staff in '88; Glavine lost 17 games that year, but by '91 he was a 20-game winner).
Chicago's pennant run in '84 interrupted years of failure and botched hopes. But by '88 the franchise had been stunted by hasty, knee-jerk front office decisions and poor leadership on the field.
The Cubs had pinned their hopes on new manager Don Zimmer, an old high school buddy of former field manager and then-director of baseball operations, Jim Frey. (Zimmer had last managed the Texas Rangers in '82).
The hire initially reeked of cronyism, though both men said it had been decades since they had been close pals.
Frey also claimed to have had a list of at least 20 candidates, including Joe Torre, but it was widely believed that Zimmer was the only one to get serious consideration.
Shortly after the '87 season, Dallas Green abruptly resigned as team president. At the time, Green cited "philosophical differences" with ownership. Years later, however, he said that John R. Madigan, then-Tribune Company chairman, had fired him for reasons still unclear to him.
"I never knew—I still never know—why that (expletive) fired me," Green said of Madigan. "He never did tell me. Philosophical differences is what was said. I never quite figured out what the (expletive) that is."
The Chicago Tribune erroneously reported in August 1990 that Green, who had managed the Yankees through most of '89, would soon replace Cox as the Braves' GM. Green had also been linked to the Reds' managerial vacancy in the fall of '89, but denied interest; Piniella ultimately got the gig.
Frey, who had been canned by Green in June of '86 along with then-third base coach Zimmer, was installed by the Tribune Company to replace Green as the new director of baseball operations (neither previous owner Wrigley nor the Tribune Company preferred the common title of "general manager"). "Zim" was soon hired to be the Yankees' third base coach at the request of Piniella, New York's field boss from '86 to '88.
Madigan curiously rationalized the re-hire of Frey at the time, claiming, "We need fresh ideas and Jim fills the bill."
The Cubs were so bad in '86 (and no better in '87) that Zimmer proclaimed on his way out of town, "I don't think God could come down and make this team win right now."
Divine intervention was probably just as unlikely to succeed with the mid to late '80s Atlanta teams. After Torre was, as he put it at the time, "run out of town" in '84, veteran Braves minor league skipper Eddie Haas was hired for his skills in working with younger players.
Haas was a bust and so was his late-season replacement, Bobby Wine. (In his playing career, Haas mostly toiled in the minor leagues, but played parts of three seasons with the Cubs and Braves in the late '50s. Wine, now an advanced scout for Atlanta, became Green's bench coach with the New York Mets in '93.)
In '88, Braves manager Chuck Tanner was entering the third year of a five-year, $2 million contract. Tanner had led the Pittsburgh Pirates to a world championship nearly a decade prior, but his Braves teams had finished last and next-to-last, respectively, in his first two seasons.
Tanner didn't have a wealth of talent, but his motivational skills—and those of his staff—were being called into question.
Also at the start of the year, both teams had turned to what would prove to be aging and only mildly effective closers. Chicago had signed 'Goose' Gossage and Atlanta was giving former Cub Bruce Sutter another chance. Gossage turned 37 that summer and Sutter, suiting up for what would be his final season, was 35.
'Wait Till Next Year'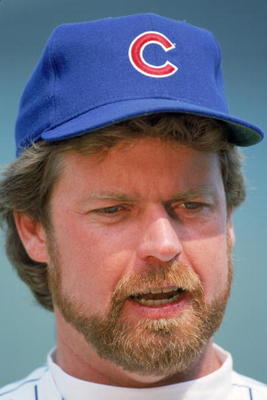 When the Cubs and Braves reconvened at Atlanta-Fulton County Stadium on April 5, 1988, both ball clubs had low, yet realistic, expectations for the new season.
Atlanta's resurgence in the early '80s, led by Torre, had been short-lived. Its opening day roster consisted of six players older than 30 and its farm system had failed to produce dividends.
Some fans in Atlanta had even written off the season at its onset. A sign in center field that day read, "Wait til next year," an axiom long familiar to Cubs fans.
Catcher Jody Davis was making his sixth straight and final Opening Day start for the Cubs. The veteran backstop got the scoring started for Chicago with a two-run homer in the second inning off Atlanta's Rick Mahler, breaking the starter's opening day scoreless streak at 35 1/3 innings. (In late-September, Davis, a Gainesville, Ga. native, was traded to Atlanta; he homered in his first game with the Braves.)
In all, seven balls left the yard that day. Atlanta tagged Cubs starter Rick Sutcliffe for seven runs in the fourth inning, including homers by Ken Oberkfell and Gerald Perry. The Braves held the lead until the ninth, when Sutter took the mound for his first appearance in nearly two years.
With a 9-7 lead, Leon Durham and Rafael Palmeiro each drove in runs and the game remained tied at nine until the 13th inning.
In the top of the 12th, Zimmer turned to his last option in the bullpen—hard-throwing right-hander Mike Bielecki, acquired days earlier from Pittsburgh.
The Cubs added a run in the bottom half of the inning, Bielecki tossed two scoreless frames to get the win in relief and Chicago edged Atlanta 10-9 in a four-hour affair.
When Frey traded for Bielecki at the end of spring training, Zimmer had nearly finalized his Opening Day roster, but made one additional cut to make room for the 29-year-old.
"We were short on pitching, we needed help, and I took a shot," Frey said of adding Bielecki.
The move paid off.
By the next spring, Bielecki had earned a spot in the starting rotation and won 18 games for the Cubs in '89. He teamed with a young Greg Maddux, who won 19 games that season, to lead Chicago to its first postseason berth in five years.
Bielecki credited Sutcliffe for taking him under his wing during his first year with the Cubs.
"'Sut' was pulling my chain because he hit a dinger off me when I pitched for the Pirates," Bielecki recounted. "He asked (Andre) Dawson, 'What's the farthest home run you've ever seen hit by a pitcher?' And 'Hawk' dryly responded (to Sutcliffe), 'The one you hit off the kid from Pittsburgh.'"
Bielecki was later traded to the Braves in '91 and made three separate stints with Atlanta. He started two games in the '89 NLCS for the Cubs and pitched throughout the '96 playoffs for Atlanta, including three scoreless innings of relief in the World Series.
"I loved my time in Atlanta, being able to play for one of the all-time greatest managers—and in my opinion, the all-time greatest player's manager," Bielecki said of playing for Cox. "But my heart was always in the Cubs uniform."
In '88, the highest paid players on Atlanta's roster, Sutter and Dale Murphy, were also two of the least productive. Murphy hit 24 home runs, but his batting average plummeted to .226, the lowest it had been in 10 years.
Perhaps most inexcusable was the revelation that only two of Tanner's assistant coaches were physically able to throw a baseball. What resulted was an exceptionally poor-hitting club that wasn't able to get in extra batting practice. Atlanta had a sub-.200 team batting average through much of April.
The loss precipitated a 10-game losing streak and a historic collapse for the Braves (Atlanta finished the season 54-106, their worst record since 1935).
Almost as soon as the season began, fans were losing patience (and interest), TBS was losing ad revenue and the bull's-eye on Tanner's back was growing larger by the day.
Cox gave the 58-year-old skipper his walking papers on May 23—the day before the Braves began their next series with the Cubs at Wrigley Field.
Tanner is still 26th all-time in wins for a manager, with 1,352. Former Cubs skipper and current Reds field boss Dusty Baker is 27th.
At the time, both Cox and Piniella were in similar posts. Piniella served—rather reluctantly—as George Steinbrenner's GM of the Yankees, but he resigned on May 29. The next month, Piniella replaced Billy Martin (the man who replaced him as manager the year before) in the Yankees dugout for the remainder of the '88 campaign.
'Tired of Being the Laughingstock'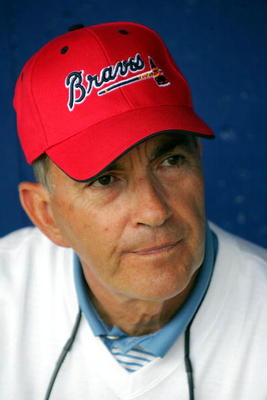 Only five years had passed when the Cubs and Braves met again on Opening Day. But by then, only one team's fans were still collectively sighing, "wait til next year."
The others were getting used to a new-found pride, punctuated with the "Tomahawk Chop."
Atlanta had just made back-to-back World Series appearances for the first time since '57 and '58. Although they came away empty-handed in both '91 and '92, the core of their pitching rotation in '93—which included two 20-game winners—would be in place for years to come.
And a late-September call-up named Chipper Jones would eventually surpass Eddie Mathews as perhaps the greatest third baseman in team history.
In Chicago, Frey and Zim had been replaced with new GM Larry Himes and manager Jim Lefebvre. The Cubs had again captured a division title ('89), but had failed to cultivate its talent into a consistent contender.
Lean years were ahead for the Cubbies, highlighted only by individual accolades from players like second baseman Ryne Sandberg, first baseman Mark Grace and right-fielder Sammy Sosa, then in his first full year with the Cubs. Jerome Walton, who won Rookie of the Year honors for the Cubs in '89, had fizzled and was released by the fall of '92.

Cox was entering his fourth year as manager—his third as strictly the field boss (he held dual roles as manager and GM in '90). And the fruits of Cox's and GM John Schuerholz's labor—an all-out effort to eradicate the stigma of losing badly and often in Atlanta—had begun to materialize.
"We're tired of being the laughingstock of the league," Schuerholz proclaimed as the first year of his historic 17-year tenure commenced in January '91.
Ten months later, the Braves were the hottest thing in baseball.
'Mad Dog' Comes Back to Bite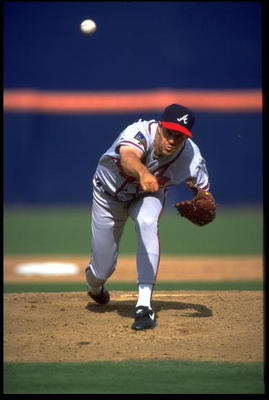 Larry Himes was tired of people second-guessing him in the spring of '93.
In October '92, the Elias Sports Bureau determined Cubs second baseman Ryne Sandberg to be the best player in the game, according to its annual statistical rankings (which factors in season totals over a two-year span).
"Ryno" had made his ninth consecutive All-Star appearance and had led the team in hits (186), home runs (26), and stolen bases (17) in '92.
Greg Maddux was the ace of Chicago's pitching staff in '92, and was widely considered to be among the top starting pitchers in the big leagues. The 26-year-old had just won his first Cy Young Award, bagged his third straight Gold Glove and was a two-time All-Star.
Nicknamed "Mad Dog," he and No. 2 starter Mike Morgan had established a close kinship (both attended the same Las Vegas high school)—and the pair was among the best one-two tandems in the National League.
Eligible for free agency for the first time in his short career, it appeared Maddux's heart, like Bielecki's, was with the Cubs.
Chicago had arguably the best position player and the best young pitcher in all of baseball. They had a solid nucleus of Maddux, Morgan, Sandberg, outfielder Andre Dawson, and first baseman and Gold Glover Mark Grace.
But by December, GM Larry Himes let two of them slip away—one of which he would never live down.
At baseball's annual winter meetings, 38-year-old Dawson joined Maddux in seeking employment elsewhere. Dawson inked a two-year deal with the Boston Red Sox; and Maddux, reportedly heartbroken over the Cubs' lack of effort to keep him in Chicago, signed a five-year, $28 million deal with Atlanta.
Until the last minute, it appeared Maddux would be in Yankee pinstripes; New York had heavily courted the right-hander and had offered $6 million more than Atlanta.
"It had nothing to do with the city, the fans, the players, the coaches," Maddux said of leaving Chicago. "It just had to do with the way the contract was negotiated."
Himes would not budge from his offer of five years, $27.5 million. He claimed to be on a tight budget—one that also precluded him from acquiring free agents Kirby Puckett and Barry Bonds that off-season.
"I'm tired of hearing about Maddux," Himes said the next spring. "You'd have thought we traded Babe Ruth or something."
Schuerholz, meanwhile, was giddy over his latest catch.
"The acquisition of Greg Maddux gives us the most formidable rotation in all of baseball," Schuerholz said at the time.
Almost immediately—and certainly over a large portion of the next 10 years—Schuerholz's assertion proved dead-on. The Braves pitching staff led the majors in wins and earned run average (3.14) that year.
The Cubs, meanwhile, could only boast a damn good closer. New addition Randy Myers set a single-season NL record for saves (53) that year.
On April 5, 1993, Maddux took the mound at Wrigley Field to a chorus of boo's. Some Cubs fans, too, were heartbroken and believed the budding young star had abandoned them.
But the unusually hostile environment at the "Friendly Confines" that day had little effect on Maddux's performance. He pitched 8 1/3 shutout innings, walked just three and struck out four and Atlanta nipped Chicago 1-0. Morgan, for his part, allowed just one run through seven innings and fanned five, but was saddled with the loss.
The next day, recently-acquired Cubs starter Jose Guzman nearly no-hit the Braves. But with two outs in the ninth, lead-off hitter Otis Nixon lined a single to left to end Guzman's bid at history (Milt Pappas was the last Cub at the time to have achieved the feat, in 1972).
It would have been the earliest no-hitter—not on Opening Day—in major league history. Guzman, Maddux's de facto replacement, had taken a no-hitter into the eighth inning once before in '87 as a member of the Texas Rangers (Mitch Williams, the Cubs' closer in '89, relieved Guzman in that game).
Chicago still won the game 1-0, but losing the no-hitter allowed the sting of Maddux's performance—and the reminder of his absence—to endure.
Guzman won 12 games for the Cubs in '93, but he became emblematic of the caliber of player the team would sign during the '90s—aging, average and injury-prone.
He hit the disabled list the next April and never pitched another game in the big leagues.
Time would prove that letting Maddux slip away was closely akin to trading the Bambino in his prime. 'Mad Dog' retired in 2008 with four Cy Young Awards, eight All-Star appearances and 18 Gold Gloves.
Many Cubs fans always hoped, and even expected, Maddux to come back home. He did in 2004, but it was bittersweet. The Cubs had just returned to postseason play the year before, but they regressed each year Maddux was back, from '04 to '06.
And for the first time in his career, Maddux also saw his ERA rise above 4.00 in each of the three years he was back in a Cubs uniform.
Maddux returned to the fold in January this year as a special assistant to general manager Jim Hendry.
His role has included mentoring and developing young pitchers at the Cubs' spring training complex in Mesa, Ariz.
Swan Song for Cox and Piniella
As for Cox and Piniella, only one thing is certain entering the new season: both managers' likenesses are sure to grace plaques at Cooperstown in the near future.
Cox, 68, has publicly stated his decision to retire at year's end after 28 seasons in the big leagues—24 of which, in two separate stints, have been with the Braves. His tenure in Atlanta has delivered a World Series title, five NL pennants and 14 playoff appearances, including 11 straight from '95 to '05.
Cox is nothing short of a living legend, currently the fourth winningest manager of all time (2,413 wins), just below Tony LaRussa (2,552) and ahead of Joe Torre (2,246).
LaRussa, for one, isn't so sure about Cox calling it quits. "He may change his mind," the Cardinals skipper said. "Bobby loves the game. It's in his blood."
Though Cox is the embodiment of quiet stoicism, he somehow holds the all-time record for being ejected 151 times (most casual observers would expect Piniella to be high atop that list as well. But he's only been tossed from a handful of games in the past few years; the outbursts are just that memorable).
Piniella, 14th all-time in wins (1,784), won a World Series ring with Cincinnati and turned around a perennially pitiful Seattle Mariners ball club. And the notoriously animated skipper—though these days more restrained—has given the Cubs faithful plenty of reason to cheer the past three seasons.
Playoff success still eludes them, but fans in Chicago now expect to win, whereas a few short years ago many still expected, and accepted, losing.
"Sweet Lou" is the first manager since Frank Chance in 1906 to win back-to-back division titles in his first two seasons (Chance replaced Frank Selee, who stepped aside due to illness, in July 1905). Anything less than a playoff berth this season will likely spell the end of his tenure in Chicago. So might a World Series triumph.
Sandberg, currently manager of the Triple-A Iowa Cubs, is the top candidate to replace Piniella.
Gap in Opening Day Meetings Not Unprecedented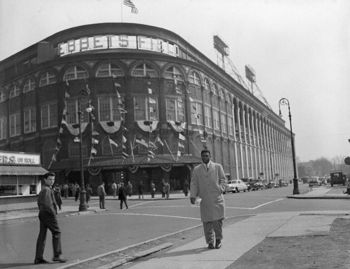 There's nothing overtly unusual about the wide gap in meetings between the Braves and Cubs in a season opener—or any two same-league competitors for that matter. Many teams, especially those who do not or have never played in the same division, face off only scarcely on Opening Day.
For instance, this year also features an opener between the Pirates and Los Angeles Dodgers, which took 55 years to materialize. The Brooklyn Dodgers beat Pittsburgh 6-1 at Ebbets Field in 1955 and ultimately claimed their first World Series trophy that fall.
The only other time they met on opening day was also at Brooklyn ('53), meaning this year's game in Pittsburgh will mark the first one ever at the modern-day home of either club.
Since 2005, Major League Baseball has outsourced the prodigious task of composing regular season schedules for all 30 clubs to The Sports Scheduling Group. The effort is an exercise that operations researchers can now tackle.
Just 15 years ago it was still out of the reach of operations research because of slower computers and less-advanced math models, Tiffany Smith of Minnesota Daily reported.
Doug Bureman, co-founder and coordinating partner for The Sports Scheduling Group, confirms that special requests are made, in addition to limits on the number of times two teams may play each other, the amount of traveling a team has to do, etc.
In the case of the April 5 match-up at Turner Field, however, Bureman said, "There is no intentionality with respect to the Cubs opening the 2010 season in Atlanta."
The Cubs will aim to bring their all-time record as visitors against the Braves to .500. The Braves franchise leads the Cubs 467-466 when playing as the home team.
Keep Reading

Chicago Cubs: Like this team?