The Redskins monster trade scenario 2010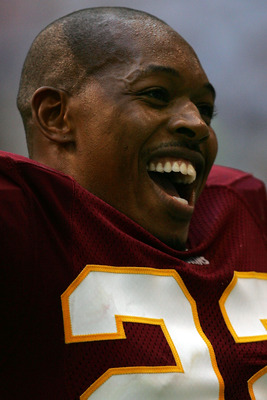 This article is written as my dream scenario for The Redskins trading the franchise back to greatness, and inspired by many of the articles in this forum.
This is not an attempt to be realistic - this is an attempt to think out of the box - and explore the what if ... and maybe from this, develop new insight. And well it has been a lot of fun.
I have written other article's on this subject:
http://bleacherreport.com/articles/368378-the-redskins-trade-haynesworth-campbell-and-cooley-part-2
One of the comment's has been that The Redskins would never trade Haynesworth because of the huge financial commitment they have with him - which I must admit to an extent is true.
However if you look at the big picture in this monster draft scenario, I hope that you will agree that it might just be worth looking at what Redskins would get in return from putting Haynesworth up for trade, what Haynesworth would get out of it and of course what the trading partner would get out of it.
Haynesworth is the key to the succesfull unfolding of this monster draft scenario because he is an elite DT and holds huge value.
Trading Haynesworth ...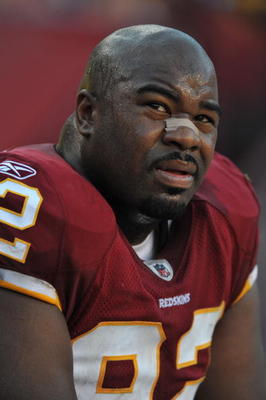 When reading articles on Haynesworth in the Washington Post recently - and especially when reading between the lines in those articles - I think it is pretty clear that Haynesworth and Shanahan is not a match made in heaven.
Haynesworth does not like being moved to NoseTackle in the 3-4, and Shanahan has made it clear how displeased his is with Hayneswort not attending the team off season workouts. Especially as Haynesworth should be considered one of the team leaders.
I have also read that Haynesworth actually have a buy out option after the 2010 season that would allow him to become a free agent. This however would cost him the same amount of money that his is due in april from The Redskins (about 20 mil).
Now Im thinking that with these 20 mil on the table a deal should be made that would satisfy all parties: The Redskins, Haynesworth and his new team, because The Redskins wants to move on, Haynesworth wants to play where he can be "the man" and his new team wants to use Haynesworth as the lever that can pull them out of its misery.
If Haynesworth could get a long term deal, that might be just the thing that could lure him to the table, he is worth a lot more now than when his contract with the Redskins expire after 2011 season.
Anyway - I think the long term value the Redskins would get from this trade should make them at least explore the options.
Trading Haynesworth and Campbell to the Rams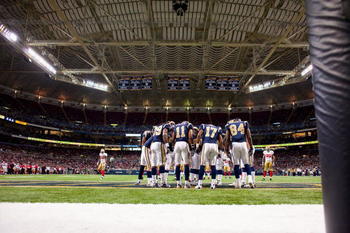 The Redskins are trading Haynesworth and Campbell to the Rams for the Rams no 1 pick and a 3rd. pick
Getting Haynesworth and Campbell on board in St. Louis could add the talent and experience that could be the first step in pulling the Rams franchise out of its misery.
I know Bradford has the talent to be a franchise QB in time - but with the state of the Rams I think he will have to much responsibility on his shoulders way too early.
In Campbell they will get a reliable QB that can perform under the worst conditions - and that in my mind is what the Rams need for the next couple of years.
Haynesworth will be an instant upgrade on the defense and be the playmaking leader they need. And even though Suh would be great for them, Haynesworth would bring the experience and leadership.
Campbell will get a new chance and Haynesworth a long term deal as a franchise DT.
The Redskins would get the no 1 pick, and although everybody would scream BRADFORD, that is not what Mr. Shanahan will do, he is going to trade......
The Redskins trade the No 1 pick !!??!!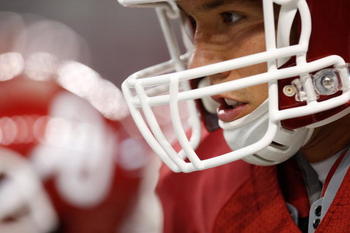 The Redskins trade the No 1 and the 3rd pick from the Rams to Seattle for Seattles picks at no 6 and 14.
This is Pete Carolls dream, he will get his dream QB to groom. He can let Bradford sit an learn for a year behind Hasselbeck, and stille have a great QB duo with Bradford and Whitehurst.
Although Shanahan likes Sam Bradford, he has other priorities and a lot more needs.
And because this is my monster trade scenario I call the shots.
Now the Rams prefer to make the deal with the Redskins because of Haynesworth, instead og doing the deal directly with the Seahawks. This is why Haynesworth is the key. And the Rams need the two great reliable starters to lead them out of misery.
Now some of you might think this is enough, oh no we are only half way .....
As the draft unfolds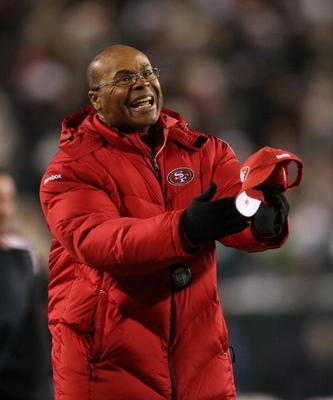 No 1: Sam Bradford to Seattle Seahawks
No 2: Russel Okung to Detroit Lions
No 3: Gerald McCoy to Tampa Bay Buccaneers
And as Ndamakong Suh looks like falling to the Redskins
The San Francisco 49'ers trade the Redskins no 4 pick for the 49'ers 13th and 17 th pick
And the crowd goes crazy ....
As the Redskins couldn't get Russel Okung they decide to trade down. Ndamakong Suh is a far better fit in San Francisco than he is in Washington, as Ndamakong Suh immediately makes the 49'ers serious contenders.
And now Shanahan holds 4 picks in the 1st round: 6, 13, 14 ,17
As the dust settles ...The Redskins pick ...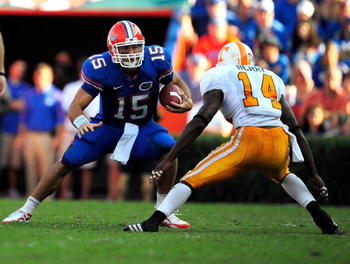 no 5: Brian Bulaga Kansas City Chiefs.
no 6: Eric Berry Washington Redskins
Eric Berry steps in were Shaun Taylor is missing, and moves the Redskins secondary in to the top 5 in the league. And he is great value and takes away a great need for the Redskins.
no 7: Joe Haden Cleveland Browns
no 8: C.J. Spiller, Oakland Raiders
no 9: Jimmy Clausen, Buffalo Bills
no 10: Dez Bryant, Jacksonville Jaguars
no 11: Rolando McClain, Denver Broncos
no 12: Dan Williams, Miami Dolphins
.... and now The Redskins are on the board ...
The monster unfolds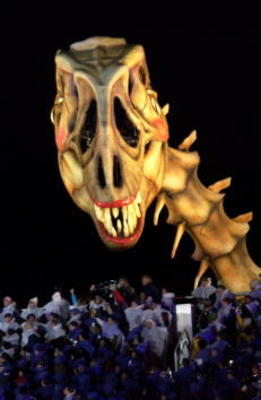 This is where Shanahans trade tactics will unfold because Shanahan doesn't need that Left tackle...
no 13: Trent Williams Washington Redskins
Williams can play both RT and LT, but is probably more of a natural RT. Solid pick, great value.
no 14: Tim Tebow Washington Redskins
This might be a reach here, but Tebow is Shanahans franchise QB and he can't risk a teams trading up for him at this point.
no 15: Sean Weatherspoon New York Giants
no 16: Derrick Morgan Tennesee Titans
no 17: Mike Iupati at LG/LT Washington Redskins
The Tandem of Williams and Iupati will be the nucleus of the Redskins O-line for years and you need to protect that young QB and create holes for Portis and Johnson.
This could also have been a DT/DE like Jared Odrick - but I think the DT draft class is deeper ... so Shanahan will wait
And as we move into the 2nd round ....
The final pieces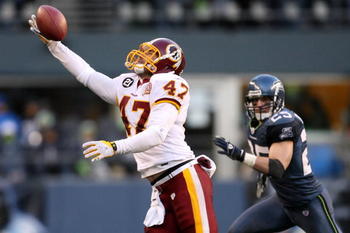 Even though I like Chris Cooley - a lot - he is a great trade commodity, he would like to be on a winning team and for many teams he can be that differencemaker.
New England has been mentionen in another article, but also Baltimore and Cincinatti could be perfect.
And as this is my monster trade scenario ... so be it...
no 37: Dexter McCluster Washington Redskins.
A little bit of a reach, but Shanahan wants him to complement Portis and Johnson, he wants him as a WR and he wants him as a KR. But first and foremost he wants him as a playmaker.
With the last 2nd round pick Shanahan picks Cam Thomas DT/NT for the front three. great value for money.
And as the Redskins exits round two the team has been rebuild ...
The remake ...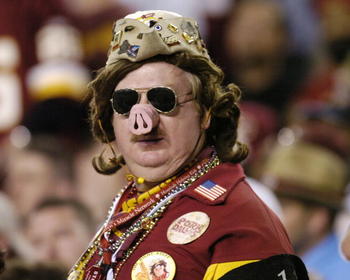 In the two first rounds The Redskins have drafted.
No 6: Eric Berry - S
No 13: Trent Williams - OT
No 14: Tim Tebow - QB
No 17: Mike Iupati - LG/LT
No 37: Dexter McCluster RB/WR/KR
No ??: Cam Thomas DT/NT
They will all be starters except from Tebow, but with his steep learning curve he migth get at shot at QB by the end of the season.
With his team in place Shanahan can start looking for the hidden gems in the later rounds.
The uncertainties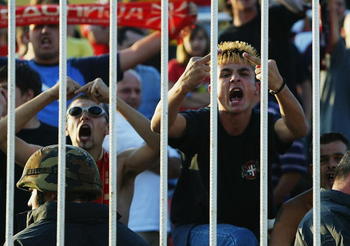 Now before you start yelling at me about Haynesworth and his contract, then just consider the problems an unhappy Haynesworth could cause in Washington.
In other companies you take bad investments and write them off, and then you try to make the most of it.
Haynesworth at this point I think would love that 5 year contract and going to a franchise where the defence would be build around his strenghts - which would make a lot more sense in St. Louis than in Washington.
Would Pete Caroll really go that far to get Sam Bradford ? I believe so. A banged up veteran and a player without a start in ... how long ??? is not the solution. If Bradford has a blazing proday - believe it.
Now you might also disagree with the players i picked, well thats ok - I just really likes those player, but you can enter your own dream team - and I will bet you come up with a nasty bunch for Shanahan.
Let the monster trade begin.
Keep Reading

Washington Redskins: Like this team?