Atlanta Braves Projected Roster: March 25th Edition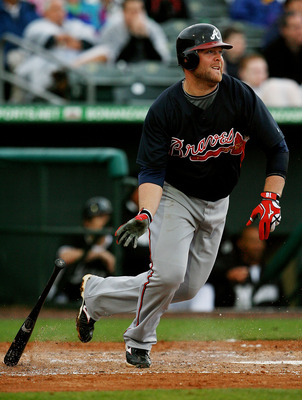 With less than two weeks until opening day, most of the roster is set. However, a few position battles will likely go down to the final week.
As everyone knows, spring training stats are an awful indicator of future performance and are written off as useless for most players. But don't tell that to guys like Brooks Conrad and Joe Thurston who are playing their tails off trying to be the last position player on the roster.
Since most of the roster is set, I won't go into detail about why Tommy Hanson will be in the rotation or Chipper Jones will start at third base. I will focus on the few (four by my count) roster spots that still have some flexibility.
Starters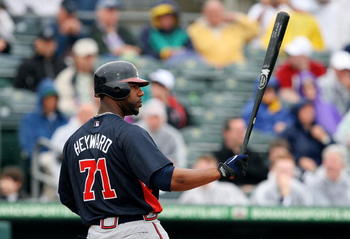 Brian McCann – C (Lock)
Troy Glaus – 1B (Lock)
Martin Prado – 2B (Lock)
Chipper Jones – 3B (Lock)
Yunel Escobar – SS (Lock)
Matt Diaz – LF (Lock for the team, likely will platoon with Melky Cabrera)
Nate McLouth – CF (Lock)
Jason Heyward – RF
I know Jason Heyward has impressed everyone this spring, and there is no doubt that he should be heading north with the Braves. But I still am not going to call him a lock. There is a chance that the Braves could choose to send him to the minors if, a) they decide it makes the most sense financially or, b) he has an unexplainable slump and fails to get a hit for the remainder of spring training.
But judging by the fact that Matt Jones (and Brent Clevlen), were sent down to the minors, Heyward is looking like more and more of a sure thing. While Matt Young and Gregor Blanco are still in camp, I don't see either of them making the team. Also, while Joe Thurston has played outfield in the past, his games played there are few and far between, so I doubt the Braves would consider him a reliable backup in the outfield.
If Heyward was sent down to AAA, Melky Cabrera and Matt Diaz would both become everyday players.
Bench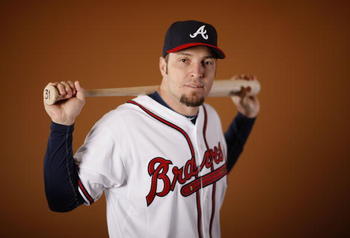 David Ross – (Lock)
Eric Hinske – (Lock)
Omar Infante – (Lock)
Melky Cabrera – (Lock)
Joe Thurston
While Brooks Conrad started the year off with a bang, Thurston has played better recently and, in my mind, surpassed Conrad on the depth chart. Over his past 17 at-bats Conrad has just one hit while Thurston is seven for his past 16.
The biggest (only) factor in Conrad's favor at this point is that he is on the 40-man roster (and Thurston is not).
As of right now, Thurston's spring line stands at .353/2/8 with a walk in 34 at-bats while Conrad's is .237/1/6 with seven walks in 38 at-bats.
As mentioned in the previous slide, there is an outside shot that if the Braves send Heyward down to AAA, both Thurston and Conrad could make the team, but I would say that the chances of this happening are slim to none.
Starting Rotation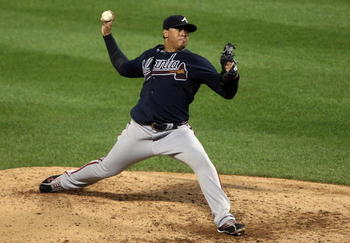 Derek Lowe – (Lock)
Tommy Hanson – (Lock)
Tim Hudson – (Lock)
Jair Jurrjens – (Lock)
Kenshin Kawakami – (Lock)
The best part of the 2010 Braves team is also the most boring when debating who will make the final roster. Jurrjens is on pace to make his first start of the year and Derek Lowe has been named the opening day starter, so there really is nothing that we didn't know a month ago.
Bullpen
Billy Wagner (Lock)
Takashi Saito (Lock)
Peter Moylan (Lock)
Eric O'Flaherty (Lock)
Kris Medlen (Lock)
Jo-Jo Reyes
Manny Acosta
Once again, the bullpen is the area where there seems to be the most room for disagreement.
I have moved Medlen up to lock status, as he has done nothing but impress this spring.
Last time (I believe on March 8th) I had Jesse Chavez and Scott Proctor in the final two spots, but I believe that has changed.
Chavez has continued to struggle, including an implosion today against the Pirates in which he gave up six hits, a walk, and five earned runs while recording just one out. I still think Chavez will be in the Braves bullpen at some point this season, but I think he needs some time in the minors first.
Proctor has pitched only two innings this spring. His first was a perfect inning, but he gave up two runs in the second. I am still on the fence about whether or not he makes the team on opening day. As of right now, I think he has a 50-50 shot of making the roster, but I'm guessing the Braves will allow him a week or two to pitch in the minors.
Assuming Proctor and Chavez aren't in the bullpen, the remaining candidates would be Reyes, Acosta, Jonny Venters, Craig Kimbrel, and Cory Gearrin.
Venters and Reyes are likely battling it out to be the third lefty in the bullpen. At this point, I give the edge to Reyes. Both have similar numbers (Reyes with a 3.00 ERA in nine innings and Venters with a 3.24 ERA in 8.1 innings) so I think that experience (Reyes) wins out.
Kimbrel has struggled with control this spring, so, although he has six scoreless innings, I think the Braves will allow him to get a little more seasoning. Gearrin has seemingly come out of nowhere, as he isn't on the 40-man roster or the list of non-roster invitees, but I also think he will be ticketed to the minors.
That leaves Acosta, who has been okay this spring, and would only be in the bullpen until Proctor got enough rust off after a year off due to surgery.
Keep Reading

Atlanta Braves: Like this team?