A List of Ifs for the Cleveland Indians 2010 Season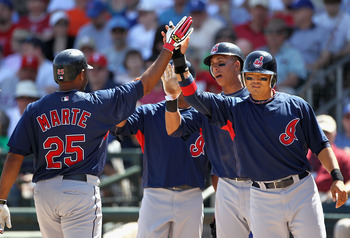 Some say that "play ball" is the greatest phrase in baseball.
While I would tend to agree, there is another phrase that carries equal greatness in the game.
"If."
It qualifies every statement that people tend to make when talking about their team at this point in the season.
And for Cleveland Indians fans, such as myself, we've been throwing the "If" word around a lot. Actually, a lot seems like a little. The word has been thrown around a whole heck of a lot more than you can imagine.
I've made no bones about my overall feeling for this beloved Cleveland fan base. I think sometimes as a whole, it can be very irrational and negative, especially when things aren't going well.
However it can also be very hopeful and I always find myself in the hopeful category, even when things aren't going so well. Right now, there is a lot of talk about a potentially bad season and that may very well be the reality.
Yet, with the second greatest qualifier in baseball, "Because we are in the AL Central," which Mark Shapiro has adopted as his mantra for the 2010 season, some of those "If" statements may produce a different reality.
Here are the top "if" statements for the Cleveland Indians 2010 season. I'm not saying that all of these will come true and the Indians will win the World Series or even make the playoffs. But if any of them come true, it would be a cause to celebrate.
If Fausto Carmona can regain top of the rotation form...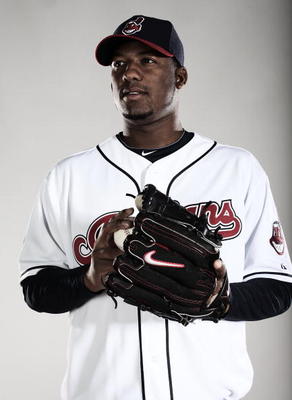 The Cleveland Indians rotation will be able to breathe easy.
After losing Cy Young winners the past two seasons, the club is in desperate need for someone to head their rotation. For the start of the year, Jake Westbrook is going to be that guy.
But he's a veteran coming off a year-and-a-half hiatus due to Tommy John surgery and he didn't exactly have "ace" type of stuff to begin with. So the need for Carmona to be the guy who anchors things is crucial if the Indians plan on contending in the immediate future, not just necessarily 2010.
Carmona lit the world on fire in 2007 when he won 19 games and was one of the top ERA-guys in the American League. The past two years haven't been as kind to him. He's battled a loss of control, shaken confidence, and just overall demoralization on the mound.
Cleveland sent him to Arizona rookie ball last season to get his head straight, a mental break of sorts. Then they went to work on rebuilding him as a pitcher. One of those measures was moving him over on the pitching mound.
Carmona has limited his walks in both Winter League and Cactus League action. He's also demonstrated a clearer head on the mound and has more focus on the task at hand. His ERA has been stellar and he's looked very sharp in the spring. But it is just the spring.
He has to put it all together at the major leagues. If he does, the club can feel better about their pitching situation right in 2010 and beyond.
If the back of the rotation can fill out with blank and blank...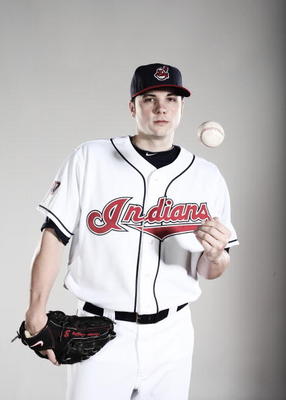 Then the Indians are in great shape in terms of depth with their starting pitching.
A lot of this statement also hinges on the previous one being fulfilled as if they don't find pitchers at the front of the rotation, the back of the rotation can't exactly be filled out either.
So another "if" for you. If Jake Westbrook, Justin Masterson, and Carmona all are able to at least steadily hold down rotation spots then the Indians only need to fill two spots.
Right now, it looks as if the Indians have several options that will be able to take the final two rotation spots. Mitch Talbot and Aaron Laffey may win the jobs, but they very well may not end the season with them. Think of the fourth and fifth spots as a string of Christmas lights.
They'll plug one in, see if the rest of the string lights up. If it doesn't, they'll plug in another one and keep trying until that string is lit. Frustrating process, but the only way to go about it, because you sure aren't purchasing a whole new string.
Aaron Laffey, Mitch Talbot, David Huff, Jeremy Sowers, Hector Rondon, and Carlos Carrasco are all going to be at the major league level or waiting in the wings at Triple-A to start the season. They could all get shots.
Sowers may begin the year on the disabled list in an effort to build up his arm strength after an early spring injury, but if he returns he has no options, so they'll have to give him a shot or let him go.
Huff won 11 games for the team last year, and that lead the entire team. Laffey has shown in the past he can be a capable major league starter, but he's yet to stay healthy or remain consistent long enough to establish himself in that role.
Rays castoff Mitch Talbot is also out of options, but he has a lot to prove and he's put together a dominant spring campaign. Carrasco and Rondon have both shown good stuff this spring, but will need to show consistency in Columbus and wait for individual opportunities when called upon.
If any of these guys can step up and fill out the rotation, then the Indians are in a good situation, especially after adding a plethora of starting options in last year's fire sale. You can never have enough starting pitching and Cleveland stocked their system with it in the trades of Ryan Garko, Cliff Lee, and Victor Martinez.
I'd rather be debating about keeping someone like Carrasco in the minors because there isn't a spot, rather than debating about him and someone else winning the fifth rotation spot at this time next year. It's a much better position to be in.
If Travis Hafner and Grady Sizemore come back healthy...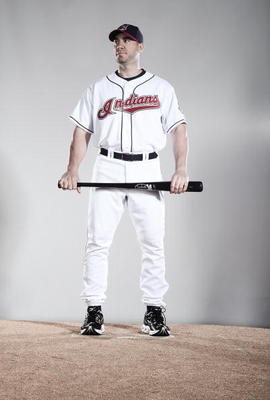 Then the lineup is going to be incredibly dangerous.
With Grady Sizemore's best game and just a "Pronk-like" presence in the lineup, the lineup becomes that much better. Add on up-and-coming Shin-Soo Choo and Asdrubal Cabrera, and it's a top four that can contend with any other.
Let's start with Sizemore, who is coming off an injury-riddled 2009 campaign. He battled an abdominal injury since the beginning of the spring that hurt his base running and later on an arm injury that clearly affected the way he swung the bat.
When Grady is right, the entire lineup benefits from his spark. He may not be leading off anymore, but the offense is much different with him in the lineup. He also has the ability to carry the squad when he gets hot.
Sizemore is now completely healthy and in a good position to rebound back to his normal ways in 2010.
Travis Hafner on the other hand, is just a different situation entirely.
Hafner hasn't been the same since 2007 and even then some regarded that year as un-Pronk-like. He probably will never hit 40 home runs and knock in 110 runs like he did when he was an MVP candidate, but that doesn't mean he can't be productive.
He's now a year-plus removed from surgery that was designed to clean out all the damage that had been done to his weakened shoulder. After not being able to do much last offseason, Hafner was able to put in some work and take batting practice this past offseason.
The shoulder is strengthened and feeling good, but now it's up to him to re-discover his batting eye and swing. Last year, Hafner's timing was off and he was swinging at horrible pitches he usually doesn't swing at. This spring he has demonstrated the power that never really left by hitting the ball to all fields.
Again, he doesn't need to bash the ball to the tune of 40 home runs, but if he can just establish that Pronk-like presence behind Choo for protection, the lineup is that much better.
If Manny Acta is all that he's cracked up to be...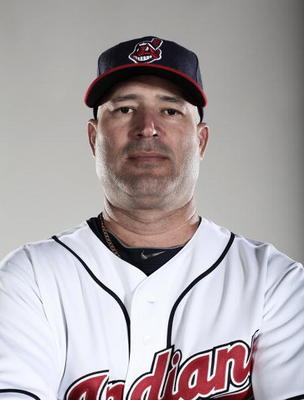 Then Cleveland found themselves a gem of a manager.
I think we can categorize Manny Acta's tenure in Washington as a failure on all fronts. It may have not been all his fault, but he certainly was the guy leading the charge for the Nationals.
It's hard to see what went wrong in D.C., as with Cleveland he's shown constant energy and enthusiasm in the game and his level of passion is extremely high.
Since being available to teams looking to fill managerial voids, baseball people have done nothing but praise Acta. It makes you wonder if he just fell into a situation that no one could have fixed in Washington.
Kind of hard not to believe that, considering they were devoid of talent in areas and the talented players they did bring in, were players like Elijah Dukes. Talented, but you question if they are always giving their best performance.
A guy in Acta's situation would have had to work his way up the ladder again. After getting fired, managers usually are regulated to being bench coaches or having to prove themselves again. Acta scaled the ladder quicker than anyone who's ever been knocked down off of it for the first time.
He was a hot commodity among both Houston and Cleveland and with the backing of scouts and people around the game, it makes you wonder if there is something special there.
Perhaps the Indians ran into some luck and got themselves a gem of a manager. If that's the case, then they have to feel very good about their future.
If Chris Perez can be the closer...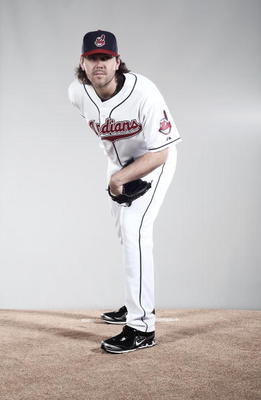 For just a little bit, then the bullpen may not in early shambles.
With the injury to Kerry Wood, the Indians have been forced to push Chris Perez into the closer's role. It is sooner than they would have liked, as the Indians were hoping he would set up for Wood for at least half the season.
It may be a glimpse of the not-so-distant future, or even a move that could prove to be permanent, either way the club believes Perez has the mentality to handle the role. This is his mini-audition to show that he can.
And the club is going to need it. Wood's injury sets off a chain that moves everyone up and in effect makes the bullpen a little less deep. They had some options prior to the injury to Wood and even Jason Grilli. Now the club is likely to add two non-roster invitees, Saul Rivera and Jamey Wright, spots in the pen.
Perez and the primary set-up guys, likely Rafael Perez, Tony Sipp, and Joe Smith, need to work off each other. They need to be able to get him the ball and Perez needs to be able to slam the door. If not, they could get off to the start the 2009 bullpen did and that will not be pretty.
If Matt LaPorta takes the next step...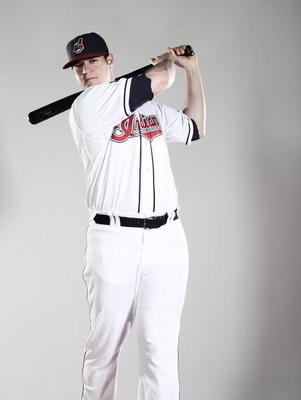 Then Mark Shapiro can breathe easy about the CC Sabathia deal and the Indians have a legitimate run producer.
With Hafner not being the same and Martinez traded, the Indians don't really have that established masher. Shin-Soo Choo can hit the long ball and knock in runs, but he's just a great overall hitter. He isn't really a clean-up hitter.
Sizemore can also hit the long-ball, but he fits much better in the three hole or up. That's where LaPorta comes in. He profiles as a classic clean-up hitter. All Matt has done all spring has been knock in runs.
He won't immediately be pushed into the fourth spot in the order, but if he can establish himself and his bat, the Indians need to feel good about filling that spot for the future.
The Indians got LaPorta for the future. They dealt CC Sabathia for LaPorta because he was the big time future bat the franchise lacked. They had no one coming up in the system of his caliber.
Mark Shapiro will be able to rest easy knowing he made the right choice in taking on LaPorta, whether he is in left field or at first base.
If Rafael Perez can find his slider...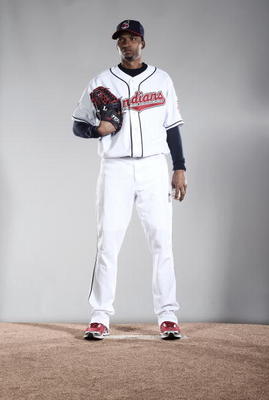 Then he will reestablish himself as one of the top relief pitchers in the game.
When Perez's slider is on, he is downright un-hittable. I've seen Rafael Perez come into bases loaded jams with no outs and get out of it without allowing a run to cross the plate.
He can be the ultimate strikeout artist coming out of the bullpen.
The problem is his slider was nowhere to be found at times in 2009, more often than it could be found. It was an issue of repetition and mechanics for the left-handed pitcher that bullpen coach Chuck Hernandez and pitching coach Carl Willis couldn't fix.
Now new pitching coach Tim Belcher and bullpen coach Scott Radinsky think they may have set Perez straight. After a dominating effort in the Dominican Winter League, Perez has carried over his ways into spring.
They had Perez starting in games, stretching him out in an effort to get him to repeat his delivery. While the chances of him eventually moving into the rotation are slim, the club hasn't ruled out the possibility down the line.
But make no mistake about it, the starting stint was all to benefit Perez and his mechanics. He used to be a starter when he was in the lower-levels of the club's minor league system and he's one of the more durable relief pitchers in the game.
And that is why the Indians really need Perez to be right. When he is right, he can give them two innings on a given night. Or he can come in and just face a row of left-handed hitters. If they need to, Perez can be used on back-to-back nights.
He's such a versatile and valuable option out of that pen and that's what makes him one of the best available. But he needs to find that slider, or else he is not effective.
If Russell Branyan actually plays...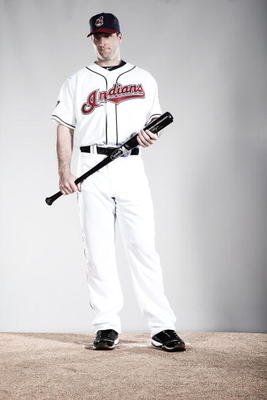 Then it may be the best $2 million the Indians spent in the offseason.
Otherwise, it may be the stupidest.
Branyan will be testing himself this weekend and come to a decision on if he will start the season on the active roster. He'll need a week of in-game preparation and if he decides he isn't healthy enough to play in the final week of Cactus League play, he'll probably start the year on the disabled list.
Cleveland signed Russell to be their first baseman this season. They also signed him to hit at least a portion of those 31 home runs he hit in 2009. If he can be in the lineup and produce some runs, it will really take the pressure off some of the younger hitters that will follow him in the lineup.
And if that if comes up, but the Indians are not in contention, they could always capitalize and deal Branyan to a team that will use him. Health will be an absolute must though.
The Cleveland Indians will win the AL Central...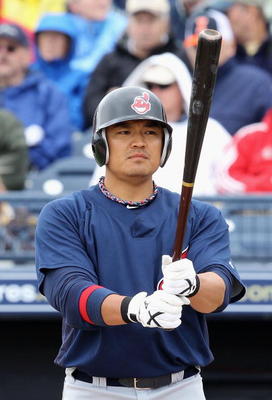 If all of these "If' statements come true.
But we all know that won't happen. If it did, the Indians would have the perfect season with everything going their way.
And they undoubtedly would win the AL Central and surprise a lot of people.
And there is no "if's" about that. It would definitely be great, period.
Keep Reading

Cleveland Indians: Like this team?