Montreal-Buffalo: Sabres Rally Late to Beat Habs 3-2 in Shootout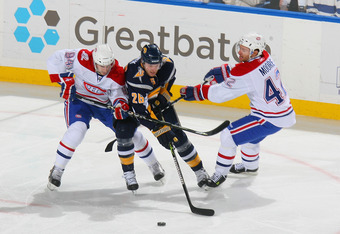 Rick Stewart/Getty Images
They say that a 2-0 lead is the worst lead in hockey and the most difficult to defend. Last night, the Montreal Canadiens proved that theory right.

The Canadiens took a 2-0 lead into the final two minutes of the game—on two goals by Andrei Kostitsyn, his first in 14 games—but couldn't hold off the Sabres onslaught.

On the powerplay and with Ryan Miller on the bench for the extra attacker, the Sabres made it a one goal game with 1:59 to play and tied is with 46 seconds left to send it to overtime.

Overtime solved nothing and Thomas Vanek sealed the deal for the Sabres in the shootout.

Many people will save that the Habs lost this game in the last two minutes but the story of the game was the Habs inability to score a third goal on Buffalo's four straight penalties in the second period.

Their powerless powerplay coupled with a supremely spectacular performance by Miller—reminding us all why he will win the Vezina this year—are the only reasons that Buffalo was able to hang around long enough to comeback.

That and a major coaching question mark—Coach Martin had Cammalleri and Andrei Kostitsyn on the ice to protect the lead—were ultimately the undoing of the Habs.

Final score: Habs 2—Sabres 3 (SO)


Game Notes
1. Woe is Carey Price.

Last night's loss by the Canadiens is in a lot of ways a microcosm of Price's season this year. Despite playing an excellent game, looking big in the net, displaying excellent lateral movement and showing tremendous focus, Price lost.

Like they said on RDS after the game, in a year from now no one will remember how the game was lost as it will just go in the loss column for Price.

I have to admit, that it is difficult to watch how arduous this season is and has been for Price. He just can't seem to catch a break and seems to lose whether he plays well or not. Maybe it's karma and he is paying back into the pool for having "enjoyed" himself a little too much last year.

Whatever the situation is, Halak has shown that he is the number one right now and despite the loss, Price, as the backup, did his job in getting a point on the road. Keep in mind that he stopped 40 of 42 shots on the evening and was 1:59 away from being named the game's first star.

2. Welcome back Cammalleri.

While Michael Cammalleri didn't get any points last night, he was on the ice for both Andrei Kostitsyn goals—one at even strength 41 seconds into the game and the other on the powerplay.

While Cammy didn't play a direct role in either goal, his presence on the ice had an indirect effect in allowing AK46 to score.

On the first goal Cammalleri was tying up 6'6" Tyler Myers in front of the Buffalo goal, allowing AK46 to snap the shot past Miller, unmolested. On the second goal Cammy was being overplayed, allowing AK46 that extra second in the slot to fire his shot over Miller's shoulder.

It just goes to show that having him back on the top line creates more space on the ice and takes away attention from Andrei Kostitsyn. AK46 can then turn that extra time and space into goals. Let's hope he keeps it going!

3. End of the line for Maxim Lapierre?

Lapierre's poor play since returning for a four game suspension in early March, earned him a seat in the press box last night and with good reason.

Lapierre's minus-15 rating is second only to Paul Mara's minus-16, on the team this year. More importantly, he isn't playing that gritty, speed-based game that he played last year. More often than not, you will see Lapierre pull up on a check rather than finishing it, move out of the way and lose the puck rather than taking the hit to make the play and, generally speaking, play without a lot of intensity.

When he was succeeding last season, Lapierre was always moving his feet, was always first on the puck and caused havoc for the opposition all season long.

Right now, Lapierre looks like a man who thinks he has no future with the team and is riding out the season. Sad, but it looks like he might be another prospect with potential who will be traded out of town.

So who else thinks he'll be moved at the draft?

4. What was Jacques Martin thinking?

With less than three minutes to play in the game and the Sabres on the powerplay—with Miller on the bench for an extra attacker—why were Michael Cammalleri and AK46 on the ice?

Martin, who is known as a defense first coach, would usually have a barrage of defensive/shutdown type players on the ice to protect the lead and kill the powerplay.

Was he trying to help AK46 get his hat trick into an empty net? I am not sure what he was thinking but the poor personnel choice likely played a large role in the Buffalo comeback.

Weak, and out of character.


Standings and Next Game
The one point earned in the shootout loss last night gives the Habs 80 points in 74 games, good enough for sixth overall in the East.

Ahead of the Habs are the Ottawa Senators with 83 points in 74 games while behind the Habs are the usual suspects: Philly in seventh (79 points, one game in hand), Boston in eighth (78 points, two games in hand) and Atlanta in ninth (75 points, two games in hand).

There is no rest for the wicked as the Habs fly back to Montreal to take on the Florida Panthers tonight at the Bell Centre.
This article is
What is the duplicate article?
Why is this article offensive?
Where is this article plagiarized from?
Why is this article poorly edited?

Montreal Canadiens: Like this team?