Where Will the 2010 McDonald's All-American Undecided Recruits Sign?
The 2010 McDonald's All-American rosters are set.
With 12 players per side, the East and West squads will tip it off March 31 in Columbus, Ohio, at the Value City Arena.
Of the 24 recruits, seven remain uncommitted heading into the annual game for Ronald McDonald House Charities.
Of those prospects who have given their pledges, it's the usual suspects like North Carolina, Michigan State, Ohio State, Duke, Syracuse and Memphis already reloaded with commitments from this group.
Some of these guys will make their announcement at the game while a few others have stated they will wait until the Jordan Brand Classic (New York City) in April.
Here's the seven recruits with a look inside their game and where I predict they will sign, along with one dark horse destination for each.
Starting off with the East team…..
C.J. Leslie – PF (6-8, 195)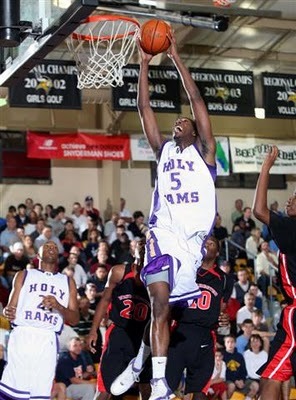 School: Word of God Christian Academy (Raleigh, N.C.)
Leslie is one of the top overall prospects in the country because of his rare combination of sudden explosion and speed for somebody his size.
He can hurt teams driving to the basket at will or knocking down jumpers if teams give him space.
Leslie is a human highlight film waiting to happen and his game almost resembles fellow Word of God Christian Academy alum and Kentucky superstar, John Wall—but four inches taller.
With his excellent hops, the former North Carolina State commitment is a shot-blocking presence and is capable of dominating the glass.
2011 NBA mock drafts predict he's a Top Five pick meaning wherever he commits, that program is looking at a one-and-done player.
Prediction – Kentucky
Coach John Calipari is one of the better closers on the recruiting trail but the two biggest reasons Leslie will be a Wildcat are the up-tempo style of play and the fact his former teammate and good friend, John Wall, is constantly in his ear.
Dark horse – North Carolina State
NC State had a disappointing year in 2009, finishing 20-16 overall which included a conference record of 5-11 even though they won three out of five against Top 25 teams.
Leslie originally gave Sidney Lowe a verbal commitment but has since recanted, much to the chagrin of Wolfpack fans.
If Leslie somehow turns down the Wildcats it's hard to imagine he wouldn't re-commit to Coach Lowe, because he could go from just being "one of many" former Kentucky players in the NBA to a NC State icon while playing close to his hometown.
Josh Selby – PG-SG (6-2, 182)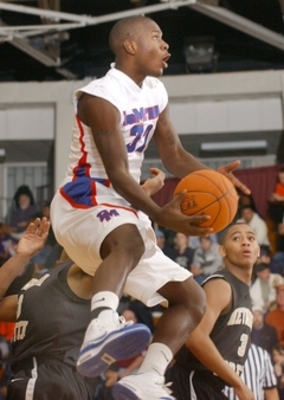 School: Lake Clifton-Eastern High School (Baltimore, Md.)
Selby is a big-time scorer with the strength and size (still growing) to play either the one or two spot.
His ball-handling, range and ability to penetrate are some of his greatest strengths to go with a certain toughness that is rarely taught.
Similar to Leslie, this East Coast native also de-committed from a program and finds himself as one of the top targets in the country.
Fans of the Maryland Terrapins are probably beginning to wonder how homegrown talents such as Selby aren't even giving the Terps so much as a sniff.
Besides being an offensive dynamo, Selby embraces other aspects of the game, evidenced by his blanketing, in-your-pocket defense.
Prediction – Kansas
I think the Jayhawks have the best shot because Selby has already made two visits to Lawrence and both he and his mother mentioned how comfortable they felt during their time with Coach Bill Self and his staff.
Also, Selby befriended current Jayhawks Guard Sherron Collins, so it's safe to assume he undoubtedly was putting in plugs for the Kansas program.
Selby's mother is on record stating the Kansas recruiting process has been the most "consistent" of the final four which also includes Connecticut, Arizona and Kentucky.
Dark horse – Arizona
Parents are an important part of the decision-making process for many D-I college athletes. But it seems Selby's mother, Maeshon Witherspoon, has taken on a much larger role in the decision-making process of her son.
Apparently she's closest with Arizona assistant coach, Emmanuel "Book" Richardson, and if entrusting the mentoring and development of her son on and off the court is a deciding factor—especially when it's halfway across the country from Maryland—then I could see this putting them in play here.
Moving on to the West Team…..
Terrence Jones –PF (6-9, 215)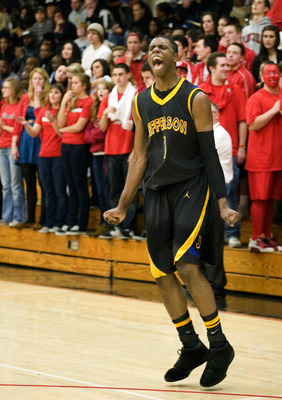 School: Jefferson High School (Portland, Ore.)
With his frame, Jones is only a good frontcourt coach away from tapping his amazing potential down low. He already has guard-like traits that are uncanny for a player his size.
Jones has terrific ball-handling skills and an impressive mid-range to beyond the arc perimeter game, too. He projects most naturally at the four spot but his court vision and passing—his two best traits—will give his future coach a versatile presence to play at least two other positions on the floor.
He has a Top Five list (UCLA, Oregon, Washington, Kentucky and Oklahoma) but has been extremely tight-lipped about announcing any of them as the frontrunners.
Of all of these undecided prospects, Jones is the most difficult to project his top two destinations, but here's a couple thoughts:
Prediction – Washington
The Huskies have made some noise thus far heading into their Sweet 16 contest against West Virginia.
This will do wonders from a recruiting aspect and Coach Lorenzo Romar continues to rebuild a long-struggling basketball program to the upper echelon of the Pac 10.
Jones' family won't have to travel across the country to the likes of Oklahoma or Kentucky if he signs with Romar and suits up to play in the Bank of America Arena in Seattle.
Dark horse – UCLA
I would have put Oregon here but the instability with the coaching situation after longtime Ducks coach Ernie Kent was fired is going to hurt the program's chance of landing the highly sought-after hometown product.
The Bruins make sense from a geographic sense but also because the 2010 class already includes five-star Center recruit Josh Smith and another highly regarded prospect with shooting guard, Tyler Lamb.
Doron Lamb – SG (6-4, 180)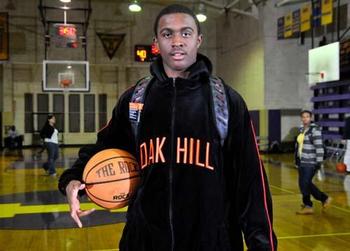 School: Oak Hill Academy (Mouth of Wilson, Va.)
The Laurelton, N.Y., native is being pursued by a handful of top programs because of his ability to penetrate and score almost at will but just as much for the intricacies of the game Lamb appears to have grasped so well.
While he's not the type of one-and-done prospects others on this list might turn out to be, Lamb is the type of guy who can be a cornerstone of a program for three to four years.
Lamb is on record as stating his final four schools he will select from at the Jordan Brand Classic April 17, as; Arizona, West Virginia, Kentucky and Kansas.
Prediction – Kansas
There's speculation Lamb and Selby will announce their intentions to sign with the same school—most rumors suggesting Arizona—in a dual-announcement April 17, but I think it's unlikely. Lamb would face too much competition to crack the starting five early because of a logjam at shooting guard for Arizona. His best bet for a big-time stage and immediate playing would probably be with the Jayhawks as Xavier Henry is by all accounts ready to jump to the NBA.
Dark horse – West Virginia
The Mountaineers came on late but Lamb has several close friends from his AAU days in New York already on the West Virginia roster so I wouldn't be shocked if he chose to play in Morgantown.
Ray McCallum Jr. – PG (6-1, 168)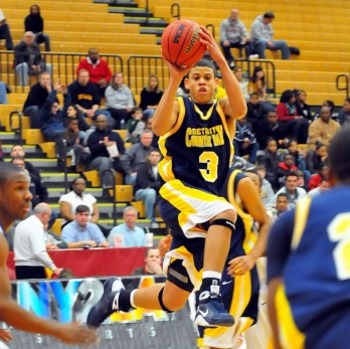 School: Detroit Country Day (Beverly Hills, MI)
Of all the 2010 NCAA basketball recruits, Ray McCallum Jr. might be one of the most game-ready.
That's what happens when your father, Ray McCallum, is a respected D-I coach with assistant coaching jobs at Wisconsin, Indiana and Oklahoma as well as gigs as head coach at Ball State, Houston and now University of Detroit Mercy.
The elder McCallum knows his son probably won't commit to his program—even though Junior included the Titans among his final four which also includes Florida, UCLA and Arizona.
With all due disrespect to the Detroit University, which once had Dick Vitale as head coach and produced notable NBA talent such as Dave Debusschere, Spencer Haywood and more recently, the 76ers Willie Green, it's just that five-star recruits don't usually commit to the rebuilding program.
His son has been molded to be a winner on the court for his entire life thus far, and there isn't much about the game of basketball he hasn't been taught or prepared for.
For a guy who stands all of six feet one inch tall, McCallum Jr. is an impressive rebounder as well as dynamic scorer and floor general.
It's hard to forecast accurately where "Little Ray" will end up because he's been playing his hand awfully close to his vest during the recruiting process.
I figured if he was going to play for his dad he would have committed by now to help out the Detroit Mercy recruiting process with other prospects by getting some nice pub for the Titans program.
But his family has a track record of attending all of his games and the remaining schools in contention are quite a hike from Metro Detroit. In fact, playing for Billy Donovan and the Gators would be the closest option.
Prediction – Florida
The Gators offer McCallum Jr. the best opportunity to play right away and despite being a several hour plane ride away, it's the next closest school to home of the four he's considering.
Dark horse – University of Detroit Mercy
As I mentioned above, the entire McCallum clan has basically attended all of his games and given the fact Calihan Hall is in their backyard with the fact his father is the coach, means the Titans should not be counted out.
But like I said, if he was going to sign there, why wait until now?
Brandon Knight – PG (6-3, 180)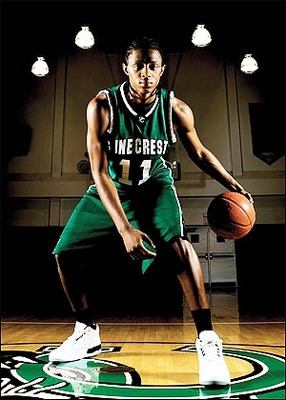 School: Pine Crest School (Ft. Lauderdale, FL)
A big guard who is a big-time scorer, Knight is not your typical "pass-first" type of point guard.
The two-time National Gatorade Player of the Year is set to make his announcement at the McDonald's All-American game on March 31.
Widely considered the top remaining undecided prospect, Knight has been compared to future No. 1 or No. 2 NBA lottery pick, John Wall.
His decision could set off a chain reaction with the other undecided prospects, as Knight's decision could very well be a main factor of other's non-committal situations.
Prediction – Kentucky
Knight fits the mold of Calipari's recent run of taller, extremely quick point guards.
One unconfirmed source stated his parents are already set on Kentucky and quite honestly, I think he's already told Kentucky a long time ago he's going to suit up for them. But why hasn't an announcement been made yet?
This is complete speculation but I wouldn't be surprised if Calipari's ego wanted Knight to wait to make the announcement on a big stage, with live media coverage keeping the program front and center of the headlines.
This only helps the former Memphis coach in his branding efforts as an elite destination.
Dark horse – Connecticut
Personally, I wouldn't want to go to a school and try and live up to the expectations of a predecessor like Wall at Kentucky.
I'd probably want to go somewhere else where those comparisons won't be a distraction and I have a chance to carve out my own legacy.
The Huskies will have a nice core of young talent remaining next season but Knight would still come in and start right away in a fast-paced tempo that suits him well.
I almost put Florida here but Billy Donovan recently announced the Gators have taken themselves out of the Knight sweepstakes.
I thought the fact that Knight might consider staying close to home but obviously Donovan and his staff have a good inkling as to Knight's impending decision doesn't involve them.
Cory Joseph – PG (6-3, 180)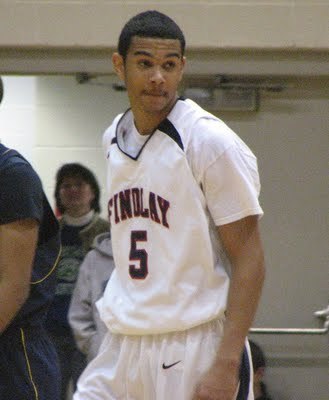 School: Findlay Prep (Harrison, NV)
Joseph has the frame and skill-set to be a future NBA star. Watching his film and reading all the reports out there on this five-star recruit, I can see a player in the mold of Denver Nuggets guard Chauncey Billups.
He's a stone-cold assassin from beyond the arc and is a potential lockdown defender with the court vision to run the point.
It appears that John Calipari is running a last-minute full court press to land the talented Pickering, Ontario, native but I think it will be one of the following two schools among the eight Top 25 programs who have offered him a scholarship.
Prediction – Connecticut
Assuming Jim Calhoun's health has the longtime coach convinced he will be at the helm of the Huskies program for at least a few more years, Joseph will find it hard to pass up the stage, attacking press defense, up-tempo offense and—most importantly—an opportunity for significant playing time from the onset of his freshman year.
Dark horses – Minnesota or Texas
His older brother Devoe plays for the Gophers which could definitely play a factor in his decision-making process. Also, if Brandon Knight commits to Kentucky, Tubby Smith will have a 50-50 chance on adding Joseph.
The athletic Canadian could also join a budding UNLV program, but it's not as likely.
Rick Barnes has one of Joseph's former Findlay Prep teammates already in Austin (Avery Bradley) and signed his teammate of this past season , Tristan Thompson to play for the Longhorns.
If he passes on the Huskies, I'm confident it will be one of these two teams.
Keep Reading