The San Francisco 49ers' 15 Greatest Free Agent Acquisitions of All Time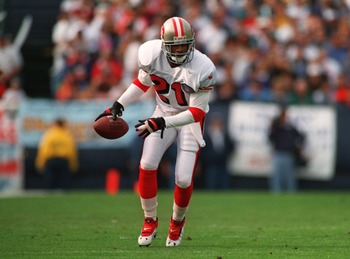 I suppose the title of this article calls for a bit of clarification. When referring to "free agents," I will be using the term as it relates to the current system of free agency that was instituted in 1993.
As such, you will not be seeing names such as Russ Francis, Matt Millen, or Roy Foster.
Technically, though, I suppose they were free agents. Francis had retired from football and the Raiders had summarily cut Millen.
Francis' story, at any rate, deserves a mention
As you may recall, Francis had retired from football after playing for the New England Patriots for five years. He was working as a commentator for ABC at the Pro Bowl in Hawaii and ran into none other than Bill Walsh.
Walsh convinced Francis that there was only one time in your life that you could play football and that time was now.
Francis signed with Walsh and the 49ers and played for them from 1982 to 1987, winning a Super Bowl with the '84 team.
In the interest of brevity, though (sort of), I had to draw the line somewhere.
Which brings me to my next point of clarification. This list does not include undrafted free agents. That is another list for another time (apologies to Derrick Deese).
Lastly, the list will include no players on the current roster. They still have a chance to improve their stock or drop it.
Some guys that didn't quite make the cut deserve an honorable mention, so, without further ado, here they are: Tim Harris, Kevin Green, Kevin Gogan, Scott Gragg, and Marques Douglas.
I will try and keep the commentary to a minimum with the first five or so, but, after that—no promises!
15. (tie) Isaac Bruce & Larry Allen; 14. Charlie Garner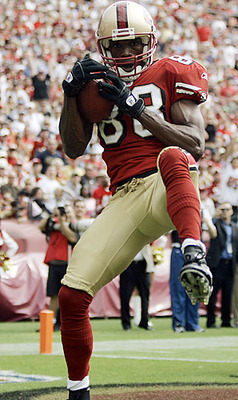 15. Isaac Bruce
Isaac Bruce led the team in reception yards in 2008 with 835.
Bruce's 1,000th catch (2008) and his reaching 15,000 yards receiving (2009) came as a member of the 49ers.
More than anything, though, the reason Bruce makes this list is the veteran leadership and poise he brought to a team filled with young receivers.
15. Larry Allen
Larry Allen has to be considered one of the best to ever have played guard in the NFL. After 12 seasons with Dallas, and 10 Pro Bowl selections, Allen brought his trade to the 49ers in 2006.
Since Dallas had released him, the question was whether he had anything left.
Allen came in and proved he had enough gas in the tank to assist Frank Gore to a team-record 212 yards against the Seahawks and another team record of 1,695 rushing yards in a single season.
Both Gore and Allen were selected to the Pro Bowl. It was Allen's 11th and final selection. (He was selected as an alternate in 2007).
Allen played one more year with the team before retiring in 2008.
14. Charlie Garner
When Garrison Hearst went down with an ankle injury in the 1998 playoffs, the team again found itself without a reliable running back. They turned to a little used player from the Philadelphia Eagles, Charlie Garner.
To say that Garner filled in more than adequately for Hearst would be an understatement.
He ran for 1,229 yards with 535 yards receiving in 1999.
With Hearst out for two full seasons due to complications, Garner ran for another 1,142 yards in 2000, managing to add 647 yards in receptions. He also broke the team record for yardage rushed for in a game with 201 (later broken by Gore).
13. Ricky Jackson; 12. Roy Barker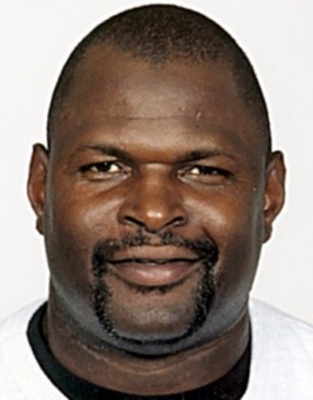 13. Ricky Jackson
Ricky Jackson was one of many free agents to sign with the team in 1994. He had terrorized quarterbacks for 13 years as an outside linebacker with the New Orleans Saints.
He played defensive end for the 49ers and helped the team achieve its fifth Super Bowl.
In the final year of his career, 1996, Jackson led the team with 9.5 sacks.
12. Roy Barker
Barker signed with the team in 1995. From his left defensive end position, he registered 12.5 sacks his first year. Barker, Chris Doleman, Bryant Young, and Dana Stubblefield ended up making quite an impressive defensive line.
Barker went on to play three years with the team, totaling 30 sacks.
11. Bart Oates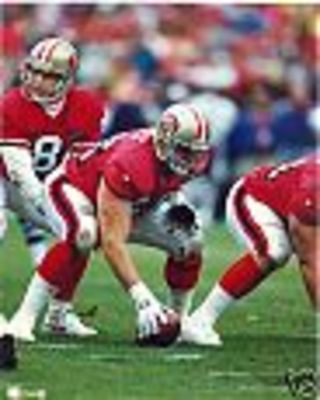 Bart Oates is perhaps the most unsung hero of the '94 team, at least in the way of free agents added that year.
Oates started his career with the Philadelphia/Baltimore Stars of the now defunct USFL. He played three seasons for the Stars before being signed by the New York Giants.
Oates would play for the Giants for nine seasons and was an integral part of their offensive line that helped the Giants win Super Bowls XXI and XXV. He was also selected to the Pro Bowl three times as a Giant.
But then in the new era of free agency, the 49ers came calling in 1994.
Now why would a team that already had a Pro Bowl center in Jesse Sapolu want to sign another center?
Because the team knew it could move Sapolu to guard.
Oates signed with the 49ers and the offensive line didn't miss a beat.
Oates came in and anchored a line that also included rookie Derrick Deese at Right Guard, and Steve Wallace and Harris Barton at the tackle positions.
Not only did the team return to the Super Bowl and bring home their fifth Lombardi Trophy, both Sapolu and Oates were named to the Pro Bowl.
Oates was again named to the Pro Bowl in 1995 before retiring prior to the '96 season.
10. Chris Doleman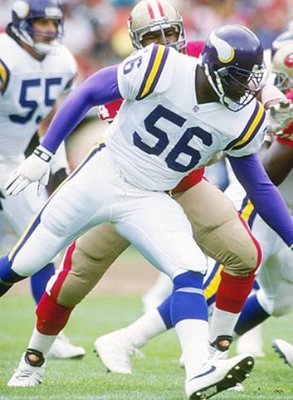 Chris Doleman was signed to do one thing—rush the passer, and rush the passer he did.
When you consider that the sack leader from last season, Manny Lawson, was tops on the team with 6.5 sacks, and that runners up Justin Smith and Ahmad Brooks each had six, it is hard to believe that in 1996 Chris Doleman's 11 sacks were only good for third on the team.
Roy Barker had 12.5 and Bryant Young had 11.5 by the way.
Doleman followed up his inaugural season with the 49ers by posting 12 sacks the next season—good for second on the team behind Dana Stubblefield's 15. Kevin Greene was third with 10.5.
In his third and last season with the team, Doleman's 13 sacks were good enough to place him atop the team's leader board. Barker had to settle for second with a "paltry" 12 sacks.
Oh, the good old days.
9. Deion Sanders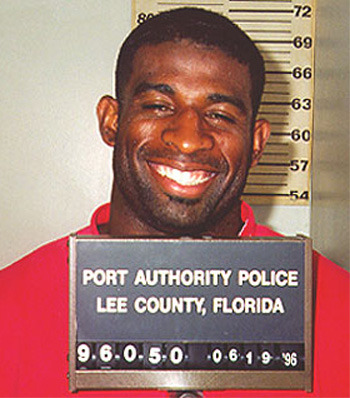 Did you really think Deion Sanders would be No.1?—Puleeeze!
Sanders was instrumental in the team's run to the Super Bowl that year, but he sure as heck didn't do it by himself. Although, he may have been the last piece to the puzzle, he wasn't the only piece.
In addition to Sanders, the 49er signed Bart Oates, Gary Pummer, Ken Norton Jr., and Rickey Jackson. They drafted Bryant Young, William Floyd, Lee Woodall, Doug Brien, and signed undrafted free agent Derrick Deese.
Not to mention the pieces the team already had in place.
But Sanders was instrumental in getting the team to the Super Bowl. He had perhaps his best season as a football player that year (Sanders also played baseball). He intercepted six passes and ran them back for an amazing 303 yards and three touchdowns. One of those touchdowns was a 93-yard run against his former team the Atlanta Falcons.
Sanders was voted the Defensive Player of the Year and won his first Super Bowl.
But Sanders had signed only a one-year contract. The 49ers never seriously tried to re-sign Sanders to a new deal, and he ended up signing with the Dallas Cowboys where he would win back to back Super Bowls.
8. Tony Parrish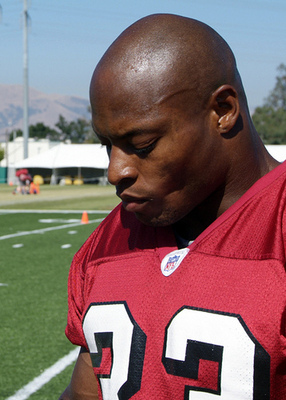 Although not as flashy as "Neon Deion," Tony Parrish was a gamer. After spending his initial three seasons in the league with the Chicago Bears, the strong safety signed with the 49ers in 2002.
He intercepted seven passes his first year with the team (one more then Sanders) and ran them back for a tidy little total of 204 yards.
However, Parrish was not a "one-year wonder," as he decided to stick around and play.
The next season he picked off nine passes for 202 return yards. His nine interceptions tied him for tops in the league.
Parrish went on to play for a total of four seasons with the team. He averaged an interception every 2.5 games (a total of 22) and defensed 32 passes in his last three seasons.
Parrish broke his leg in the eighth game of the 2005 season. He was released in 2006 and signed with—guess who?—the Dallas Cowboys.
7. Gary Plummer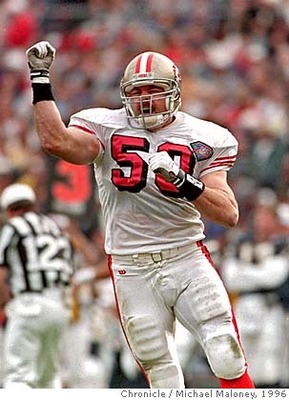 Gary Plummer played only the last four years of his career with the 49ers; he played his first eight with the San Diego Chargers.
In those four years, though, Plummer did what he was supposed to do—stop the run.
He and fellow free agent linebacker Ken Norton Jr. were key contributors to a defense that ranked No. 1 and took this team back to the Super Bowl in the 1994 season.
Plummer never led the team in tackles, he didn't have to while playing alongside Norton.
But he always knew were the ball was. This was never more evident than in a game against the Buffalo Bills in 1996.
The game was tied 10-10 and the Bills were on the 49ers one-yard line looking to take the lead with a first and goal to go.
With Thurmond Thomas on the bench with cramps and a sore back, the rookie Darick Holmes was given the ball. When Holmes tried to dive over the ensuing pile-up, with a perfectly timed leap, Plummer greeted him in mid-air and knocked the ball loose in the process.
Lee Woodall scooped the ball up and galloped 96 yards to paydirt.
The play resulted in a 14-point swing and has to be considered one of the biggest momentum changers in team history.
Plummer retired after the 1997 season and now works as a broadcaster for KNBR covering the 49ers.
6. Ray Brown
After 10 years with the St. Louis/Phoenix Cardinals and the Washington Redskins, Ray Brown was signed as a free agent in 1996. He immediately became a solidifying force to the offensive line and was a model of consistency.
In his first year with the team, Brown started all 16 games at left guard and was instrumental in the team's rushing attack. In one stretch of five games, he didn't miss a single snap.
When facing his former team, the Redskins, Brown limited defensive end Sean Gilbert to a mere three tackles and no sacks. He also started both playoff games that year.
In 1997, he missed only one regular season game due to an ankle injury, and again started both playoff games. In the NFC Championship game against Minnesota he was key in the team's rushing attack of 175 yards.
In 1998, he again started all 16 games and was the stalwart of the line that propelled the 49ers to the NFL's No. 1 rushing team.
Brown, started 13 games in 1999, but perhaps his best season as a 49er was in 2000. He did not allow a single sack that year.
Ever the team player, when the team found itself well over the salary cap in 2001, Brown allowed team officials to restructure his contract so that he could remain a 49er.
After six years with the team, Brown signed with the Detroit Lions in 2002. He played for another four years with the Lions and the Redskins. In fact, in a return to his former team, he started a playoff game at the ripe old age of 43.
Brown credits his durability and longevity to conditioning. Earlier in his career he was a weight room warrior, but as he got older he turned to Pilates. He credits Pilates for extending his career by improving his balance, flexibility, and core strength.
Brown was hired as assistant offensive line coach for the 49ers in February of this year.
5. Derek Smith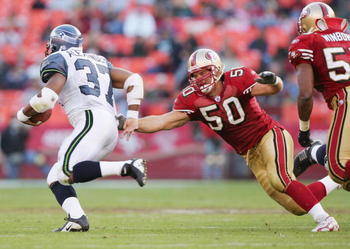 The 49ers signed free agent Derek Smith in 2001 from the Washington Redskins. Smith rewarded the 49ers that first year by leading the team with 108 tackles from his middle linebacker position.
In fact, Smith led the team in tackles for five years in a row with his best year coming in 2005 with 116.
Smith shared the Bill Walsh Award that year with kicker Joe Nedney. The award is given out to the MVP of the season as determined by the coaching staff.
Smith was a lunch pail guy, he came, he kicked butt, and then he went home. He never longed for the spotlight like some of his former team mates.
When his former Arizona State teammate was killed in Afghanistan, Smith let his hair grow long in a quiet tribute to his friend.
In 2006, Smith strained his left eye, most likely the result of a blow to the head. However, he never discussed it with anyone on the team.
The eyestrain caused him double vision, and it was soon apparent to the coaches that something was amiss.
"He's not (playing) as well as he did last year," Nolan said
Even with the eye injury Smith managed 70 tackles that year, but as Nolan points out, it was not up to his usual production.
Smith had eye surgery during the off season and came back to play his final year in 2007.
But with his play declining, his high salary, and the emergence of Patrick Willis, the team released him during the offseason.
Smith split playing time in 2008 with the San Diego Chargers and the Miami Dolphins.
4. Tim McDonald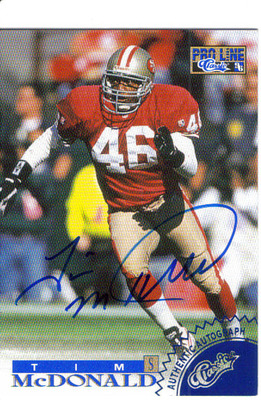 With Ronnie Lott having been released in 1990, the team was looking to find a suitable replacement.
In 1993, the 49ers found their man in the first year of the new era of free agency.
Tim McDonald had languished in relative obscurity for six years with the St. Louis/Phoenix Cardinals.
Signing with the 49ers gave McDonald a chance to be a star.
He didn't disappoint.
He was selected to the Pro Bowl in his first three seasons with the 49ers.
In seven seasons with the team, McDonald missed but one start, that coming in his fifth season with the team.
In a 1994, game against the Washington Redskins, McDonald intercepted a pass and ran it back for a 73-yard touchdown sealing the victory.
But McDonald's keen instincts were a vital part of his game. There was none better at anticipating the play and reading the offense.
He was a ferocious tackler and was equally adept at rushing the quarterback when called upon.
McDonald's smarts and leadership made him and integral part of the defense that helped the '94 team win the Super Bowl.
McDonald retired in 2000 as a member of the 49ers.
3. Jeff Garcia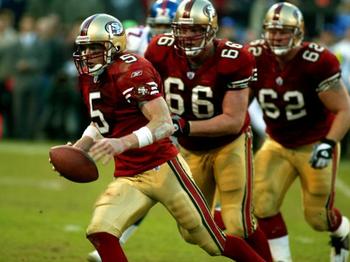 In 1993, there was a college game played between the Stanford Cardinals and the San Jose Spartans. Bill Walsh was coaching the Cardinals then and a skinny kid from nearby Gilroy started at quarterback for the Spartans.
That skinny kid was Jeff Garcia and all Garcia did that day was throw for 380 yards and three touchdowns. Although the Spartans lost the game, Garcia did catch the eye of Walsh, who remarked after the game,
"He almost beat us by himself."
The 1994 NFL Draft came and went without Garcia being drafted, much to Walsh's chagrin. Not only did Walsh expect Garcia to get drafted, but he also he expected him to go early.
After soliciting several teams on Garcia's behalf to no avail, Walsh was able to get Garcia a gig with the Calgary Stampeders of the CFL.
Garcia was used to back up league-MVP Doug Flutie. He replaced the injured Flutie the following year and ended up starting the next three seasons—winning the Grey Cup in 1998 and capturing the attention of several NFL teams.
As luck would have it, Walsh had returned to the 49ers and had arranged for Garcia to try out for the team.
Garcia obviously did enough in that tryout that he was signed to back up Steve Young.
On a Monday night game, the third contest of the season, Young was sacked by the Arizona Cardinals' Aeneas Williams and exited the game (and his football career) with a concussion.
Garcia entered the game and the 49ers didn't miss a beat. He was given a short leash, but he still managed 5-of-6 passing for 30 yards and a nice little scramble worth 11 yards.
Most importantly, he didn't commit any mistakes and the team went on to win, 24-10.
Garcia was more impressive in the next game, his first start in the NFL. Garcia was 21-of-33 for 243 yards in a hard-fought win against the Tennessee Titans, 24-22.
But it wasn't all glamorous that first year. The team went on to lose its next eight games in a row.
In a game against the Pittsburgh Steelers, Garcia took a beating. Under heavy pressure, he managed to throw for only 39 yards and was benched for Steve Stenstrom—that's right, Steve Stenstrom.
Stenstom started the next thee games, losing them all, and never throwing for more than 195 yards.
After reviewing game film of himself, Garcia was given the nod to start against the Cincinnati Bengals in Week 13. Garcia game back with a vengeance.
Although the Bengals won the game, 44-30, Garcia threw for 437 yards and three touchdowns, one of which went to Jerry Rice for 55 yards.
The 49ers would finish the season a dismal 4-12 record, but the heir apparent to Steve Young had been found—and just in time.
The following year Garcia was voted to his first of three Pro Bowls with the 49ers. He threw for an amazing 4,278 yards (still a team record) with 31 touchdowns and a quarterback rating of 97.6.
Garcia will also be remembered as doing something no quarterback for the 49ers has done since: taking the team to the playoffs—twice!
But all good things must come to an end. In 2004, Garcia was asked to cut his pay in half, from nearly $10 million down to $5 million. Garcia wouldn't agree to the pay cut and was summarily waived. He signed with the Cleveland Browns the following week.
2. Garrison Hearst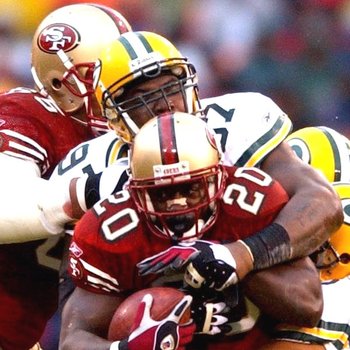 In 1995, when the team let Ricky Watters depart via free agency to the Seattle Seahawks, they had no idea how hard it would be to fill his cleats. They toiled for the next couple of seasons with the likes of Derek Loville, Tommy Vardel, and Terry Kirby.
They barely survived the embarrassments of the ill-fated Rodney Hampton deal and, right on its heels, the Johnny Johnson fiasco.
In 1997, the savior to the running game would be found in a cast-off from the Arizona Cardinals (via the Cincinnati Bengals)—Garrison Hearst.
Hearst was drafted by the Cardinals in 1993. He played three seasons for the team, but after missing significant playing time in 1993 and 1994 due to a knee injury, his best season came in 1995, when he ran for 1,070 yards and won the NFL Comeback Player of the Year Award.
In order for the team to get under the salary cap and sign Simeon Rice and Eric Swann to large contracts, Hearst was released
Hearst was claimed off of waivers by the Bengals and ran for 847 yards in 1996.
He then signed a two-year contract with the 49ers.
All Hearst did was run for 1,019 yards that first year, and the team had its first 1,000-yard rusher since the days or "Ricky Running Watters." He ran for 1,570 in his second year with the team, averaging 5.1 yards per carry—his best season as a pro.
His 96-yard run from scrimmage for a game-winning touchdown against the New York Jets was featured on NFL films as one of the greatest runs in NFL history.
Hearst was equally adept at catching the ball, gaining 535 yards through the air.
He broke several or Roger Craig's records—many of which have since been eclipsed by Frank Gore.
Then, once again, a debilitating injury curbed Hearst. In the very first play from scrimmage of a playoff game against the Atlanta Falcons, Hearst broke his ankle.
After two years of recovery, rehabilitation, and a bout with Avascular Necrosis (think Bo Jackson), Hearst returned to the football field.
In 2001, he ran for 1,206 yards and became the first player in history to win the NFL Comeback Player of the Year Award twice.
Hearst played for the team for two more years before ending his career with the Denver Broncos in 2004.
If not for the two years he missed with injury, Hearst could have very well topped this list.
1. Ken Norton Jr.
After seeing the Dallas Cowboys win two consecutive Super Bowls with
their mercurial former pass-rusher, Charles Haley, the 49ers got a bit of revenge when they signed line backer Ken Norton Jr. away from the Cowboys in the infancy of free agency.
The Cowboys drafted Norton in 1988. In his first season he fought many nagging injuries, but by his second season he was showing flashes of the tackling machine he would become by posting 87 tackles—injuries be damned.
Norton went on to post over 100 tackles in each of the next four seasons with the Cowboys; he also was selected to his first Pro Bowl in 1993.
But believing they had enough young talent on the team at the linebacker position, the Cowboys allowed Norton to leave in free agency.
The hard-hitting Norton (some would argue the hardest in football) became the first man in history to be a member of three consecutive Super Bowl champions—two with the Cowboys, and the third in the 1994 season with the 49ers.
Norton started every game of his seven-year career with 49ers, and in doing so extended his playing streak of games started to 160. Norton often played injured, ignoring pain to accomplish this iron-man feat.
Norton would lead the team in tackles for six years in a row. He also earned two more Pro Bowl berths with the team.
Norton will always be remembered for boxing the goal post padding after making an exceptional play. This was a tribute to his father, former heavyweight champion of the world, Ken Norton Sr.
But Norton was more than just an exceptional football player. Perhaps Bryan Hersh, creator of 49ers Paradise, said it best when Norton was released from the team and subsequently retired:
"Ken Norton Jr. was a 49er by every sense of the word. He had it all—class, dignity, ability, and (he) was a true gentleman that I will miss seeing on the field every Sunday."
Keep Reading

San Francisco 49ers: Like this team?