2010 NCAA Tournament: The 10 Biggest Disappointments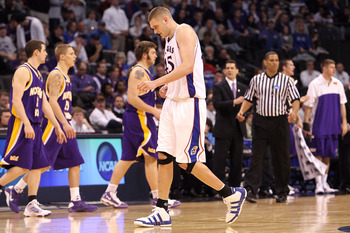 Thank you, Kansas.
Your second round elimination by Northern Iowa caused a massive paper-shredding campaign across the country, as countless millions discarded their brackets in a feeble, mindless effort that reminded us of how you played for much of Saturday.
Oh, Kansas. We've been disappointed by you before, but everything seemed too good for us not to give a fleeting thought that the school that gave us Kurt Warner would also deliver one of the biggest upsets in recent NCAA Tournament history.
We cry with you, Kansas, but rest assured you're not alone in the disappointment bracket. Nine other teams, coaches, and players share in your misery.
As do our brackets.
No. 10: Temple of (bracket) Doom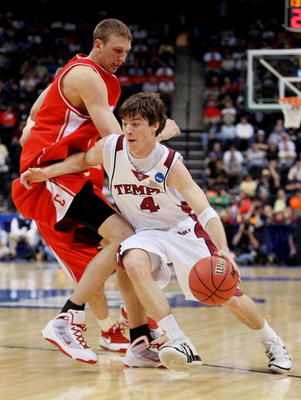 For the third straight season, the Owls were swiftly shown the Tourney door.
No heartbreaking last-second shots either. Nah, Temple got whipped by double digits, the latest coming from Cornell, which looked nothing like a No. 12 seed en route to silencing the Owls 78-65 in the East Region.
For some unexplained reason, the NCAA Tournament committee gave Temple the No. 5 seed, which makes it all the more disappointing for coach Fran Dunphy's squad.
The Owls—who built their 26-8 record on hard-nosed defense—looked like the French Army circa 1940 when Cornell sent them scurrying for cover by shooting 56 percent.
Dunphy is 1-11 in NCAA Tournament games. Combine that with the fact Temple hasn't moved past the first round since 2001, and you have a recipe for disappointment.
No. 9: Steve Alford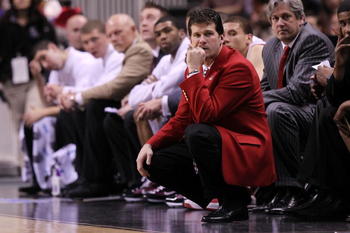 Let's start with the good: A 30-5 record is nothing to sneer at, especially when no one expected Alford's Lobos to be nothing more than a Mountain West Conference also-ran.
Now the bad: Alford may have the coaching blood of Bobby Knight in his veins, but it seems more like Alford is channeling the Texas Tech version of Knight instead of the legendary acumen that produced three national championships (including one with Alford at point guard) at Indiana.
Saturday's humiliating beatdown at the hands of No. 11 seed Washington probably reminded Iowa fans of the good ol' days when Alford would tease the Hawkeye faithful long enough to pull the March Madness version of Lucy pulling the football away from Charlie Brown.
Entitled with a No. 3 seed, New Mexico looked like a team that could cause havoc. Instead, they made Lobo fans wince at the thought of now focusing on their football team.
Ouch indeed.
No. 8: Luke Harangody, NBA Prospect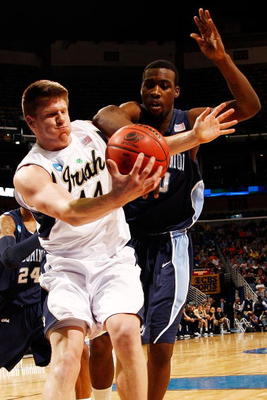 This was supposed to be the tournament that would establish Harangody as a legitimate NBA prospect.
The big, offensively gifted Harangody had a chance to improve his draft stock. On the cusp of the first round entering the tournament, Harangody needed to step his game up to reach the outer edge of the lottery.
Harangody was big and offensive against Old Dominion, but not the way he wanted to be.
ODU held him to just four points as they defeated the No. 6 seed Irish 51-50 in the opening round of the South regional. All it showed was that if Old Dominion could lock up his offensive game, the likes of Ron Artest and Kevin Garnett would have no problem.
As it stands, Harangody may be lucky if he gets a call on draft night.
No. 7: Houston to Penders: Thanks for Nothing
Houston coach Tom Penders was walking the college coaching version of the Green Mile before his Cougars rose up and stormed through the Conference USA tournament, capping it off with an upset of UTEP in the finals.
The Cougars made their first NCAA Tournament appearance since 1992. Think about that: We were playing on Sega consoles back then. George H.W. Bush was President. Kirstie Alley was hot.
Like we said...that's a long time.
Houston's quick exit by Maryland doesn't make this disappointing. It's how UH handled the matter, forcing the 64-year-old Penders to resign less than 48 hours after reaching the Big Dance.
The Cougars, whose relevance to the college basketball world ended right after Three's Company stopped airing on ABC, will begin seeking a coach that will attempt to make them more than just a blip on the radar screen.
No. 6: Scottie Not Too Hottie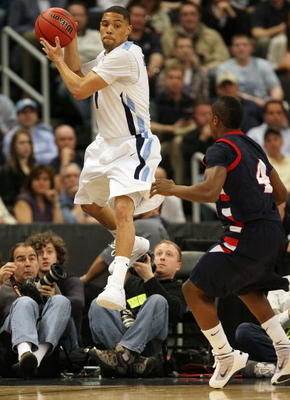 If Villanova was going to make a run to the Final Four, the Wildcats knew they would need to rely on the leadership and shooting of senior guard Scottie Reynolds.
Oops!
'Nova sits at home because Reynolds chose the last two games of his stellar career to go Bricks McGee. Reynolds hit just four of his 26 shots (15.3 field goal percentage).
Maybe it was the added pressure of wanting to impress NBA scouts; maybe the Wildcats' swoon late in the Big East regular season was an alarm most chose not to heed.
Either way, Reynolds became the poster child for Villanova's season ending sooner than most expected.
No. 5: Gone-zaga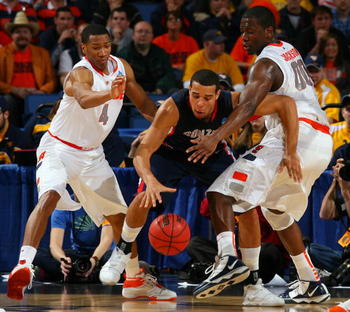 For most of the last decade, we have sung our fair share of hosannas about the Gonzaga basketball team.
Why?
Really, what have they done besides becoming poster children for teasing our hopes and turning our brackets into a crapshoot?
Sure, this year's exit at the hands of top-seeded Syracuse in the West Region is understandable; after all, the Orange are a national title threat.
The loss only underscores the fact the Bulldogs have continued to underachieve in tournament play.
Perhaps another season of improvement from star-in-the-making Elias Harris and talented C Robert Sacre will take coach Mark Few's squad a step beyond the second round exits they have made into an art form.
No. 4: Clemson (yet again)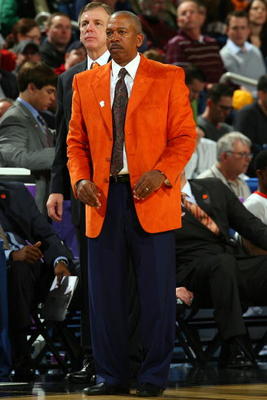 "Next year, we'll have a different team."
So said Tigers coach Oliver Purnell after his team was bounced in the first round for the third consecutive year.
Where's Elden Campbell when you need him?
Once again, Clemson's early exit baffles the mind. Year in and year out, the Tigers possess enough blue-chip talent to suggest a possible tourney run is in the offing.
But year in and year out—especially under Purnell—Clemson's season is done by the first Friday.
It's hard to buy Purnell's theory of "next year" when Trevor Booker and David Potter will be gone, forcing the likes of youngsters Milton Jennings and Devin Booker to mature under the glaring lights of ACC play next winter.
For his sake, Purnell had better hope "next year" becomes reality, or his future at Clemson will become a fantasy.
No. 3: The Big Least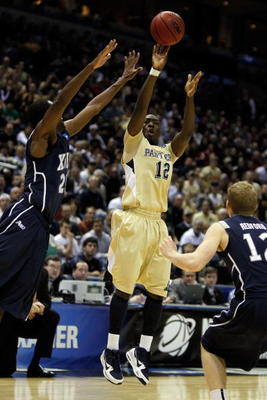 A week ago, there were some who envisioned a Final Four that would evoke images of 1985, when the Big East had St. John's, Georgetown, and eventual national champion Villanova comprising three-fourths of the final table.
Coming off perhaps the best regular season in conference history, the Big East fielded eight tourney squads, including top seed Syracuse, No. 2 seeds Villanova and West Virginia, and a pair of No. 3 seeds in Georgetown and Pittsburgh.
Couple that with Louisville, Notre Dame, and Marquette, and one could see why the conference wanted to party like it was '85.
With only Syracuse and West Virginia left, the only way that will now happen is if the Big East joins John Cusack in the Hot Tub Time Machine.
Villanova's hopes were shot down by a misfiring Scottie Reynolds, while Pitt played flat in a loss to Xavier. Georgetown was embarrassed by Ohio, while Louisville, Marquette, and Notre Dame did a meek one and done.
Syracuse still holds a clear path to the Final Four, but West Virginia's road has speed bumps in a red-hot Washington squad and a potential East Regional final against Kentucky.
Table for one, anybody?
No. 2: The Ughs of Texas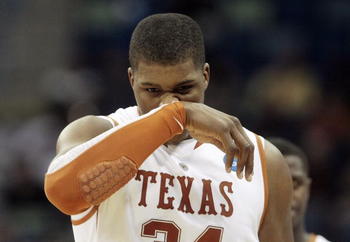 It only seemed poetic that the Longhorns' season ended as it did. A game that was all but locked up got away from Texas in the final moments, resulting in a head-turning defeat.
Rick Barnes' team became the undisputed champs of head-turning disasters as they sprinted hell-bent from a 17-0 start and the No. 1 team in the nation to a 7-10 meltdown that culminated in an overtime loss to Wake Forest in the East Regional.
How a team brimming with elite talent choked the final two months is a question that the Longhorns will have all spring and summer to answer.
From a lack of leadership to poor play at point guard to inconsistent shooting, Barnes won't lack for reasons that will cause many a sleepless night between now and Midnight Madness.
To his credit, Barnes admitted he did a poor job of coaching. That's what happens when you believe that rolling the ball on the court is the only thing you have to do in order to win.
No. 1: Rock! Choke! Jayhawk!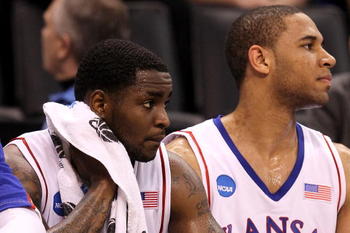 Was there any question who'd be topping this list?
Northern Iowa did the impossible. Nope, it wasn't beating the Jayhawks.
Rather, it was finally shutting up KU guard Sherron Collins.
Collins' banal on-court chatter aside, this latest early exit by a Kansas team expected to achieve great things is more explainable than other choke jobs in recent memory.
KU's ability to win covered up the fact this team had character flaws that—once exposed—made them vulnerable.
It would probably help not to rely so much on a freshman point guard. Xavier Henry played great at times but wasn't able to lift the Jayhawks when they most needed him.
Henry, along with C Cole Aldrich, will likely head to the NBA this summer, so it's a problem KU may not have to bother with.
If anything, coach Bill Self should take the memory of his team half-assing it for 32 minutes before finally deciding to play like the No. 1 overall seed and use it as a lesson for his treasure trove of returning talent.
Make no mistake, Kansas will be back in search of a seventh straight Big 12 title, but those pinning the Jayhawks as sure things will hesitate before doing so again.
Keep Reading