Ten College Football Teams That Could Benefit Most by Hiring Mike Leach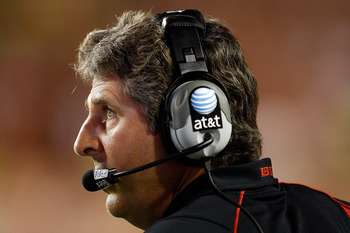 When and where will Mike Leach return to coaching?
In what capacity will he be hired? As an offensive coordinator for an established school or as a head coach for a team in need of rebuilding?
Not even Leach himself knows the answers.
In a recent interview with the Associated Press, Leach was unsure whether or not he would resume his career while his litigation against Texas Tech is still pending.
Meanwhile, in the court of public opinion, most individuals seem to support the former Red Raiders' coach, especially in the wake of allegations by Leach that Craig James had threatened to sue the university if Leach was not fired over the incident involving James' son, Adam.
Nowhere is that support more evident than on the myriad Internet sports message boards.
Besides the vocal Tech fans embittered by Leach's termination, there are thousands of other college football fans who would love to see Leach hired by their favorite program in the hopes of enjoying the type of success that Leach brought to the Red Raiders.
While scouring the Web, several of the following teams kept popping up time and time again.
Some of them are improbable candidates, while others might actually be a good fit for Leach.
The NFL has also been a persistent rumor (particularly the Oakland Raiders), however skepticism remains as to whether or not Leach's system would work at the next level.
Wherever he makes his return, be it as an offensive coordinator or a head coach, it's a certainty that we haven't heard the last of Mike Leach.
10. LSU Tigers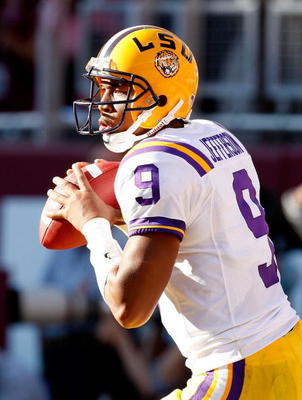 While wholly unsubstantiated, the idea of Leach becoming LSU's offensive coordinator has sprung up on the Internet in recent days.
The reasoning behind it is centered around the speed that Les Miles has been able to recruit at wide receiver and the fact that the Tigers had the 97th-ranked passing offense in the country last year.
As the Tigers' OC, Leach could remain in the national spotlight while taking a backseat role.
The main problem with this scenario is whether or not Leach's offense would work in Baton Rouge.
Leach obviously has the credentials; under his guidance, Texas Tech led the nation in passing five times.
And while the Tigers run a pro-style offense, they do incorporate certain aspects of the spread formation.
However, considering that LSU suffered from poor offensive line play in '09, would they have the necessary personnel up front to make a switch to an attack that requires linemen with greater agility?
While it might be the least likely destination for Leach in this list, it would probably be his most high-profile opportunity as an assistant coach.
9. Virginia Cavaliers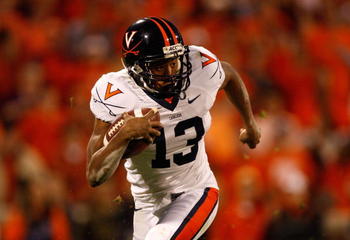 After hiring Mike London in early December to replace Al Groh, the Virginia Cavaliers should be set at head coach for a few seasons at the very least.
However, that wouldn't prevent London from hiring Leach as an offensive coordinator, especially if last season's 118th-rated offense flounders again this season.
All told, the Cavaliers' were 105th or worse in every major offensive statistical category.
Which is downright offensive.
While we have yet to see what London and his staff can do in 2010, it's a safe bet that Leach could fare just as well or better.
8. Kentucky Wildcats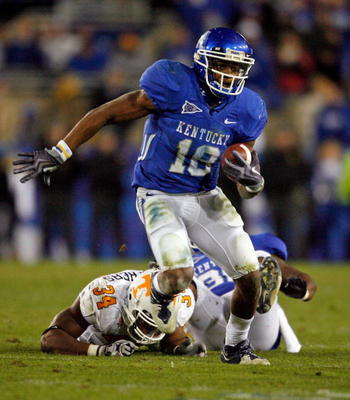 The possibility of Leach coaching at Kentucky in any capacity is very unlikely for a couple of reasons. Chief among them is the fact that the Wildcats tabbed Joker Phillips as their head coach in January.
However, the notion of Leach coaching at Kentucky isn't nearly as far-fetched as others and would make more than a little sense.
After all, the Air Raid attack was pioneered by ex-Wildcat coach Hal Mumme with Leach serving as his offensive coordinator.
The Wildcats had great success running the Air Raid; during the two years that Leach ran the UK offense, they broke four NCAA, 42 SEC and 116 school records.
In addition, then Kentucky quarterback Tim Couch was groomed into a No. 1 NFL draft pick.
With a track record like that, Leach would seem to be a logical choice to coach the Wildcats.
Under further scrutiny, however, it's not quite that simple.
in 2001, Mumme resigned after numerous NCAA recruiting violations reared their ugly heads. Before it was all over, the NCAA put the Kentucky program on probation for three years and forced them to forfeit 19 scholarships.
Considering that the violations took place between 1998 (Leach's final year as OC) and 2000, would the university want to bring back an assistant from the coaching staff whose actions led to some of the darkest days in Kentucky football history?
Probably not.
Nevertheless, the idea has some appeal for both Kentucky football insiders and outsiders alike.
7. Duke Blue Devils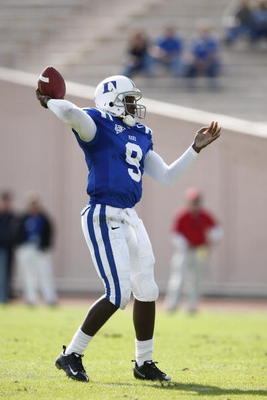 After Lane Kiffin bolted from Tennessee to USC, Duke coach David Cutcliffe was one of the leading candidates for the Volunteers' head coaching spot.
However, Cutcliffe decided to remain at Duke where he has initiated a turnaround of the Blue Devils' program. In two years, Cutcliffe has a combined record of 9-15, quite an improvement over Ted Roof who was 6-45 as Duke's head coach in four-plus years.
As long as Duke is as committed to Cutcliffe as Cutcliffe has been to Duke, this remains another highly unlikely possibility for Leach.
6. Vanderbilt Commodores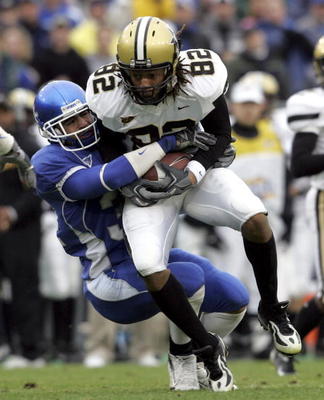 Here's a lesser known fact about Mike Leach; at Texas Tech, he had one of the highest graduation rates in the Big 12.
From 2007-09, the Red Raiders had an average graduation rate of 76 percent.
Among Big 12 schools, only Nebraska (78 percent) and Baylor (77 percent) had better records. For further comparison, Texas and Oklahoma had graduation rates of 47 percent and 45 percent, respectively.
While Leach prides himself in those numbers, it wouldn't necessarily qualify him to take the reins at a school that places an emphasis on academics, like Vanderbilt.
But then again, it couldn't hurt.
Last year, the Vanderbilt program was tied for fifth in the nation with a 91 percent graduation rate. In 2008, the Commodores won the AFCA Academic Achievement Award for having the best graduation rate (95 percent) among all FBS schools.
So, obviously, if Vandy wanted to replace head coach Bobby Johnson, who in seven years has compiled a 26-56 record, they would do so with a coach that values education.
At least in that respect, Leach fits the bill.
Factor in the Commodores' 110th-ranked offense last year, and Leach becomes an even more attractive candidate.
However, it remains to be seen if a low-key school like Vanderbilt would hire a controversial figure like Leach.
5. Minnesota Golden Gophers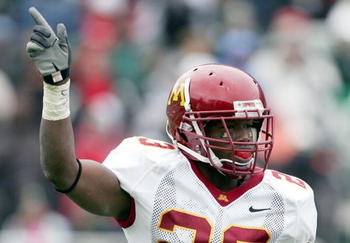 Historically, expectations for Golden Gophers fans have been much lower than those at many other programs.
Considering Minnesota's performance since 1969, it's no small wonder.
In 2003, when the team went 10-3, it was their first 10-win season since 1905.
So when head coach Tim Brewster was able to take Minnesota from 1-11 in 2007 to 7-6 in 2008, there was reason to hope.
The team's improvement, coupled with the opening of the Golden Gophers' new on-campus stadium in 2009, had some Minnesota fans downright giddy about their future.
However, the shine has quickly worn off for some as the Gophers took a small step backwards last season.
The fact that Brewster began his coaching term by talking about Big Ten championships and Rose Bowls hasn't helped matters either.
While some fans might have bought into the hype, a cynical local media did not. They took an undeniable glee in mocking Brewster for making such bold statements.
Now, any excitement that Brewster might have spawned has turned into frustration in the face of unrealized (and perhaps unrealistic) expectations.
After a 6-6 season and a tepid performance in the Insight Bowl, many fans want the Gophers to shake up the conference by hiring Mike Leach, while others feel that Leach would clash with region's "Midwest sensibilities."
Another concern is that Leach would be unable to recruit the necessary talent in the shadow of Big Ten powerhouses such as Penn State, Ohio State, and Michigan.
However, that belief may be a bit short-sighted. After all, Leach was able to bring in capable athletes while competing against the likes of Texas, Texas A&M, and Oklahoma.
Either way, the probability of Leach coaching at Minnesota seems remote at best.
4. Arizona Wildcats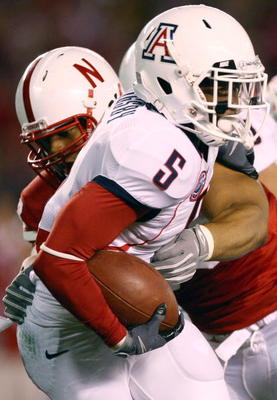 While a Disney song tells us "it's a small world;" it's even smaller in the world of college football.
Mike Stoops, the current Arizona Wildcats coach, was an assistant for his brother, Bob, in 1999 when Mike Leach was the offensive coordinator for OU.
While it's undeniable that Stoops has improved the Wildcats' program during his six seasons as head coach which, in 2008, included Arizona's first bowl game in ten years, many believe that he could have done better.
Despite leading the Wildcats to an eight-win season that year, there are those who believe that the team should have won more games, given Arizona's crop of talent in '08 and the perception that the Pac-10 was weaker than usual that season.
in 2009, the 'Cats completed a second consecutive eight-win season and tied for second place in the Pac-10. However, a 33-0 drubbing at the hands of the Nebraska Cornhuskers in the Holiday Bowl has fans in the "Grand Canyon State" grumbling once again.
Though Stoops has been given a contract extension through 2013 and has the Arizona AD's stamp of approval, his results have not lived up to the expectations of some, especially since he came from a very successful Oklahoma program.
Should the Wildcats take a chance on another former OU assistant, especially in light of his achievements at Texas Tech?
Some fans think so.
However, since Stoops was a semifinalist for the George Munger Coach of the Year award last season and seems to have the university's backing, it would probably take a couple of sub-par seasons before the Wildcats would entertain the idea.
3. Maryland Terrapins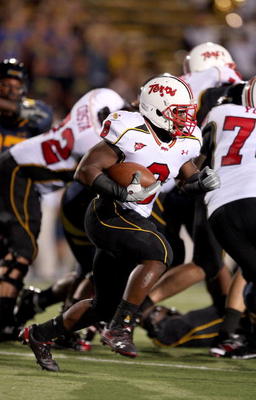 Ralph "Fridge" Friedgen, regarded by some as an offensive genius, has been at the helm of the Maryland Terrapins since 2001.
While he made positive strides in his first three years as head coach, the Fridge has had a 35-38 record the past six seasons, which includes a dismal 2-10 mark in 2009.
Despite the Terps' recent shortcomings, it was announced last December that Friedgen would coach the team again in 2010.
Additionally, Friedgen's successor has already been named; Maryland OC James Franklin is slated to become head coach in 2011.
However, that hasn't stopped talk of buying out Friedgen's contract, though even if the university was willing to do so, it is unclear whether or not they would be able to afford it.
Meanwhile, the announcement that Franklin will take the coaching reins a year from now has done little to placate Maryland fans. A 2009 article in the Baltimore Sun described their growing impatience.
Many believe that the Terrapins' program should head in a new direction.
Perhaps a direction plotted by a pirate captain.
2. Baylor Bears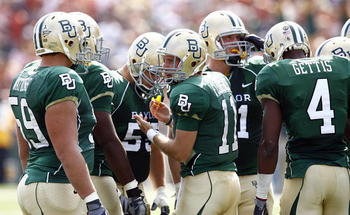 After Leach was fired from the Red Raiders, it was rumored that Baylor head coach Art Briles would replace him and that Leach might end up in Waco.
Instead, Texas Tech found their man in Tommy Tuberville and Briles stayed put.
However, that doesn't mean Mike Leach couldn't coach in the Big 12 South again.
Leach coaching Baylor would be great theater; besides coaching against his former rivals, he could go head-to-head with the school that fired him.
Briles has had consecutive 4-8 seasons at Baylor, though last year the Bears were 1-7 in conference play.
This season, Briles' continued employment hinges on the health of the Bears' quarterback, Robert Griffin III.
In the third game of 2009, Griffin suffered a torn ACL. Conventional wisdom would imply that the university is waiting to see if Griffin makes a full recovery and if, with Griffin, Briles is able to improve Baylor's record.
While the concept of Mike Leach coaching at Baylor is attractive to Big 12 fans, it's unknown whether Mike Leach would be attracted to coaching a team that hasn't had a winning season since 1995.
1. Colorado Buffaloes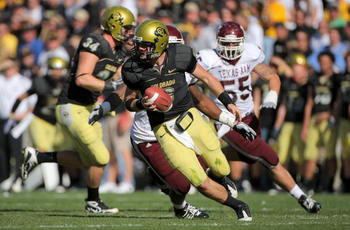 While Colorado's Big 12 opponents didn't mind, the Buffaloes stuck with head coach Dan Hawkins for a fourth season in 2009, much to the chagrin of many Buffs fans.
Prior to the '09 season, Hawkins had famously remarked "Ten wins, no excuses!" The Buffs, however, fell seven wins short of that ill-advised prediction.
During Hawkins' tenure, Colorado has a conference record of 10-22 and an almost unfathomable road record of 2-20.
In short, Colorado fans are ready for a change.
As a program that is in dire need of some positive publicity, what coaching hire would create a bigger splash than Mike Leach?
Then again, would a program rocked by scandal during the Gary Barnett era want to hire a new coach with even a whiff of controversy, justified or not?
This scenario, like the Baylor one, would have the added allure of Leach coaching against his former school, though with Colorado in the North Division, it wouldn't be quite as provocative.
Nevertheless, there is something very intriguing about the thought of Leach running his Air Raid offense in Boulder's high-altitude environment.
Keep Reading