8 Reasons Why Alabama Won't Repeat As National Champions
Alabama had the total package in 2009.
A seemingly invincible coach, a quarterback who has yet to lose a game at any level, a Heisman-winning tailback, and a defense that was as tough as nails.
2010 will be a little bit different.
The Crimson Tide are clearly the favorites to win the national championship once again in 2010, but not so fast my friend.
Here are eight reasons why Alabama won't be hoisting up the crystal ball in January.
The Schedule Won't Allow It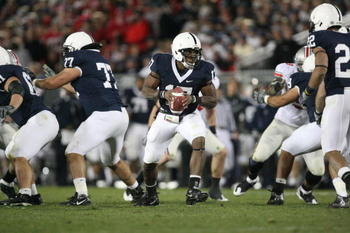 Alabama has answered the bell with big non-conference wins early in the year the past two seasons, but can they make it three times the charm in 2010?
Penn State will be a formidable opponent at home, and a roadtrip to Duke may not be as easy as everyone may think.
Injury prevention will be key, and having a bye week before a crucial roadtrip to Death Valley to face LSU could prove big in the long run for Alabama.
One loss may not do Bama in completely, but the non-conference part of the schedule isn't the part you have to worry about; that would be the rest of the SEC.
The Pressure is Mounting...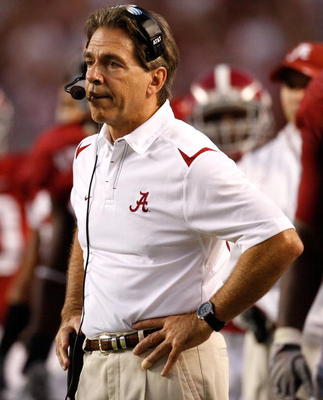 It's tough to repeat as National Champs. Just ask Florida. Pundits had them down as a no doubt lock to win it all, and Alabama showed them that wasn't going to happen.
Will this happen to Alabama in 2010?
Saban also won a NC at LSU in 2003. He went 9-4 in 2004. A sign of things to come?
The All Important Bye Week(s)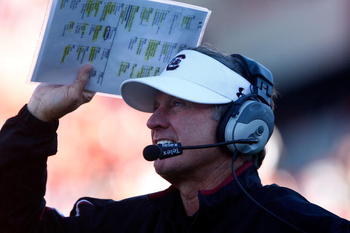 Six SEC teams have a bye week before facing the defending national champions. Think this doesn't matter much?
Just ask Auburn, who had that bye week to prepare and completely shut down Mark Ingram in the Iron Bowl.
Yes, Alabama came out on top, but there's no doubt that the extra week helped the Tigers put a scare into the Crimson Tide.
The Secondary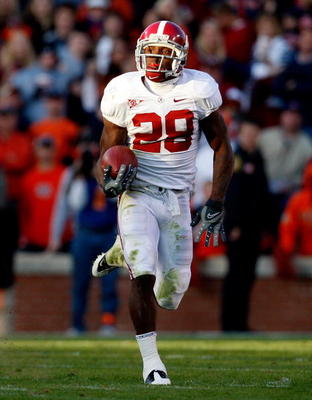 Alabama will have some safeties with experience such as Mark Barron, but gone are the key components to 2009's lockdown defense.
True freshman corners will be thrown into the mix, and that could make or break this Alabama team. This is the year where we find out if the "depth" Alabama touted last season can actually perform like the starters of 2009.
The D-Line should be able to stop most running attacks, and having D'onta Hightower to replace Rolando McLain should also take some pressure off the young backfield.
However, watch out; this has the potential to be the Crimson Tide's kryptonite.
Mark Ingram Won't Put Up Another 2009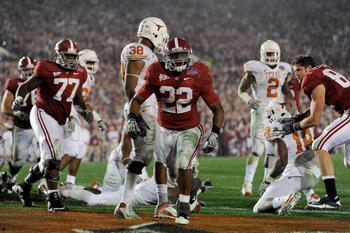 Mark Ingram was unbelievable last season, if that wasn't clear enough already. However, it will be tough to duplicate those numbers in 2010.
There are still several question marks on the offensive line. Will they mesh together like the 2009 unit? If they can, Ingram and Trent Richardson will thrive.
If not, it could be a longer year on offense than the Crimson Tide would like.
Florida and John Brantley
Tim Tebow played miserably against Alabama in the SEC title game. He made passes that he should have easily completed and that could have very well kept Florida in the ball game.
Florida gets their chance at revenge, and John Brantley won't make those same mistakes that Tebow did.
The Gators roll into Tuscaloosa in Week 5, and may see them again in Atlanta. Don't bank on Bama to beat the Gators twice. If they want to repeat, they better hope they win the one in Atlanta.
Special Teams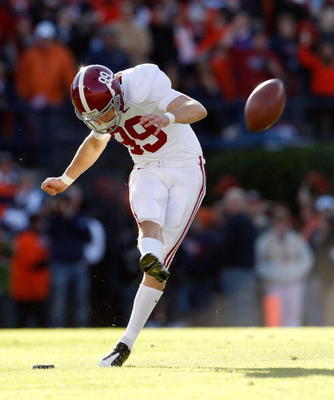 Leigh Tiffin proved to be a weapon for the Crimson Tide kicking the football, and he was one of the many reasons Alabama was able to stay undefeated.
There will need to be a solid replacement for his services, especially since Bama will be locked in some defensive struggles this season, you can bank on that. True freshman Cade Foster is the potential starter, and while he's rumored to have a big leg, you can't replace experience.
Punter PJ Fitzgerald is also gone. Oh, and the electric Javier Arenas, the best punt returner that Alabama has ever seen? He's gone too.
With plenty of speed and skill, a stop gap will be found for Arenas, but replacing the kicker and punter may be a tougher task.
The SEC Won't Allow It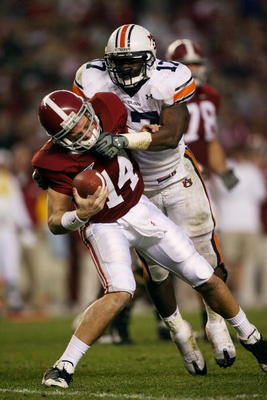 Opening up the SEC slate on the road is never easy, and with Arkansas, this year won't be such a cakewalk. Ryan Mallett and the talented Arkansas receivers may give the young and inexperienced secondary problems early in the year.
Florida is out for revenge, USC is going to be much improved, going to LSU is never easy, and Auburn will be much tougher than 2009.
The SEC schedule is a bear for Alabama, and it will be a true accomplishment if they can make it out alive for another national title.
Keep Reading

Alabama Crimson Tide Football: Like this team?