2010 Red Sox Predictions: Who's the 25th Man?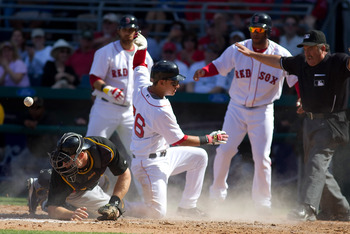 With Daisuke Matsuzaka's late start and Clay Buchholz' fine spring performances, the 2010 Red Sox' starting rotation is achieving some predictability: Josh Beckett, Jon Lester, John Lackey, Clay Buchholz, and Tim Wakefield.
That's five.
Although not as finalized, a bullpen is forming that centers around Daniel Bard, Manny Delcarmen, Hideki Okajima, Ramon Ramirez, and Jonathan Papelbon. Top candidates to fill perhaps two final spots are Scott Atchison and Brian Shouse, both of whom have delivered strong springs and one of whom is a much needed lefty.
That's 12.
Little doubt exists regarding the starting position players and most of the bench. Victor Martinez and Jason Varitek will lock down the dish. Kevin Youkilis, Dustin Pedroia, Marco Scutaro, and Adrian Beltre will outline the diamond and roll their double plays. And flanked by Jacoby Ellsbury and J.D. Drew, Mike Cameron will anchor the outfield.
That's 21.
David Ortiz will try to put it back together at designated hitter. Mike Lowell will back the corners. Jeremy Hermida will give the outfielders a day of rest.
That's 24.
And that leaves us with reserve middle infield.
Who's 25?
Here are the candidates, from least to most likely.
Jose Iglesias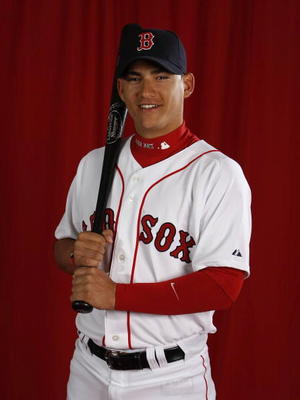 The most talked-about Red Sox acquisition this offseason wasn't John Lackey or Mike Cameron or Marco Scutaro or Adrian Beltre. It was Cuban-defector Jose Iglesias, the heir apparent at the starting shortstop position.
Even as Marco Scutaro settles in to lead the 2010 Sox infield, all anticipation focuses on Iglesias, whose glove has been compared to Ozzie Smith's. Iglesias projects as an All-Star shortstop just a few years down the road.
For the moment, he's the shortstop of the future, not the reservist of the now.
Although he owns a spot on the Red Sox 40-man roster, Iglesias will spend the year in the minors, starting at Double-A Portland.
Aaron Bates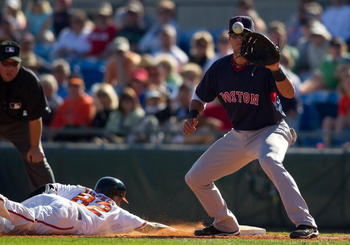 Being born in New York City isn't why Aaron Bates won't make the 2010 Red Sox bench. It's his offense and inability to play up the middle.
Despite a promising .364 average in five games with the 2009 Red Sox, Bates has only managed a .111 average in 18 spring training games this year. Possibly a slow starter, Bates doesn't really fit the Red Sox remaining needs defensively either.
Expect Bates to turn into trade bait by mid July as he won't find a home on the Red Sox 25-man roster any time soon.
Jed Lowrie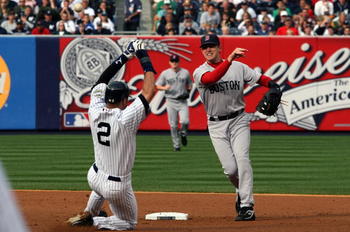 Recovering from left wrist surgery, Jed Lowrie has just recently been diagnosed with mononucleosis. The hits just keep on coming.
The 25-year-old shortstop and reserve infielder was once reportedly demanded as part of a deal to send Johan Santana to Boston. Now, following a horrific 2009 that saw Lowrie bat only .147 in 32 games, Lowrie's diagnosis spells near-certain doom for the Stanford grad's career.
Lowrie is unlikely to make the 25-man roster at this point, but if he can turn it around quickly, he might have a shot at another call up. Still, with Marco Scutaro stomping out his path and Jose Iglesias clawing at his ankles, Lowrie likely won't find more than a bench role in his Red Sox future...if there is one.
Bill Hall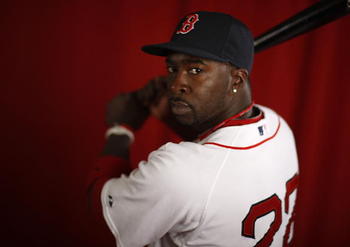 Although a career .251 hitter in 865 games with the Milwaukee Brewers, 30-year-old Bill Hall posted just a .201 average in 334 2009 games. Thirty-one at bats this spring haven't yielded promising results either. Hitting .161 with a .257 on-base percentage, Hall seems to have hit a brick wall offensively.
Still, Hall is well above average when it comes to fielding, whether it be manning the hot corner or rolling it up on the middle infield. Hall could make a strong defensive replacement in late innings.
Acquired from Seattle as part of the Casey Kotchman deal, Hall should have the utility role locked up. Not only can he play the infield, Hall can also spot the outfield.
However, as he continues to struggle at the plate, Hall alone is jeopardizing his future with the Red Sox.
Tug Hulett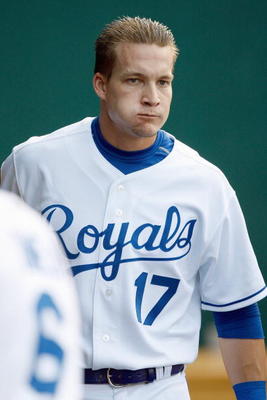 Left-handed hitting Tug Hulett is my pick.
The 27-year-old Hulett is a mixed bag defensively and offensively, but he has shown flashes of near genius with both his glove and his bat.
Experienced around the infield and outfield, Hulett can spot at second base, shortstop, third base, and the corner outfield positions.
The cups of coffee he's had with the Seattle Mariners and Kansas City Royals may belie Hulett's offensive prowess. In those limited stints, the Springfield, Illinois native has notched a sub-par .194 average.
However, Hulett's Triple-A numbers approach a .300 average and reveal some power that could be quite useful off the bench.
Over 25 spring at bats, the Auburn grad has stroked the ball at a .320 clip and posted a .970 OPS.
For Tug Hulett, 2010 may be it, and he seems to know it's his big chance.
Expect Hulett to round out the roster at No. 25.
Keep Reading

Boston Red Sox: Like this team?