ACC Power Rankings: Top 12 Defensive Lines of 2010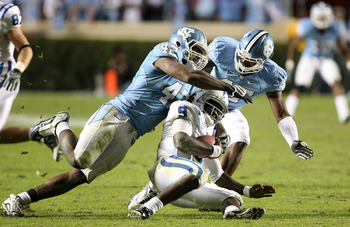 Next up in our position rankings for the ACC would be the defensive line.
Once again, despite individual superstars, a team's success is based on the entire line—and not just one guy who offensive lines have to stop.
Fortunately for the ACC, plenty of high-profile talents have graced the defensive line. From Virginia's Chris Long to Clemson's Gaines Adam, North Carolina State's Mario Williams and 2009's darling Derrick Morgan, the ACC constantly has players who can give starting quarterbacks nightmares.
Indeed, a strong defensive line can help punish the run, pressure the quarterback, and pace the game. They can make or break a team with high aspirations— and while some teams are in damage control with high attrition, other programs are flying high in 2010 on the defensive line.
Let's take a look, shall we?
12. Boston College
Last season, the Boston College Eagles finished dead last in sacks.
That inability to put pressure on the quarterback resulted in a pass defense ranked 10th in the conference, allowing more than 224 yards per game.
In their final game of the season against the Trojans of Southern California, the Eagles let Matt Barkley soar for 350 passing yards and a victory.
The Eagles have to replace half of the starters from that unit—which does not exactly instill confidence in the defensive line for 2010.
Defensive end Alex Albright, whose neck injury two seasons ago gave him one more season of eligibility, started seven games last season. His best performance was a seven-tackle effort against Notre Dame—something we will need to see more if Boston College is to overcome its personnel losses on defense.
The Eagles have a tall task in front of them—but they know a thing or two about surprising people.
11. N.C. State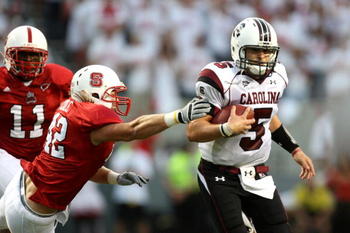 There is only one team in the ACC next season that has to replace its entire starting defensive line.
Therefore, it makes sense that the North Carolina State Wolfpack have major question marks heading into next season.
Now, it is not all bad for the Wolfpack in 2010— their new starting line all features players with some collegiate experience under their belts. However, this unit will have to jell quickly, because the entire crew has a combined six starts among them.
Defensive end Augi Augustin is the best of the bunch, playing in 36 career games. Hopefully playing behind Willie Young has helped the rising senior and can allow N.C. State's defense to complement its premiere quarterback in Russell Wilson.
Outside of Augustin, you have transfers, injuries, and inexperience with the rest of the big men up front. Michael Lemon arrived two weeks before the season started—and despite the sharp learning curve, he appeared to be finding a groove. If he can continue to progress, he could be that extra punch on the other end of the line to help Augustin put pressure on the quarterback.
Last season, the Wolfpack finished in the middle of the pack with 24 sacks—eight of them by Young. Considering the secondary's troubles last season, the pressure will be on these new starters to increase the heat on opposing quarterbacks and lead them to mistakes.
It may happen—but it will not be easy.
10. Georgia Tech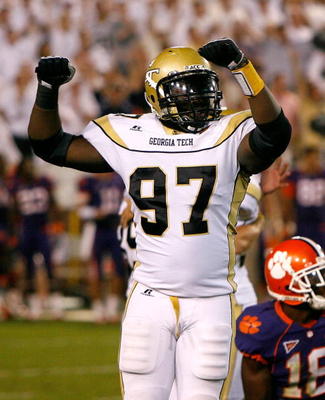 Anytime you switch defensive schemes, it is going to take time to adjust.
Anytime you have to replace a great player like Derrick Morgan, that task gets a bit taller.
The three starters for the Yellow Jackets next season had a combined 45 tackles in 2009—just a little less than half as many tackles as Morgan had.
Logan Walls appears to be the best of the bunch, but Robert Hall will bring an important amount of experience with him as the senior veteran. Hall is one of only two players who played in the ACC Championship against Wake Forest in 2006 and Clemson last season.
He will need to keep the Yellow Jackets focused as they try to avoid a letdown next season and learn the 3-4 scheme of former Virginia coach Al Groh.
While Groh may have struggled as a head coach, he helped produce solid defensive linemen such as Chris Long, Chris Canty, and Jeffrey Fitzgerald. He can certainly do the same in Atlanta, but it will take time.
9. Virginia Tech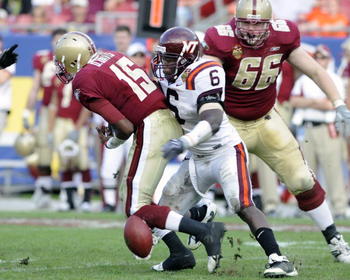 The Hokies knew that they were going to have address the defensive line this season, but they were shocked when Justin Worilds decided to leave early and throw his name into the NFL waters.
That extra loss has made the defensive line a major concern for Virginia Tech in 2010.
John Graves is the lone starter who remains for the Hokies on the defensive line—and they lost their best backup, Demetrius Taylor. Defensive coordinator Bud Foster has moved some people and tried to build depth, but he will need Steven Friday to pick things up quickly if Virginia Tech hopes to continues its winning ways in 2010.
Friday played in 12 games last season, but he registered only 11 tackles.
The staff has played around with his position throughout his career at Virginia Tech. The part-time whip linebacker and defensive end must be happy to have finally found a home on the line. He is an athletic player, but he will have his work cut out for him in the opening week against Boise State.
8. Duke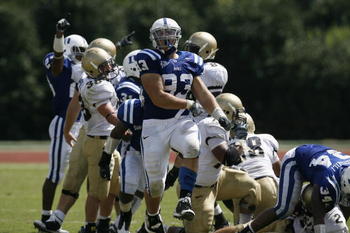 The Blue Devils knew they were going to have to replace half of their defensive line coming into 2010, but they had to be thrown for a loop when heir apparent John Drew was dismissed.
As a result, the remaining starters will have to shoulder the load as they bring along redshirt senior Wesley Oglesby. Defensive end Patrick Egboh is coming off a successful season in which he registered 34 tackles and six quarterback hits. Considering how many downs he has played in his career, Egboh will be the anchor for a defensive line looking to provide hope for the future.
He, along with Charlie Hatcher—who registered seven tackles for loss—have the talent and experience to surprise people next season. They hope to take a defense that finished next to last in sacks in 2009 toward a brighter future under Coach Cutcliffe.
7. Virginia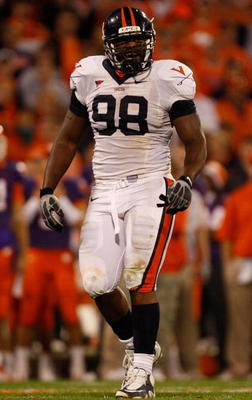 It's suffice to say that last season did not go the way Virginia Cavalier fans hoped it would.
Even the bread and butter of Al Groh's career— defense—was noticeably shaky, as the Cavaliers recorded their worst season in more than 25 years.
The Cavaliers had the second-worst rush defense in the ACC and were 10th in sacks. Worse yet, the leader on the defensive line, Nate Collins, is graduating.
Yikes.
So why is there reason to be optimistic next season?
Matt Conrath, ladies and gentlemen. The rising junior is one of the most experienced linemen around, having started all 12 games as a redshirt freshman.
His shining moment came against East Carolina, when his sack and forced fumble set up the game-winning touchdown—and led to a small resurgence by the Cavaliers after a woeful September in 2008.
Last season, Conrath finished with 45 tackles, while his partner in crime, Nick Jenkins, finished with 41.
Considering the inconsistency of play last season from the Cavaliers, the defensive line was probably one of the most reliable positions—though never the most glamorous.
Groh's 3-4 scheme is usually meant to accentuate the linebackers of his team. Although Chris Long, Chris Canty, and Jeffrey Fitzgerald made names for themselves on the line, it is not easy getting recognition in the system.
Yet these young men are constantly making plays that go unrecognized. They are some of the most physical and aggressive players on the team, and as the unit jells, they can become big names for the Cavaliers.
With a new coach and a new attitude in Mike London, look out for Conrath and Jenkins to make a few more headlines, as Virginia will boast its best defensive line in quite some time.
The Cavaliers have a fair amount of depth, with Jake Snyder, John-Kevin Dolce, and Zane Parr all expected to get some playing time next season.
Transitioning to a new system may be difficult, but the Cavaliers have playmakers—and a change in culture may be just the thing to unleash the beasts in 2010.
6. Florida State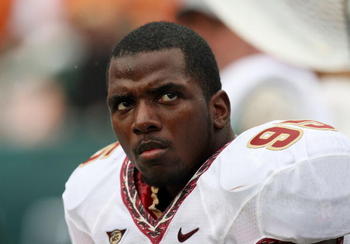 Now let's face it, Florida State's defense last year was awful. It was the Achilles' heel to what could have been a very good season.
The Seminoles finished 10th in total defense and dead last in rushing defense for the ACC. However, the boys from Tallahassee did record 26 sacks last season.
Fortunately for Florida State, there will be some depth at the position, including Markus White, who had an impressive 10.5 tackles for loss. The hard-working White is a JUCO transfer—and he is ready to become a leader for this team as the lone senior.
However, the success for the Seminoles will be finding complementary pieces that can attack the line and put pressure on opposing quarterbacks.
Kevin McNeil looked like he could be that guy. His work ethic, though, did not match his talent—and he soon found himself academically ineligible.
Moses McCray must improve upon a 12-tackle season last year, and Brandon Jenkins is gaining preseason buzz as a potential breakout player.
Florida State still has a great deal to prove on the defensive end. With the defensive line coach gone, can these players grow and improve—or will they continue to let down the coveted offense?
5. Wake Forest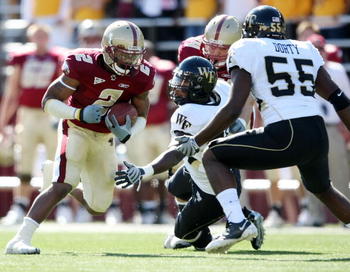 Tristan Dorty and Gelo Orange return to the defensive line with 73 tackles and 10 sacks between them. Unfortunately, Boo Robinson and John Russell will not be joining them.
The Demon Deacons not only need to replace two starters, but they also need to improve upon the 10th-ranked defense in the ACC. Wake Forest allowed its opponents to convert third downs 42 percent of the time last season—a number that cost the team more than a few close games.
Fortunately for Wake Forest, what they lack in experience, they have gained in depth. Considering that Orange last year had to make a transition from linebacker to defensive lineman, recording 32 tackles is a pretty good start. With a year under his belt, Orange could become a breakout player.
The same goes for Kyle Wilbur. As a redshirt freshman, the end recorded three sacks, but he was hobbled by a leg injury last season.
His return could be a shot in the arm for a defense with a great deal of pressure on its shoulders. Wake Forest's offense is in a state of transition— if the Demon Deacons are going to go anywhere next season, it will be because of their defense.
However, it will take time for these players to emerge. If they take their lumps and learn from it though, Wake Forest's line may be one of the best in 2011.
4. Maryland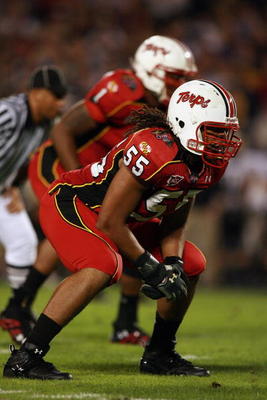 A.J. Francis came into 2009 as a redshirt freshman expected to fight for the nose tackle position.
He finished the season starting 10 games and registering 31 tackles. The man who committed more than a year before he actually enrolled at Maryland knows something about these power rankings. Last year, ESPN blogger Heather Dinich called Maryland the worst defensive line in the ACC.
Francis took that article seriously—and it inspired him toward a great start to his career.
Now I don't know if Mr. Francis reads Bleacher Report—or if a middling rank will inspire him all that much—but he will need help from his friends if Maryland wants to take its line to the next level.
The Terrapins were dead last in scoring offense in the ACC and 11th in total defense. But they were fourth in sacks, thanks to a strong linebacking corps.
Jared Harrell and Deege Galt need greater consistency next season. If they struggle, expect Derek Drummond to compete for a starting spot. If they can improve and finish plays, they could help create opportunities for Francis to wreak havoc.
Of course, until they do take that next level, Maryland's line will stay a question mark next season.
3. North Carolina
News flash, boys and girls: Robert Quinn is a bad man.
The beast on the defensive line has not had an easy life. In high school, while most kids are worrying about tests and getting a date, Quinn had brain surgery—and he recovered to become an All-ACC- caliber performer.
He finished last season fourth on the team in tackles with 11 sacks, 18 tackles for loss, and 15 quarterback hits to boot.
With that kind of freakish talent, offensive linemen must account for Quinn each and every time the young man puts his hand down on the turf.
While the Heels may lose two starters on the line, Tydreke Powell is poised to take the spot after registering 24 tackles in a backup role. Don't forget about Donte Paige-Moss, either. The freshman had some off-the-field issues, but he is an extremely talented pass rusher who can become a complementary force to Quinn if he keeps out of trouble.
Coach Butch Davis has brought in the talent. And with a leader like Quinn, North Carolina's line—and defense in general—will be one of the best in the conference.
2. Miami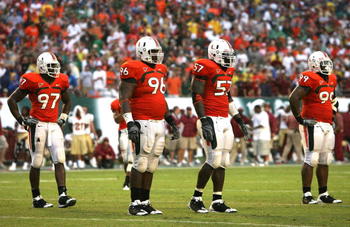 This spring, Miami's defensive line has shown up in a big way. Without quarterback Jacory Harris and other playmakers on offense, you may expect for the defense to be dominant—but the talent is too much to be ignored.
Headlining the cast is Allen Bailey. The senior had a stellar year in 2009, earning first-team All-ACC honors with seven sacks and 11 tackles for loss. He is back for more as the Hurricanes continue their resurgence.
However, vying to take Bailey's crown is Adewale Ojomo, an intense player who had to sit out with a jaw injury so severe his mouth was wired shut. Ojomo finally returned to the practice field in late February—and he is determined to redeem himself in 2010.
With its emotional leader back, Miami's defensive line should improve upon its numbers from last season. The Hurricanes had the third-best rush defense last season and was fifth in pass defense for the ACC.
If Miami can increase the pressure on the likes of Christian Ponder, Kyle Parker, and the other premiere ACC quarterbacks, the Hurricanes may make their first trip to the ACC Championship game.
1. Clemson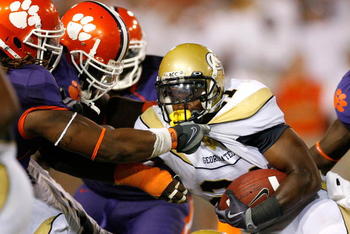 No Ricky Sapp? No problem for the Clemson Tigers.
Let's see: In order to be a good defensive line, what do you need?
Experience? Clemson's defensive line features three juniors and a senior. In fact, backup Jamie Cumble had 53 tackles and played in all 13 games.
That's more than most starters in the ACC.
Depth? Clemson is returning nine defensive linemen.
Talent? How about the fact that the Tigers were 13th in the nation in tackles for loss, with 106; first in the ACC in sacks, with 36; and pressured the quarterback 110 times.
Clemson has such amazing depth that quarterbacks live in fear of this foursome. The Tigers had a perfect record against the top quarterbacks in the conference last season—and there's no reason to think that they won't do it again.
Keep Reading

Clemson Football: Like this team?