2010 NCAA Sweet 16: The 20 Most Important Players Remaining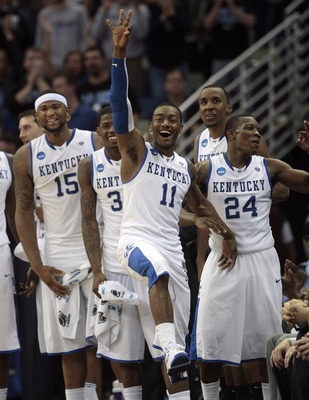 The 2009-10 college basketball season started with approximately 3,500 scholarship student athletes competing for a national title. Now about 160 remain to fight for the right to be the kings of Indianapolis.
Of those 160, there are 20 that truly stand out as stars and critical members of the remaining 16 teams in the NCAA tournament.
The 20 players that make up this list of the "Most Important Players" remaining are ranked based on their star power, but if two (or more) players from the same team pop up, those players are ranked in order of their importance to their team.
20. Kentucky SG Eric Bledsoe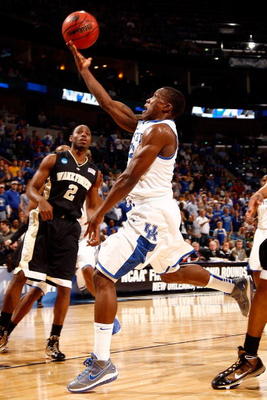 There's one player on Kentucky that can derail its quest for a championship, and that's Eric Bledsoe.
The freshman guard is an outstanding talent capable of going off on great scoring stretches like the performance he put on against East Tennessee State. That game single-handedly pushed his three-point percentage up six points for the season.
But with all that said, Bledsoe gets carried away trying to lift the team all by himself when he's really the most inefficient player on the floor on either squad most of the time.
He turns the ball over a lot and takes way too many shots early in the shot clock. If he and John Wall play undisciplined against Syracuse's 2-3 zone in a potential title game matchup, the 'Cuse will win its second title in eight years.
19. Northern Iowa C Jordan Eglseder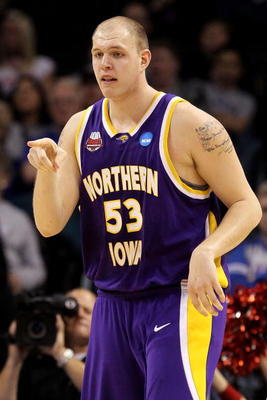 Northern Iowa's style of play dictates the flow of the game and initially, no particularly Panther player stands out as being exceptionally more important as the others.
However, ESPN's John Hollinger recently came out with PER rankings for college basketball players. Jordan Eglseder ranked second behind only DeMarcus Cousins (remember that tidbit later when the Kentucky players show up on this list).
The Northern Iowa center is a behemoth in the paint that can give all the remaining teams in the Midwest region serious headaches. The seven-footer takes a third of his team's shots when he's on the floor and he's an extraordinary rebounder on both ends of the floor.
His size and UNI's style of play could be enough to catapult the Panthers into the Final Four.
18. Michigan State SG Durrell Summers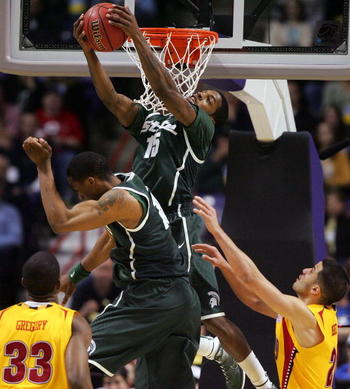 Now that Kalin Lucas is pretty much done for the rest of the season, somebody in Michigan State's backcourt will need to pick up the scoring.
That man is Durrell Summers. He's been a mediocre offensive weapon all season, but when he turns it on, man can he turn it on.
He dropped 26 points against Maryland to lead the Spartans past the Terrapins in the Round of 32. He needs to perform well for the remainder of the tournament, and, if he can't pick up the slack, backup point guard Korie Lucious will be forced to carry an even bigger load.
17. West Virginia F Devin Ebanks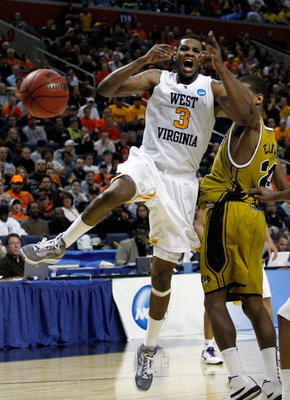 College basketball pundits originally picked Devin Ebanks to be the most outstanding and most important player on this West Virginia team. Senior Da'Sean Butler showed that he wasn't ready to give that role up just yet.
Ebanks has developed into a nice player, but he isn't the offensive leader on this team yet. That said, Ebanks will be a critical second scorer the rest of the way against a handful of teams that score and defend just as well as the Mountaineers.
16. Baylor SG LaceDarius Dunn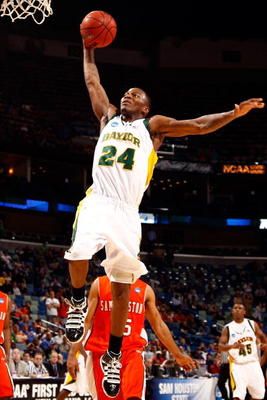 LaceDarius Dunn has always played second fiddle at Baylor to a host of past stars that played for Scott Drew. This year was supposed to be the year Dunn broke out on the national scene and became the superstar.
But with Ekpe Udoh dominating the paint in jaw-dropping fashion, Dunn continues to take a backseat to accomplishments of his teammates.
Dunn still uses 26 percent of his team's possessions at a high efficiency rate, which means he remains the team's best offensive weapon. He's not the most effective defender at the top of Baylor's 2-3 zone, but he plays well enough that his defense is never really a problem.
Because he doesn't dominate both ends of the floor like Udoh, Dunn sits 16th on the list of the most important players remaining in the NCAA tournament.
15. Cornell F Ryan Wittman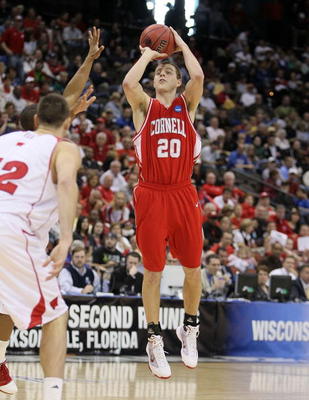 Realistically, there is only one player on this Cornell squad capable of beating Kentucky. That's Ryan Wittman.
His absurd offensive rating of 120 is truly incredibly for an Ivy Player. Wittman connects on 43 percent of his threes and 47 percent of his twos (most of those twos are tough turnaround and contested shots).
Kentucky's offensive power will likely be too much for this Cornell team, but Wittman has showed in the past against other power conference teams that he can keep his Big Red in the ball game with a 30-point performance.
14. Purdue C JaJuan Johnson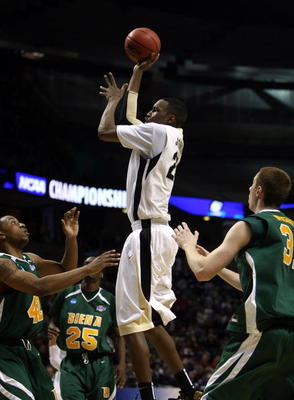 Purdue has somehow managed to find its way into the Sweet 16 despite not having Robbie Hummel, the player that clearly makes the Purdue offense go.
The man that needs to step up in his absence is JaJuan Johnson.
Against Duke, the Blue Devils will limit the Boilermakers production from three-point land, which means Johnson will be critical in the paint as a back to the basket player as well as offensive rebounder.
Duke showed its willingness to slow the tempo down as it did against California, but it is likely that Mike Krzyzewski will speed things back up again against Purdue to try to make the Boilermakers outscore them. If that's the case, Johnson will need to go for at least 25 if Purdue wants to win the game.
13. Washington F Quincy Pondexter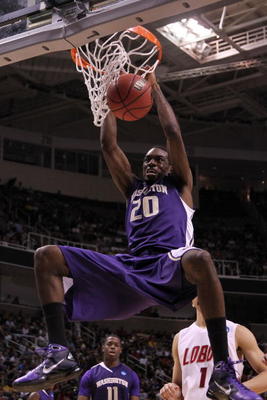 Who would have thought that Washington would be one of the hottest teams in the country right now?
That may have looked likely in the preseason, but most everyone wrote the Huskies off after Washington actually started playing games.
After a rough stretch through the middle of the season, the Huskies are now on fire, winning nine consecutive games and 14 of their last 16.
The man at the center of their revival is Quincy Pondexter, who developed into perhaps the Pac-10's best player this year. The multi-dimensional forward scores 19.5 per game and grabs another seven rebounds on top of that.
When Pondexter takes the floor against West Virginia, he'll see four forwards that play similar styles of basketball as himself. It will be his job to keep Bob Huggins's stable of swing forwards in check.
12. Butler C Matt Howard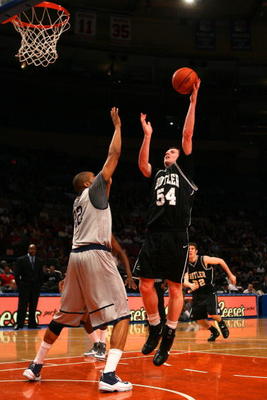 Matt Howard isn't the best player on this four-loss Butler squad. That distinction goes to Gordon Hayward.
What Howard is however is the most important player on Brad Stevens squad. If Butler is going to stand a chance against an incredibly long and athletic Syracuse team, then Howard must use every inch and pound of his 6'7", 230-pound body to stop the 'Cuse in the paint without committing fouls.
Howard is the only real size Stevens has and if Howard gets in foul trouble (which always seems to happen against major conference teams), then Butler is done for.
He commits 5.5 fouls per 40 minutes, and I guarantee that number is drastically higher against the major conference opponents the Bulldogs have faced this season.
11. Kansas State SG Jacob Pullen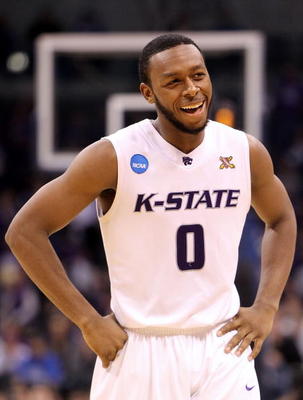 Jacob Pullen has the profile of a star. His 27 percent usage and 117 offensive rating with a line of 46/38/81 percent shooting numbers from two, three, and the free-throw line make a bona fide star.
It looked like Denis Clemente might become the offensive leader of this team before the season began, but Pullen's game progressed significantly in the offseason and now Pullen is the main target of defenses.
He's capable of hitting enough threes to push Kansas State past Syracuse should they face in the Elite Eight.
10. West Virginia F Da'Sean Butler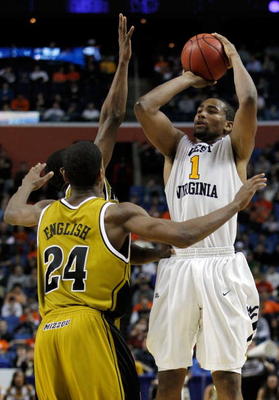 Da'Sean Butler knows how to keep his team loose.
(For full Da'Sean Butler, Joe Mazzulla, and Jonnie West antics, click the video below and view the other gems John Flowers posted).
In all seriousness, Butler has hit enough buzzer beaters to challenge Kobe Bryant as the most clutch player in basketball right now.
That's not all Butler does, though.
He's the main offensive weapon for a West Virginia squad capable of being the last team standing. At times, Butler plays a point-forward role, but when he's playing off the ball he can knock down mid-range jump shots as well as the three ball.
Butler is also a strong offensive rebounder on a team that ranks second in the country in offensive rebounding.
9. Xavier SG Jordan Crawford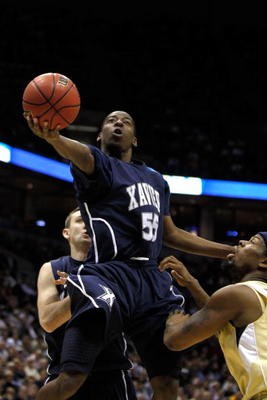 There's one player that can stop Jordan Crawford, and that's himself.
Story time is necessary to really explain the enigma that is Jordan Crawford.
Once upon a time in a magical place called Disney World, Crawford played in a preseason tournament called the Old Spice Classic. In a weekend that featured three games in four days, Crawford posted one outstanding game but two he should forget.
The shooting guard had a 4-for-20 shooting performance as well as a 6-for-19 game. He was taking too many bad shots.
I asked Chris Mack what kind of limits Crawford had. He said none as long as the bad shots were a part of his offense, but Mack also said many of the shots the young 2-guard was taking didn't fit his game plan.
Crawford continued to have enough poor performances that Mack eventually sat him at the start of a game.
The light bulb has finally clicked on for this talented young man, and now rarely does a game go by where Crawford takes too many unnecessary shots.
His scoring prowess makes him one of the most dangerous players left in the tournament, and he's capable of single-handedly lifting his team to the Final Four.
8. Duke PG Jon Scheyer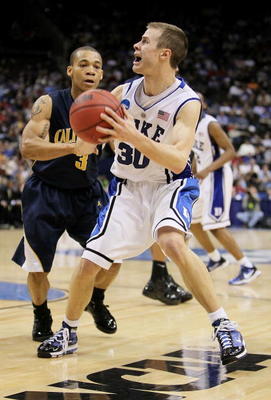 Jon Scheyer is the most important player on a team projected by efficiency models to be the overwhelming favorites left in the tournament.
After all, Duke has a highly efficient offense which has been the calling card of every champion in the last five years. Scheyer runs that offense to near perfection with his ability to distribute the ball, but he also hit threes and breaks down defenders in order to reach the paint.
Scheyer's 127 offensive rating is in the top 20 in the country, and his turnover rate, a mere 11 percent, is mind-boggling for a point guard so involved in an offense.
7. Saint Mary C Omar Samhan
Saint Mary's could get knocked out in the next game or play its way all the way to Indy. Center Omar Samhan will be the player that decides the Gaels' fate.
The media-friendly big man (after all, he's a sports journalism major) had his coming out party against a severely inferior Villanova frontcourt.
A slick 117 offensive rating means Mark Bennett should have no issue with the fact he uses over 30 percent of his team's offensive possessions while he's on the court.
While Samhan doesn't look too conditioned, he still manages to lug his 275 pound body up and down the court at SMC's fast tempo for over 30 minutes per game.
He's going to be the most important defender on the floor for the Gaels against Baylor, as the Bears' superior athleticism and length allow them to play above the basket frequently. It will be Samhan's job to ensure Baylor operates below the basket at all times.
6. Baylor PF/C Ekpe Udoh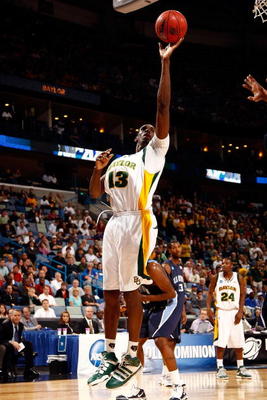 It's rather astounding how much one player can improve a defense. Baylor's defense has been a pathetic sieve during most of Scott Drew's tenure in Waco, but Ekpe Udoh turns the Bears' D into an above-average unit.
With the nation's 11th best block percentage (he swats away 11 percent of all two-pointers attempted while he's one the floor), Udoh has dramatically improved Baylor's two point defense from 178th in the nation to eighth in just one season.
Udoh isn't just a Jarvis Varnado who has a great impact on one end of the floor and only a moderate impact on the offensive end. Udoh is a fairly polished offensive player after sitting out a year following a transfer.
Udoh shots the mid-range jumper very well and hits the offensive glass hard. He's become a force on both ends of the floor.
5. Syracuse SG Andy Rautins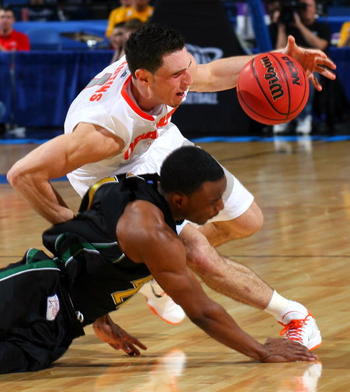 All season Andy Rautins has clearly been the Orange's most valuable player.
When he plays well, its almost an automatic win for the 'Cuse, but when he struggles with five or more turnovers or has a dismal 1-for-9 shooting performance, Jim Boeheim's club is in serious trouble.
But while Rautins is an important player for Syracuse, he has rarely been the player that turns the Orange offense from good to elite.
He doesn't create enough in the half court to bare that previous distinction, but he is certainly an important cog that makes the 'Cuse engine chug onwards toward Indy.
4. Kentucky PG John Wall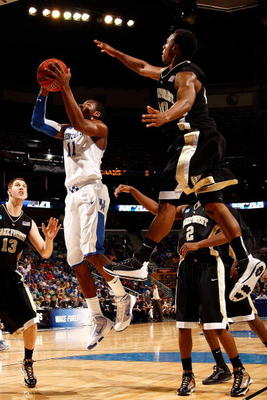 The player likely to finish second in the Player of the Year voting finishes fourth among the remaining players in terms of this list.
Wall has the ability to break down defenses with ease and his ability to operate in transition will be critical against a Cornell team that doesn't have the legs to run with the Wildcats.
He's been more assertive on the offensive end of the floor down the stretch as his possession usage is slowly creeping up and now stands at 27.3 percent. But with his extra aggressiveness, Wall has dropped in his effectiveness as his offensive rating has dropped a solid five points since the start of conference play.
Wall ranks second on his team in importance in the remaining four games, and because of the remaining favorites that Kentucky is likely to face, Syracuse is the only team Wall will be the most important player against.
He'll need to navigate Syracuse's zone as if he's seen it a million times before, or UK's poor zone offense will rear its ugly head and fail miserably against the tricky defense.
3. Kentucky PF DeMarcus Cousins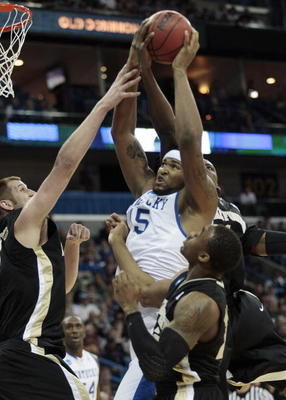 DeMarcus Cousins is not a better player than John Wall, nor is he a better Player of the Year candidate. However, the freshman forward is the most critical player to Kentucky during its four potential remaining games.
Cousins will turn out to be the most important player down the stretch because of the matchups Kentucky will face.
Against Cornell, if Cousins establishes himself in the post, he'll either take it to Jeff Foote or force Foote into foul trouble. Cousins's rebounding ability should keep Cornell off the offensive glass, which is necessary after the Big Red grabbed an astounding 42 percent of their misses against two very good rebounding teams in Temple and Wisconsin.
Against the remaining favorites Kentucky would face, West Virginia, Duke/Baylor, and Syracuse, Cousins could wreak absolute havoc against all the post defenses.
2. Syracuse SF Wes Johnson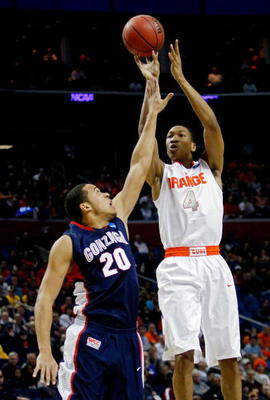 Wes Johnson hasn't been Syracuse's Most Valuable Player all season. He's been the most outstanding, but nary a game has he been the most valuable.
In the tournament, though, he's passed Andy Rautins as the most important player on this Syracuse squad.
Why? Because Syracuse will frequently be slowed to a half-court game from here on out. In the half court, the Orange's offense is statistically just above average, and, frankly, just above average doesn't cut down the nets.
There's one player that can lift that offense from just above average to elite. That player is Johnson.
As a future top-five NBA lottery pick, he has the tools to knock down a shot from anywhere in the half court and can do it off the dribble, off the bounce, by simply pulling up, or by scoring off the offensive glass.
When Johnson knocks down his jumpers and is aggressive with the ball, performances like the 31-point outburst against Gonzaga ensue, proving that Johnson is capable of obliterating an opponent.
1. Ohio State Do-Everything Evan Turner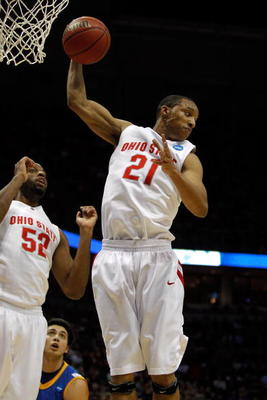 He's the Villain. He's the likely National Player of the Year.
He's Evan Turner, the most dominant player in college basketball.
If Ohio State is going to cut down the nets in Indianapolis, it will be on the back of Turner. If he has a bad game against the level of competition remaining, Ohio State simply won't win.
According to Basketball Prospectus, Turner's nine turnovers against Georgia Tech cost the Buckeyes 12 points on the scoreboard. You think OSU can get away with letting those points evaporate against any of the remaining teams?
Absolutely not.
That said, when Turner uses his 34 percent of the team's possessions effectively, rebounds the ball like he can, and dishes the rock out as a top 10 distributor, he's incredibly difficult to beat.
Keep Reading