Moves the Oakland Raiders Should Consider Before the NFL Draft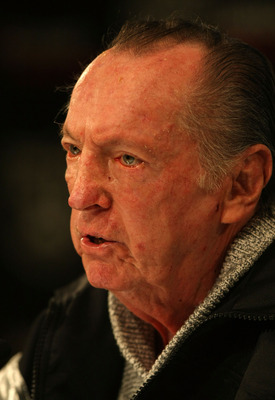 The NFL Draft is a month away and the offseason hasn't been too exciting in Oakland. The Raiders have released aging veterans and have traded for Kamerion Wimbley.
The Raiders have some restricted free agents who have not signed their tenders yet, and there are some restricted free agents available who could help fill some needs the Raiders have.
Let's take a look at some moves the Raiders should look at making before draft time rolls around.
Adding Troy Smith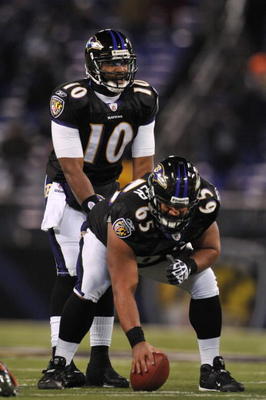 Troy Smith was only tendered with a fifth-round pick by the Ravens. He is better than Charlie Frye and should be able to compete for a starting job against JaMarcus Russell and Bruce Gradkowski.
The move makes sense because the price to pay is very little and he has worked with current offensive coordinator Hue Jackson. Neither Russell nor Gradkowski has proven they can win as a starter up to this point.
Neither QB has had much to work with in their careers, but the young talent on the offensive side of the ball is now evolving and will be better in 2010.
Adding Smith would only bring in extra competition, and that will push the other guys to work harder.
Trade a Safety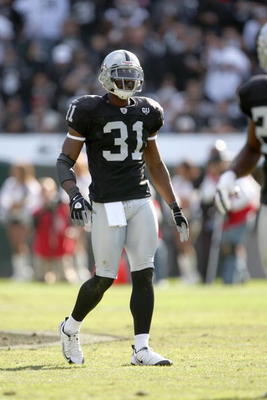 The Raiders currently have Tyvonn Branch, Michael Huff, Hiram Eugene, and Mike Mitchell on their roster. Eugene is working out with the team but has yet to sign his tender.
These safeties have either started games, or were drafted in early rounds to start games. With the emergence of Branch, and perhaps Huff's best year, it makes you wonder what the Raiders will do at the position.
Mitchell was one of Davis' most criticized picks, but he should be a solid contributor. Branch was among the team leaders in tackles, and Huff was among the team leaders in interceptions.
This leaves Eugene as the odd man out, and the Raiders should be able to get a late round pick for him.
Perhaps the guy to trade would be Huff because he is due $5.75 million in 2010, and he showed flashes of why he was the number seven overall pick five years ago. He is 27-years-old, and his value is higher than it has ever been.
Mitchell and Branch would make a physical combo at safety, and both players would be great against the run.
Add Depth to the Offensive Line
Depth is needed on the offensive line, and that was obvious last year, especially along the interior. During the first two games of the regular season the Raiders looked competitive.
They lost in the final moments to the division champion Chargers on opening night, and they beat the Chiefs the next week.
Robert Gallery went down with an injury and the impact was significant. In the first two games when Gallery played, Russell was sacked only 5 percent of the time he dropped back for a pass. When Gallery was out he was sacked 15 percent of the time he dropped back for a pass.
The lack of depth on the offensive line made it hard for the Raiders to compete week in and week out.
Shawn Andrews was recently released from the Eagles, and would be worth taking a look at. Most of the offensive line needs should be addressed in the draft.
Add a Veteran Defensive Tackle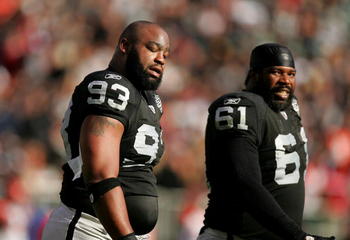 The Raiders released veteran DT Gerrard Warren, and he literally leaves a big hole on the defensive line. The Raiders should address the need for a defensive tackle in the second round of the upcoming draft, but it is always good to add a veteran who can help out the young guys.
Desmond Bryant had a promising first year as an undrafted free agent from Harvard, but the need for another big experienced body will be important. Having good depth and a good rotation on the defensive line will be important for the Raiders and stopping the run.
Conitnue to Shop Nnamdi Asomugha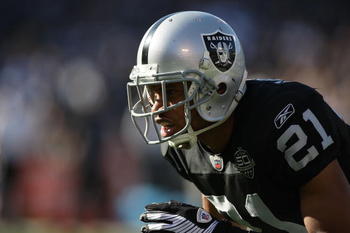 This move may not be the most popular move for Oakland Raider fans, but it makes a lot of sense. He is due to make a lot of money, perhaps too much for what he can provide for the Raiders.
Whether it's shopping for some draft picks this year or trying to shop him for picks next year, it is something that should be greatly considered.
As great as he has been on and off the field, bottom line is that we still haven't won more than five games with Asomugha on the roster. Now none of this is his fault, and it should be frustrating for him as well.
There are contenders out there who would give up first round picks for a player like Asomugha because he could be the missing piece of the puzzle to complete a Super Bowl run.
A good friend of mine mentioned that trading Asomugha would be a great way to recover our first round pick for 2011. It makes a lot of sense and it could be very possible.
The NFL is a business, and the Raiders should take advantage of his high value. I can't imagine the Raiders keeping Asomugha after his contract expires, and I can't imagine him wanting to stay.
The first two years of his contract will pay him $28.5 million, and his final year if Oakland chooses to keep him, will pay him just over $16 million. The last thing the Raiders want to do is lose him, without getting something back.
For more Raider News around the Web or article updates follow me on Twitter
http://twitter.com/RaiderWorldWide
Keep Reading

Oakland Raiders: Like this team?