2010 NFL Mock Draft: College Football Writers Edition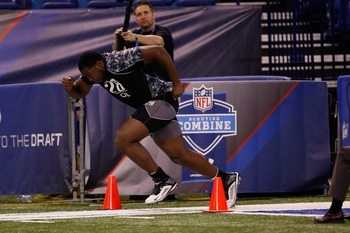 The NFL Combine is over, draft boards are filling up, and now all we can do is wait.
Well, that and make our own predictions.
There's been dozens of mock drafts published from all the best NFL writers on BleacherReport, so I thought I'd do something different: a mock draft from the perspective of college football writers.
I picked a group of the best writers and predictors from the college football community, and together we put together a two-and-a-half round mock draft.
From Ndamukong Suh, to Tim Tebow, to Chris Cook, we've got them all. Where do your favorite players fall?
The group of five writers who collaborated on this were D. Walker, Kimberly Nash, myself, My Dad's Son, and Bret Feddern. It was a lot of fun putting this together, and I think we gave it an interesting setup. Thanks to all of you for your patience and participating in this.
Round One: Picks 1-16 (D. Walker)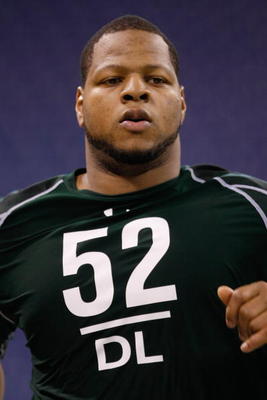 1. St. Louis: Ndamukong Suh, DT, Nebraska
He's the best talent in the draft, so St. Louis would be stupid not to take him. McCoy, Tebow, Pike, and LeFevour should all be available in round two at quarterback. It's time to give their defense a makeover.
2. Detroit Lions: Russell Okung, OT, Oklahoma St.
With the additions of a couple defensive lineman through free agency, they don't need Gerald McCoy at this point. Okung is without a doubt the best offensive lineman in the draft, and would really benefit the Lions, giving Matthew Stafford some protection.
3. Tampa Bay: Gerald McCoy, DT, Oklahoma
McCoy is the best defensive talent next to Suh at this point, and that's what Tampa Bay needs the most. Ryan Sims needs to go and McCoy will fill in wonderfully.
4. Washington: Sam Bradford, QB, Oklahoma
Washington needs a new QB. Say what you want about Jason Campbell, but he's never taking them to the playoffs.
5. Kansas City: Bruce Campbell, OT, Maryland
They should be taking a quarterback first. However they won't, as Matt Cassel is the third highest paid quarterback in the NFL. That's ridiculous. But if he's ever to become worthy, he'll need some protection. Campbell provides that, and becomes the second offensive lineman taken in the Top 10.
6. Seattle Seahawks: Carlos Dunlap, DL, Florida
With Sam Bradford off the board, Seattle will have to wait to draft a quarterback. There will also be plenty of running backs available at pick 14. But right now, Carlos Dunlap looks like the man. He'll provide good pass rush and should get a lot of sacks, something Seattle desperately needs.
7, Cleveland: Joe Haden, CB, Florida
It's starting to seem as though they need a quarterback more than anything. But no QB is worth drafting this high with Bradford gone. Joe Haden will strengthen the secondary and should start alongside Eric Wright in 2010. He might give the Browns the spark they need to become a contender.
8. Oakland: Bryan Bulaga, OT, Iowa
Mario Henderson is the worst starting tackle in the league. That has to end before they address their countless other needs.
9. Buffalo: Jimmy Clausen, QB, Notre Dame
Buffalo will be ecstatic if Clausen drops down to them. Although there may be some trading to guarantee Buffalo gets a QB here, Clausen may very well drop to them at number nine.
10, Denver: Dez Bryant, WR, Oklahoma State
Brandon Marshall won't be there next year. He's a mess of problems anyway. Denver needs a star wide out for the next season, and the obvious choice here is Dez Bryant. No other receiver really comes close.
11. Jacksonville: Derrick Morgan, DE, Georgia Tech
The Jags have zero pass rush. It's actually quite sad. They only had 14 sacks in 2009, making the defensive line their main concern. It comes down to Morgan or Jason Pierre-Paul, however Morgan is the better fit.
12. Miami: Rolando McClain, LB, Alabama
Miami has a downright pathetic linebacking crew. McClain should get it into shape and really help the pass rush next year.
13. San Francisco: Anthony Davis, OT, Rutgers
Anthony Davis or Eric Berry? There's plenty of depth at safety, so San Fran opts to go with Trent. He'll give Alex Smith a boost on the line and may finally help him become worthy of the starting job.
14. Seattle: C.J. Spiller, RB, Clemson
Now is where Seattle takes a running back. Julius Jones needs to go, and C.J. will provide an excellent run game. With an amped up offensive line, he should get plenty of carries as a rookie.
15. New York Giants: Everson Griffen, DE, USC
Osi Umenyiora is injury prone, pissed off, and there's a major need on the defensive line. Eric Berry is a huge possibility, but I think they need to address their needs first.
16. San Francisco: Eric Berry, S, Tennessee
It's ridiculous Berry falls this far right? Not really. With the huge amount of lineman going, and teams filling their needs, Berry manages to fall out of the Top 15. San Francisco is thankful though, and 2010 is starting to look like a great year.
Round One: Picks 17-32 (Kimberly Nash)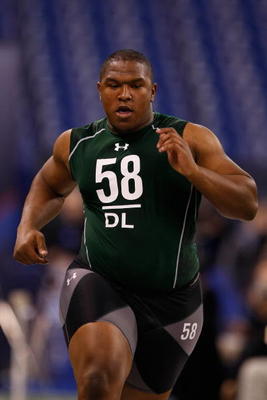 17. Tennessee: Jason Pierre-Paul, DE, USF
The Titans couldn't get their defensive line going all year. Pierre-Paul is fast, strong, and local. He will do the Titans a great deal of good.
18. Pittsburgh: Dan Williams, DT, Tennessee
The perfect replacement for the aging Casey Hampton. He's got good size and nice speed to go along with his overall attacking skills on the LOS. He's a perfect fit for the 3-4.
19. Atlanta: Sean Weatherspoon, OLB, Missouri
Weatherspoon is the quintessential Thomas Dimitroff pick. He's got nice upside and a tremendous work ethic. The Falcons are looking a little old at the linebacker spot and need to infuse some youth—Weatherspoon fits the bill.
20. Houston: Taylor Mays, S, USC
Mays, incredibly, falls to No. 20. Houston may need to boost their running game but their secondary is even worse. Mays is very athletic and very fast. He'll give the Texans a serious upgrade and may even make them an elite defense.
21. Cincinnati: Demaryius Thomas, WR, Georgia Tech
I know the talk is about a TE for the Bengals, but there isn't one that is first-round worthy and, honestly, I don't know that Chase Coffman (2009 pick) has been given a proper opportunity to show what he can do yet. The Bengals need a receiver and Thomas is a big target with playmaking potential. Period.
22. New England: Jermaine Gresham, TE, Oklahoma
The Pats need a linebacker but they also need a tight end. Based on Belichick's penchant for NOT drafting OLB's in the first round, I'm going to say Gresham has a better shot at being selected here. He's got decent size and excellent pass-catching ability. He'd be a nice target for Brady.
23. Green Bay: Trent Williams, OT, Oklahoma
Green Bay needs to replace Chad Clifton, who is starting to lose his edge. Trent Williams is a great fit and will keep pass rushers off Aaron Rodgers' back.
24. Philadelphia: Nate Allen, FS, USF
I don't know that the Eagles need to go DE. It's much more important that they get a safety of the future who will be able to contribute immediately as a spot starter in 2010. Nate Allen is as technically sound as they come and would be a nice fit in the Eagles' secondary.
25. Baltimore Ravens: Kyle Wilson, CB, Boise State
With their receiver troubles out of the way, the Ravens focus on the secondary. Kyle Wilson is unquestionably the best corner available, and will provide great coverage across from Lardarius Webb.
26. Arizona: Devin McCourty, CB, Rutgers
The Cards pass defense was a joke last season and McCourty would be a nice compliment to Dominique Rogers-Cromartie. He's got the attitude and the talent level to be a lock-down corner at the next level and is underrated at his position as a skill player in my opinion.
27. Dallas: Daryl Washington, LB, TCU
Although the O-line could use a boost here, the Cowboys could also stand to look towards the future and they are a bit thin at ILB. Washington has a ton of potential and could blossom under the tutelage of vets like Bradie James and Keith Brooking.
28. San Diego: Jonathan Dwyer, RB, Georgia Tech
LT was gone a long time ago and Darren Sproles is not the long-term answer—he never was. Dwyer is the perfect blend of size, speed, and pass-catching ability. Really, the only question here is Ryan Matthews or Dwyer.
29. NY Jets: Earl Thomas, CB, Texas
The Jets may want a WR, but they NEED another cornerback. Revis needs the help because, despite some evidence to the contrary, he cannot do it all. Thomas is a student of the game with great coverage skills and solid instincts on the field.
30. Minnesota: Dan LeFevour, QB, CMU
It's a bit early for this pick, but Brett Favre isn't going to be there forever and the jury is still out on T-Jax. LeFevour has the size, the arm, and the upside to fit perfectly with guys like ADP and Percy Harvin. He would be a year or two away but he's a gamble worth taking.
31. Indianapolis: Jared Odrick, DT, Penn State
The Colts have some holes but nothing that is so glaring that it could not be filled with some quality picks later. Odrick is as versatile as they come and could play anywhere on the D-line based on his athletic ability.
32. New Orleans: Sergio Kindle, LB, Texas
Scott Shanle isn't reliable, and with Sergio available, New Orleans is jumping for joy. They scoop him up and start preparing for a stellar defense next season.
Round Two: Picks 33-48 (Caleb M)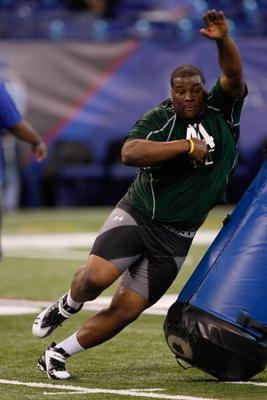 33. St Louis: Colt McCoy, QB, Texas
St Louis opted to go with Suh in the first round. Low and behold, there's plenty of quarterbacks available in the second round. McCoy will be the new face of the franchise and thus begins the slow rebuilding of the offense.
34. Detroit: Brian Price, DT, UCLA
After drafting Okung in the first round, they'll take Price to finish off the defensive line. Price is the best tackle available, and the Lions might actually have a really strong line heading into next year now.
35. Tampa Bay: Golden Tate, WR, Notre Dame
Antonio Bryant isn't worth it. The Buccs shouldn't resign him, and will be grateful Tate falls this far. Who knows, the Buccs might win a few with a decent receiver in hand.
36. Kansas City: Cam Thomas, DT, UNC
Kansas City also needs to draft a defensive tackle here. Round two may be full of trades, but if KC doesn't move up than Cam is their man. Ron Edwards just isn't getting it done, and Thomas fits the scheme.
37. Washington: Ryan Matthews, RB, Fresno St
Clinton Portis is done. He generally averaged less than four yards a game last season. The offensive line was part of the problem, but that's taken care of now. Their running game needs a fresh look, and Matthews provides that.
38. Cleveland: Dexter McCluster, WR, Mississippi
Cleveland is hinting at waiting to draft a quarterback. While this may seem stupid, it also means they won't select future bust Tim Tebow here. McCluster will go to the Browns as their future star receiver and give whoever their new QB is some options.
39. Oakland: Tony Pike, QB, UC
JaMarcus Russell is a bust. Anyone who says otherwise is in denial. Pike has a huge arm, some great pocket presence, and would fit well in the Raiders' scheme.
40. Seattle: Tim Tebow, QB, Florida
Tebow is the answer in Seattle. He fits the scheme, the coaches seem to like him, and he wouldn't start right away. Hasselbeck could "coach him up" a bit until he's ready to take the reigns. This would be the ideal situation for Seattle.
41. Buffalo: Tysol Alualu, DT, Cal
Honestly, they should try to trade up for a quarterback. But assuming they keep the pick, Tysol Alualu is their best option. Buffalo needs a nose tackle and Alualu would fill the need. He's a decent run stopper and would be a huge upgrade for the Bills.
42. New England: Damian Williams, WR, USC
The Pats will be grateful if Williams falls this far, as they need someone across from Randy Moss. Williams is fast, should fit their scheme well, and will give Tom Brady options at receiver.
43. Miami: Koa Misi, OLB, Utah
Miami looks to be running thin at linebacker. And they'll basically have no pass rush heading into 2010. Misi is a heavily underrated prospect in my opinion. He's fast for a linebacker, and should bring a pass rush presence the Dolphins need.
44. Tampa Bay: Corey Wootton, DE, Northwestern
Stylez G. White led the team in sacks last year with 6.5. He's not a good starter, and among the many holes on the Buccs team, defensive end has to be one of the biggest. Wootton is big, fairly fast, and should prove to be an anchor on the defensive front.
45. Denver: Jerry Hughes, DE, TCU
This may be a bit early, but Denver needs a defensive end somethin' fierce. Hughes may be a bit small, but he'll provide a good rush defense, something Denver was sorely lacking last year.
46. NYG: Brandon Spikes, ILB, Florida
Antonio Pierce isn't that great anymore, and Jonathan Goff struggled as well. The inside linebacker spot needs a serious boost, something Spikes can do. He was quite versatile at Florida and I think he could start right away in New York.
47. Carolina: Brandon LaFell, WR, LSU
Sure, you can blame Jake Delhomme all you want. But really, one of the main reasons he had so many interceptions is that he only has one legit target. LaFell will help the receiving corps a lot going into next year, and will help put Carolina back into a contending position.
48. New England: Brandon Graham, OLB, Michigan
After improving their receiving game with the additions of Gresham and Williams, it's now time to switch gears to the defense. New England doesn't have any good rush linebackers. They had just 31 sacks in 2009, which really needs to improve. Graham should do just that.
Round Two: Picks 49-64 (My Dad's Son)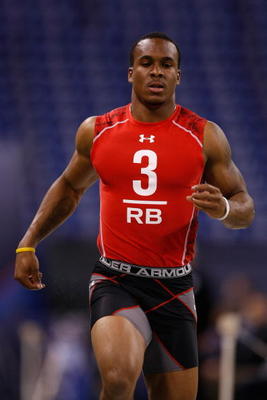 49. San Francisco: Jahvid Best, RB, Cal
Next on the list for the 49ers is the running game. The 49ers are really getting value for their dollar; in fact, they may have struck gold with Jahvid Best.
50. Kansas City: Chad Jones, S, LSU
With new additions in running back Thomas Jones and wide receiver Jerheme Urban, Kansas City now targets its impecunious secondary with safety Chad Jones. At 6'3", 231 pounds, Jones looks to bring some security to what was a dismal Chiefs defense.
51. Houston: LaMarr Houston, DT, Texas
After picking up a "value pick" with safety Earl Thomas, the Texans look to teammate LaMarr Houston, who has the big size and strength the Texans are striving to find.
52. Pittsburgh: Morgan Burnett, S, Georgia Tech
With fans and players yearning for at least a backup in the secondary, the Steelers take safety Morgan Burnett, hoping to add depth and someone to battle with Ryan Clark for the starting spot.
53. New England: Toby Gerhart, RB, Stanford
New England is inevitably one of the best teams when it comes to finding great value in the annual NFL Draft. Tom Brady (6th round), Randy Moss (traded via Oakland for 4th round pick), and Julian Edelman (7th round) are just a few examples of players taken with extraordinary talent for a cheap buck. Toby Gerhart will help out the running game and will be a terrific asset.
54. Cincinnati: Geno Atkins, DT, Georgia
With the release of defensive tackle Shaun Smith, the Bengals are in need of a big man in the middle to pounce on opposing quarterbacks. In a class that is arguably the best in the last ten years, Atkins is one of the more versatile and athletic defensive tackles in the draft.
55. Philadelphia: Ricky Sapp, OLB, Clemson
The Eagles will fill the void with outside linebacker Ricky Sapp, who appears to have brilliant instincts and should be a superstar for years to come.
56. Green Bay: Kareem Jackson, CB, 'Bama
Jackson has tremendous athleticism, cuts and moves very well, and most offenses are afraid to throw his way. He'll give the Packers' secondary a huge boost.
57. Baltimore: Rob Grankowski, TE, Arizona
The Ravens took care of their need in the secondary in the first round with cornerback Kyle Wilson. Now it's time to address the TE spot. Todd Heap is certainly not what he used to be, so it's time to upgrade.
58. Arizona: Charles Brown, OT, USC
If the Cards are really going to stick with Matt Leinart or Derek Anderson, they're going to need protection. Brown will do a fine job and will fill the hole at the line. Brown is definitely a steal at pick 58.
59. Dallas: Vladimar Ducasse, OG, UMass
Ducasse can play either tackle or guard, which is just what the Cowboys need right now. Tony Romo needs someone big covering his blindside, and Kyle Kosier is not the right man for the job.
60. San Diego: Dominique Franks, CB, Oklahoma
The Chargers have been a hot topic for free agency, and look to fulfill their many needs in this year's draft. Filling the void in what could become a lifeless secondary is cornerback Dominique Franks, who is underrated due to his size.
61. N.Y. Jets: Mardy Gilyard, WR, Cincinnati
The Jets' passing game was almost non-existent at times last season, which is why wide receiver Mardy Gilyard will be targeted here. Gilyard, if not a solid starter, will set up in the slot and be a great asset to quarterback Mark Sanchez.
62. Minnesota: Brandon Ghee, CB, Wake Forest
After taking a risk on LeFevour, the Vikes need to address their lacking secondary. Cedric Griffin will never be the same, and someone will have to step up. Brandon Ghee may be able to step into the starting role immediately, and keep the Vikes defense on track.
63. Indianapolis: Maurkice Pouncey, C, Florida
Twelve-year Veteran Jeff Saturday is 34, and stands as the only center on the depth chart. Pouncey has great size and blocking skills.
64. New Orleans: Eric Norwood, OLB, South Carolina
With Jonathan Casillas having only one year under his belt, and Scott Fujita gone to Cleveland, someone has to pick up the slack. Norwood's pass rush skill off the edge will be a great asset and will prove a vital role in blitz packages. With a blitz oriented system in New Orleans, Eric Norwood is the perfect fit.
Round Three: Picks 65-80 (Bret Feddern)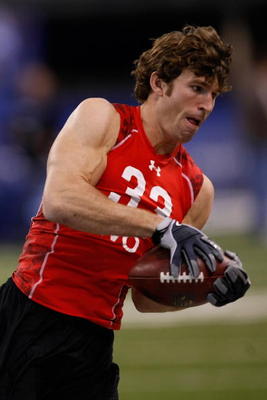 65. St Louis: Jordan Shipley, WR, Texas
If the Rams pick up a QB in the draft, they could try and pick up a receiver to develop along at the same time. Shipley has outstanding hands, and will provide a nice target for Bradford. Shipley also should solve the need at kick returner.
66. Detroit: Reshad Jones, S, Georgia
By the third round, the offensive and defensive lines should be good for Detroit. Now it's definitely time to turn to the secondary. Jones is the best safety available and would be a great compliment to Louis Delmas. They may also want to consider going running back here with either Montario Hardesty or Joe McKnight.
67. Tampa Bay: Alex Carrington, DE, Arkansas St.
Carrington has an excellent combination of size and athleticism. The Buccs need all the help they can get: Stylez G. White (yep, that's his name) led the team with 6.5 sacks last year. Something has to change.
68. Kansas City: Thaddeus Gibson, OLB, Ohio State
Gibson was one of the top performers in the bench press, the three-cone drill, and the 20-yard shuttle. He's a great rush linebacker, which is just what the Chiefs need (along with about 40 other things).
69. Oakland: Mike Johnson, OG, Alabama
The Raiders need help on the offensive line, and Johnson is a player that could step in right away and start playing. It's almost looking like the Raiders' quarterback next year (whomever that may be) will have some solid protection.
70. Philadelphia: Jermaine Cunningham, DE, Florida
Philly needs to pick up a dynamic pass rusher in the draft this year. If they can't get one in the first round, Cunningham would be a great pick here. He's fast, big, and could possibly step right into a starting role.
71. Cleveland: Taylor Price, WR, Ohio
Now that Cleveland has secured a quarterback in Colt McCoy, he'll need some targets. Price was superb at Ohio and should transition well into Cleveland as he stays right at home. Who knows, maybe Cleveland will be a half-decent team next year.
72. Buffalo: Jamar Chaney, ILB, Mississippi State
Chaney's stock is on the rise after his combine performance. Buffalo will be quick to pick him to help out on defense. Aaron Maybin is good, but they have no one else there. Aaron Schobel is old and hinting toward retirement, yet he still led the team in sacks last year. Chaney will be taken to fill the need.
73. Miami: Arrelious Benn, WR, Illinois
Miami will need to upgrade their wideouts this offseason. Ted Ginn, Davone Bess, Greg Camarillo, and Brian Hartline are all good, just not great. Benn may be a first year starter in Miami.
74. Chicago: Jon Asamoah, OG, Illinois
The Bears are familiar with Asamoah, and could use his skills on OL. The offensive line isn't too shabby, but Frank Omiyale is a disaster at guard. Asamoah may put the final piece of the puzzle together.
75. Jacksonville: Matt Tennant, C, Boston College
Jacksonville has quite a few needs. Supposing they keep this pick, a center is what should be taken here. Brad Meester can't open up running lanes anymore, and he desperately needs replacing. Tennant would be a good fit.
76. NYG: T.J. Ward, S, Oregon
The Giants got beat over the top way too many times last year. T.J. is a great coverage safety and will be a good boost for the Giants. He may not start immediately, but he'll be a threat a few years down the road.
77. Carolina: Rodger Saffold, OT, Indiana
Keydrick Vincent is the weak link on the Panthers offensive line. Saffold should contend for the starting job right away and give their new quarterback some good protection. They may have to switch some things around, but Saffold is a steal here and the Panthers can't afford to pass him up.
78. Tennessee: Patrick Robinson, CB, Florida State
Robinson could develop into a great pass defender for Tennessee. Nick Harper can no longer perform like a starter and someone has to replace him. Robinson looks like the right guy.
79. San Francisco: John Jerry, G, Ole Miss
Alex Smith isn't a great quarterback. He's barely any good. But if he's ever to prove himself otherwise, the offensive line needs an overhaul. Trent Williams and now John Jerry should help provide that. And with a new running game with Jahvid Best, the 49ers may have a whole new team next year.
80. Denver: Chris Cook, CB, Virginia
Cook has potential and could be a good backup defensive back for the Broncos. Andre Goodman and Ty Law won't be able to keep this up. Cook will eventually be the starting man in Denver.
Keep Reading