Philadelphia Eagles: Players Impacted by Free Agency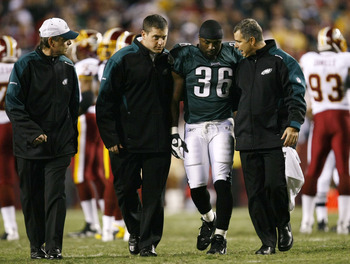 Since Free Agency began for the 2010 season, the Philadelphia Eagles have made several veteran player cuts, many of whom are coming off of injury or simply haven't contributed in recent year(s). I'm not sure there were no surprises regarding the players who left the Eagles, disappointments yes, but no surprise!
The following slideshow will show players the Eagles have decided to part ways with thus far and we'll look at some of the numbers and contributions of those players during their time here in Philadelphia. We'll begin with the legend Brian Westbrook.
HB Brian Westbrook—Two Pro Bowls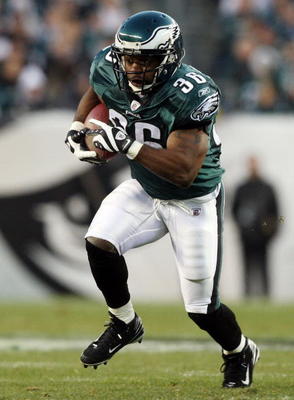 What can I say about an icon at the HB position in the Eagles organization. One of the toughest players at the positions, enduring knee surgeries and concussions, but still battles on.
Westbrook came into the league in 2002 and many said he wouldn't amount to anything more than a third down back or he was "too small."
Westbrook made everyone who doubted him eat their words. His 2009 numbers were dismal at best but he has been the man who has carried the Eagles on his shoulders for a long time.
Battling knee injuries over the past few years combined with the series of concussions he had in 2009, teams are being very analytical when thinking of bringing him on their squad.
I honestly can't believe that nobody has picked him up yet.
In 2009 Westbrook amazed 274 yards on 61 attempts (4.5 YPC) for a touchdown and also had 181 yards on 25 catches (7.2 YPC) notching in a touchdown in that category as well.
If Westbrook can get healthy and stay healthy, those numbers actually are pretty darn good for a 30 year old HB who has taken a beating in his career.
Here's a look at Westbrook's career rushing and receiving stats:
RUSHING:
ATT—1308 YDS—5995
AVG—4.6
LONG—1
TD—37
RECEIVING:
REC—426
YDS—3790
AVG—8.9
LNG—62
TD—29
G Shawn Andrews—Two Pro Bowls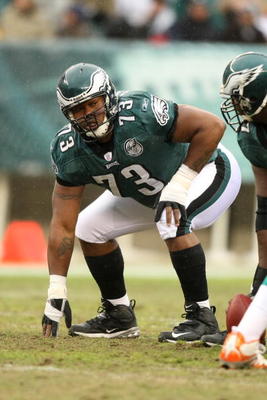 Eagles used their first pick in the 2004 draft (16th overall) on Shawn Andrews and he quickly made a name for himself in the NFL. He has earned such honors as being an All-Pro while also making two Pro Bowl appearances in 2006 and 2007.
As quickly as he made a name for himself however, he destroyed it in a blink of two seasons.
Andrews played a pathetic two games in the last two seasons due to suffering for injuries like the broken leg in the opener of his rookie season, and then the pair of back injuries coupled with his depression.
This along with his off the field affair for YouTube videos, Andrews has quickly become a joke in the league.
With that said, I have no doubt in my mind Andrews will sign with another team, although the other team should take caution before signing Andrews.
How much do you pay a guy that is proven to have a history of injury and depression and one who also seems to have other dreams than play in the NFL?
Time will tell but I don't see any team signing him to a huge contract for the 2010 season. He might get a year or two so the team can "test the waters" before making a final decision.
LB Will Witherspoon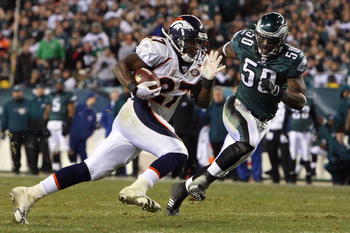 When Stewart Bradley went out for the season during the Eagles "FLIGHT NIGHT" last year, the Eagles knew they had an immediate hole at the linebacker position.
They allowed a combination of other players to try and hold the fort down while Bradley was out but nobody took advantage of their time so the Eagles sparked a trade with the Rams that sent rookie WR Brandon Gibson and a 2010 draft pick in exchange for Witherspoon at the trade deadline.
In 2009 Witherspoon had a total of 79 tackles, 11 Ast, one FF/FR, and one INT.
He has signed a contract with the Tennessee Titans.
In his first game as an Eagle, the fans thought they were going to be able to relax when Witherspoon made an INT and returned it for six, but as the season continued he made a gradual decline in making plays.
Given the amount of money the Eagles would've needed to pay him to keep him the Eagles have smartly decided to part ways.
WR Reggie Brown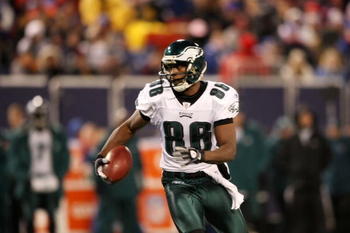 On March 8, 2010 Brown was traded to the Buccaneers in exchange for a 2011 Sixth Round draft pick.
Fair trade for a veteran WR who has fallen down the Eagles' depth chart since the arrival of players like DeSean Jackson and Jeremy Maclin. Throw in the fact that Jason Avant has emerged as a go-to threat on third and whatever...Jason gets it done!
So Brown takes a ride south to Florida but he's hoping his career will do anything but go south.
He will most likely get an opportunity in training camp to finally become a starter in the NFL and looking at the Bucs core of WR's.
I can't see it being too hard for him unless they decide to draft one in the early rounds.

2009 STATS
REC—9
YDS—155
AVG—17.2
LNG—43
TD—0
WR Kevin Curtis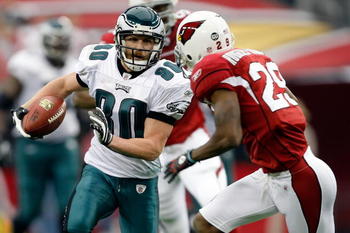 Curtis arrived in Philadelphia in 2007 and I personally, don't know anyone who was jumping out of their seats over that deal.
He did however, open some eyes when he became only the second player in the Andy Reid era who surpassed the 1,000 yard marker in reception yards in a single season. So what happened?
A Sports Hernia is what happened.
The injury claimed playing time to many other Eagles players in the last 10 years but Curtis is the only one who is taking more than a season to get back on the field.
Like fellow veteran WR Reggie Brown, Curtis also put up some pretty sore numbers in 2009 but at least he tried.
Injuries just kept him out for basically a second season and at that point he became expandable.
I wish Kevin well where ever he lands up!
DE Chris Clemons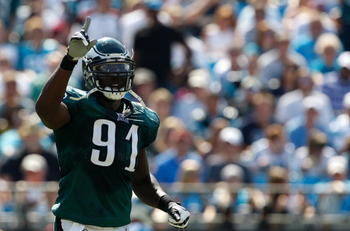 This was really a no-brainer in my opinion.
Clemons was sent to the Seattle Seahawks coupled with a 2010 Fourth Round draft pick in exchange for DE Darryl Tapp.
Clemons was a situational pass rusher at his best and what the Eagles got in return is a much more promising player and hopeful compliment to RDE Trent Cole.
2009 STATS:
TOT—11
SOLO—8
AST—3
SACK—3.0
STF—1
STFY—1
FF—0
BK—0
INT—0
DE Darren Howard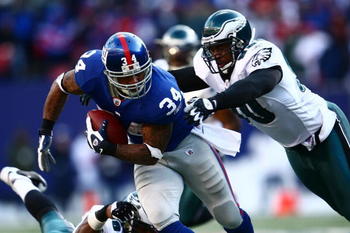 Howard is a decent defensive end. I don't think he will have to much trouble landing another job in the league.
His release was due more to the contract extension of DE Darryl Tapp. which is unfortunate because Howard was due to be paid a 1 million dollar bonus if the Eagles didn't release him.
In 2009, Howard recorded 6.5 sacks and notched 10 sacks the year before. There are teams in the league that are in need of pass rushing help but he's not the youngest of players entering his 11th season.
2009 STATS:

TOT—24
SOLO—21
AST—3
SACK—6.5
STF—2
STFY—3
FF—2
BK—0
INT—0
Jason Babin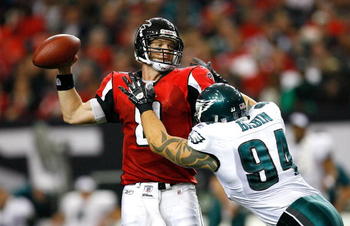 In 2009 as the Eagles relentlesly tried to find Trent Cole's compliment the Eagles brought in DE Jason Babin. Babins numbers were not where they needed to be in order for the Eagles to resign him so they let him go to sign in none other than the Titans.
Babin never really had a break out season since entering the league and his best season in terms of sacks came in 2006 when he was on the Houston Texans roster where he put up 5.0 sacks. Every year he plays in the league, which he is going into his sixth season, his numbers decrease. Will he be a force in Tennessee, I don't see it but they did acquire a nice backup in Babin.
His numbers as an Eagle justify why he is no longer an Eagle playing in twelve games he registered 2.5 sacks!
Keep Reading

Philadelphia Eagles: Like this team?