NCAA Tournament Sweet Sixteen Predictions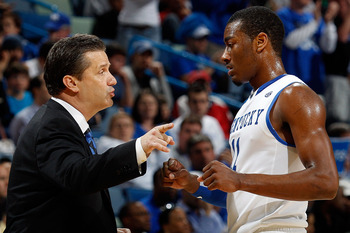 The first two rounds are in the books, with four to go.
Top seeds are out (Kansas), underdogs are fighting and triumphing (Cornell), and March Madness becomes as maddening as possible tomorrow. That's when we see which teams will unleash their full potential, and which top seeds actually deserved their spots in this bracket.
No matter the matchup, the situation, or the upsets, the Sweet Sixteen may be the hardest part of March Madness to predict accurately every year; in the first two rounds, the most potent teams usually dominate, while in the later rounds, many teams that don't fully deserve to be there collapse. This makes the next two days a frenzy for all teams and bracket holders.
What I will attempt to do is to pick the winner of all the matchups that are to be played tomorrow, as well as the score, and why.
9 Northern Iowa vs. 5 Michigan State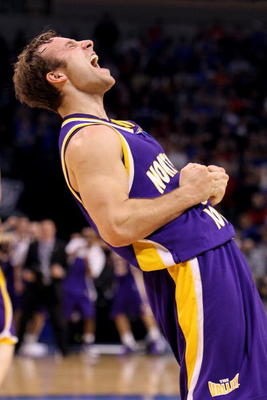 74-70 N. Iowa
To be brutally honest, I had scarcely heard of N. Iowa before they upset Kansas with the help of Ali Farokhmanesh's strange yet ultimately back-breaking play.
Though unknown, this team may be the most glorified in the tournament so far, as that game-clinching three proved to be a shot "heard 'round the nation."
Michigan State entered the tournament as an under-seeded team, one that catapulted their way into the championship game last year. Yet, there they were, down one against somewhat-favored Maryland, with eight seconds to go and much less momentum. A strange play then ensued; the relatively unknown Cory Luscious hit a dagger of a three, leaving the whole stadium in a wild frenzy.
This leaves us with perhaps the biggest Cinderella-hopeful of the tournament in Northern Iowa against perhaps more talented Michigan State.
Yet, through a complete momentum swing, (Northern Iowa beating Kansas in the stunner and Michigan State almost blowing a late sixteen point lead), the Panthers will take slight control in this game, somehow tipping them into the Elite Eight.
Don't be surprised if Ali has something to do with it—again.
6 Tennessee vs. 2 Ohio St.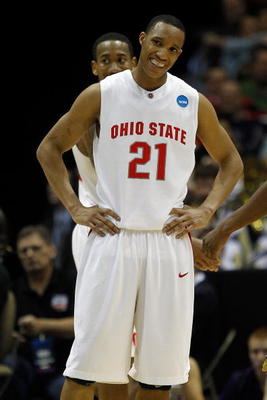 88-73 Ohio State
Though Tennessee has fairly easily pushed themselves into this third round, take one look at their competition (a weak No. 11 seed in SDSU and a No. 14 seed in Ohio) and it doesn't look merely as impressive.
Tennessee doesn't have an alpha dog, which in due course should weaken them against perhaps the alpha dog of the year in Ohio State's Evan Turner.
Turner and his team pulled out an easy win in the first round, and then a less-convincing one in the following round, yet still stomping over Georgia Tech at many times in the game. Turner has been AMAZING this tournament, somehow outdoing his regular season performances.
This leaves us with an easy, high scoring game, as Ohio St. continues to soar.
1 Syracuse vs. 5 Butler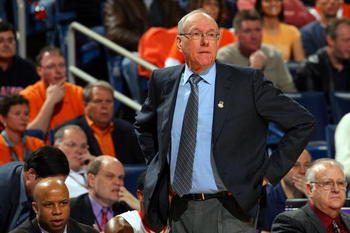 79-73 Syracuse
Syracuse and Butler face off in what should be an ideal match up for true fans: a fantastic defensive team against perhaps the best offensive one. Syracuse has blown out competition recently, dominating defensively.
On the other side, Butler has had great FG percentages, assists, and have beaten both of their past matchups due with offense (Though the game against Murray St. was WAY to close, and an offensive disaster.)
Wes Johnson is perhaps the best shooting guard in the nation, and might just prove too good on both sides of the floor, generally guarding the best perimeter player on the opposing team, eventually leading Syracuse to a rough victory.
Unless you happen to be oblivious to the game Syracuse plays, Johnson plays his greatest in crunch time, whereas Butler struggles in the same situation.
For these reasons, Syracuse shrugs out a six point win against Butler.
6 Xavier vs. 2 Kansas St.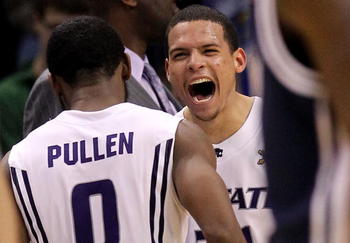 79-67 Kansas St.
Though both teams are unknown to me and probably the general public, and both are surprising in their high rank and their high level of play, they have made their way here, to the Sweet Sixteen, and prove to create a nice match up.
Xavier, if you watched their games, probably shouldn't be here. They toughed out the game against Pitt, with some late game questionable calls, and won by three.
Yet, Kansas St. has blown out their opponents in both of their games, showing why it is the first time they have made the Sweet Sixteen in 22 years.
Kansas St. has superior talent and should win this game fairly easily, but don't be surprised if their journey ends subsequent to that match.
1 Kentucky vs. 12 Cornell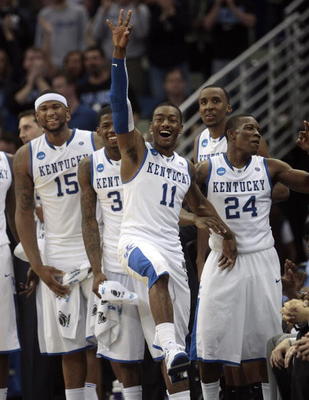 89-82 Kentucky
Looking at the match up should be enough said.
An Ivy league team with no true NBA talent? Playing Kentucky—possibly the best team in the nation with at least three or four NBA-ready players? Playing each other in a third round game?
This should be a blow out, a massacre...but momentum and butterflies swing harder than ever in March.
Cornell has beaten the five and four seeds, giving them perhaps the most fire of all. And Kentucky's will might just push them to the brink of nervousness as they may be scared to lose.
Cornell has nothing to lose, Kentucky has everything.
Still, talent beats out fire in this game, with John Wall and DeMarcus Cousins proving too much in the victory.
11 Washington vs. 2 West Virginia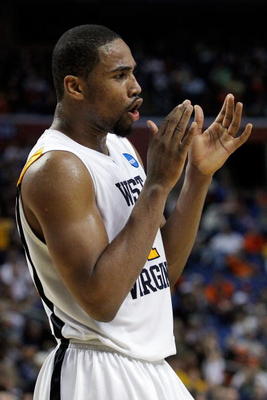 80-65 W. Virginia
Before we begin the dissection of the matchup, where the hell did Washington come from? This is a team with no real talent, no true coach, no intact fire—yet they beat Marquette in Round One and demolished a No. 3 seed (New Mexico) in Round Two. True talent has truly panned out for them in the prior games.
West Virginia demoralizes opponents with offensive rebounds, which could easily and quickly become the Achilles heel of each of their opponents. Da'Sean Butler is quietly the best player on the court 90% of the time, and scores "loud" points.
In what should be an easy victory, Washington can't continue wearing the glass slipper, quietly handing it over to West Virginia.
1 Duke vs. 4 Purdue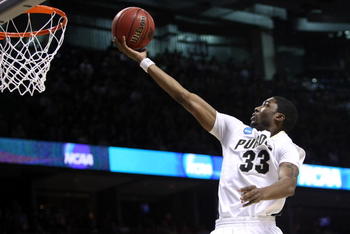 74-73 Purdue
An over-seeded team against an under-seeded team, both playing for only pride on the line.
Duke has had virtually no trouble in their first two games, whereas Purdue seemed lost in their second one.
Then again, so did E'Twaun Moore. And he's never lost for long. One of the most underrated players in the nation, and a player with NBA star-like talent at guard, Moore has held Purdue's head high the whole season.
On the other side of the court, Duke will boast their big three, yet nothing else.
Purdue has a deep bench, one deep star, and deep, deep defense. Defense will silently become the X factor in this game for Purdue; that and Moore's buzzer beating jumper.
3 Baylor vs. 10 St. Mary
3 Baylor vs. 10 St. Mary's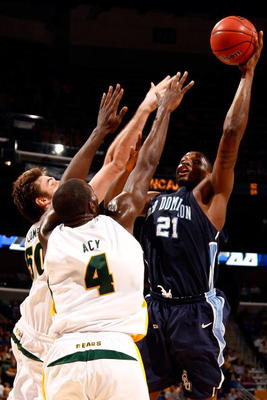 81-61 Baylor
St. Mary's is quietly becoming the most overrated low seeded team of the tournament, and will become the spoof of the third round as both teams show their true color. Baylor's front court is way too much to handle for an inadequate and inexperienced team.
Look at the match up.
Baylor could be placed as high as a two seed, and Mary's shouldn't be here at all.
Keep Reading