TNA Destination X: Match Card + Predictions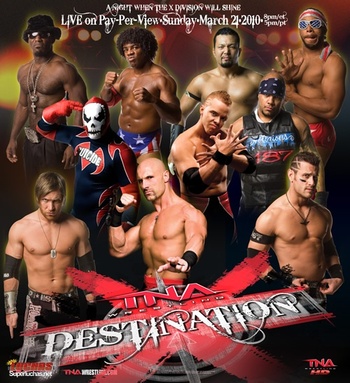 Hi guys I'm going to give you my opinion on the Destination X Pay Per View as well as the full match card and my predictions on who's going to win and who's going to lose tonight. Fell free to post your opinion by writing comments as well as your own predictions. Thanks for reading. Now let's see the slideshow for the matchcard...
Scott Hall & Syxx-Pac VS Kevin Nash & Eric Young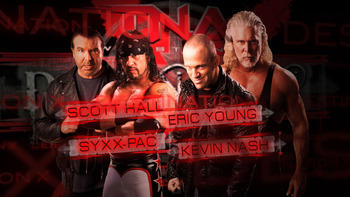 This match is really personal as Hall and Syxx Pac turned on their friend Nash and E.Y. has stepped in to help Nash to try get Hall and Syxx-Pac out of TNA for good. Let me break down the competitors:
Scott Hall: One of the most charismatic and talented superstars of the 90s, Scott Hall is a shoe-in for the Hall Of Fame. But unfortunately his terrible condition still raises a question mark on whether he's gonna put on a reasonable perfomance here. He's gonna be the one to watch in this match.
Syxx-Pac: Pac on the other hand is in pretty good and his lethal kicks and skill are gonna be the advantage for The Band.
Eric Young: In my opinion with the way E.Y.'s character has transformed I think he should be completing his Grand Slam by challenging AJ but he's gonna be a big threat for The Band as he has the advantage of youth over his opponents.
Kevin Nash: Another definite Hall Of Famer Big Sexy might not be in the shape he was as Diesel but he can still put on a better show than Scott Hall and his size will be the advantage for his team.
Final Prediction: I got three words: WATCH SCOTT HALL. He might be the least physically equipped than anyone else in the match but his tactics will land him and Syxx Pac big money contracts in TNA.
Mr. Anderson VS Kurt Angle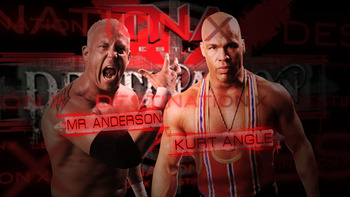 I like the way this match has been built up as it's becoming a personal rivalry which is sure going to be a bloody battle.
Mr. Anderson: Either win or loss this match is good for Mr. Anderson. He needs his well deserved shot at the World Title and going up against a multiple time world champion is gonna be a great show to watch.
Kurt Angle: The Wrestling Machine has another brash and arrogant young gun trying to make a name off of him trying to take his spot which means we're gonna see a great match. Remember Desmond Wolfe? If you do then we're in for a great match.
Final Predictions: Anderson might have the psychological advantage over Angle but Kurt is going to show Mr Anderson why he's one of the best so I'm rooting for Kurt.
Ladder Match For X Division Title:Kendrick VS Daniels VS Red VS Kazarian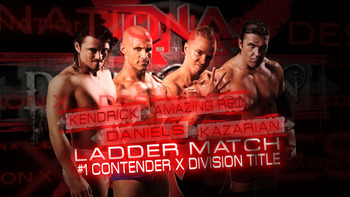 I would have wanted this one to be an Ultimate X Match but a Ladder Match will be just as good. If you put two X Division veterans and two X Division new blood and ladders you know this is going to be insane. Daniels has the advantage experience wise and Red is the fastest in this one but Kaz has held the X Division title multiple times and Kendrick was part of the WWE Cruiserweight Division.
Final Prediction: I feel Daniels has already given enough to the X Division and deserves a World Title reign, This doesn't feel like the time for Amazing Red and Kendrick's a bit too unpredictable so I'm going for Kazarian to win and get a well deserved X-Division championship match.
Ultimate X #1 Contenders Match For Tag Team Titles: MCMG VS GEN ME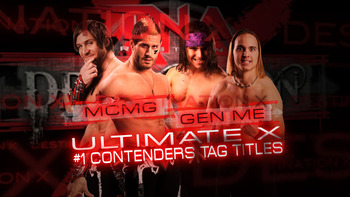 This match has been a long time coming. The day I saw Gen Me in their debut against MCMG I saw their amazing skill and in ring ability and one day they would have to go on that X. This match is a original TNA innovation and a Destination X tradition and Chris Sabin and Shelley are one of the reasons the X Division is the X DIVISION and that they are not going to go down without amazing us.
Final Prediction: Gen Me are gonna put on a great show but MCMG know the X too well and they deserve the shot more so I'm rooting for the Machine Guns
TNA Knockout Championship: Tara(C) VS Daffney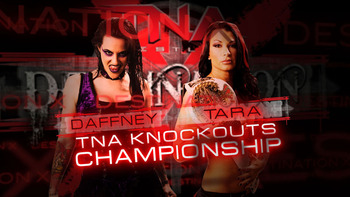 Daffney scares the hell out of me and she is really hardcore and brutal so Tara is gonna have her hands full.
Final Prediction: Dr Stevie should be instrumental in this match so I'm rooting for Daffney to win the TNA Knockouts Championship.
TNA World Tag Team Championship: Hernandez & Matt Morgan VS Beer Money
I don't know why Super Mex and Morgan were formed as a team but at least Beer Money will prove themselves and with these 4 amazing competitors in a match this is going to be an amazingmatchup.
Final Prediction: Beer Money will take their spot as the best tagteam in the world and will walk out with The TNA World Tag Team Championships.
TNA Global Championship Match: Rob Terry(C) VS Brutus Magnus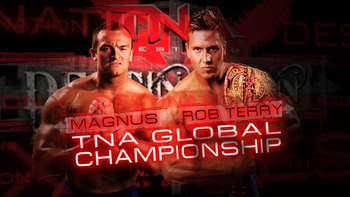 Brutus Magnus is not only looking to win championship gold like Doug has but to prove that Terry made a mistake leaving the British Invasion but Terry will want to punish and destroy Magnus so this is going to be a great match between two of Europe and the world's top talents.
Final Prediction: Magnus will be a huge problem but Terry's rage will leave Magnus bruised and battered as Terry will walk out still Global Champion.
TNA X Division Championship Match: Doug Williams(C) VS Shannon Moore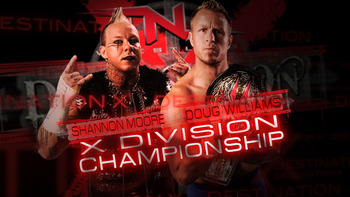 Doug Williams is an amazingly talented veteran and his skill has brought back life into the X-Division and he's proven he could have done it without Terry's title shot. Moore is very unpredictable and I don't know why he's got the shot but he's gonna put on a great show against the best in the X-Division.
Final Prediction: Doug is on the roll of his life and doesn't look like he's gonna be stopped. So expect to see the amazing Chaos Theory Suplex and Doug Williams retains and has a long reign over the X Division.
TNA World Heavyweight Championship Match: AJ Styles(C) VS Abyss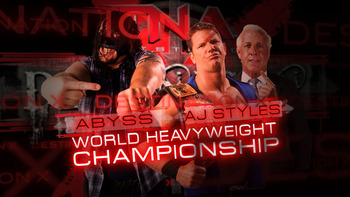 Abyss has finally gotten back to the World Title race and this time its against his old rival AJ Styles. I don't buy into this stupid ring stuff but I think with or without it Abyss will give AJ a run for his money. AJ is truly in his prime now and thanks to Naitch AJ now has a personality and is on the roll of his life.
Final Prediction: Like I said, you can't be better because of a ring and Flair will be the X factor in this match so I'm rooting for AJ in this one and then get prepared to see AJ VS Pope in A Cage At Lockdown.
Thanks for reading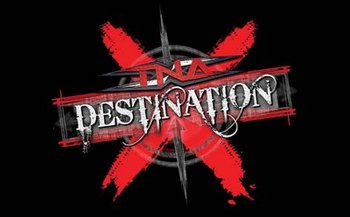 Thanks for reading and feel free to comment and post your own predictions.
Keep Reading