The 2010 FIFA World Cup: Supporters of Five Countries You Should Avoid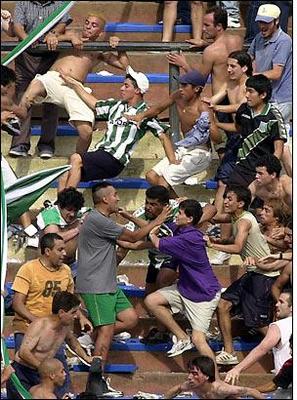 The "Greatest Show on the Planet," i.e., the FIFA World Cup gets underway in South Africa starting June 11, 2010. The World Cup will see hundreds of football lovers from all around the globe throng the Rainbow country to witness the biggest spectacle of all.
It will be a month long festival in Africa celebrating the "Beautiful Game."
But as the saying goes, "every good thing is followed by something bad."
The World Cup, along with its joy and entertainment, also brings football hooligans from all around the globe together.
Football has seen hooliganism from its early years and every World Cup has seen some form of hooliganism. Some have been severe and some been mild.
Here we will look into the five countries—participating in the World Cup—whose supporters are labeled most notorious. Rival fans of these countries better stay away from them.
No. 5 Serbia: Land of Grobari and Delije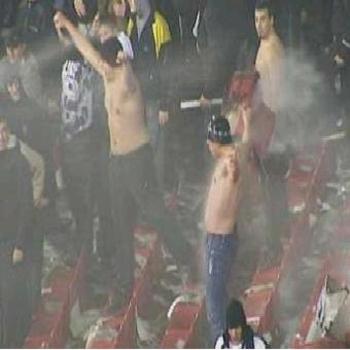 Serbia has been a hot bed of football vandalism and notoriety. The supporters of the two Serbian clubs, Red Star Belgrade and FK Partizan, also known as the Delije and Grobari, have been associated with numerous instances of vandalism and riots.
Supporters of a lesser known Belgrade club, FK Rad, locally named "United Force" are known to be supporters of Nazi ideas. They also have been involved in various riots and violent activities.
Although, in all their previous appearances in the World Cup, there has not been much violence associated with the Serbs , it is better to avoid confrontation with them. The Grobari's have recently been involved in a murder case where they beat a rival club's fan to death.
No. 4 Spain: Fiercely Racist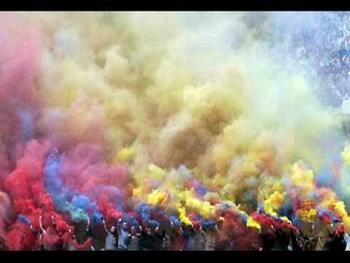 Though the Spanish supporters may look very amicable and hospitable they are very different in a football field. The Spanish supporters are allegedly racist and there have been numerous occasions where black players have been subjected to racial slurs.
In recent games between England and Spain the likes of Ashley Cole and Shaun Wright-Phillips have been subjected to racial abuses. There have been numerous cases in club football where violence has erupted between fans of rival clubs leading to the death of many people.
Although there have not been numerous instances where Spanish fans resorted to violence during World Cup , due to their racist behavior they are a threat to the peace. It will be best for black supporters coming to the World Cup to avoid Spanish spectators.
No. 3 Italy: Beware of the Ultras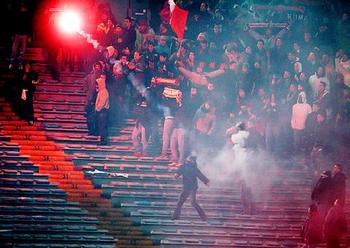 The land of the mafia is also a top spot of football hooliganism. The fans of rival clubs reportedly use knives, bats, and firearms to fight each other. Numerous cases of fan deaths has been caused due to such violence.
The Roman Ultras are the most prominent hooligans in Italy. Their passionate visual and vocal displays in football matches along with their use of fire crackers create an electric atmosphere in the field.
Italian fans are infamous worldwide due to their riot acts and violence during the World Cup, club matches, and internationals. Numerous deaths have been reported due to such vandalism and riots occur every year. The worst act happened in 2001 in a Champions League match between AS Roma and Liverpool where five Reds' fans were stabbed.
Confrontation with Roman Ultras are best avoided. They are alleged to carry knives, explosives, and firearms with them. So a riot act is always waiting to happen. Organizers of any football events dread Italian supporters.
No. 2 Germany: Stay Away!!!!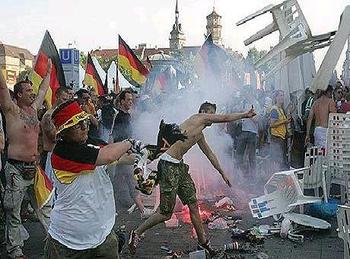 Hooliganism has been linked, in Germany, to neo-Nazism and far right groups. They are regarded as very dangerous. During international matches involving the national team or German clubs, police remain at high alert wherever such matches are played.
German supporters have been linked to numerous acts of vandalism and hooliganism in World Cup play as well. During the 1998 FIFA World Cup in France, after a match between Germany and Yugoslavia, a French police officer was beaten nearly to death by German supporters. Another German fan was arrested on grounds of attempted murder.
In 2005 during a match with Slovenia, German supporters fought police and resorted to widespread vandalism.
They are also racist at times. During the 2006 World Cup in Germany the organizers expressed their concern about "their own thugs." After a match against Poland, which Germany won, there was widespread violence by German supporters. Many German supporters were arrested for throwning chairs, bottles, and firecrackers at policemen and rival supporters.
Given their notorious reputation, it is wise to avoid the Germans during a match.
No. 1 England: Nightmare for Rival Supporters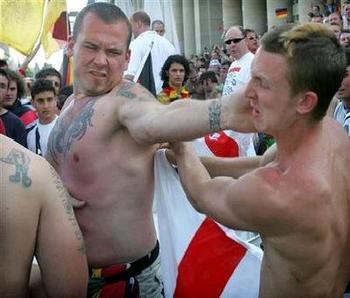 The picture above enumerates the reputation that England football fans carry with themselves.
England is known as the birth place of hooliganism. Clashes among rival clubs' supporters slowly transformed into full fledged organized vandalism and rioting. The '80s saw the emergence of organized hooliganism firms like Arsenal's Gooners, Chelsea's Headhunters, Manchester United's Red Army, Liverpool's Urchins, and many others.
Although the vandalism has declined drastically, it is still not over. Wherever the hooligans go they leave a trail of destruction in their wake. It has been researched and found that most English hooligans are in their late teens or early 20s. Older hooligans usually take part as leaders. The hooligans come from working class backgrounds or are working in the gray market or are unemployed.
The English hooligans have been held responsible for causing mayhem and vandalism in numerous international or club level football competitions. The worst was the "Heysel Stadium disaster." Thirty nine Juventus fans were crushed to death when Liverpool fans charged towards them during the European Cup Final in 1985, which saw English clubs banned from European competitions until 1990.
Though in recent years such mayhem and vandalism has seen a decline, English hooligans are a cause of worry for football organizers wherever they travel. Any form of confrontation may lead to an act of violence. So it is better to leave alone the English fans and not enter any arguments or fighting.
Keep Reading