Liverpool Lose Again, But There May Be A Silver Lining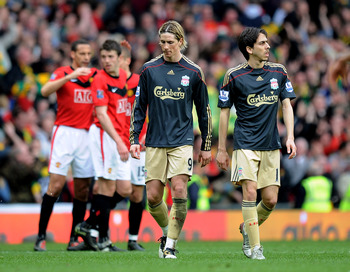 Liverpool have now reached double figures in their number of Premier League defeats this season. Such is the disaster of their year that they now lie in a desperate position of possible loss.
Arsenal, Chelsea and Man Utd have run away with the title fight. Instead Man City, Tottenham and Aston Villa are Liverpool's main competitors for the fourth and final Champions League spot.
Some may say that this is the end of the big four. They may turn out to be right, as all three of Liverpool's current rivals have games in hand that could leave Liverpool at least five points away from their usual spot.
Yet for the Anfield faithful we must remember that all is not lost. There are many games remaining and those who recognise the opportunities existing in the fixture schedule will do themselves a great deal of good.
One look at the final games for Villa, City and Tottenham is enough to wipe away much of the depression afforded to Liverpool this year. It can alternatively add a bout of optimism to creep into the minds of the Merseysiders' followers.
Manchester City look likely to dispose of Fulham at the time of writing so the excruciatingly evident table as it stands will look like this by the end of the day:
4th Tottenham – Games 30 Points 55
5th Manchester City – Games 29 Points 53
6th Liverpool – Games 31 Points 51
7th Aston Villa – Games 29 Points 50
It's not nice reading is it? So can Liverpool really claim their place in the big four that they have become accustomed to with the arguably more advantageous position to those around them? Here are my predictions for the remainder of the season.
Part 1: 24th – 29th March Fixtures
Aston Villa play two of their games in hand, but will surely come unstuck away to Chelsea who will put in their best efforts to consolidate their grip on the title. It is unlikely that they can repeat their heroics from the return triumph earlier this season. They should be able to record an easy win over mid-table Sunderland to achieve something from this week.
Manchester City face a resurgent Everton team who could possibly halt their challenge. They were beaten by the Merseyside outfit earlier in the season, with a draw the realistic outcome of the reverse tie. But then they should record a winnable score at home to Wigan on the Monday.
Tottenham and Liverpool have one solitary match apiece and both should take victories against a doomed Portsmouth and Sunderland respectively.
Wed 24th – Aston Villa vs Sunderland (Villa win)
Wed 24th – Man City vs Everton (Draw)
Sat 27th – Chelsea vs Aston Villa (Chelsea win)
Sat 27th – Tottenham vs Portsmouth (Tottenham win)
Sun 28th – Liverpool vs Sunderland (Liverpool win)
Mon 29th – Man City vs Wigan (Man City Win)
Liverpool could therefore gain ground on Villa, with Tottenham and Manchester City still within reach.
Positions After:
Tottenham – Games 31 Points 58
Man City – Games 31 Points 57
Liverpool – Games 32 Points 54
Aston Villa – Games 31 Points 53
Part 2: 3rd – 4th April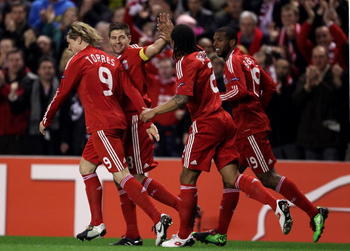 A tricky tie for Villa may result in defeat or a draw, whilst Manchester City will look to enact defeat on Burnley who held them to a 3-3 draw in their previous meeting.
With this week I'm also going to take a risk on predicting a Tottenham draw as Liverpool can hopefully get the better of a Birmingham side who have proved difficult for them in recent years.
3rd – Bolton vs Aston Villa (Draw)
3rd – Burnley vs Man City (Man City win)
3rd – Sunderland vs Tottenham (Draw)
4th – Birmingham vs Liverpool (Liverpool win)
Before Liverpool's main competitors face greater opposition they can hopefully take advantage of the three awkward matches Villa, City and Tottenham will play.
A defeat here for Liverpool could spell disaster, but with Torres back in action their away day at Birmingham should prove fruitful. The result could therefore be an ever closer Liverpool side, who can then look to take over in the forthcoming weeks.
Man City – Games 32 Points 60
Tottenham – Games 32 Points 59
Liverpool – Games 33 Points 57
Aston Villa – Games 32 Points 54
Part 3: 10th – 14th April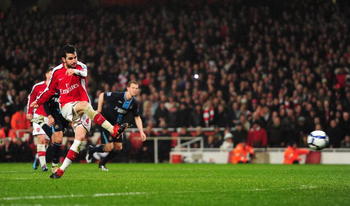 Manchester City should continue their winning ways in this weeks game at Birmingham and could subsequently seize the fourth place spot comfortably at this stage.
Villa have struggled against mid table teams more than the others so I do not expect them to gain victory at home to Everton.
Tottenham also are unlikely to succeed against the elevated Gunners. So again it gifts the chance for Liverpool to take the advantage with a victory at home to Fulham, which is more than accessible.
10th April: Tottenham vs Arsenal (Draw)
11th April: Liverpool vs Fulham (Liverpool win)
11th April: Man City vs Birmingham (Man City win)
14th April: Aston Villa vs Everton (Draw)
Unless Villa gain something from this weekend it may spell the end of their campaign. An approximate eight point deficit just may be too much to overcome.
Again there are worries that Liverpool will fail to conquer their potential Europa League rivals. A win would do wonders though.
Man City – Games 33 Points 63
Tottenham – Games 33 Points 60
Liverpool – Games 34 Points 60
Aston Villa – Games 33 Points 55
Part 4: 17th – 21st April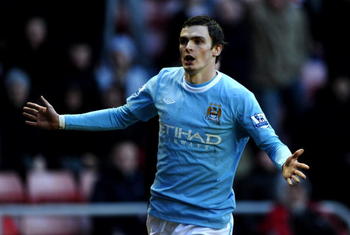 The match of the week will undoubtedly be the Manchester derby. Pride will be at stake but so will be the title aspirations for United, and similarly the Champions League credentials of City.
City have enacted a great deal of harm to the Red Devils' campaign in recent years, and in this match I expect no less. They may not win but a draw could well be on the cards.
Tottenham should fare better against Chelsea than their earlier thrashing by the blues. A draw needs to be salvaged in their match. A defeat can be avoided.
Villa should return to winning ways with away fixtures against probable Championship sides for next season, Portsmouth and Hull.
Liverpool face yet another low threatened challenge at home to West Ham that could allow them back to back wins.
17th April: Man City vs Man Utd (Draw)
17th April: Tottenham vs Chelsea (Draw)
18th April: Portsmouth vs Aston Villa (Villa win)
19th April: Liverpool vs West Ham (Liverpool win)
21st April: Hull vs Aston Villa (Villa win)
Despite having a game in hand Liverpool could find themselves within a win from fourth place. Villa could reignite their assertion to the position with wins, leaving just three points and only a handful of fixtures to play.
Man City – Games 34 Points 64
Liverpool – Games 35 Points 63
Tottenham – Games 34 Points 61
Aston Villa – Games 35 Points 61
Part 5: 24th – 25th April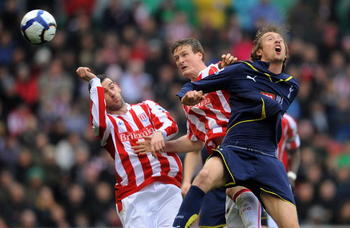 The wheels could come off Tottenham's effort in the likely event that they suffer back to back defeats against Man Utd. Man City will also be fortunate to come away from the Emirates with anything.
So Liverpool and Villa will be afforded the chance to pick up the rewards from ties against Burnley and Birmingham effectively. Both teams must not expect an easy win, but as long as they put their best feet forward should come out on top.
24th April: Arsenal vs Man City (Arsenal win)
24th April: Burnley vs Liverpool (Liverpool win)
25th April: Aston Villa vs Birmingham (Villa win)
25th April: Man Utd vs Tottenham (Man Utd win)
The turnaround for Liverpool could come into fruition. A fourth placed position could be acquisitioned, leaving them to defend staunchly in their final two games.
Tottenham would be required to win their game in hand, which appropriately for them is to be against City themselves.
Liverpool – Games 36 Points 66
Man City – Games 35 Points 64
Aston Villa – Games 36 Points 64
Tottenham – Games 35 Points 61
Part 6: 1st – 5th May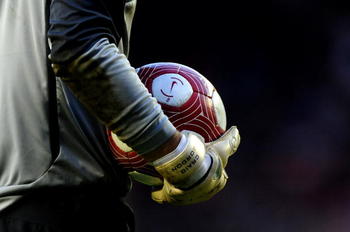 In a week that could go in a million directions for the fourth place race, Manchester City have to overcome two of their three rivals. A win could be on the cards at home to Villa, but a second fixture against Tottenham may be too much for two victories to come knocking.
Tottenham's fixture against Bolton can provide them the chance to stand them in good stead before their trip up north. A reverse 3-0 win this year could be followed up by a second win, but more likely is a draw between the two.
Liverpool are at home to Chelsea in what will be their ultimatum. By this stage they might have already lost the fight for fourth. If not then they should fare better than today's fixture against Manchester United and at least achieve a draw.
1st May: Liverpool vs Chelsea (Draw)
1st May: Man City vs Aston Villa (Man City win)
1st May: Tottenham vs Bolton (Tottenham win)
5th May: Man City vs Tottenham (Draw)
Aston Villa would find themselves locked out if they cannot defeat City, with the final day coming down to their three rivals battling it out.
Man City – Games 37 Points 68
Liverpool – Games 37 Points 67
Tottenham – Games 37 Points 65
Aston Villa – Games 37 Points 64
Part 7: 9th May - The Finale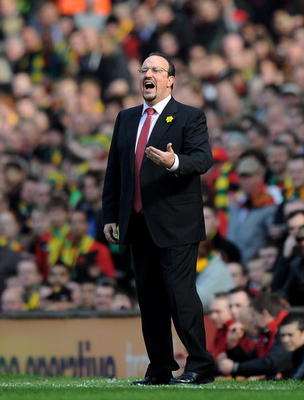 And so we reach the final day of the season. Villa should win, and if they go against my prediction and find themselves still in the hunt then they could snatch it. Tottenham can also triumph away to Burnley.
Yet I expect it to be a tussle between City and Liverpool on the last day. Hull should by this time be dead and buried so Liverpool can claim a win.
It may all depend upon Manchester City's away tie at West Ham. They may just run out of steam in the final day with previous highly essential matches taking much out of them. A win may be tricky in this situation and may gift Liverpool the fourth spot once and for all.
9th: Aston Villa vs Blackburn (Villa win)
9th: Burnley vs Tottenham (Tottenham win)
9th: Hull vs Liverpool (Liverpool win)
9th: West Ham vs Man City (Draw)
In a close finale a small number of points could be the consequence of the previous fixtures. Neither team is likely to take it by much, although any of the four could find themselves out of the fight if results do not go their way.
Liverpool's season can still be saved. Along the way they just need to recapture the form portrayed in their second place finish last season.
Once again they will be required to return victorious against teams that they should always be beating. Chelsea provide their only major problem.
Villa, City and Tottenham on the other hand each face top seven opposition on multiple occasions. This may be their undoing.
Liverpool – Games 38 Points 70
Man City – Games 38 Points 69
Tottenham – Games 38 Points 68
Aston Villa – Games 38 Points 67
Keep Reading

Liverpool: Like this team?