Fantasy Baseball Preview 2010: Part Six—Thanks for the Memories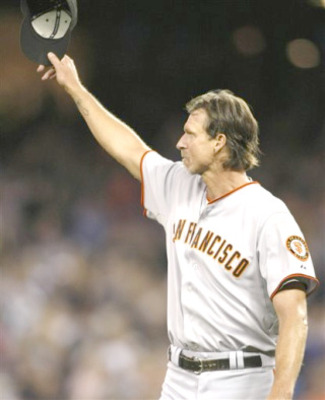 The sixth and final part of this Fantasy Baseball Preview is a list of players who had served baseball fantasy nation admirably for the duration of their illustrious careers, but should now be permanently crossed off must-have lists due to declining skills, injury, or retirement.
If you think that any of the above-listed players are still worthwhile fantasy contributors, then the chances are that you're a big fan of that particular player, and this is your wake-up call.
Consider this slideshow a fantasy eulogy to the players for their many years of dedicated service to fantasy baseball. Some of these players may have even helped you win a title a few years ago!
Garret Anderson - Outfielder, Los Angeles Dodgers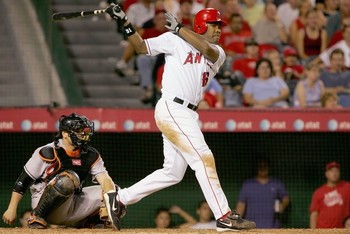 Anderson found out what life is like when you're not batting cleanup behind Vlad Guerrero, and his numbers reflected this realization.
Relegated as a possible backup first baseman, Anderson doesn't have much left in the tank to be considered in mixed leagues.
His 13-61-52-1-.268 stat line in 2009 with the Braves was unimpressive in 496 at-bats.
This year, G.A. will be lucky to get 300 ABs considering Dodgers 1B James Loney has missed all of four games in the last two seasons since he became an Opening Day starter. Nostalgic Angel fans beware.
Milton Bradley - Outfield, Seattle Mariners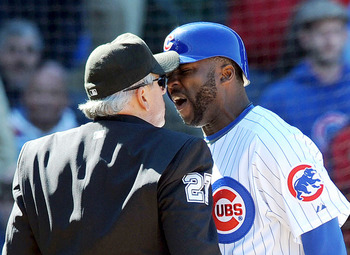 Hopefully, eight (as in, teams he's played for) is enough! Even without his mouth and shenanigans getting him into doghouses across the continent, Bradley's upside has eroded.
While Bradley is still a talented ballplayer, he doesn't stay on the field to get enough at bats to warrant serious fantasy consideration.
However, Seattle is not a pressure-cooker environment like previous cities Bradley has played in. So even though he now plays home games in a pitcher-friendly park, the soon-to-be 32-year-old could benefit from a change of scenery, and, possibly, an improved attitude.
Only the daring and desperate need take a chance on a potential headache like Bradley as their OF5.
I've learned my lesson....again.
Carlos Delgado - First Base (free agent)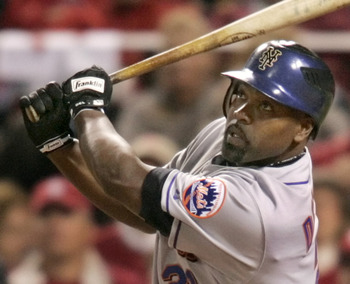 The Mets parted ways with Delgado, and as spring training gets underway, he has yet to find a team for 2010.
Only two years removed from a 38-homer campaign, Delgado had to recently undergo a labrum reconstruction, as well as microfracture surgery on his hip socket.
If all goes well (which is a big "if" for the 37-year-old), he might have a healthy two months of 2010 if someone is desperate enough to give Delgado a shot. In other words, stay far, far away.
Nomar Garciaparra - Shortstop/Third Base (retired)
Red Sox Nation may play a bagpipe-laden dirge for No-Mah's illustrious but shortened career.
Before Boston's World Series-winning renaissance in 2004, Garciaparra gave Red Sox fans reason to cheer with his all-out style of play and clutch hitting.
Subsequent stints on the Cubs, Dodgers and A's never panned out, so remember him as the 1997 Rookie of the Year who took baseball by surprise, and helped to lay the foundation for the Red Sox' return to prominence.
Ken Griffey Jr. - Designated Hitter, Seattle Mariners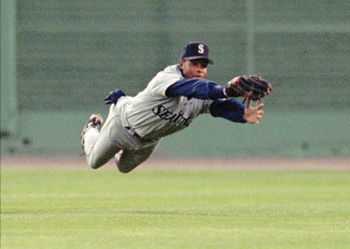 It's been a fun and occasionally injury-riddled ride, but honestly, if Ken Griffey Jr. is anything but a last-round throwaway pick by the most fervent of die-hard fans in AL-only leagues, it's time to turn off the Smash Mouth and Home Improvement and stop living in 1997.
He's a shell of a shell of his former self. Assuming the, er, "Kid" stays healthy, he could be good for 15 homers and 70 RBI in a little over 400 at bats. You can do better elsewhere at DH.
Jason Isrignhausen - Relief Pitcher (free agent)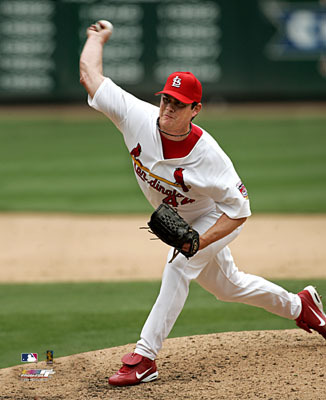 Izzy maintains that he's healthy and ready to pitch, but first he needs a job. In his 14 seasons as a pro ball player, Isringhausen has undergone 10 surgical procedures, including a recent Tommy John surgery.
Only time will tell whether he's the last one who needs to be told the party's over. At 293 career saves, Izzy surely wants to close out at least seven more victories before he calls it a career.
Travis Hafner - Designated Hitter, Cleveland Indians
While a 25-home run bounceback season isn't totally out of the question, Hafner's swing has slowed to more of a fierce wave recently.
Last season, he couldn't get around on inside fastballs, a pitch he would clobber five years ago.
If his back is okay, take a late-round flier, but don't expect the return of Pronk from five years ago.
Hafner has had only one season with more than 500 at-bats in his eight-year career.
Randy Johnson - Starting Pitcher (retired)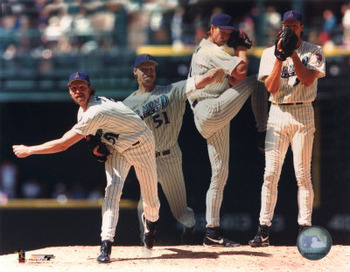 One wonders what might have never been had Nolan Ryan not taken a much younger Johnson under his wing after the 1992 season and corrected his pitching mechanics.
Although Randy's pursuit of 5000 strikeouts fell short by 125, I will maintain that, all due respect to Johan Santana and Tom Glavine, Randy Johnson was the best left-handed starting pitcher of my generation.
His dominant performance in the 2001 World Series commanded my respect as a Yankee fan, and haunted me in my sleep months afterward. Sayonara, Unit.
Mike Lowell - Third Base, Boston Red Sox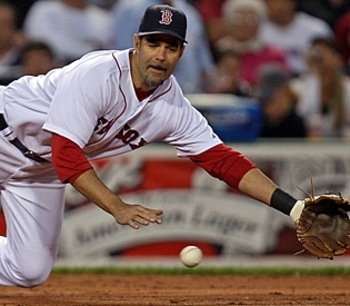 Now that Boston signed Adrian Beltre to hold down the hot corner, Lowell will be relegated to a bench role, but has been showcased at first base in spring training while Red Sox GM Theo Epstein attempts to deal him.
As he will be 36 come Opening Day, Lowell's best days are behind him, and given his recovery from a thumb injury, look elsewhere for corner infielder help unless Lowell somehow gets regular playing time.
Ivan Rodriguez - Catcher, Washington Nationals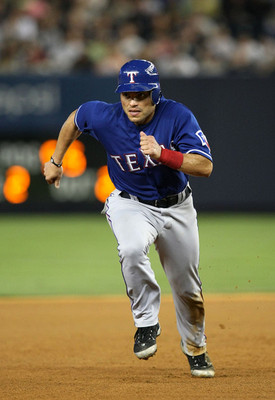 In this downturn economy, Pudge hit paydirt by accepting a 2-year, $6 million offer to platoon with Jesus Flores and Will Nieves in Washington, D.C.
The future Hall-of-Famer's name may look good on paper as your second catcher, but his stats will leave something to be desired.
Flores is expected to start the season on the disabled list after rehabbing from a surgically repaired shoulder.
Don't get sucked into living in the past when Pudge is the only name you recognize in the catcher pool at the end of your draft. In fact, Flores would be a better option once he's healthy.
B.J. Ryan - Relief Pitcher (free agent)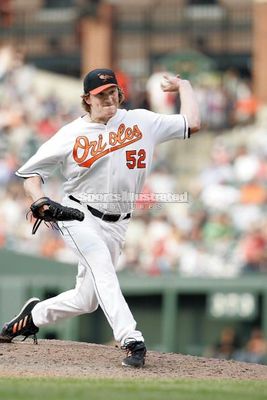 Ryan can't even get a minor league deal right now. His fastball is currently of the Reagan Era variety (mid-80s), and he has reportedly lost his major league effectiveness.
Stay away, and instead reminisce about his salad days from five-to-six years ago when he struck out an average of over a batter and a half for every inning he pitched between Baltimore and Toronto.
Gary Sheffield - Outfield (free agent)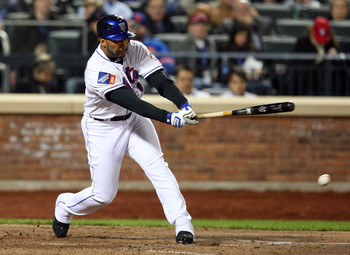 His 21-year major league playing career literally spans my entire fantasy career. Instead of boring you with my many Gary Sheffield memories, I will tell you that the 41 year-old doesn't have much left in the tank.
He may think he has a shot at 3000 hits (currently at 2689), but his defensive limitations limit him as a candidate for DH duties.
Even as a designated hitter, he'd rank somewhere between Garret Anderson and Ken Griffey Jr.
John Smoltz - Starting Pitcher (retired...for now)
Keep Reading