Manchester United vs. Liverpool EPL Match: 10 Players to Watch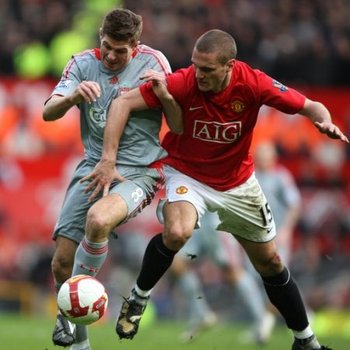 In one of the biggest showdowns the English Premier League has to offer the footballing world, there are several players who could be key to acquiring victory for their club.
Liverpool has had the upper hand recently. The squad destroyed United in the same fixture last season, and thoroughly defeated United again at Anfield earlier this season.
But don't count United out just yet.
United's recent league form has been exemplary, aside from a loss to Everton. The champions are staying right on Chelsea's heels, thanks to the Londoners' inability to capitalize on several chances they have had to pull away from the title challengers.
The match at Old Trafford this weekend could go a long way toward the final outcome of the season for both sides, and as it is, there is more than pride on the line in this fixture.
Both sides need the points. Though a draw may be enough for Benitez, Ferguson knows that with Chelsea facing Blackburn and Portsmouth in the next few days, a slip by his charges deals his challenge a serious blow.
This list outlines five players from each team who could contribute significantly to the outcome of this match.
Wayne Rooney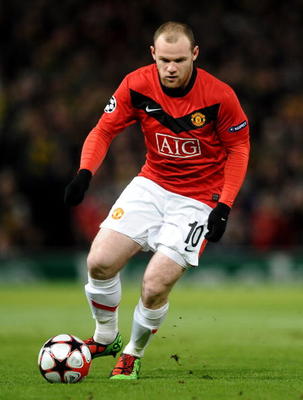 Manchester United's talisman this season is none other than the player many felt did not contribute enough to the club's cause in the past few seasons.
Labeled as a player who would not and could not make the step up to carry the side, he has put the doubters to shame with an astonishing season. On several occasions, his goals have been the reason United walked away with the points.
He has shown dedication to his craft by increasing his tally of headed goals significantly this year. It is an improvement after a few seasons where it was an oddity when he did nod one in.
He has altered his predatory style in the box as well this year. Now, he takes up a position in the area between the posts, and relies on his teammates to get the ball to him to finish, instead of roaming.
This has paid dividends for him. His goal tally increasing markedly, due in part to his new-found positional sense. He has also struck up an excellent combination with Berbatov and Valencia.
He is sure threat for Liverpool to deal with. Liverpool may have to settle for restricting the United scoring machine, rather than stopping him altogether.
Fernando Torres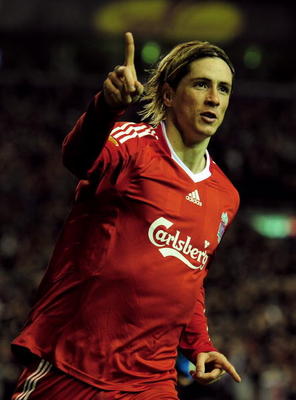 Liverpool has missed its striker this season—especially the sharpness he provides in front of goal that could have been the difference for the Reds in several key fixtures.
The class is obvious when he does play. His goals against Lille and Portsmouth in Liverpool's last two fixtures are great examples. The first goal against Lille was beautifully taken, a short jab of a chip that had just enough to fly over the advancing keeper and roll into the net.
It's the type of goal that looks easy to the untrained eye, but anyone who knows the game understands it's exceedingly difficult to successfully execute.
The Spaniard is one of the world's best. Last season, he was almost single-handedly responsible for the distance in the final result. His speed and strength on the ball led Vidic to foul him—and Vidic was sent off as a result.
Torres is one to watch for sure. He, his manager, his team, and Liverpool fans everywhere hope the recent matches give him the sharpness required to make an impact Old Trafford.
Dimitar Berbatov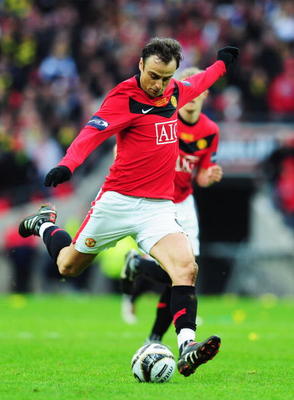 The Bulgarian is possibly one of the most technically accomplished players who will take part in this tie—if not the most.
He endures criticism from those who do not understand the contribution he makes to the side. All that really matters is that his manager continues to play him.
Ferguson has always had admiration for those with excellent technical ability. He knows all it takes is one flick or magical turn to open up a game and change it completely.
Berbatov brings vision and timing to the United attack necessary in fixtures such as this. Often, such games can be wars of attrition requiring a surgeon's precision to unlock miserly defenses. That precision is a hallmark of the Bulgarian's play.
The European's abilities are well documented. His recent contributions to the team have been immense, despite the fact that he has not scored as many times as some people expect.
He is held in high regard by his strike partner Rooney, a sure sign of his value to the team. Rooney is well aware of the Berbatov's efforts to supply goals for the Englishman.
Definitely one to watch, Berbatov almost never gives the ball away. He lays on at least three clear chances per game.
Steven Gerrard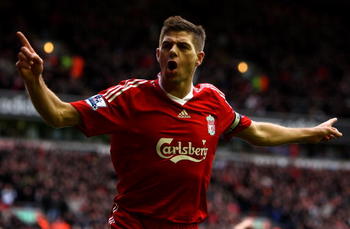 Gerrard was excellent in this fixture last season as well. He and Torres were the principal destroyers of a United side that did not know what had hit it.
The man who lives and breathes Liverpool football club is a big-game player for sure. His class is underlined by the fact that if he is fit, there is no question he will take the field for the Anfield giants.

Able to score from anywhere within about 30 yards of the goal (and sometimes further), his power and precision motivate youngsters across the globe. Gerrard is a truly formidable exponent of ball striking technique.
Recently, there have been suggestions he has lacked in drive and focus. When you are the sole focus of a team for so long, mental fatigue caused by such pressure is bound to lead to off days.
His form in Liverpool's last couple of games has been excellent, and he seemed to be enjoying himself again in the European tie agsinst Lille.
If Liverpools make an impression on this match, Stevie G will be at the heart of it. An excellent example of a midfielder, his play and commitment are unquestionable in pursuit of his club's aims.
This fixture, of course, makes him burn like few others. Just look at the way he celebrated the penalty he scored last year, running up to the camera to salute his mates back home.
Benitez will hope his main man makes the contribution he has come to expect of him on the Old Trafford pitch.
Nemanja Vidic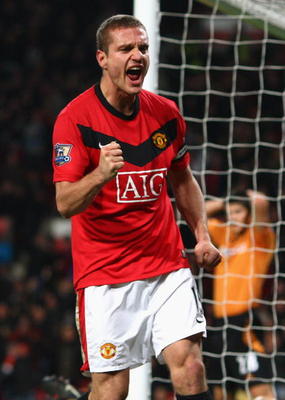 Of anyone taking the pitch on Sunday, the big Serb has a point to prove. Can he stay on the pitch and make a significant contribution against Liverpool?
After having been sent off in three consecutive games against the Anfield-based side, it is a question he must ask himself.
There is no doubting the skill and effectiveness of the player. He has been instrumental in United's success over the last few years, and was a key part of the side that lifted the Champions League trophy in Moscow.
But Liverpool have proved to be a thorn in his side. Torres, in particular, torments him with his ghostly change of pace.
But Vidic is not a permanent fixture in the United side for no reason.
Ferguson does not suffer fools in his defense, and is among the first to admit that his back-line would be less formidable if the Serbian were to leave the club.
Vidic has a point to prove. This alone could give United the momentum to push through the tie for the full compliment of points.
Alberto Aquilani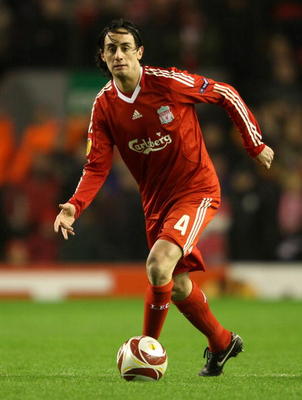 After what seemed an age to the Liverpool faithful, the Italian has finally started to play, and has been rewarded with a consistent starting place by his grateful manager.
Aquilani brings new presence and drive to the Liverpool side going forward. It would be odd if he were not in the starting lineup for the match at Old Trafford.
He has high-end skills. He is also capable of scoring goals, which he showed with an excellent near-post finish against Portsmouth last weekend.
More in the mold of Gerrard than the departed Xabi Alonso, he was never going to replace the Spaniard. But his skill on the ball and the timing of his runs are things to watch.
His contribution to this fixture will go a long way to determining his future as a Liverpool player.
A player with excellent technical ability, Aquilani could influence the outcome of the game. His long range shooting could come into play with Torres waiting to pounce on any mistake from the opposition custodian.
Antonio Valencia
Earlier on in his time at Old Trafford, there were those who doubted the ability of the Ecuadorean and questioned his place in the Ferguson's plans.
But Ferguson has always had an eye for a good winger. Valencia has shown that the faith of the Scot was not misplaced.
He opens a welcome supply line from the byline and wide areas to any striker waiting for good delivery. He glides past opponents with a wicked change of pace, and his timing is a joy to behold.
Technically one of the best crossing exponents in the league, his delivery is precise and always causes significant problems for opposition defenses.
A player who could figure prominently, his combination with Berbatov and Rooney has already proved to be a trophy winner for United in the Carling Cup and a match winner in the league.
He could definitely cause problems for Insua, who struggled with marking the talented N'Zogbia in Liverpool's loss to Wigan recently.
Jamie Carragher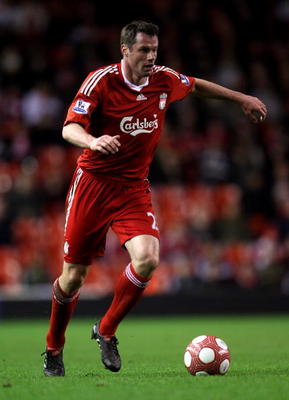 Mr. Liverpool will want this victory more than many games he has played in over the years.
There is something that burns inside players that live for their clubs when they face their most bitter rivals. The hunger for victory will be etched on Carragher's face in this match for all to see.
The memory of scoring two own goals playing against United at Anfield in the late '90s will still haunt him. The fact he has scored so many own goals has more to do with his commitment to denying the opposition, than his skill as a defender.
His defensive abilities are well above average. He has excellent positional sense and is a towering presence in aerial duels, despite not having the height of other central defenders.
Stopping Wayne Rooney from finding the net will be his principal objective—although United always has more than one striker when it comes to goal scoring.
Carragher is as key a piece to the Liverpool side as Fernando Torres, and his commitment to the cause is unquestionable.
He is probably one of the best central defenders Rooney will encounter this season. It will be interesting to see how each player takes to the fight.
Darren Fletcher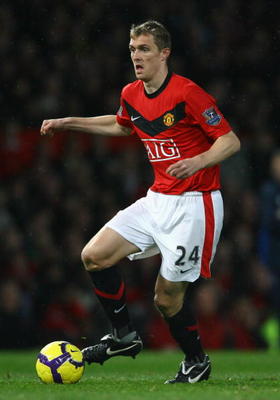 Fletcher was memorably panned by United great Roy Keane several years ago. The Irishman later said that he respected the Scot and had admiration for his play and contributions to the United cause.
Both of these players have shown commitment and motivation in their respective careers. It could be argued that Fletcher is the closest to what Roy Keane was for United through the '90s and early 2000s.
Fletcher has in recent seasons proved he is more than capable of holding down a starting place. It could be argued that his absence from the side in last season's Champions League final loss to Barcelona hurt United's chances.
He is a strong, hardworking player. He is often called industrious—though that particular tag is often associated with players who are more hardworking than gifted.
Fletcher scores goals and delivers excellent service to his attackers. He also makes telling intercepts and generally harries opposition midfielders.
His contribution is often extremely worthy. His Man of the Match award in the thrilling Manchester derby earlier this season is proof of his ability.
Another player who thrives on the occasion, he can always be relied on to step up in the big games.
Watch for Fletcher to hassle and chase the Liverpool midfield. He will not let them have the time on the ball they are accustomed to, and this alone could be pivotal.
Fletcher can also score in big games. It would be no surprise to this writer if his name is on the score sheet.
Glen Johnson
Having recently returned to the starting lineup, London-born Johnson will be itching to make a contribution to Liverpool after having to watch from the sideline for so many weeks.
He is often said to be less of a defender than an attacking fullback. That is an inaccurate portrayal of the speed and covering ability he brings to any defensive unit.
His pace is a huge asset when other teams break. He can track back and slow breaking attackers, allowing his fellow defenders to recover and assist.
He is peerless in the English game going forward from the back. The tension among opposition fans increases when Johnson runs onto the ball at pace. He has shown on many occasions he is a capable dribbler. And he is able to not only lay on chances but score the odd scorcher as well.
Johnson is one to watch. He gives Liverpool a dimension it missed while he was unavailable. Technically very accomplished, he is a player who could make a difference and is quite capable of influencing the outcome in Liverpool's favor.
Conclusion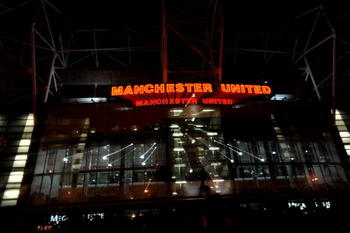 There are, of course, others among the ranks of assembled players that could make a difference in this fixture.
These players that have been outlined, however, are ones that capture the imagination of supporters worldwide. In the past, they have been the difference between victory or defeat for the sides contesting this match.
This game is one that ignites the blood of football followers the world over.
The moment the teams walk out of the tunnel, there is a shiver that comes over true fans, giving rise to all sort of magical imaginings about the possible outcome.
When the whistle is blown and the moment has arrived, whoever you are and whomever you support, may this game bring you what you crave for your team.
Although it is but a game, it is something that gives humanity a chance to escape from the dour reality that our money-obsessed and increasingly fascist world has become.
For 90 minutes we can escape into the realm of football, where heroes are created and legends fall—that sweet place, the magical realm of the beautiful game.
Keep Reading