Generation Next: 10 Fighters Destined To Wear MMA Gold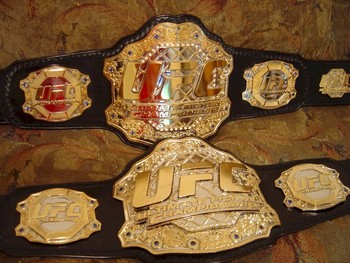 In every sport, there are contenders. Contenders all participate to win a championship. They go through years of grueling, intense physical trials just for a shot at saying that they are the best.
For example, in hockey the contender is participating to win the Stanley Cup. Amateur wrestlers hope to one day hold a gold medal at the Olympics. Football players lay their lives on the line for a chance to hold the Lombardi Trophy and a Super Bowl ring.
But in MMA, fighters participate in years of strict training and discipline, all for a chance to wear the championship belt. While there are many great fighters for this generation, we are entering into the new generation of fighting, and with it come new contenders.
Contained in the slides of this slideshow are 10 fighters who I think will wear a championship belt before the end of their careers. I guarantee you won't agree with all of these picks, especially number eight, but I can't please everyone.
Also, on a side note, you can't really say Shane Carwin and Nate Marquardt are apart of the next generation, so they aren't included. Now, on to the main event. Enjoy.
No. 10: Ryan Bader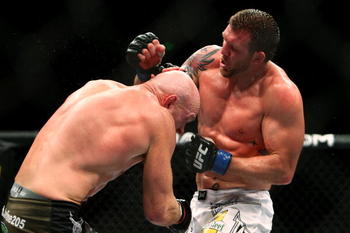 Division: 205 lbs
Fighting Promotion: UFC
Current Record: 11-0 (5 KO)
We all know about Ryan Bader now, especially after his spectacular KO win over Keith Jardine at UFC 110. The expectations for him are large, and growing larger with each passing fight. Rightfully so, with him being the winner of The Ultimate Fighter Season Eight.
Ryan Bader is a great wrestler, as everyone knew before he ever entered the octagon. As a collegiate wrestler at Arizona State, he was a three-time Pac-10 conference champion and a two time All-American. For the majority of his career, Bader has been able to get by on his wrestling alone, but his striking game is quickly catching up, as evidenced by his win over (glass-jawed) Keith Jardine.
The 205 lb. division is a deep division, but most of it's stars are nearing the end of their careers. In the future, this division will be a back and forth war between Jon Jones and Ryan Bader. Ryan Bader isn't good enough to beat the upper echelon of the LHW division yet, so Joe Silva needs to be careful and develop him with the right fights, much like he did with Bader's former college teammate Cain Velasquez.
For his next fight, Ryan Bader should fight the winner of Jon Jones vs. Brandon Vera.
No. 9: Paulo Thiago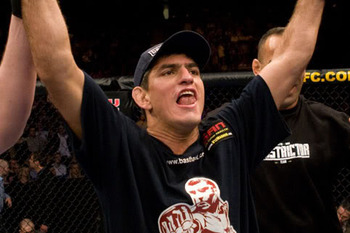 Division: 170 lbs
Fighting Promotion: UFC
Current Record: 13-1 (2 KO)
Paulo Thiago was relatively unknown heading into his UFC debut against Josh Koscheck at UFC 95, despite his undefeated 10-0 record. After his fight that night, however, he was one of the biggest names in the sport. After losing much of the first round, Paulo Thiago was able to use his trademark composure and deliver a right uppercut flush to Koscheck's chin, ending the fight.
Since then, Thiago has fought three times, losing to Jon Fitch, the consensus No. 2 welterweight in the world, and beating Jacob Volkmann and then Mike Swick.
Paulo Thiago brings one of the best ground games with him into the octagon, holding black belts in both Brazilian Jiu-Jitsu and Judo. He is also proficient in Muay-Thai Kickboxing.
His greatest asset, however, may be his composure. A good example of it is when he took a hard punch right to the jaw from Mike Swick at UFC 109, instead of attempting to escape the situation, he stood his ground and dropped Swick with a left hand.
At the time of this being written, Paulo Thiago is within a long line of WW contenders. Out of them, only three are likely to win the belt (only with GSP gone), and Paulo Thiago is on the list. His next fight is against Martin Kampmann at UFC 115, and tell me that won't be a good fight. I'd love to argue about that.
No. 8: Roger Huerta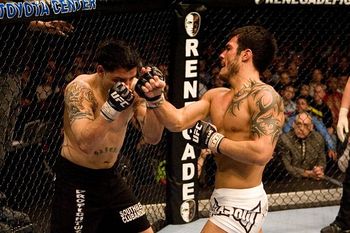 Division: 155 lbs
Fighting Promotion: Bellator Fighting Championships
Current Record: 21-3 (10 KO)
Roger Huerta is the classic case of what can happen when a fighter is given easy fights for the majority of his career, and then gets put up against quality competition. Roger Huerta was once thought to be the UFC's LW division champ in waiting.
Before August 9, 2008, he was an impressive 21-1, but as mentioned before, that was against suspect competition. Two losses later, and now he is fighting for Bellator, hoping to resurrect his career there. Roger Huerta has immense potential, and he is still young enough to realize it.
Huerta was a standout wrestler in high school and college, and is also a decent kickboxer. As is the format of BFC, Huerta will have to advance to the championship match tournament style. Then he will be given a stiff test in Eddie Alvarez. And you heard it here first: Huerta will beat him.
When Roger Huerta is crowned the champion of BFC, he will prove the fact that the UFC LW division is better than any other. Tell me if you think the LW champ of WEC, DREAM, SF, or BFC could beat BJ Penn? Nope. Neither can they beat Roger Huerta.
Roger Huerta has the potential to be the best LW in the world at some point. Training with Greg Jackson is a great way to help out. His first step in getting there, however, is to beat Eddie Alvarez.
No. 7: Gray Maynard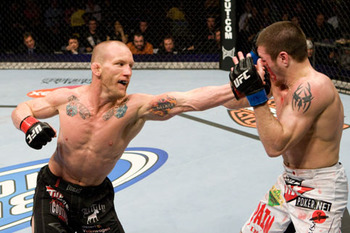 Division: 155 lbs
Fighting Promotion: UFC
Current Record: 9-0 (2 KO)
Gray Maynard is like the UFC's new Josh Koscheck, in the sense that he basically started out with just wrestling, and implemented a decent striking game into his armada of talents.
Maynard was an outstanding amateur wrestler, and is now one of the UFC's most accomplished wrestlers.He is the only fighter to date to have beaten top contender Frankie Edgar, who he dominated for three rounds. After Frankie Edgar loses to BJ Penn at UFC 112, Gray Maynard should be the next in line for a title shot.
Although I think it is doubtful that he is ever the champion of the UFC LW division, he could dominate BFC or SF, and possibly even WEC, which has a great roster of LW fighters.
Gray Maynard will always be a tough fight for anyone he fights against, even BJ Penn. I just don't think he can hope to compete with the more technical fighters, such as Kenny Florian and BJ Penn.
Gray Maynard is still a young fighter, experience wise, and already he is a top contender. If he can add some more wrinkles to his game, then everything but the UFC LW belt is attainable for him.
No. 6: Muhammed Lawal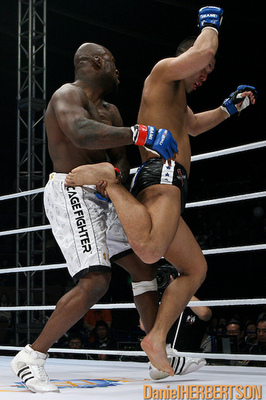 Division: 205, 265
Fighting Promotion: Strikeforce
Current Record: 6-0 (5 KO)
Muhammed Lawal is one of the brightest personalities in MMA (was that racist somehow?). He enters the arena dressed like a king. He is engaging. He is funny. And he is also a hell of a fighter, or at least as close to that as he can get after only six fights.
This early into his career, it is somewhat of a gamble saying he will be a champ someday, but he already has a good chance against Gegard Mousasi in their upcoming fight. Even if he loses, Mousasi will either move up to HW, or forfeit his title to go fight somewhere else. Then, we can welcome in the reign of King Mo.
Right now, King Mo can make a case as the best wrestler in MMA, what with his outstanding amateur credentials that include NCAA Division II National Championships twice (first once, second another time). He was also a Division I All-American in 2003, and even competed in the 2008 Olympics, falling just short of the gold in his final match.
In his fight with Mousasi, King Mo possesess the style that Mousasi shows the most weakness against. You guessed it, wrestling. Mousasi has shown liability to be taken down in past fights. Against a great wrestler such as King Mo, and Mousasi may lose.
King Mo is also a great power puncher, which is evidenced by his 5 KO's. Muhammed Lawal is arguably Strikeforce's best LHW, and they will do whatever they can to make him more marketable. If that includes sending their current champ up to fight the big boys, then so be it.
His fight against Gegard Mousasi will take place at Strikeforce: Nashville, on April 17. It is just one good fight on a night filled with many.
No. 5: Junior dos Santos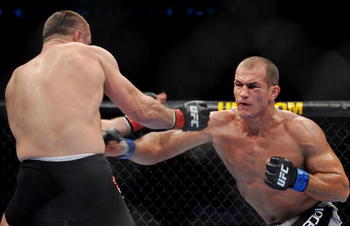 Division: 265
Fighting Promotion: UFC
Current Record:10-1 (7 KO)
JDS came onto the scene at UFC 90, beating Fabricio Werdum via KO, just like all of his other opponents. JDS is perhaps the best fighter in the division other than Shane Carwin at finishing his opponents. He hits hard, his hand speed is very fast for someone of his size, and he is also very technical. He is also a former professional kickboxer, amassing an 18-0 record before he decided to transition to MMA.
JDS and Cain Velasquez will be the two best fighters of this division for years to come, especially when you consider the age of the the other top contenders at HW. JDS is still a very raw talent, and the best thing for him before was careful ascension throughout the ranks.
So far, he has beaten a hard hitter (Gilbert Yvel), and a submission machine (Stefan Struve). However, the top of this division is filled with good wrestlers, and that may be his downfall. The winner of his fight against Gabriel Gonzaga will likely go on to face Cain Velasquez in a title elimination match.
The winner of that fight will go on to fight the UFC HW champ. Due to his outstanding striking, JDS will always have the advantage while standing, but since we have yet to see how he will perform against a good wrestler, this is the perfect spot for him.
It will likely take him a few more fights before he can win the belt and defend it for any period of time. His next fight is against Gabriel Gonzaga at UFC On Versus 1.
No. 4: Paul Daley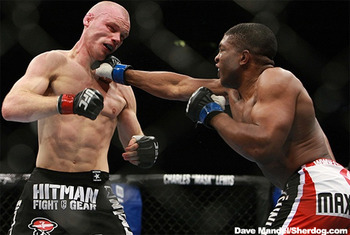 Division: 170
Fighting Promotion: UFC
Current Record: 23-8-2 (18 KO)
NOTE: For you readers who think I am saying that Paulo Thiago, Paul Daley, or Thiago Alves would beat GSP, you're wrong. I'm assuming that GSP has moved up to 185 for this scenario. Anyways.
Paul Daley was such a great signing by the UFC. Worst case scenario, he isn't all that great and they get four fights out of him. Best case scenario, he wins his debut against a top contender and doesn't look back. Thankfully, it was the second one.
Paul Daley refreshes the WW talent pool, keeping the division from repeating itself over and over. In the future, this division will likely come down to Paul Daley, Paulo Thiago, and Thiago Alves.
However, I'm supposed to be focusing on Paul Daley, so enough with the chitchat.
Paul Daley is quite possibly the best striker in the WW division. His boxing is technical, and he is the former Muay-Thai world champion. He is one of the best Muay-Thai paractitioners in the world today, and the only way to find out who is better between Daley and Alves would be to see them fight.
Paul Daley's only real weakness is his ground game (off of his back), but he is young enough and hungry enough to solve that issue.
His next fight is against Josh Koscheck at UFC 113. The winner of that fight shouldn't be given a title shot. They should have to fight the winner of Alves vs. Fitch for No. 1 contender status. If Alves and Daley both won, then MMA fans could be in for the best fight at 170 lbs in a long time.
No. 3: Thiago Alves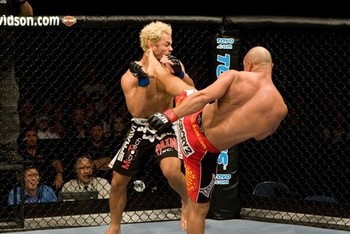 Division: 170
Fighting Promotion: UFC
Current Record: 17-6 (11 KO)
Thiago Alves is quite possibly the fighter best suited to take over GSP's legacy at WW when GSP finally decides what he is going to do. He is a great striker. He is a purple belt in Brazilian Jiu-Jitsu. He is working diligently on being able to defend takedowns. He is quickly evolving into the complete package.
As has been said countless times, without Fitch or GSP, Alves would own this division.
In his last fight, against GSP, he was brutalized for five rounds. GSP took him down at will. Thiago Alves didn't pose much of a threat for the entire fight. But what if Thiago Alves could actually block takedowns? Then we have a whole new breed of animal here, one that fighters such as Josh Koscheck and Dan Hardy tremble in fear when they think about.
Alves has only been KO'd once in his career, and that was by a fluke upkick by way of Jon Fitch. After his rematch with Jon Fitch, give him Paul Daley. The winner of that fight gets GSP. The loser gets to go back to the bottom of the ladder. Easy enough.
Thiago Alves is rematching Jon Fitch at UFC 111 on March 27. Expect a close fight.
No. 2: Jon Jones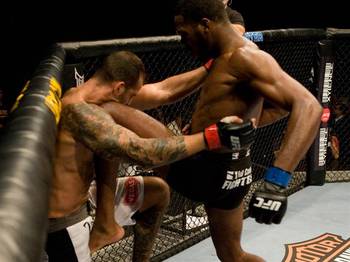 Division: 205 lbs
Fighting Promotion: UFC
Current Record: 9-1 (5 KO)
Jon Jones is, to put it simply, an amazing fighter and an even more amazing prospect. Of course, anyone who has had any access to any form of UFC propoganda or news knows about him.
Jon Jones has quickly made a name for himself in the MMA community. He debuted in the UFC against Andre Gusmao. Despite being the underdog, Jones gave us an introduction to his unorthodox striking and beautiful Greco-Roman wrestling.
Against Stephan Bonnar at UFC 94, Jones was again the underdog, but he delivered a spectacular performance against Bonnar, using spinning elbows and spinning back kicks. He took Bonnar down a total of eight times, using a variety of trips and throws, and even once used a suplex.
We saw more of the same against Jake O'Brien at UFC 100, where he actually won via submission.
Then Jones recorded his only "loss" to date at TUF: HW Finale. Jon Jones dominated the whole first round against Matt Hamill. Matt Hamill himself is a talented wrestler, and Jones made him look like some ragged drunk you find out in the back of your favorite pub.
Towardd the end of the fight, Jones mounted Hamill and started using what we call 12-6 elbows. Apparently, for some reason, those are illegal. After what looked like a TKO win over Hamill, Jones was handed the first loss of his career via DQ.
Though he has shown that he can hang with the big boys, Jones is still a very raw talent and still has some holes that need to be addressed. For one, his cardio proved to be a big question against Stephan Bonnar towards the end of the fight.
Now that he trains with Greg Jackson, the cardio situation will probably have been solved, although it is still under scrutiny.
Next, Jon Jones has never really fought against an elite striker. A big question, for me anyways, is how will he react when he gets punched really hard in the face? Sure, he can take punches, but he fights in a division with alot of heavy hitters, and it wouldn't do any good for his stock to come crashing down around his ears when we all find out the hard way that he has a glass chin.
Jon Jones' next fight is against Brandon "The Truth" Vera, and like his nickname implies, he may be able to show us the truth about Jon Jones. Hopefully, it is good. They will meet in the octagon at UFC On Versus 1, in what will be a great fight.
No. 1: Cain Velasquez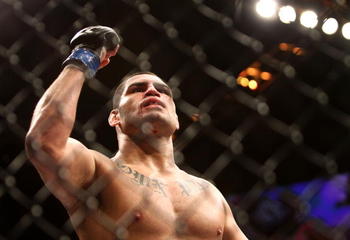 Division: 265
Fighting Promotion: UFC
Current Record: 8-0 (7 KO)
Did anyone ever really expect to see him here? Sure, after his fight with Big Nog at UFC 110, but when he started his career? Many viewed Cain Velasquez as too one dimensional to ever be a good fighter in this sport. They couldn't have been further from the truth.
When Cain debuted, he only really had great cardio and great wrestling. Now, after eight fights, Cain can fight effectively off of his back. He can get in a slugfest with a good striker and come out on top, as we witnessed against Cheick Kongo.
We have also seen that Cain can effectively out-wrestle a bigger fighter, as evidenced against Ben Rothwell at UFC 104. Although Ben Rothwell is no Brock Lesnar, it shows that the ability is there.
Cain Velasquez is the product of a good base, that coupled with steady development, has turned him into a powerhouse. Being as young and raw as he still is, it is scary for other heavyweight contenders to think about facing him within the next few years.
As of right now, his next fight is undetermined, but it makes sense for it to be against the winner of Junior dos Santos vs. Gabriel Gonzaga. The winner of that fight gets a shot at the HW Champ.
The End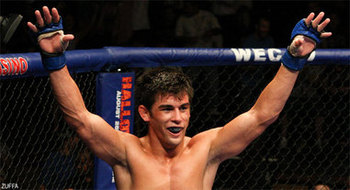 As has been said, forward progress is always based by competition. It's good to know that there are a number of contenders for every belt (except LW-BJ Penn would kill everyone).
With all of this competition, fighters will be forced to adapt. They can either grow with the sport, like Randy Couture, or they can fail to even continue competing, like Royce Gracie.
As the sport adapts, so will its champions. The next generation of champions will probably all be able to wrestle at division one level, and own a black belt in BJJ.
Fifteen years ago, Tank Abbott had the ability to beat Oleg Takratov, but nowadays, if he tried to set foot in the octagon, he would get pummeled by this new age of champions. The same would go for Royce Gracie, Ken Shamrock, and even Dan Severn.
But on an ending note, are there any fighters who you didn't see on here that you expected to make the list? Leave me a comment and tell me who they are. Thank you for reading, and enjoy Sunday night's fight card.
Keep Reading