News, Notes, and Pictures From Bristol Motor Speedway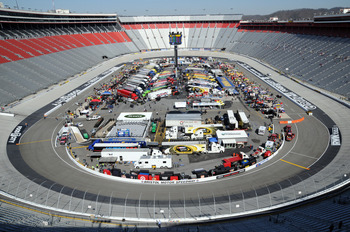 NASCAR Sprint Cup teams have invaded Bristol Motor Speedway.
The concrete high banks of the world's fastest half mile saw practice by both Nationwide Series and Sprint Cup cars.
The big news of course is the much heralded meeting between Carl Edwards and Brad Keselowski scheduled for Saturday morning.
While Edwards spent part of the day defending his actions, Keselowski seemed only concerned about donuts being served at the pow wow hosted by Mike Helton.
A few of the veteran drivers, especially Jimmie Johnson, weighed in on the situation and Edwards' retaliation.
The sentiments were pretty much the same; Keselowski had it coming.
The slide you see here is an overhead view of Thunder Valley. Bristol is a tight squeeze when 43 plus teams from both series occupy the small infield.
All photos are courtesy of David L. Yeazell
All photos are copyright David L. Yeazell
Photo Opportunity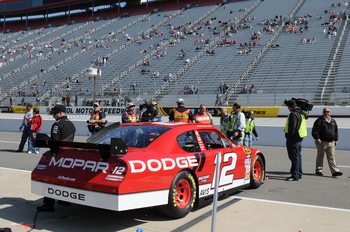 Photographers and news media wait patiently for the arrival of Brad Keselowski and the start of morning practice.
Blues Brother
Scott Speed arrived for morning practice with a new hair do. Well, it's actually a new hair color. In the spirit of supporting his sponsor, Speed colored part of his hair blue.
Speed is sitting inside the top 12 in points, but could only qualify 29th with is new hair color.
Hair and Teeth
Boris Said is the name sake of Said Heads. Finding humor in a conversation with teammates, Said show's off some fancy white teeth also.
Another nickname? Any suggestions?
Sandbagger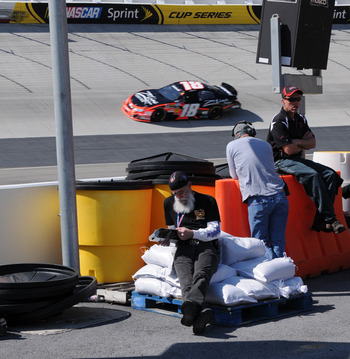 So what if Kyle Busch is racing past you? Sometimes you gotta take time out to rest on some sandbags and look at a magazine.
Who knew you could relax at Bristol.
Look Where Your Going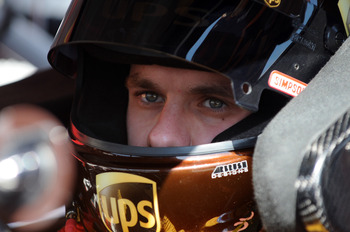 David Ragan, driver of the No. 6 UPS Ford, takes a quick glance into my camera lens.
He probably should have kept his eyes on the track. Ragan scraped the outside retaining wall during his qualifying run.
The damage was slight and did not require moving to a back up car.
Office Supplies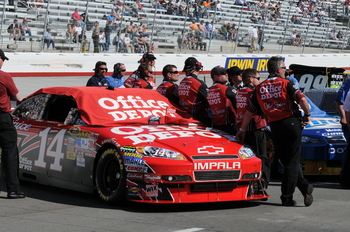 Crew members of the No. 14 Office Depot stand lined up during qualifying runs. Tony Stewart qualified 11th for Sunday's Food City 500.
Is My Nose Burnt?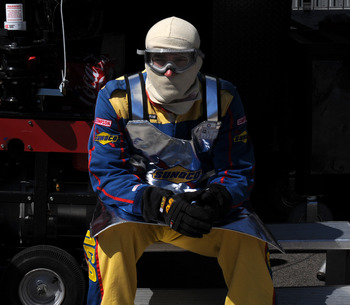 This Sonoco fuel attendant is wearing a complete fire retardant suit that covers his body from head to toe.
Except for his nose, which is showing signs of burn from the Bristol sunlight.
Garage Sale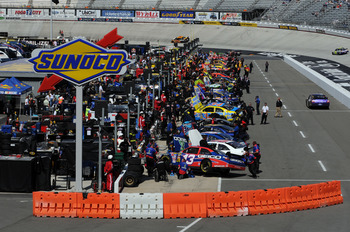 Cars lined up along pit road are being serviced and adjusted.
The infield at Bristol is so small there is no room for the traditional garage, so teams must prepare, adjust and work on their cars along one of the two pit road lanes.
Save the Wing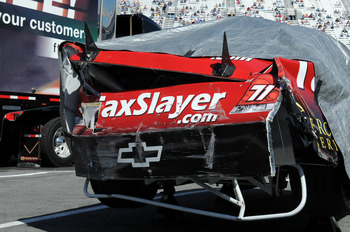 The NASCAR issued wing is missing from the rear of Bobby Labonte's Tax Slayer Chevrolet.
Labonte tangled with the wall during morning practice and had to go to a back up car.
It's doubtful the missing wing will be replaced. NASCAR Director of Competition Robin Pemberton said Wednesday that all teams were issued new rear spoilers to begin using at Martinsville.
Run Joey Run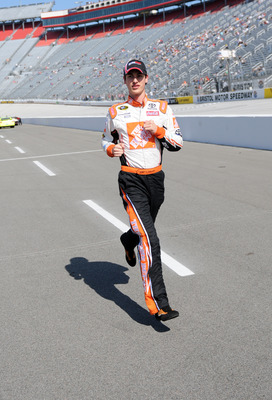 Just before morning practice Joey Logano decided to take a run along pit road.
Logano would later take a run along the high banks of Bristol and put his No. 20 Home Depot Toyota on the pole for Sunday's Sharpie 500.
It was Logano's first career pole.
Three Race Probation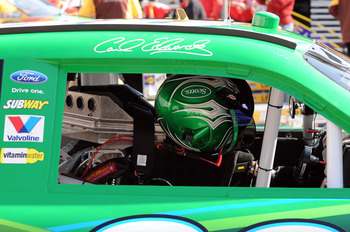 Carl Edwards three race probation period officially starts on Sunday.
Saturday morning Edwards, Brad Keselowski and Mike Helton will sit down together and discuss the on track incident at Atlanta and any other issues that need resolved between the two drivers.
Vote Early and Often
Martin Truex Jr. shows some sponsor reflection in his sunglasses as he talks to the media.
Wednesday during a press conference at Charlotte Motor Speedway, Truex hoped fans would vote early and often in an effort to win his way into the 2010 All-Star Race.
Round of Golf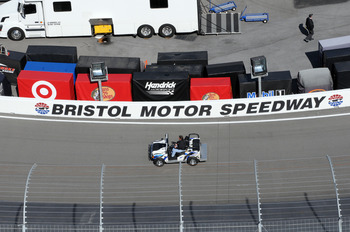 One of the many golf carts on hand for this weekends event takes a ride around the .533 mile concrete oval.
While golf carts are allowed on the track, they're only allowed to travel counter-clockwise.
Keep Reading