Top 10 Formula One Helmets of 2010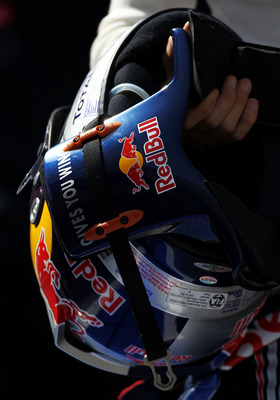 If you didn't get a chance to see the launch of each team's new vehicle, drivers, and color schemes before the Bahrain GP, you certainly got a chance to see all the helmets during the race itself.
Perhaps not close up enough, though.
In the spirit of the new point system in Formula One, here are the top 10 helmets of the 2010 season.
Photos courtesy of crash.net
10. Robert Kubica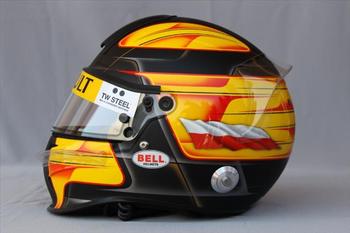 It's certainly not spectacular, but it's got a mean and fierce feeling to it.
9. Lewis Hamilton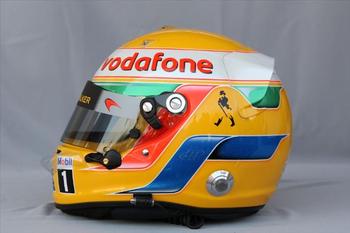 Personally, I don't really like this helmet. It never looks "cool" during the race and it definitely isn't super creative, but it does look classic and reminds me of Ayrton Senna's bucket.
8. Jenson Button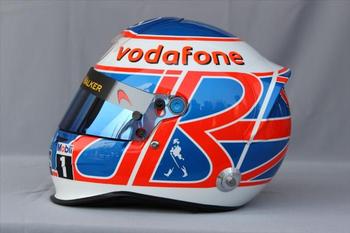 Another classic design— nothing futuristic, but the silhouette, UK colors/flag, and the big "JB" look nice!
7. Nick Heidfeld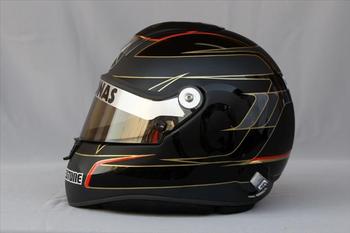 I'm a simple man. And Nick Heidfeld seems to be another simple man, so I can't knock this clean looking design.
Not to mention, all black is always cool!
6. Mark Webber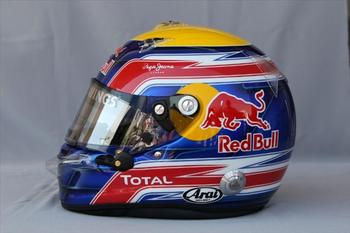 Of course, a Red Bull helmet had to make the cut! The others didn't scream "Gives you Wiiings" enough as this one did. This is the purest Red Bull helmet of them all.
5. Vitantonio Liuzzi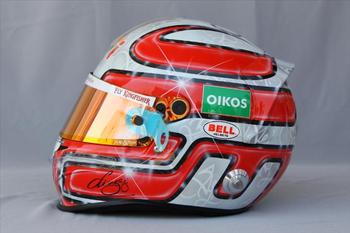 I'm not sure what Liuzzi was going for with this design.
Maybe he didn't even design it, or maybe he picked it out of a pile of other helmet designs as if he was a 16-year-old getting a tattoo.
Or it could be letters I'm just not seeing. Nevertheless, it's kind of funky looking and different, which gets points in my book.
4. Timo Glock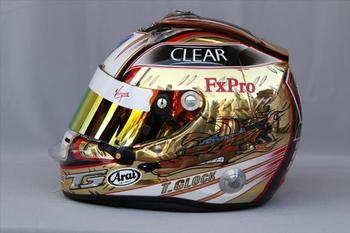 Gold chrome with designs, colors, and a wild...fox? Whatever, it's fancy!
3. Jarno Trulli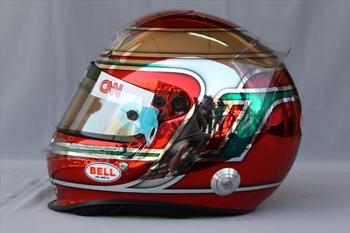 Another helmet with the colorful chrome design. I don't know anything about painting helmets, so I'm just assuming its much harder and more expensive to do that effect.
But besides that, the design is pretty clean and cool.
2. Heikki Kovaleinen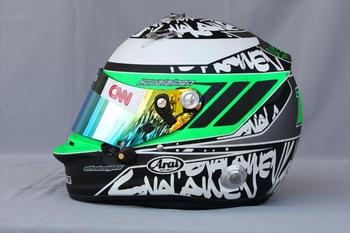 Straight up, this is just pure radical, dude!
1. Michael Schumacher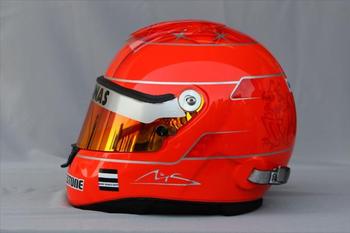 Can you really disagree with me here? Michael Schumacher has continued to sport this Ferrari red helmet because he knows it's downright awesome!
It's mean but classy. It's simple but intense. 25 points to you, Mr. Schumacher!
Keep Reading