Anderson Varejao Headlines List of NBA's Top 12 Role Players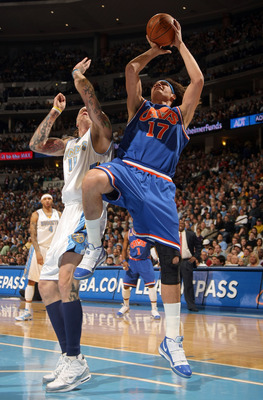 Breaking news in the NBA: LeBron James is really, really good.
As is Kobe Bryant.
And Kevin Durant.
And Dwyane Wade.
And Carmelo Anthony.
And Chris Paul.
Everyday, countless amounts of people across the world (myself included) try to eloquently capture the greatness of these players in blogs, articles, columns, tweets, you name it. And rightfully so—they've earned their place among the NBA's elite and deserve to be recognized.
But what about the unsung heroes of the league? The guys who game in, game out do whatever job is necessary to help their team win, whether it's score 20 points, grab 15 rebounds, shut down the other team's best player, or be the facilitator on offense?
I'm talking about the immeasurably important role player.
It's about time they get acknowledged for their invaluable contributions. So for today, the stars of the NBA can take a backseat to the unsung, often overlooked (but never forgotten) sidekicks.
Without further ado, let's get it going...
Not Quite Role Players Anymore: Those Who Have Made the Leap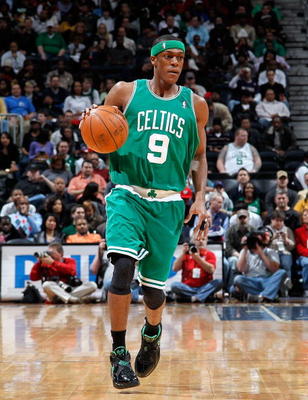 Before we begin, let me clarify what I mean by role players.
In my view, a role player is a glue guy; he's someone who embraces all of the subtle nuances in the game to help the team win. Like I said in the previous slide, it might require scoring one night, rebounding the next game, or defense in another.
Perhaps the most important trait: They cannot be a top two or three player on their respective team.
That being said, some role players make the leap into feature players (whether it's through a development of talent or a necessity for the franchise).
Here's a couple of examples of this scenario:
Rajon Rondo
Rondo was the epitome of a role player on Boston's 2008 NBA championship team. But in the past few years, he's developed into Boston's most important offensive threat; hence, he no longer qualifies.
Tayshaun Prince
Same story as Rondo, though it could be argued that he's reverted to more of a role player this season. Nonetheless, Detroit has been too reliant on Prince as he's been a top three player for the Pistons for the last three years.
John Salmons
Salmons removed himself from this list in the last month after being traded to Milwaukee. He's been playing well enough to be a top rotation player.
Gerald Wallace
The acquisition of Captain Jack, his career high rebounding numbers, and his first ever All-Star appearance were factors in Wallace making the leap this year.
Aaron Brooks
Brooks has absolutely tore it up in the last four months. Him and Martin are now the feature duo for H-Town.
Jeff Green
Tough to tell if he's made the leap as an individual, but the Green/Westbrook/Durant trio has the Zombie Sonics on pace for 50+ wins. Green has too consistent of an impact to be considered a role player.
Jamal Crawford
An egregious error on my part omitted Crawford from this list. I put him as a top 3 player on Atlanta and that's why he wasn't originally listed, but it's inexcusable for me not to acknowledge him making the list. I would argue that he's the second-most important player on the Hawks.
Honorable Mention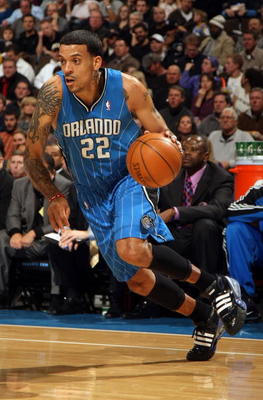 Unfortunately, a few players had to be left off the list. But they shouldn't go without recognition.
Matt Barnes
An NBA journeyman, Barnes has done all the little things in each of his seven stops across the league. His defense will be key for Orlando's title run in the playoffs.
Danilo Gallinari
Yes, a Knick. Shocking, I know. But Gallinari has the potential to be a key contributor to a contender with his three-point shooting and surprisingly not awful defense.
Kevin Love
He's been too up-and-down this year, but I blame that on him coming off the bench—he should be starting. The epitome of a throwback big man, Love has the ability to bypass role player and go straight to feature forward in Minnesota. On a good team though, he'd be a phenomenal sidekick.
Kenyon Martin
Tough to give the label "role player" to a former No. 1 pick, but the Nuggets are at their best when Martin just does the little things: Rebounds, plays tenacious inside, and gives them an intimidating, somewhat cocky presence.
Courtney Lee
Like Love, Lee has just been too inconsistent this year. But as he showed in Orlando, he has the ability to be a great third or fourth banana on a championship team.
Chris Anderson
How could I forget the Birdman? He's the Denver version of Anderson Varejao, and was the toughest player to leave off the top 12.
12. Raymond Felton (PG, Charlotte Bobcats)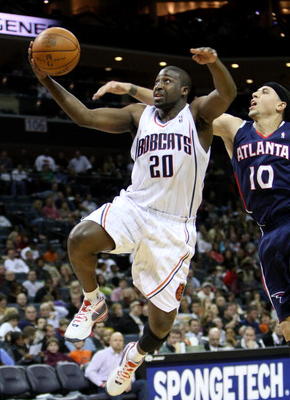 It's tough to gauge how successful Felton's NBA career has been.
He put up improved numbers each of his first four years before tampering off a bit this year (to his credit, he has had ankle problems, which are never easy to overcome).
But he was the fifth pick in the 2005 draft and expected to be a franchise player for the Bobcats. He hasn't nearly lived up to those expectations. He hasn't really improved his three-point shooting in his five seasons, meaning it's probably not ever going to happen (unless he pulls a Jason Kidd when he's in his 30s).
But the midseason acquisition of Stephen Jackson, coupled with the resurgence of Gerald Wallace, has the Bobcats in position to make the playoffs for the first time ever, and Felton has fit into his role of facilitator nicely.
He's surprisingly tenacious on defense, and he's given certain teams headaches throughout his career (see: Cavaliers, Cleveland). He's decent in the pick-and-roll and can punish undisciplined defenders.
While he's not going to live up to his billing as a top five pick, he certainly can be a good third or fourth wheel on a rising team like Charlotte.
And if he develops a consistent outside shot, he could be prime to make the leap past role player.
11. Delonte West (SG, Cleveland Cavaliers)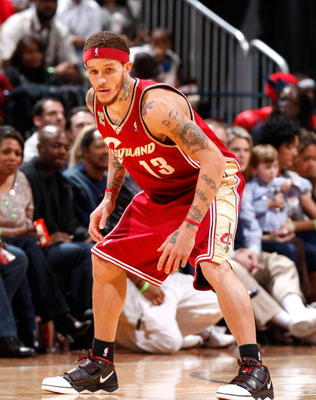 I could spend a few paragraphs and couple hundred words (which I will) talking about Delonte, but here's the best way to sum him up: When he's on the floor, he makes the Cavs better. Period.
West does all the little things (rebounding, defending, passing) extremely well, and in the Cavaliers system, he's an absolute perfect fit.
Coming off the bench, he gives the Cavs positive energy night in and night out. He's the perfect complement for an array of players.
When paired with Mo Williams, he can handle the ball and allow Mo to float around the three-point line, setting him up for easy jumpers.
When on the floor with LeBron, he's a great low-post player than can back down smaller point guards, but a good enough passer to find James when he slashes towards the hoop.
With Shaq, he can be used as either point or shooting guard and can spread the floor by knocking down open jumpers.
And when James, Shaq, Mo, or anybody is out, West can take over and be a dominant scorer, as evidenced by his 27 and 16 points against Milwaukee and San Antonio, respectively, a few weeks ago.
And he's one of the most underrated defensive players in the league. He's physical enough to body up bigger shooting guards like Vince Carter, athletic enough to defend pick-and-rolls against quicker point guards, and intelligent enough to chase guys like Ray Allen or Manu Ginobili off screens.
West makes the Cavs better and does whatever the Cavs need him to do—the consummate undervalued, but always appreciated, role player.
10. Carl Landry (PF, Sacramento Kings)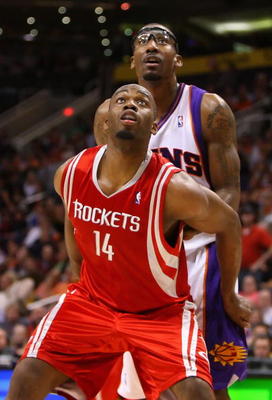 (Note: The only picture I could find is Landry when he was still with Houston. Makes sense, since only .5 percent of the population has seen the Kings since the trade deadline.)
Landry's had a breakout year this season, but he's doing it in under 30 minutes a game, and he's still not a feature option on offense; he gets his baskets on offensive rebounds and attacking the hoop at the right time.
At just 6'9", he's got a little Dennis Rodman in him—his nose for rebounds is uncanny. If you look at the picture, he's perfectly boxing out Amar'e Stoudemire, someone that has a few inches and 20-30 pounds on him.
That's Landry in a nutshell—a fundamentally sound, high IQ player that makes players around him better simply by doing dirty work that few others do.
Here's the best analogy I can think of: He's like a Jr. bacon cheeseburger. Few people seek out the Jr. bacon, but it's always there, it's always good, and it's always satisfying.
9. Marc Gasol (C, Memphis Grizzlies)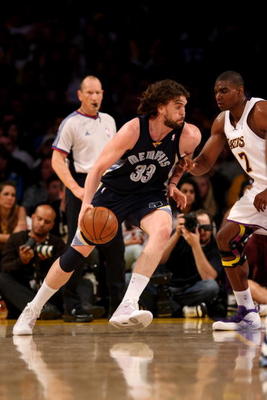 Once just an afterthought thrown in one of the most lopsided trades in NBA history (sending Pau Gasol to L.A.), Gasol has somewhat justified what the GM Chris Wallace saw in pulling the trigger on that deal.
After playing all 82 games last year, Gasol has missed just one game this year, and is producing near double-double numbers in his time as a starter.
Often overlooked on a team with O.J. Mayo, Rudy Gay, and (I never thought in my life I'd actually type this) Zach Randolph, Gasol has provided a nice combination of toughness and finesse in the paint. His play has steadied Memphis as one of the pleasant surprises in the NBA this year, and it's his presence inside that has freed up Randolph as the league's second-leading rebounder.
He actually has a pretty similar skill set to his brother. He's a decent pick-and-pop shooter and has some good low-post moves as well. His free throw shooting leaves something to be desired, considering how smooth his offense looks in the lane.
Every night he consistently gives the Grizzlies something positive. He grabs nearly 10 boards a game, is a viable presence in the paint on defense (over 1.5 blocks per contest), and anchors a pretty strong frontcourt.
8. Grant Hill (SF, Phoenix Suns)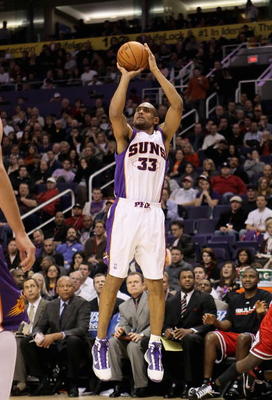 The ageless wonder is still out there producing.
Somehow, Hill played 82 games last year in Phoenix and is on pace to do the same this year. While he never turned into the star we thought he could (injuries, injuries, and injuries), he's done the next best thing: Realized his limitations and transformed himself into a yeoman-type player.
Hill is the perfect glue piece for Phoenix—he can score in bunches when necessary, but he does the little things that Phoenix needs. He rebounds extremely well for an older player of limited athletic ability, meaning that he just knows where the ball will be, and can beat players to spots on the floor.
He takes charges and bodies up more physical offensive players. His intangibles and leadership have helped lead Phoenix to a probable 50-win season.
It's very rare to see a once-star accept a smaller, less-appreciated role, but that's exactly what Hill has done. A model player and a person.
7. Luis Scola (PF, Houston Rockets)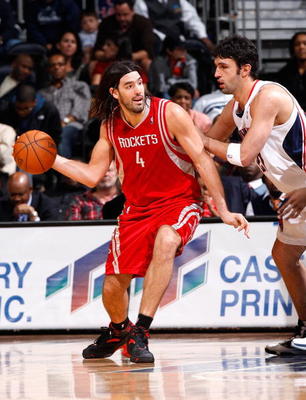 I recently read a great article about Scola from B/R writer Jeff Shull a few weeks ago. One sentence particularly stood out to me:
"Scola is so creative down low with his spin moves and fakes, it's like watching a ballet on the basketball court."
It's absolutely true; Scola's moves in the lane remind me a lot of Anderson Varejao and the way he finishes near the hoop. I also kind of see a 6'9" Rajon Rondo in a way; not so much with ballhandling, obviously, but with the intricate angles and creative ways he finds to score near the hoop.
He's definitely undersized at the power forward position, but that doesn't stop him from masterfully finding ways to get a body on someone and grabbing rebounds.
Aggressive, scrappy, and feisty, Scola has more than stepped up since the trade of Carl Landry, seeing his minutes and production increase.
At $3.3 million, he's one of the better bargains of the league as well. It'll be interesting to see how much money teams will throw at him when he becomes a free agent at the end of the season.
6. Joakim Noah (PF, Chicago Bulls)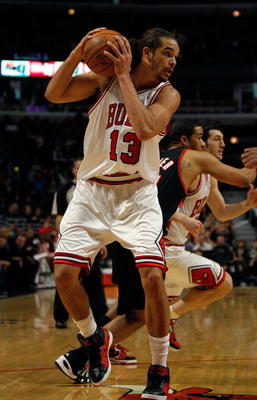 It really burns me to put Noah on this list. I mean, I'm getting fired up just looking at his picture as I type this little blurb.
Before I start this section, I think it's important you understand my hatred of this punk. I hate how he wears that greasy hair in a messed-up ponytail.
I hate the way he gets so fired up and starts screaming on the court for no reason.
I hate his shooting form, which might be the ugliest I've ever seen.
I hate the ridiculous way he embarrassed himself by dancing after Florida reached the Final Four in 2007.
And I hate that he was a part of the team that broke the heart of my Buckeyes, also in '07.
All that said, I nearly left him off this list—not because I dislike him, but because I thought he could be considered a "leap" guy, someone who is playing too well to be looked at as a role player.
I just think his lack of an overall offensive game kept him off that list. But he's close.
As a rebounder, he's one of the best in the league. He plays with such tenacity and intensity, and attacks the boards with a passion and focus that I've never really seen.
I can't even think of someone to compare him with. He's like a mix of Rodman and Barkley, with some Bill Laimbeer thrown in (you know, because everyone hated Laimbeer as well).
And as ugly as his shot is, it's effective. He shoots nearly 50 percent from the field and almost 75 percent from the free throw line.
But the bottom line is that he's so important to Chicago's success. It's no coincidence that he's missed the last nine games, and the Bulls have lost all of them (granted, Derrick Rose and Luol Deng have missed time as well). All in all, Chicago is 6-11 without Noah; not good.
And now that I've sufficiently praised him, I will go throw up.
5. Shane Battier (SF, Houston Rockets)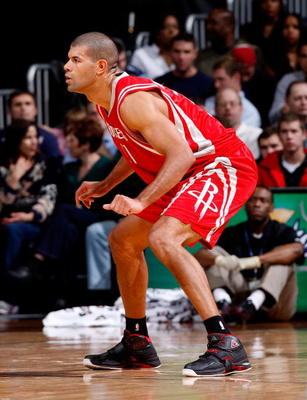 Maybe my favorite player on this list.
Battier is without a doubt the best on the ball defender in the league. Every night, he's asked to guard the other team's best player, whether it's Kobe, LeBron, Carmelo, Wade, Durant, you name it.
The things he does will never show up in a box score. Maybe that's one of the reasons he's often overlooked.
He rarely turns the ball over, he almost never makes a bad pass that results in easy points for the other team, and he's a pretty efficient scorer.
But it's his defense that sets him apart.
Like I said, he routinely guards the opposition's premier player. He realizes that there is no glory in this, but someone has to do it. And Shane is damn good at it.
There's a great article about Battier's plus/minus written by Carl Bialik and how it affects the games Houston wins. I'm not big on articles like this, because you can almost always find ways to distort the saber-metric numbers in your favor in every way.
But by GM Darryl Morey's count, Battier is a +6 for his career. At about 33 minutes a game, it translates to about +8 for a full 48 minutes.
If 50 percent of NBA games are decided by six points or less in the fourth quarter, then Battier's presence is good enough to win about half those games for Houston—about 19 a year (again, per Morey's count).
Take what you want from that, but the bottom line is that the Rockets are better with Battier on the floor. That, in my mind, isn't really debatable.
4. Al Horford (PF, Atlanta Hawks)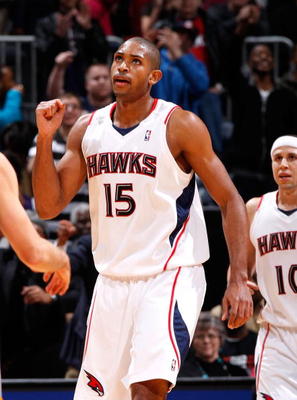 The next two guys on the list were really tough to evaluate. While they might seem like more than role players, in their current system, that's pretty much what they are. So they have to be treated as such.
I originally had Horford under "guys who made the leap." But the more I thought about it, the more I thought that the Hawks were reliant on the success of Joe Johnson, Jamal Crawford, and Josh Smith—not Horford.
Since I labeled Horford as the fourth wheel, I'm counting him as a role player. Deal with it.
I love everything about Horford's game. He's a fantastic low post defender and rebounder.
He's got a decent step-back jump shot and can finish near the rim, despite being a very undersized center for Atlanta.
Everything about Horford just screams "glue guy", doesn't it? Even back in Florida, while everyone knew how good he was, he wasn't really the feature player on that team; he was just a guy that played his role and held Noah, Taurean Green, and Corey Brewer together.
And he's done the same thing in Atlanta. Just quietly puts up 14-10 a night, plays solid defense in the paint, and the Hawks go home with a win. Ho-hum.
He could be a feature player, but his team doesn't need (or want) him to be. Until that day comes, he'll be one of the best role players in the Association.
3. Lamar Odom (PF, Los Angeles Lakers)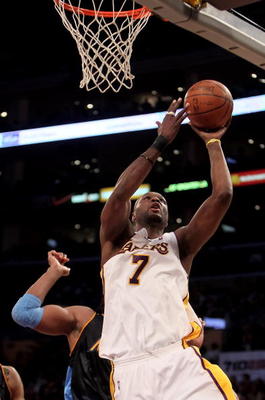 Another one in the tweener stage. While Odom has the talent to be a top player, on the Lakers it's not needed.
At 6'10", 220 lbs., he's one of the most difficult matchups in the league. He has the ability to shoot the three, but he's at his best when he attacks the offensive glass and gets second chance opportunities for Kobe and Gasol.
You could maybe argue that the Lakers are reliant on Odom successful, and I wouldn't totally disagree. When Odom plays intelligently and focused, he's nearly impossible to cover; in turn, it makes the Lakers arguably the best team and virtually unbeatable for all but one team (Cleveland).
But after Bryant and Gasol, I would say that the Lakers need Bynum to be efficient and productive more so than Odom. If Gasol and Bynum are both putting up numbers in the middle, it's almost game over.
Having Odom come off the bench is icing on the cake.
2. Jason Terry (SG, Dallas Mavericks)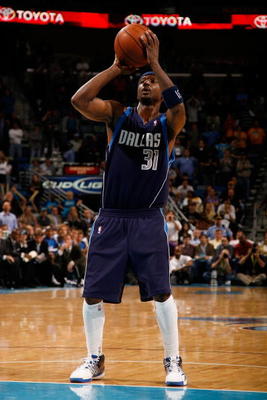 Be honest, how many of you expected to see Jason Terry in this slot?
Well, believe it. Terry, last year's Sixth Man of the Year award winner, isn't in the Manu Ginobili-mold of a bench player—the Mavs aren't completely dependent on Terry's success to win, especially with the offseason acquisition of Shawn Marion and midseason trade for Caron Butler.
Terry has been nothing but consistent in his stint in Dallas, averaging over 17 points per game for the last five seasons. While he's having a below average shooting year, he's still putting up 44/36/86 (FG percent, three-point percent, FT percent), which isn't shabby by any means.
When Terry comes off the bench, the Mavs dynamic changes. He can spread the floor with his outside shooting, and Dallas can really do damage in transition with a Kidd-Terry-Butler-Marion-Nowitzki lineup.
His defense has also dramatically improved in the last few years, as he's really buckled down to make an impact.
Like so many players on this list, the intangibles Terry brings are immeasurable. His unvarying play has been a staple in Dallas for almost six years, and that counts for something.
1. Anderson Varejao (PF, Cleveland Cavaliers)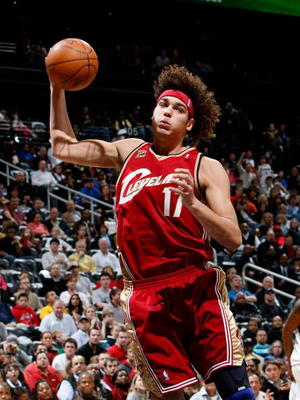 Come on, who else was I really going put at No. 1?
The things Anderson Varejao does on a basketball court are astounding, and are things I never imagined he'd be able to do as recently as three years ago.
He's the best pick-and-roll defender in the league.
He's the best finisher around the hoop in the league.
His jump shot has dramatically improved since he entered the NBA six years ago.
And the hustle plays he makes, the 50/50 balls he tracks down...it's impossible to measure his impact. Who knows how many games he's won, not by hitting the winning basket, but by getting five extra possessions a game for the Cavs that led to four or six more points.
As Austin Carr says, he's priceless (actually, he does have a price: About $48 million for the next six years).
I don't want to go into too much detail, because my next column will heavily feature Varejao and the improvements he's made throughout his career.
But Cavs fans and basketball purists, you know what I'm talking about. His transcendent and highly energetic play is a huge reason why the Cavs have boasted the NBA's best record each of the last two seasons.
Keep Reading