Buried Treasures, Part Two: Washington Redskins Late Round Running Back Options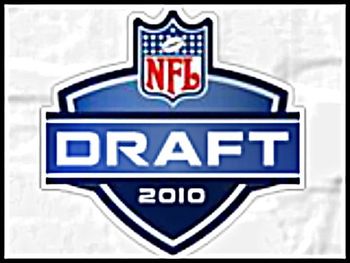 The recent signing of beleaguered running back Larry Johnson should be met with neither excitement nor promise from Washington Redskins fans (optimism maybe).
The Redskins now host a backfield older than the cast of Friends with more playing time than Seinfeld re-runs.
If there is any tread left on Johnson's or Portis' tires, it'll be a season or two road trip. A last hoorah for two running backs before their Thelma and Louise-type ending.
But instead of a final car ride over the Grand Canyon, the adapted NFL version features them getting signed to a veteran minimum contract by the New England Patriots or grabbing a desk on ESPN Tjhree and dispensing "experienced" advice on games featuring non-playoff contenders that were blacked out by Roger Goodell.
The Redskins need to find the future tailback to carry on the tradition of great running adorned in burgundy and gold. While offensive line and quarterback are the more pressing needs to be addressed in the first two rounds, the late rounds offer a number of viable backs to farm for the future.
Shanahan's drafting strength has always been his ability to find quality backs in later rounds and turn them into 1,000 yard rushers.
Most notably is the drafting of Terrell Davis in 1995 in the sixth round. The three time Pro Bowler and Super Bowl XXXIII MVP remains the Denver Broncos all-time leading rusher. Olandis Gary (fourth rd, '99) and Mike Anderson (sixth rd, '00) both churned out 1,000 yard seasons under Shanahan.
With three late round picks (fourth, fifth, and seventh), the Redskins can possibly draft a running back to learn from, play behind, and eventually supplant Portis and Johnson. The three running backs featured all fit this bill.
Fourth Rd: Montario Hardesty, Tennessee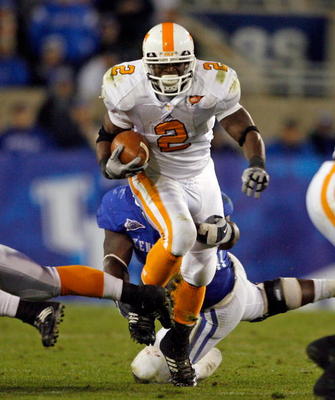 Hardesty posted better than strong numbers at the recent NFL Combine and may have catapulted his stock up from a fourth or fifth rounder to a possible third.
His 4.49 40 was sixth best amongst all running backs and he led all running backs in the vertical (41 inches) and broad jump (10-4).
In Hardesty's sole full season as a starter, he totaled 1,345 rush yards and 14 TDs on an impressive 4.8 YPC. He also caught 25 passes for 302 yards.
His pass catching ability is what separates him from the other backs in this year's draft. At Tennessee, aside from screens, he was also split out wide and used on slants.
Injuries sidelined him during the early part of collegiate career. He bounced back his senior year and added 10 more pounds to his frame before the NFL combine.
At 6'0" and 225 pounds, he is prototypical NFL size. Haresty is a tough runner and hard to bring down. He has the speed and quickness to hit the hole with purpose.
Reminiscent of past Shanahan 'backs and his valuable fusion of power and quickness would be an ideal marriage with Shanahan's zone blocking scheme.
NFL Comparison: Matt Forte/Tim Hightower
Fifth Rd: LeGarrette Blount, Oregon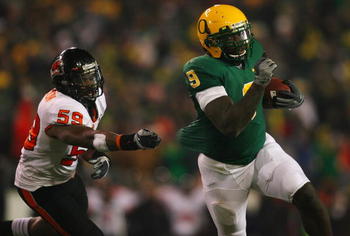 The "knockout king" is known more for his after the game antics than his during the game running. After the infamous Boise State punch-heard-around-the-world, Blount spent much of the 2009 season suspended.
However, he showed his gritty style of running in the Senior Bowl, where he rushed for 37 yards on seven carries, including a 14-yard run to paydirt. He can pound out the short yardage and at 241 pounds is a load to bring down.
With his size and bulldozing power, Blount can serve as a great short yardage back and third down specialist. His off the field problems are well documented and are a case for much needed concern.
But the NFL is not made up of preacher boys anyways. He's not fast by any means and with his power, may have a better and longer career as a converted fullback in the vein of Lorenzo Neal and Mike Alstott.
NFL Comparison: Brandon Jacobs
Seventh Rd: Joique Bell, Wayne State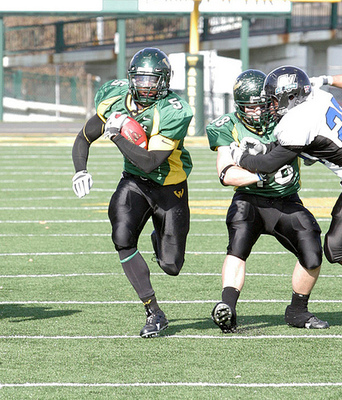 This year's top non-FBS draft prospect could be a Flacco-type coup for the Redskins late in the draft.
"JB" is the no-name from the small school with big numbers. Bell amassed an eye popping 2,084 rushing yards and 29 touchdowns as a senior to accomplish impressive back-to-back 2,000 yard seasons.
His 8,055 total all-purpose yards is ninth in NCAA history. He was the 2009 Harlon Hill trophy winner as the Division II college football player of the year.
Bell is a strong framed runner (5'11", 220 lbs.) that is hard to bring down and a valuable team addition because of his do-it-all abilities. His growing popularity and internet buzz could propel him higher than the seventh round when the draft rolls around.
However, he didn't wow at the NFL Combine and is still relatively unknown coming from a Division II college. That makes him a definite late round steal.
NFL Comparison: Fred Jackson
Keep Reading

Washington Redskins: Like this team?