2010 NFL Mock Draft: Detroit Lions Getting Right Stuff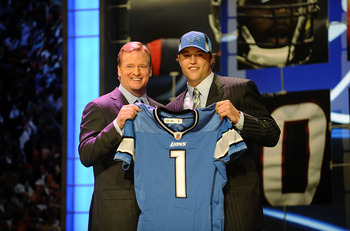 The Detroit Lions, often the butt of jokes in the football world, made several strides in the right direction in 2009.
Positive front office changes, including the hiring of coach Jim Schwartz and the firing of GM Matt Millen, led to a very strong 2009 NFL Draft for the Lions.
The 2010 draft is now a mere month away, and it is essential for the Lions to continue their forward progress and have another successful draft class.
The Lions, improved as they are, still have holes to fill all over the roster—and they'll look to fill those holes with their six draft picks this April.
Round 1, Pick 2: Russell Okung, OT, Oklahoma State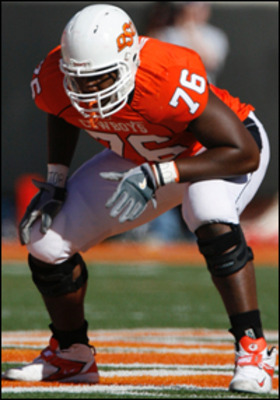 The Lions have a couple of options with the second overall pick in the draft—and they would all make sense.
On one hand, they can draft either Gerald McCoy or Ndamukong Suh. There's no question that a premiere DT would help the entire Lions defense.
I just don't see that happening after the additions the Lions made in free agency.
Instead, the Lions will draft OT Russell Okung, the best offensive lineman in the draft.
Not only will Okung be a significant improvement over Jeff Backus, but he will allow Backus to slide over to left guard—another position of need for the Lions.
The Lions passed on Michael Oher last year in favor of Brandon Pettigrew— and no offense to Pettigrew, but that was a mistake.
I don't see GM Martin Mayhew passing on a franchise left tackle two drafts in a row.
Round 2, Pick 2: Devin McCourty, CB, Rutgers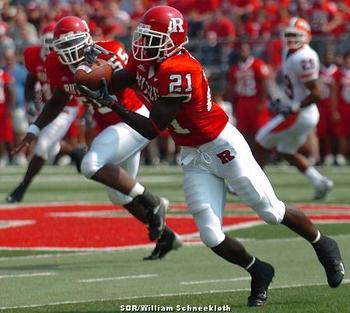 The Lions were next to last in just about every defensive category last season.
One reason for that is the fact that opposing QBs were able to pick apart Detroit's secondary.
Right now, Jonathan Wade is the best CB on the Lions roster. Who?
Detroit needs to upgrade its secondary badly. The Lions added safety Louis Delmas in the draft last year—and it's time to address the cornerback position.
If Kyle Price is still on the board here, I believe he'll be the pick. But I think it's more likely that he is taken in Round One—meaning that Detroit will take McCourty, the next best CB in the draft.
Round 3, Pick 2: Jonathan Dwyer, RB, Georgia Tech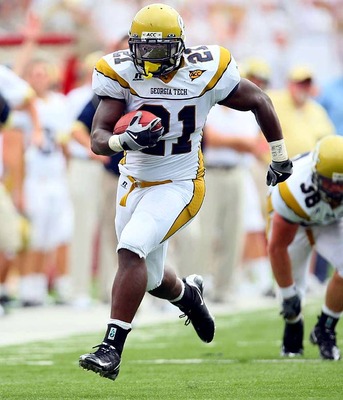 Kevin Smith is not an every-down back. This is something that became all too apparent as he wore down quickly last season.
Maurice Morris is too old, and Aaron Brown is a terrible between-the-tackles runner.
The Lions will need to draft a RB to pair with Smith in 2010—and if Jonathan Dwyer is still on the board in Round Three, he'll be a steal for Detroit.
Dwyer's stock took a massive tumble because of below-average 40-yard dash times, but he's a powerful back with an eye for the end zone.
Dwyer and Smith would prove to be a potent 1-2 punch.
Round 4, Pick 2: Larry Asante, SS, Nebraska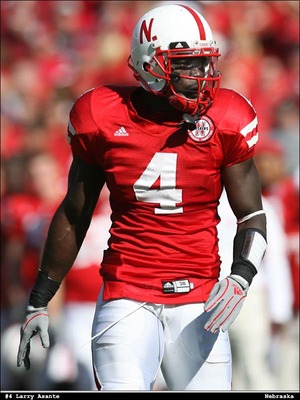 Louis Delmas proved that he's going to be a good—possibly great—free safety.
Now the Lions need someone to play across from him.
Asante is known as a hard-hitter—a quality the Lions brass seems to like, as LB Ernie Sims and FS Louis Delmas had a similar reputation going into the draft.
Round 5, Pick 2: Mike Neal, DT, Purdue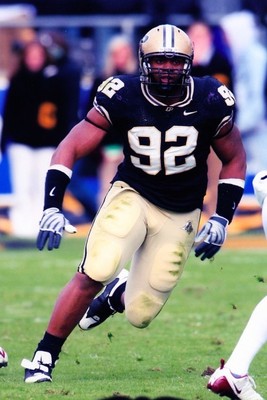 Jim Schwartz loves rotating players in and out—especially on the defensive line.
Mike Neal would be a great value for the Lions in the fifth round, as he can play tackle or end.
He probably won't become a starter, but he'll be a solid backup who provides Jim Schwartz with plenty of versatility.
Round 7, Pick 7: David Gettis, WR, Baylor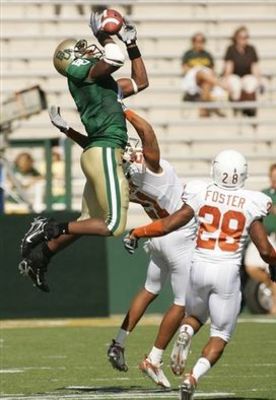 The Lions could use some depth at receiver and a possible return man—and David Gettis would provide both.
Gettis has the physical attributes to thrive at the NFL level, but he's extremely raw.
At 6'3" and 215 pounds with 4.4 40-yard dash speed, I think the Lions can afford to take a chance on a project like Gettis.
It's possible that he could get grabbed earlier because he ran an impressive 4.39 40-yard dash on his pro day—but if he falls to Round Seven, he'd be a minor steal.
Keep Reading

Detroit Lions: Like this team?