Possible Packers: The Top Five Free Agents Ted Thompson Should Consider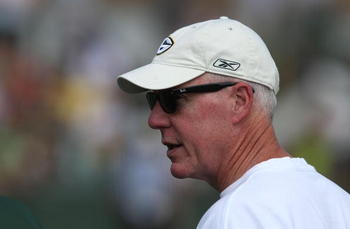 Although Green Bay have had a mildly successful offseason thus far, there are still greater needs heading towards September.
With the offensive line still lacking depth and strength, and the Packers linebacker corps testing the waters of a possible collapse come mid season, there is no time like the present for owner Ted Thompson to take his finger off the button and at least consider his options.
Kudos for signing Mark Tauscher, Ryan Pickett, and Nick Collins, Ted, but what about some new talent? A no name AFL wide receiver simply doesn't cut it.
Therefore, here's a look at the top five free agents that Ted could still possibly consider (at least we hope so).
5. Daryn Colledge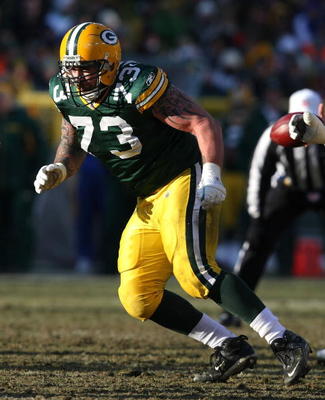 Drafted in 2006, Daryn Colledge isn't one of the loudest and most dominating players in the Packers recent history. Now a free agent, Colledge has received little interest from the other 31 teams of the NFL and while time is of the essence, Colledge is still a great young player to have.
With Aaron Rodgers needing all the protection he can get, there was the odd occasion when Colledge did slip up in 2009, and allowed a little unnecessary pressure on number 12.
However, with that said, for the most part Colledge was decent. More importantly though, Colledge could be a key player in the promising run game that running back Ryan Grant has shown glimpses of last season. The reasons for signing the former Packer are high, and fortunately not very expensive.
Knowing Ted he will have Daryn in the back of his mind at the moment, so let's just hope he acts on his thoughts. Daryn is young and promising, and personally I believe a decent asset to have.
4. Ryan Cook
With five years of experience under his belt alongside Brad Childress and the Minnesota Vikings, Ryan Cook is fast becoming a quiet veteran of the NFL.
One of the most solid men found in the NFC North, Cook often fails to get the credit he deserves. Maybe it's because he plays on a team full of stars, or maybe Brett Favre's presence simply overshadows the plays Cook makes.
Whichever one it is, Cook is a free agent this year and although restricted, Green Bay could be wise to consider the long time purple warrior.
Realistically, the Vikings are likely to re-sign Cook. He's been consistent year in and year out for Minnesota, so if Green Bay (or any team for that matter) have hopes of signing Cook, they will need to act fast.
One thing that is important to consider with Cook, is that he has backed up both Brett Favre and Adrian Peterson. Two superstar caliber athletes that demand the highest quality football on offense. Setting up holes for Adrian, or allowing protection for Brett, those skills definitely could come in handy for either Aaron Rodgers or Ryan Grant.
3. Antonio Pierce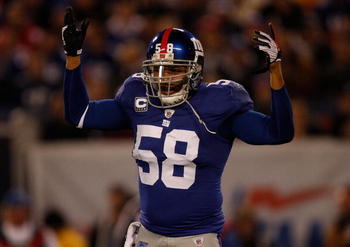 I speculated this move a while ago in one of my articles, which you can check out here: http://bleacherreport.com/articles/344571-antonio-pierce-a-green-bay-packer-well-just-think-of-the-possibilities
Recently released from the New York Giants, Pierce has more or less been forgotten about in the NFL. From a Super Bowl victory, to a couple of dismal seasons, Antonio is no longer the fired up middle linebacker that we all remember.
Pierce has, however, always loved playing in Green Bay, and although the cold weather may appear daunting to him at first, he could feel right at home after a season or two at Lambeau Field.
The bigger problem with this potential signing however, is do the Packer fans really want Antonio Pierce? The answer is, well... sort of.
Some people like him and others think he is past his used by date. With only one sack in nine games last season, Pierce isn't doing himself any favors in the free agency game. Still, Green Bay may be the place for him, even if it is only on a two or three year deal. He won't come cheaply, but he could pay off in the long run, and besides Green Bay does need some more depth at the middle linebacker position.
2. Adewale Ogunleye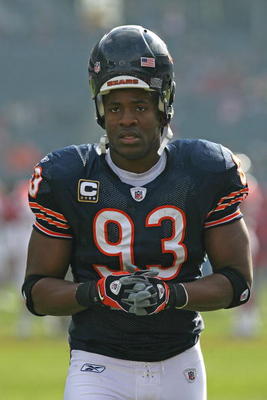 As a Packer fan, just reading this guy's name makes me relive bad memories. 6.5 sacks last season and one forced fumble, Adewale Ogunleye has noticeably been quiet this offseason.
With the Bears showing little interest in re-signing the defensive end, suddenly Adewale Ogunleye becomes a potential prospect in the NFC North.
Although the defensive line isn't plagued with problems for Green Bay, it could use a little touching up. With Cullen Jenkins and Johnny Jolly showing some bad signs last season, Adewale Ogunleye could fill in at either end of the line.
Sacks are something that Green Bay has lacked at times, and although Clay Matthews is piling on the numbers, we can't expect him to be at his best game in and game out. Adewale Ogunleye could be a great signing, and one that may not cost as much as first thought.
10 years of experience and a ton of talent, Adewale Ogunleye could be coming to the rival side of town shortly.
1. Joey Porter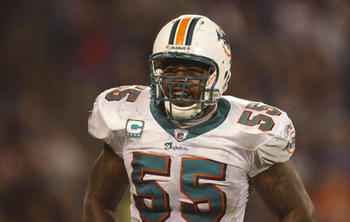 Just like Antonio Pierce, Joey Porter felt the pinch of being released by the Miami Dolphins following last season. However unlike Pierce, Joey had an outstanding 2009 with nine sacks and one forced fumble.
Aside from the Dolphins, Joey is now looking toward the future which may be coming to an end shortly. 12 in the NFL, and a dominating career at the linebacker position now puts him in a spot of bother.
Interest has been slim, and with many teams needing a key outside linebacker, it is hard to work out why. Green Bay though could do the smart thing and consider Porter, who after all is a sack machine.
Alongside Clay Matthews, Nick Barnett, and AJ Hawk, Joey would feel right at home with the young and the old. The Packers have begun to use that smash mouth type style of rushing, something that Porter is fond of and could pay dividends in the long run for Green Bay.
Ted isn't one to consider a guy of Porter's caliber, but he sure would be a great player to have. Packer fans may feel a little uncertain about signing Joey given his age, however a two or three year deal could amp the defense up just enough to win the big one.
Keep Reading

Green Bay Packers: Like this team?