Why The Chicago Cubs Should Win The NL Central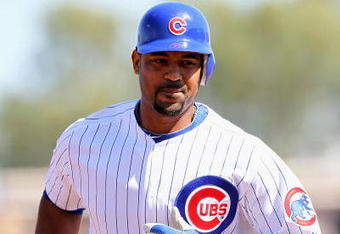 Christian Petersen/Getty Images
The Chicago Cubs' dominance within the NL Central has somehow disappeared after Lou Pinnella's first and second years as their skipper.
Many Cubs fans that have endured loss after loss in the past years, that are hopefully just that, were ecstatic when the criticized Dusty Baker was fired. Since then, the Chicago Cubs have been atop the NL with predictions from MLB analysts, chemistry...before last year, that is.
When Pinnella was named the manager in an attempt to steer the crashing ship in 2007, many fans became hopeful. Especially after the signing of Alfonso Soriano, a then 40 home run player and 20 stolen bases per season player. That year, the Cubbies were on their way to the playoffs, finishing with a 85-77 record.
As Cubs fans rejoiced, so did Pinnella and company. Chi-Town looked amazing at times throughout the playoffs, and had a chance to win it all. After being swept in the NLDS, Chicago still held their heads high and prayed for a miracle in 2008.
In 2008, the Chi-Cubs had the most massive potential in many fan's eyes. With a new coaching staff and players in 2007, many believed the chemistry would sink in during the '08 season.
After having many clutch RBIs by D. Lee and Rami, hot streaks by Soriano, and walks drawn by the new addition of Fukudome, everything seemed to be smooth.
The Chicago Cubs cruised through the season while earning the second best record in the Major Leagues and the best throughout the entire National League, standing at 97-64. With Chicago rejoicing yet again for the 2nd straight year in a row, many fans called and had thoughts regarding the amazing feeling of their beloved team winning a World Series.
Sadly, the Cubs were swept again in the NLDS. This time, the hangover of failed expectations and built up hopes being shattered hurt even more. Fans could only hope to find what went wrong and think of the Cubbies fixing this.
Last season, the Chicago Cubs went 83-78, seven and a half games behind the Cardinals. That statistic symbolizes that we're not in a rebuilding stage. With Aramis Ramirez and Soriano injured most of the season, our two key contributors, that alone may have had a huge impact on having a minuscule amount of digits in the W column.
The upcoming season, an anticipated one ; as always, should contain a playoff birth for these reasons.
Cubs Have 6 Potential .300 Hitters
• Giovanni Soto, Derrek Lee, Aramis Ramirez, Ryan Theriot, Kosuke Fukudome, and Marlon Byrd all have the skill and mindset to earn a .300 batting average.
A Solid Rotation
• Big Z is now in shape and should return to his old ace form. With the addition of a lights out Ted Lilly and Ryan Dempster, that already makes the rotation good enough to win games. Slap in Randy Wells, Tom Gorzelanny, Jeff Samardzjia, and Carlos Silva, and you have a solid, playoff-caliber rotation.
Playmaking Defense
• With the speedy Ryan "The Riot" Theriot up the gut at shortstop, Rami at 3rd, the Golden Glove Derrek Lee, and Mike Fontenot, the Cubs are combined to make a quick, diving infield. Alfonso in left makes for a great cannon armed fielder with a mediocre glove. Marlon Byrd brings experience to the plate, a solid bat and RBI guy, and a solid fielder. His presence should bring a new dimension to the team and hopefully more patient batters. Fukudome has always been one of the most patient batters in the lineup. Not to mention the line drive potential he brings, one of our better, if not best, base runners, and agility. His glove is not a question as he makes many tough grabs. While I don't agree with letting Reed Johnson walk away, we still have a great combination of outfielders.
Overall, the Chicago Cubs are an improved team considering the young talent, combination of quickness and tough leaders, and now that the nuisance of Milton Bradley is out of the picture. If all potential is unleashed, the Cubbies can certainly and almost definitely win the NL Central division.
Predictions : 88-74 | 3.0 Games Above St. Louis Cardinals.
This article is
What is the duplicate article?
Why is this article offensive?
Where is this article plagiarized from?
Why is this article poorly edited?

Chicago Cubs: Like this team?