The History f Our Sixth And Seventh Round Picks From 2000 On...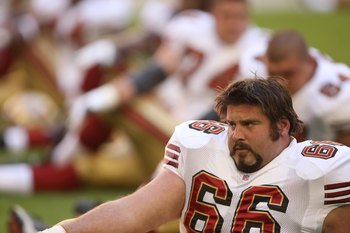 Well, Shaun Hill is gone, and let's be honest; the writing was on the wall, wasn't it?
To be honest, I am surprised we got a seventh rounder for him. It is painfully obvious that he will never be a legitimate starter, but it's hard not to love the guy, and he is a solid back-up.
A solid back-up is something that a lot of teams take for granted because it's something you don't think about until your starter goes down (see Brad Johnson two years ago in Dallas).
Nonetheless, let's take a look at some of our previous sixth and seventh round picks to see if we have done well when it's late and we're on the clock. After all, the sign of a good team is how they handle their late round picks...
With no further delay: the 49ers' late picks for the last decade!
2000 Seventh Round Pick: Brian Jennings, Long Snapper, ASU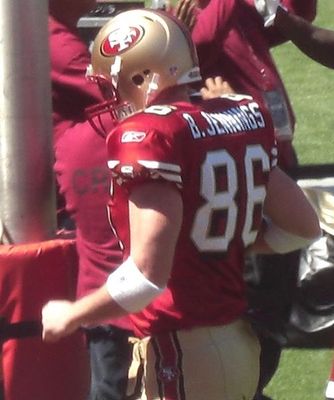 Pro-bowler and solid special-teamer. Can you remember the last time he muffed a snap? Neither can I. Solid pick.
2002 Seventh Round Pick: Eric Heitmann, C, Stanford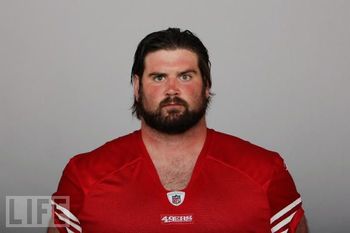 Currently our second best O-lineman behind Joe Staley…Heitmann and Staley are the bedrock of the O-line, every other position needs an upgrade. This was definitely a great pick....and he looks like a psychopathic lumberjack.
2004 Sixth Round Pick: Andy Lee, P, Pittsburgh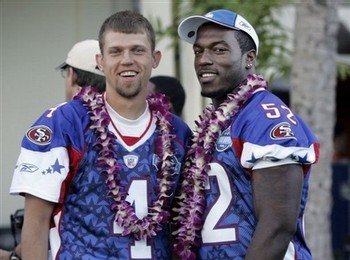 Another pro-bowler in on special teams. With our stymied offense as of late, one of our saving graces not giving the other team great field position...it makes our overrated defense look better. Great pick. In case you didn't know, Andy Lee is the guy on the left.
2006 Sixth Round Pick: Delainie Walker, TE, Central Missouri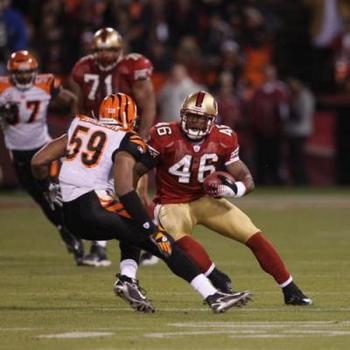 Not a phenomenal player, but he is a solid back-up and very fast for a tight end. We seem to use him on end-arounds and change-of-pace plays. For where he was drafted, we are definitely getting good value from him. Good pick.
2008 Sixth Round Pick: Josh Morgan, WR, Virgina Tech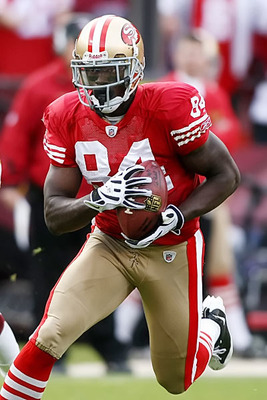 People say that 2010 should be a break out year from him…they said that last year too. Still, he is a solid No. 2. He just lacks speed.
I get nightmares of that one possible TD he could have had against Atlanta last year…the one where he got from behind, 10 yards out from the end zone (I was on suicide watch for a while after that game).
I think he has some serious potential, though, especially with the possible emergence of Crabtree as a dominant WR.
2009: Curtis Taylor (S) and Rick Jean-Francois (DT), Both From LSU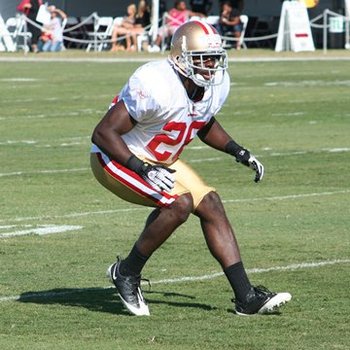 The jury is still out on these two...they did fare better than TE Bear Pascoe, though.
Well, that's it. After 10 years, the bottom of the draft has given us two pro-bowl special teamers, a starting center, and solid No. 2's at TE and WR. Not bad, really.
It seems as though we only hit on even numbered years, so this draft should give is another solid pick. Of course, adhering to weird records like that would also have the Buccaneers winning the NFC South this year.
Our time to shine.

Keep Reading

San Francisco 49ers: Like this team?