2010 Detroit Lions Mock Draft 1.0
The days are ticking away and we're all starting to guess who the Lions will pick with the second overall pick. Some of you think it should be LT , while others think Eric Berry at safety would be smarter. Let's face it though, the experts, and most people alike, are calling Nebraska defensive tackle Ndamukong Suh one of the best that ever played the game at the college level.
So this draft will be assuming that the experts are also right about St. Louis drafting Sam Bradford or Jimmy Clausen to solve their QB issue with the No. 1 pick in 2010.
Round One, Pick Two: The Best Defensive Tackle in College History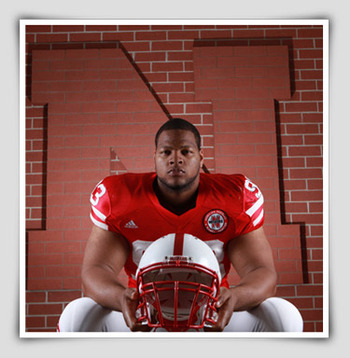 Ndamukong Suh isn't just the best tackle in this year's draft, he's the best tackle in the history of college football. This isn't just my opinion though, and I wouldn't expect you to just take my opinion. So I've compiled a scoring system to grade each DT who has been nominated for the Heisman award in the past five years plus Gerald McCoy (just to show how McCoy stacks up).
DTs who were nominated for the Heisman include Steve Entman in '91, Warren Sapp in '94, Glenn Dorsey in 2007, and Ndamukong Suh in 2009.
Scoring goes as follows:
Tackle = 1 point
Tackle For Loss = 2 points
Sack = 2 points
Forced Fumble = 3 points
INT = 3 points
Pass Broken Up = 1 point
QB Hurry = 1 point
Blocked Kicks = 3 points
Fumble Recovery = 3 points
Entman in '91 scored 112 points and was fourth place finisher in the Heisman.

Gerald McCoy in 2009 scored 93 Points and was not in Heisman discussion.
Glen Dorsey in 2007 scored 116 points and was the ninth place finisher.

Warren Sapp scored 160 points in '94 and finished sixth in Heisman voting .
Ndamukong Suh scored 201 points and finished fourth in Heisman voting.
This is a no-brainer...
Round Two, Pick Two: Devin McCourty, CB, Rutgers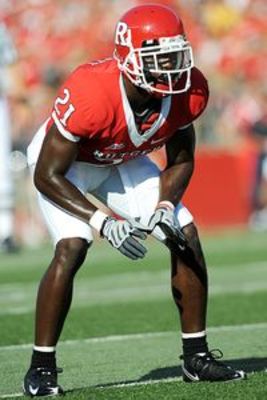 The Lions add to the secondary in the second round again and pick a top-rated cover-corner with one of the fastest times at the combine. This guy will start from day one with Chris Huston at the other corner unless they find someone better than Huston. With his speed he has the ability to close the distance fast on open field tackles and cover the fastest WRs in the league.

Height: 5'11". Weight: 193.
Projected 40 Time: 4.50.
Combine 40 Time: 4.34.
Benchx225: 16. Vertical: ?.
Projected Round (2010): 1-2.
Devin McCourty ran the fastest 40 of any corner at the combine at 4.34. He also looked great in the drills. McCourty may sneak into the first round. IF he does, I would look to see if Kyle Wilson slipped this far, and if he was off the board I would grab Kareem Jackson out of Alabama.
Height: 5'10". Weight: 196.
Projected 40 Time: 4.53.
Combine 40 Time: 4.41.
Benchx225: 16. Vertical: ?.
Projected Round (2010): 2.
Round Three, Pick Two: John Jerry, OG, Ole Miss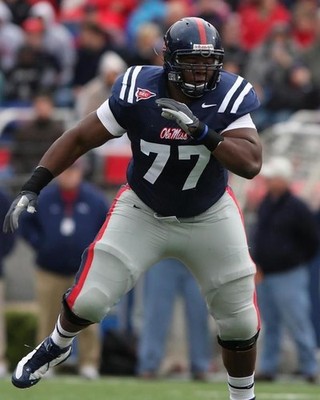 John Jerry, Ole Miss

Height: 6'5". Weight: 328.
Projected 40 Time: 5.32.
Combine 40 Time: 5.15.
Benchx225: ?. Arm: 34".
Projected Round (2010): 3-4.
The Lions stay true to their plans to draft bigger, better linemen and pick up a steal with yet another starter in John Jerry in the third round.
Round Four Pick Two: LeGarrette Blount, RB, Oregon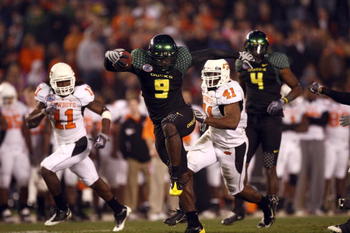 LeGarrette Blount, Oregon

Height: 6'0". Weight: 241.
Projected 40 Time: 4.59.
Combine 40 Time: 4.62.
Benchx225: 19. Vertical: ?. Broad: ?.
Projected Round (2010): 4-5.
The Lions fill a hole in the backfield behind Stafford, building a second option that will be a value power-hitting back from the start. This guy is BIG, Brandon Jacobs big, with similar speed and elusiveness. The Lions get another starter to begin with while Smith recovers from a bad knee injury. When Smith comes back the combo of a BIG goal line back like Blount running along with Kevin Smith would be a very potent running attack.
Round Five, Pick Two: Daniel Te'o-Nesheim, DE, Washington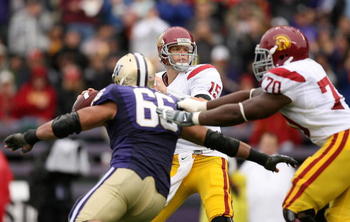 Daniel Te'o-Nesheim, Washington
Height: 6'4". Weight: 267.
Projected 40 Time: 4.77.
Combine 40 Time: 4.72.
Pro Day 40 Time: 4.72.
Benchx225: 29. Vertical: 37".
Projected Round (2010): 4-5.
3/2/10: Daniel Te'o-Nesheim put on a good performance at the combine. Despite bulking up from 250 to 263, Te'o-Nesheim ran a 4.72, benched 29 reps and had a vertical of 37 inches. And he's not some workout warrior; Te'o-Nesheim had 9.5 sacks in 2009, eight sacks in 2008, and 8.5 sacks in 2007.
At 263 pounds, he's still basically a situational pass rusher, but this is the kind of guy Guenther Cunningham could develop whole pass rush schemes around while the rest of the O-line is busy worrying about Suh, Williams, and Vanden Bosch. If he continues to bulk up he could develop into a great DE in the NFL.
Round Five, Pick 15: Antonio Brown, WR, Central Michigan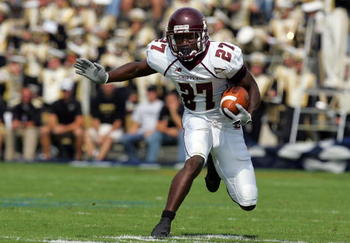 Antonio Brown, Central Michigan University
Height: 5'10". Weight: 186.
Projected 40 Time: 4.39.
Combine 40 Time: 4.50.
Vertical: ?. Broad: ?.
Projected Round (2010): 5-6.
He should be there in the fifth round given his 40 time was a bit slower than expected at the combine. Being a CMU alum though, I watched most of the games this year and he never had a bad one. He has incredible hands and he dropped very few passes his senior year.
Brown was slow at the combine in the 40 but he has elusive speed because in a way he's better if he has to change directions. He's very quick on his feet and with his hips and can elude tacklers very well. He should be a very good kick and punt returner in the NFL and may be successful lined up between Megatron and Nate Burleson in the slot position. Could be yet another starter.
Round Six, Pick Two: Mike Tepper, LT, Cal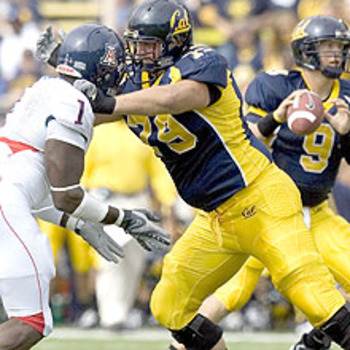 Mike Tepper, University of California at Berkley
Height: 6'5". Weight: 320.
Projected 40 Time: 5.24.
Combine 40 Time: 5.36.
Pro Day 40 Time: 5.25.
Benchx225: 28. Arm: 32 1/2".
Projected Round (2010): 5-6
Mike Tepper is a big, physical offensive tackle who should be effective in the pros. He's got good size, height, and enough speed to play the left tackle position. And here in the sixth, he's a good steal to rotate in with Backus.
He was injured in 2008 most of the season which is why he's fallen this far. But if he can stay healthy he should be very effective. Started every game at left tackle and qualified for the All-Pac-10 First-Team honors in 2009. Possible sleeper stud LT here in the sixth.
Keep Reading

Detroit Lions: Like this team?